Horses are a very precious animal and valued by many people, in fact it is the favorite animal of many people. Horses are an animal that exudes elegance on all four sides: the way they walk, trot and run. In fact, it can be seen that it has been a highly valued animal, especially if we look at the fact that caves were already represented often and it is that, for many years ago, it has been an animal that has always appeared as a companion of man.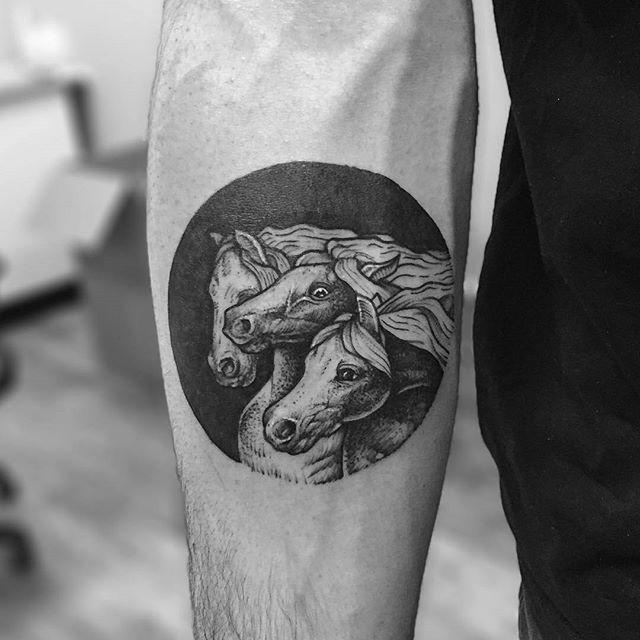 Horses, in addition to being an elegant animal as mentioned above, is also a faithful animal. That is why there are many people who choose to get this animal tattooed, those who value some characteristics such as fidelity: this can be used in two fields, fidelity within the couple and in terms of friendships. Therefore, in both cases it may be a good idea to tattoo this animal.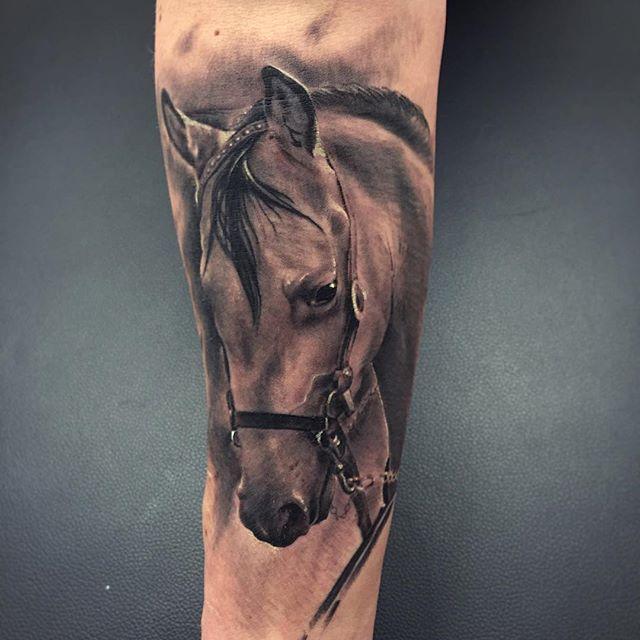 Another element that is attributed to these animals is the feeling of freedom, since the image of a trotting horse is always associated with the desire for freedom and to do what one wants. They also represent nobility, power, strength, work, etc. They are very important values ​​for many people and it is that they go along the lines of humility and hard work to overcome the different obstacles that life puts in our way.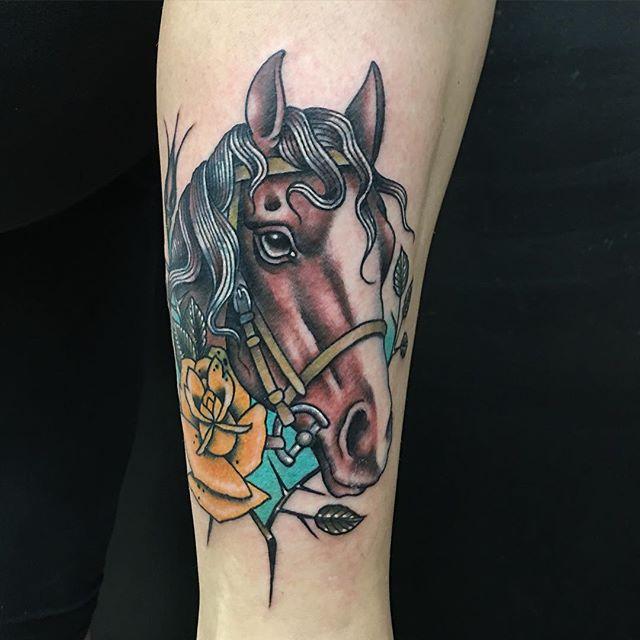 Some variations of this animal are the unicorn or pegasus tattoos; which have similar meanings, however, they have a more childish component, that is, they refer to magical worlds full of imagination and fantasy, so that a person who opts more for these meanings can more easily opt for this type of designs more than normal horses.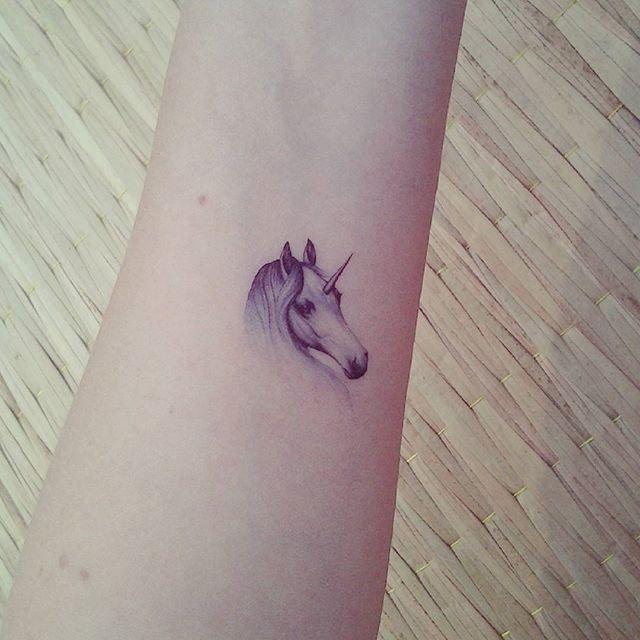 The way in which they are tattooed, they are usually accompanied by a landscape or directly only the figure of the horse and this is because it is an animal that offers a very specific meaning and does not need other elements that reinforce the message or the information that you want to offer with these designs.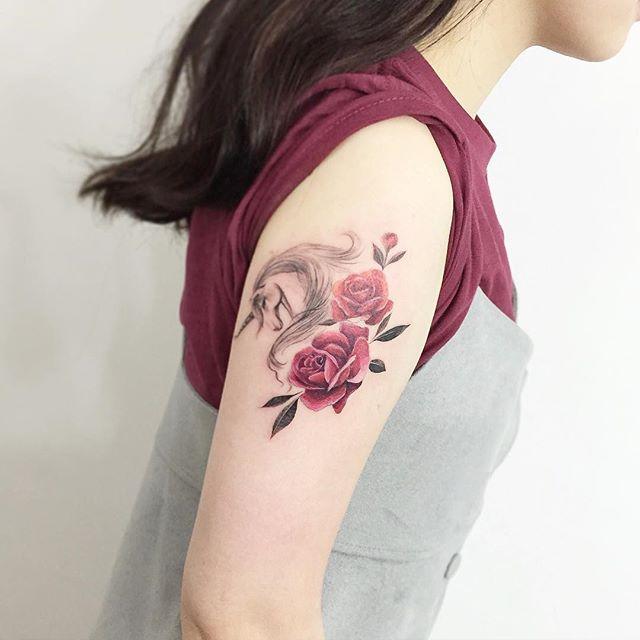 As seen so far, horse designs can be done differently, either in a more generic and traditional way, such as horse designs in black, white and brown tones and, on the other hand, horse designs not so realistic, such as pegasus (the winged horse) or unicorns; both types of horses transport us to a fantasy world and, as mentioned above, the meanings they have may be similar to those discussed above.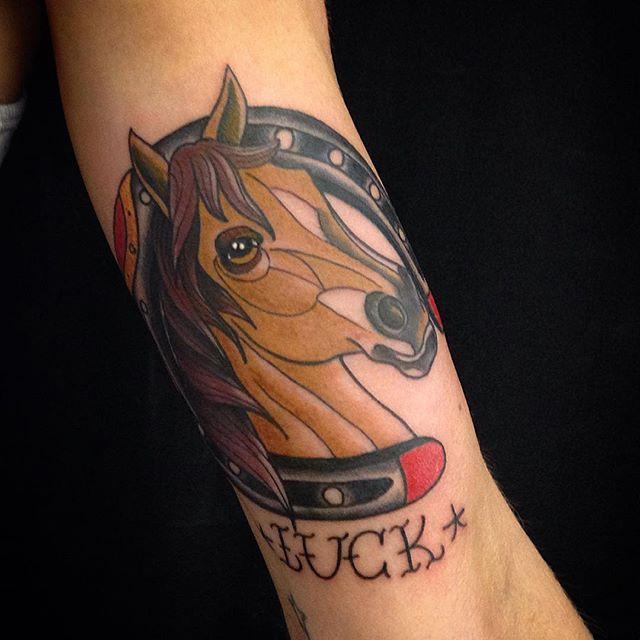 The horse is an animal that arouses a lot of sympathy and tenderness. It was the first animal domesticated by man and is linked to the great feats and adventures of many important people in history. Thus, we will find that many people choose this beautiful and elegant animal to decorate their bodies and thus represent aspects such as nobility, courage, strength or battle.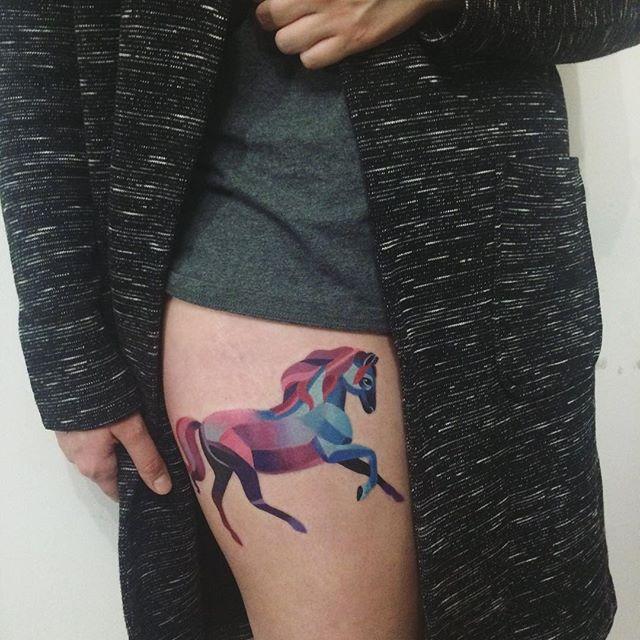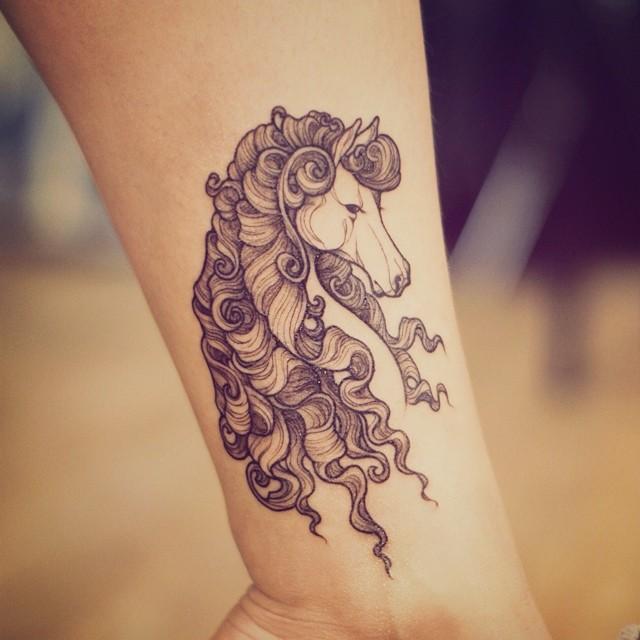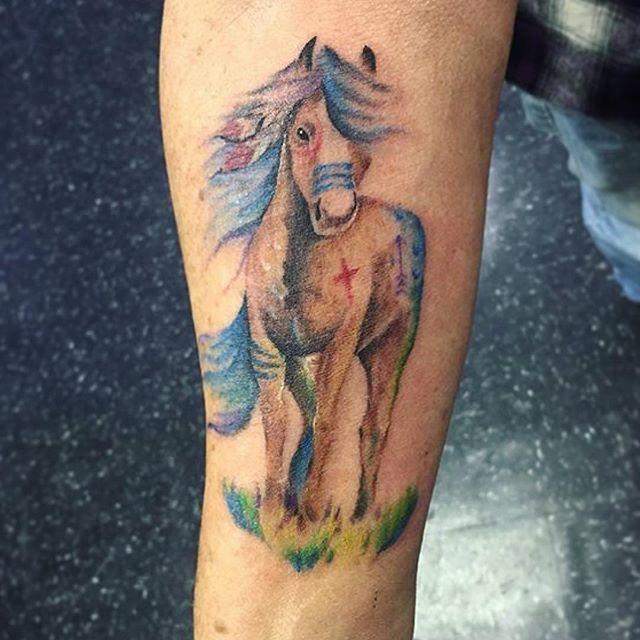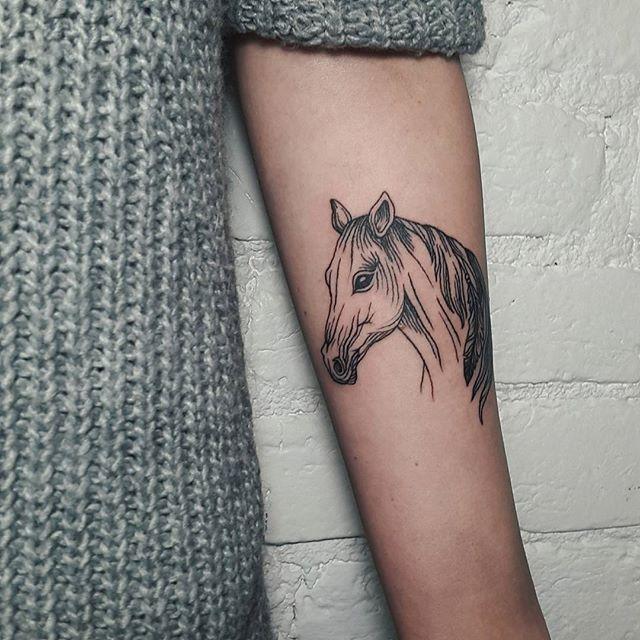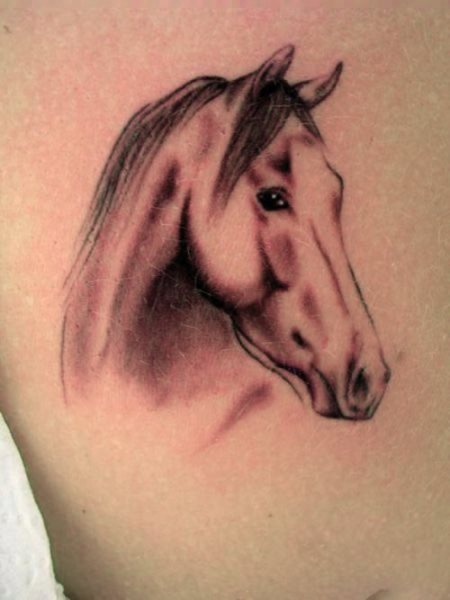 Nice horse head design with beautiful shading in sepia tones. The style of the tattoo is as if it were a pencil or charcoal drawing.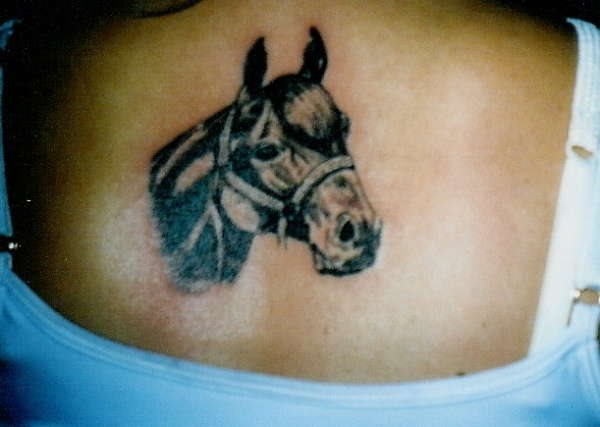 This girl shows us her tattoo of the bust of a horse in black and white. The drawing is located in the center of your back, just between the shoulder blades.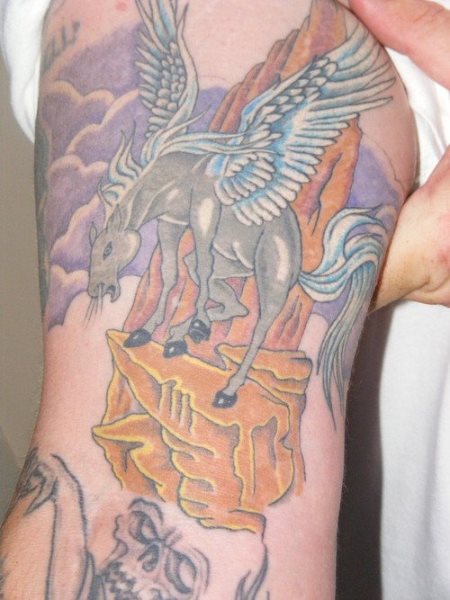 Horse with large wings that could be Pegasus, the well-known mythological winged horse, on a kind of mountain with some clouds in the background.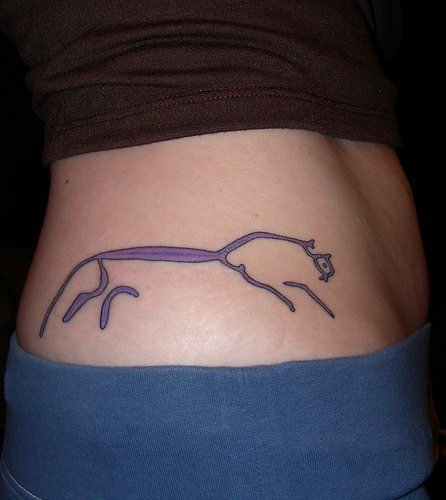 Abstract silhouette of a horse made with simple shapes. The design has a prehistoric rock painting style. Without a doubt a quite original and curious tattoo.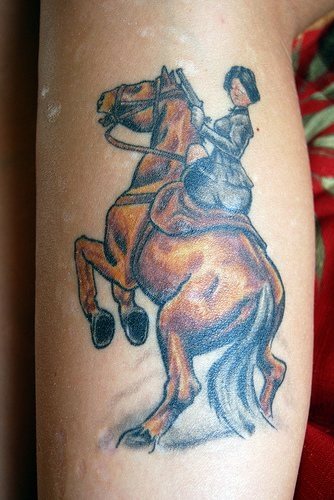 In the following image we find a tattoo of a woman riding a brave horse. The design is made using bright colors and shading.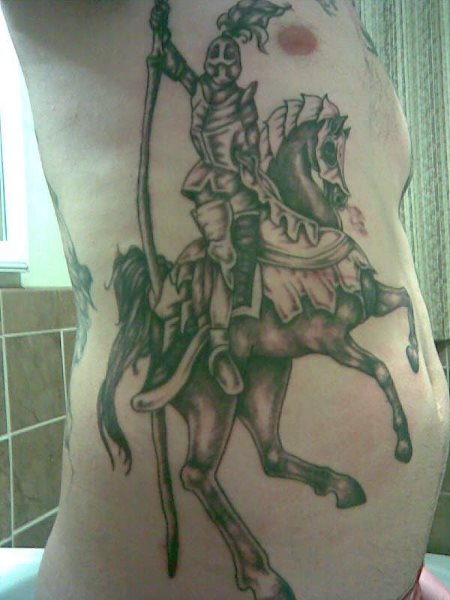 Here we have a knight of the Middle Ages with his armor and his spear on an armed horse also and neighing. The drawing is made with grayish tones.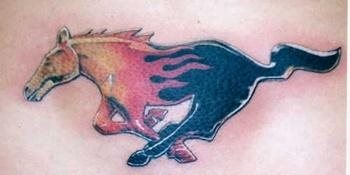 To continue we can see a beautiful design of a galloping horse. The horse is half black, half body on fire. A bit strange but with a great result.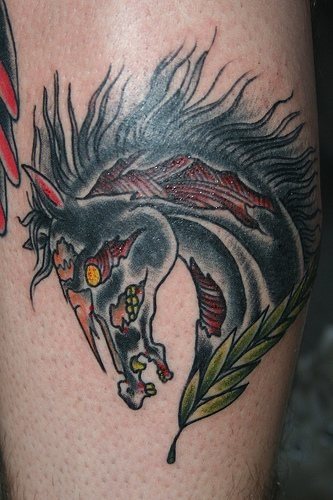 Nice design of horse in profile in dark and shaded tones. The horse seems to be a zombie or one of the horses of the jinenes of the apocalypse, something a bit strange.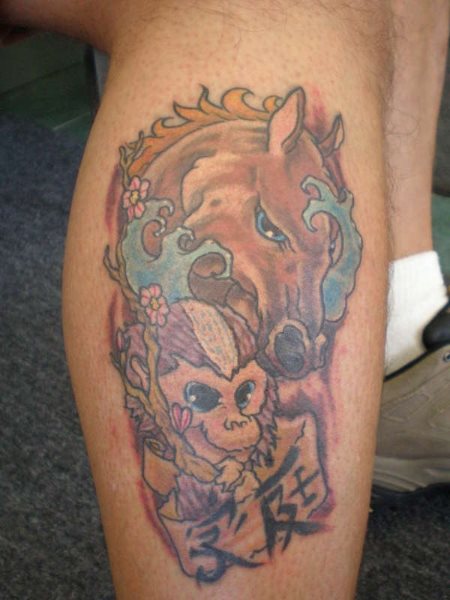 Horse head accompanied by a monkey and oriental letters, all surrounded by floral motifs and other shapes. It is likely that this tattoo is honoring these animals, which have great religious importance in these countries.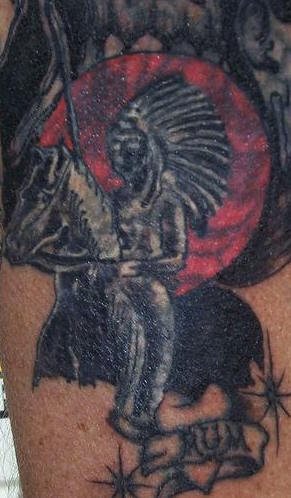 Design of an Indian chief riding his horse under what appears to be a red moon. It is a tattoo with little detail, and it has been done almost entirely with black ink, except for the moon.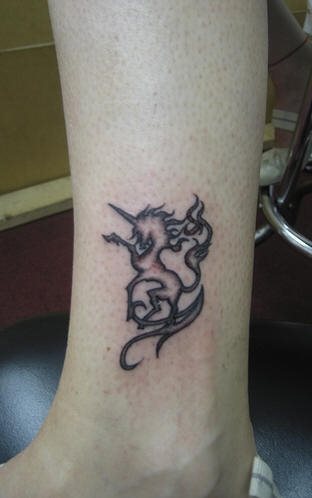 This time we have a design of a silhouette of a unicorn, a well-known mythological and fantasy creature, from whose tail what appear to be flames.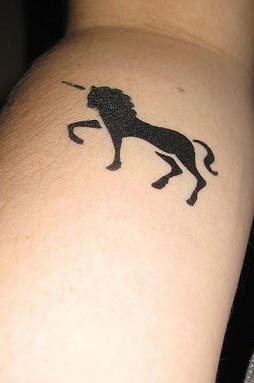 New design of the silhouette of a unicorn in black ink. It is a very simple tattoo, the person probably wanted a discreet design and not too big.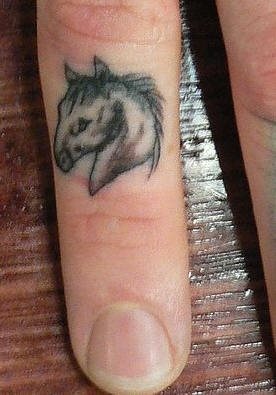 This horse head is tattooed on the index finger of the hand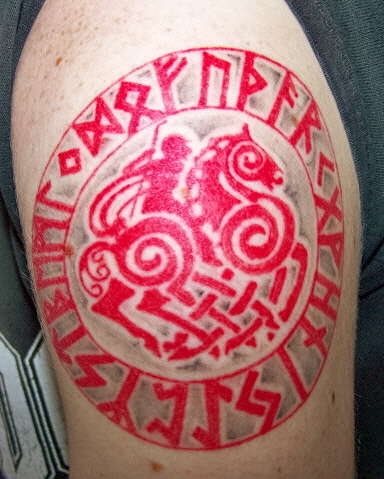 Design of what appears to be a Greek horse with a soldier riding on it. It looks like a shield or emblem, red in color.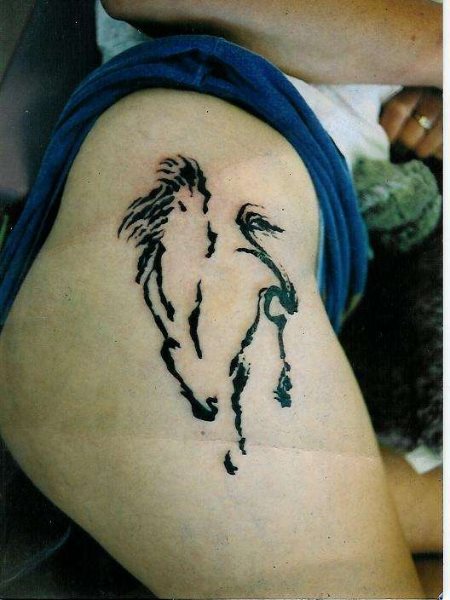 Here we have a simple and artistic tattoo of the silhouette of a horse, in black and with some great strokes.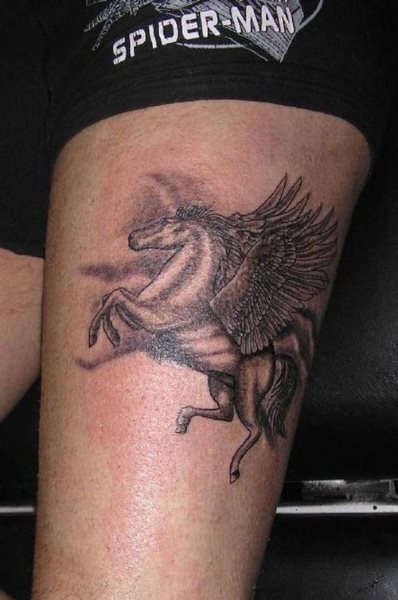 Image of a pegasus in black and blurred tones with large wings that attract all our attention.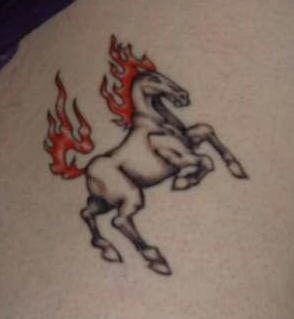 Horse with tail and hair imitating flames of fire.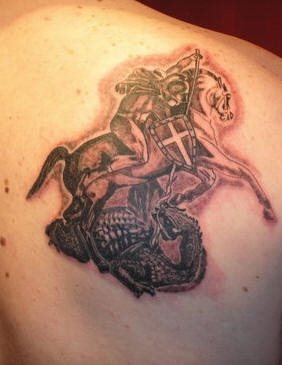 horse with a rider who has defeated a dragon, it may refer to the legend of Saint George.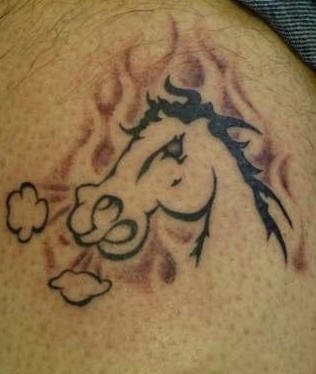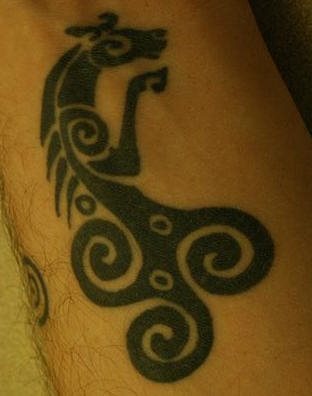 Curious shapes that end in the shape of a horse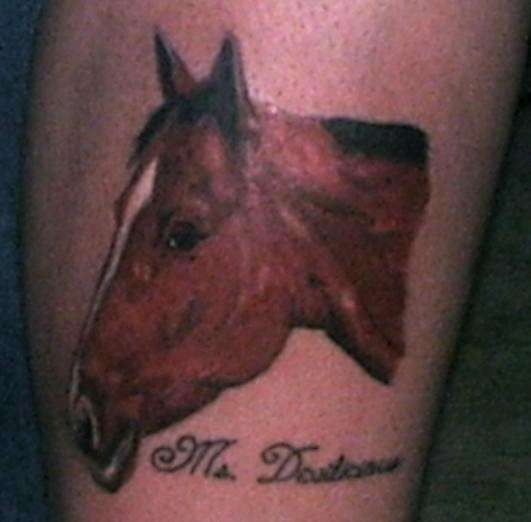 Brown horse with an observable quality of texture in the result of the coat of this animal.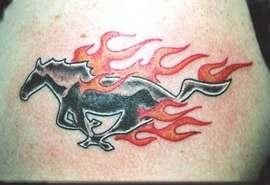 Image of a running black horse from which flames come out in orange and red tones.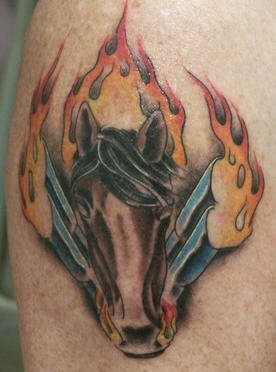 A strange tattoo in which a black horse appears holding several torches in warm tones.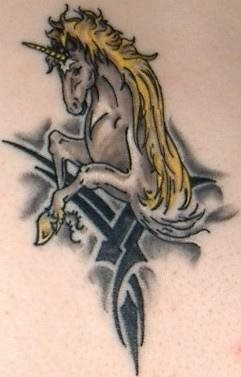 Blonde mane unicorn with tribal shapes.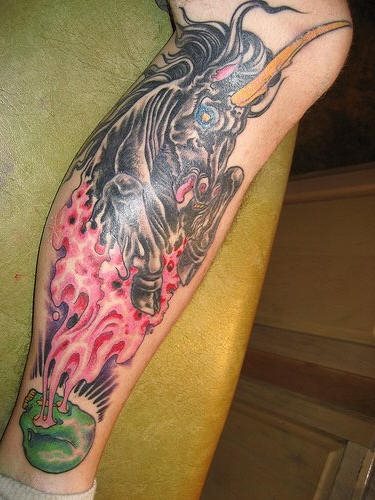 Horse in black tones with a colorful pink and green background.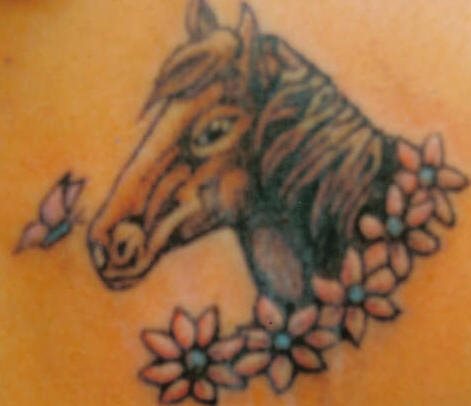 Unicorn designs made on the arm and leg of these two people.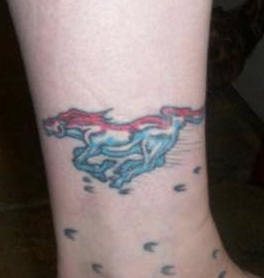 Horse in blue and red tones, undoubtedly has an influence from the world of fantasy.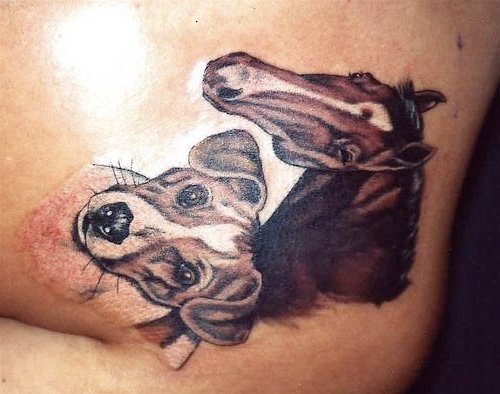 Image of a dog and a horse in brown tones with a texture so successful that a different coat can be seen if we compare both animals.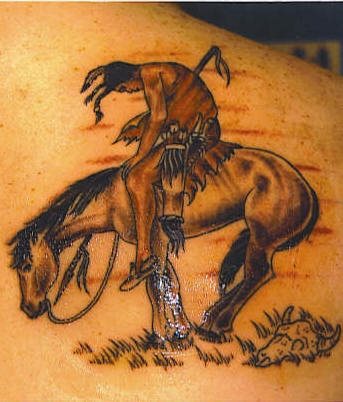 Strange position in which this horse and its rider have been represented, but with an autumnal color in brown tones and very successful colors.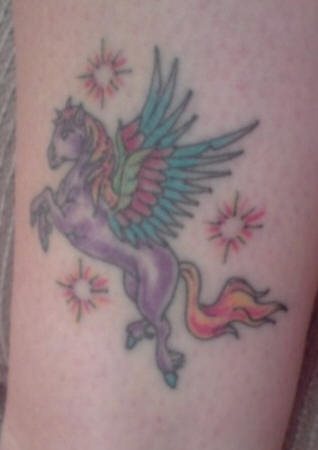 Nice winged horse design in vivid colors.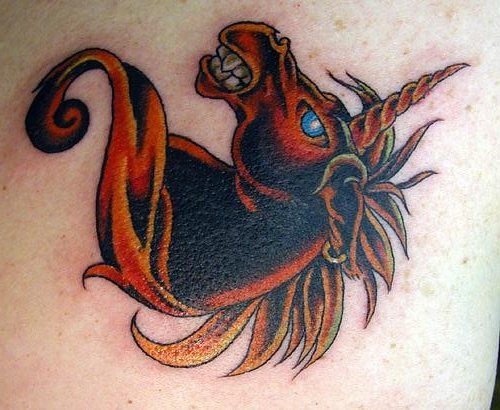 Orange and black unicorn with tough expression.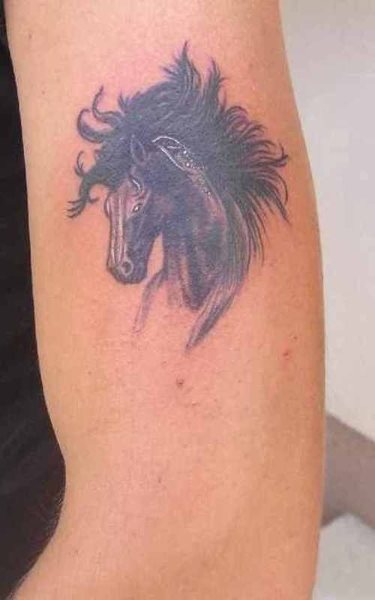 Photograph of a black horse in which the aspect that stands out the most is its mane blowing in the wind.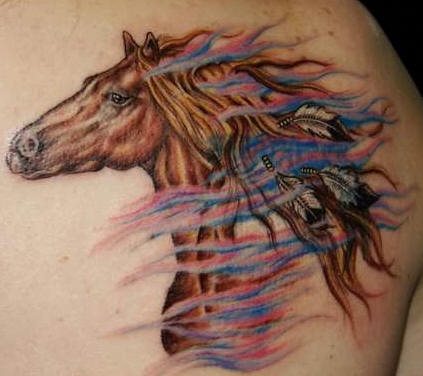 Nice brown horse with feathers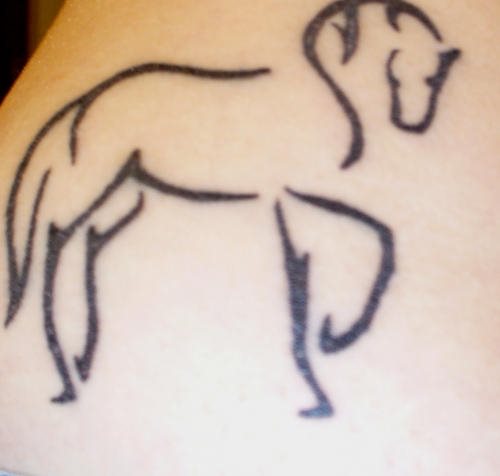 Silhouette in black tones of a horse with one of the front legs raised, which sometimes means synonymous with victory in battle.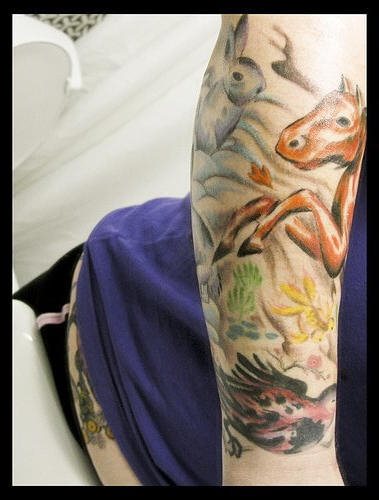 Colorful tattoo that brings together designs of various animals, including a horse.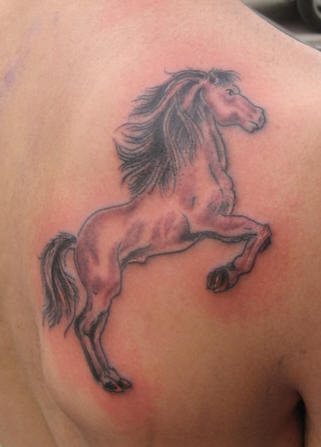 Nice design of a horse in profile resting on its two hind legs.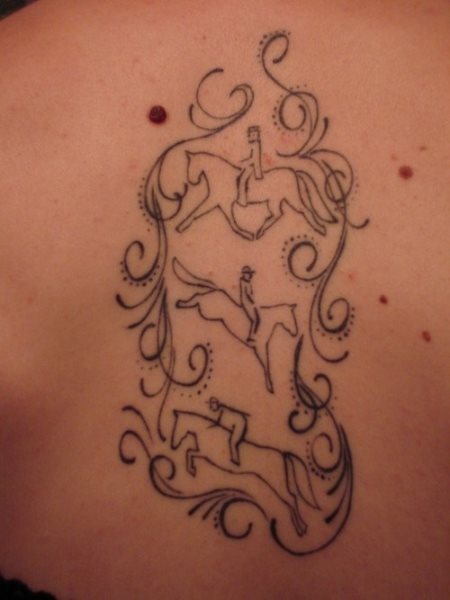 Frame in which horses led by riders are arranged in different situations: jumping, trotting …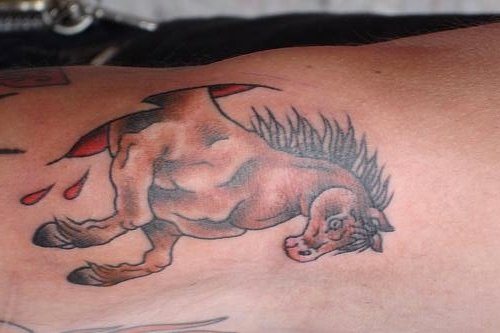 Image of a horse that apparently comes out of the skin, it is a poor design in realism, details and expression that does not add anything new.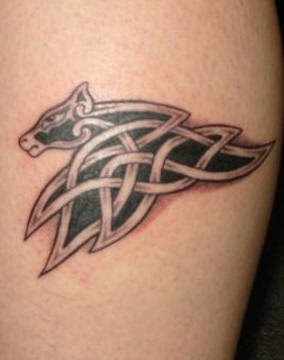 Design of an animal, we are not sure if it is of a horse, with Celtic influence if we look at the knots formed under the head of the animal.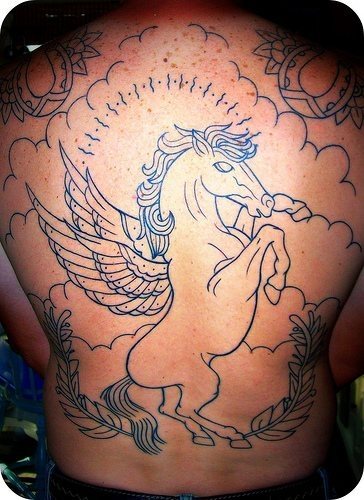 This winged horse silhouette design on two legs occupies this boy's entire back.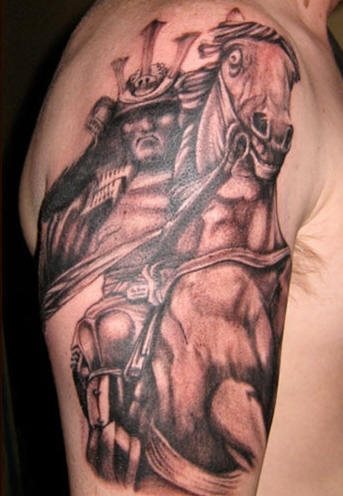 Horse driven by a warrior. The expression of the animal is somewhat disconcerting if we are honest.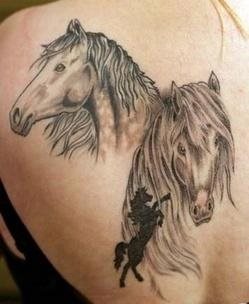 Photograph of two horse heads and a smaller silhouette of one of these animals. The arrangement is too busy for my taste.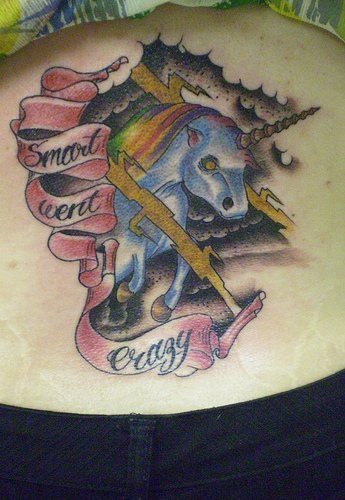 Photograph of a unicorn with rainbow fur and a background in black tones.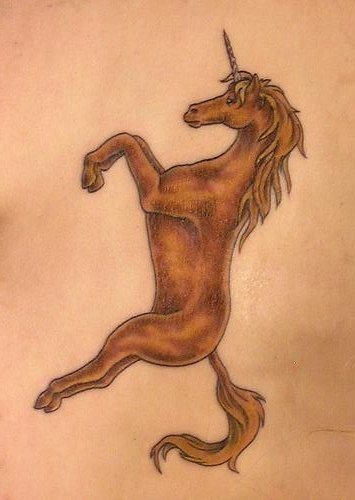 Unicorn in brown and yellow tones. An element that we miss is movement and that it enjoys a more natural body position.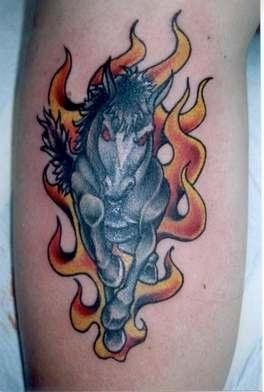 Horse in gray tones that comes out of a somewhat artificial flare of fire, lack of naturalness in this tattoo.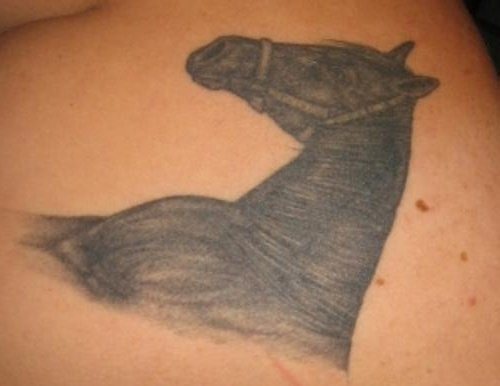 Design of a black horse in which it has been possible to give the feeling that it has been represented in pencil.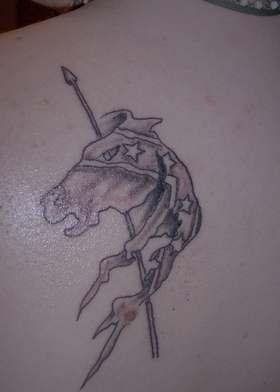 Horse with the US flag and an arrow.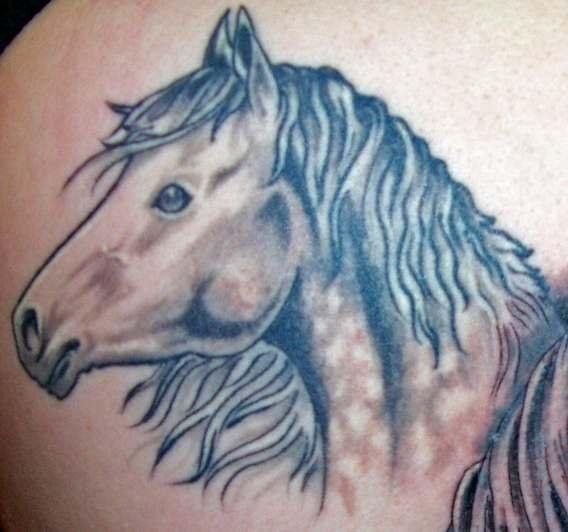 Portrait of the head of a horse, with few colors but with well achieved textures.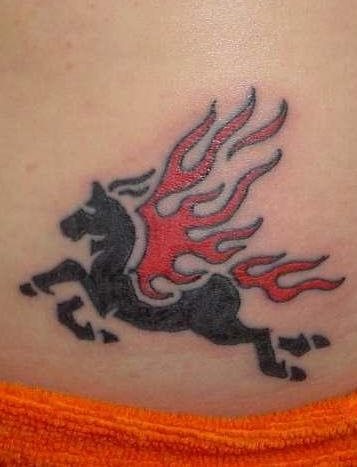 Photograph of a horse in black tones that appears to be on fire.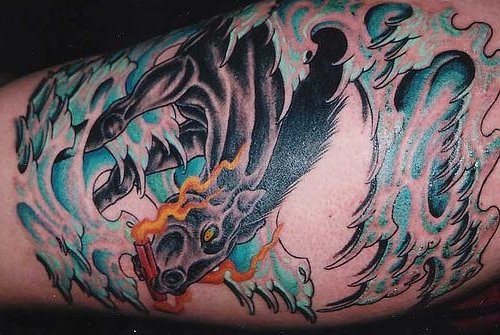 Furious horse with waves and what looks like dynamite in its mouth.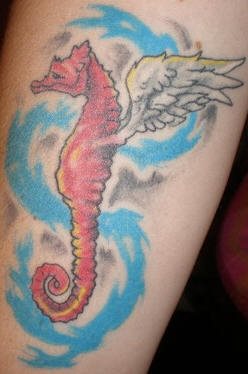 Seahorse with wings on blue shapes.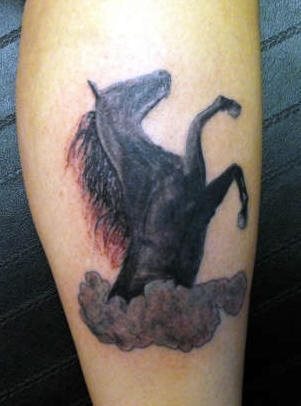 Design of a black horse that seems to come out of a poorly defined cloud.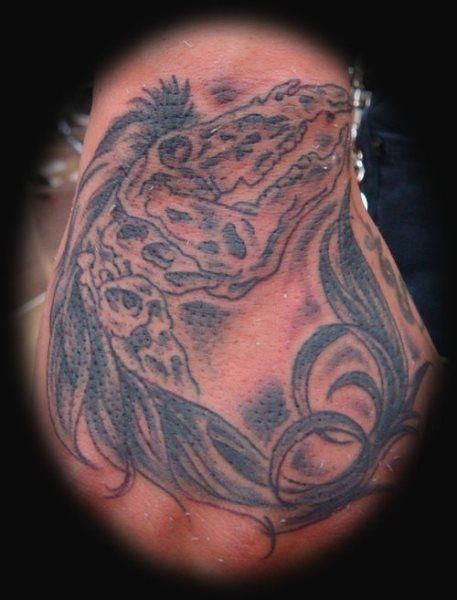 Image of the skull of a horse's head with all the fur intact.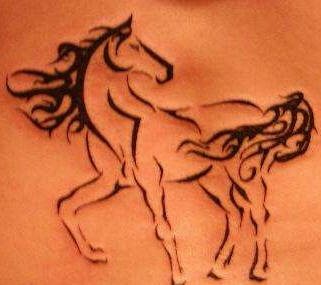 Design of a horse of tribal influence and we say this by how the fur and tail of the animal have been traced.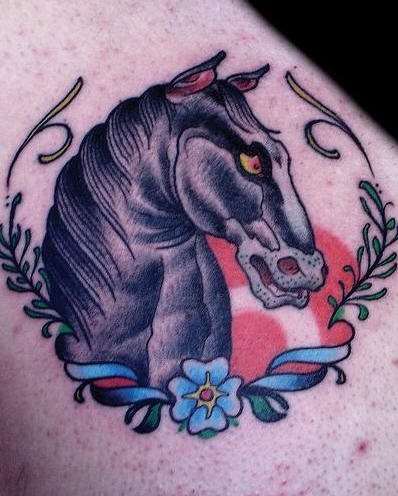 Image of a horse with a somewhat strange facial expression, but with a very successful and contrasted color.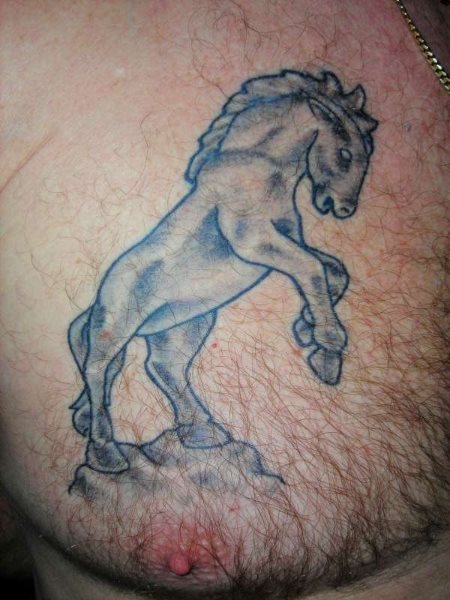 Design of black and shaded tones with a good layout but with a somewhat simple and little detailed result.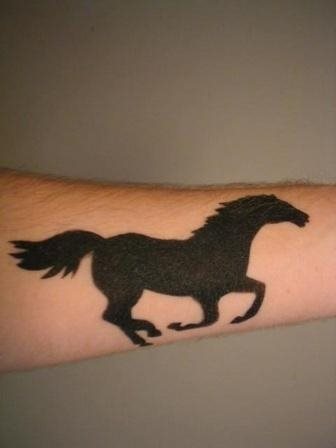 Galloping horse, done in black ink.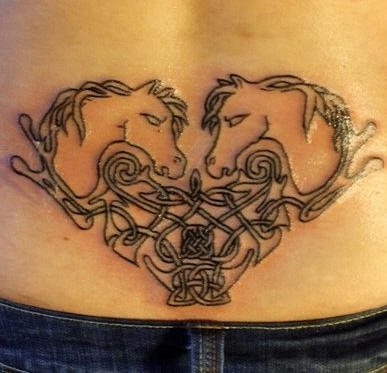 Photograph of a design of two horses facing each other. The absence of filling of the figures gives the feeling of unfinished.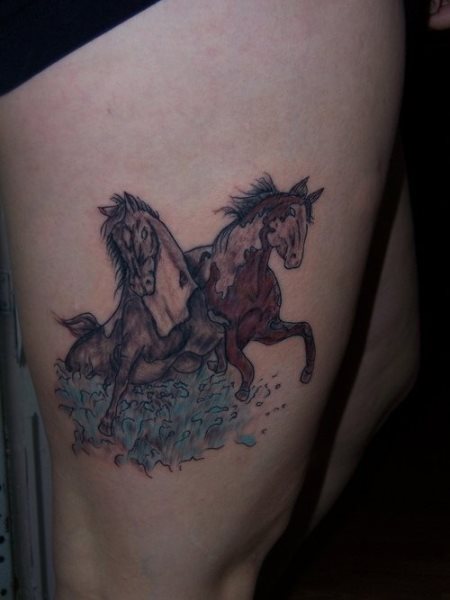 Nice photograph of two trotting horses that can have two very different meanings, since it can be interpreted that they are friends or that they are fighting.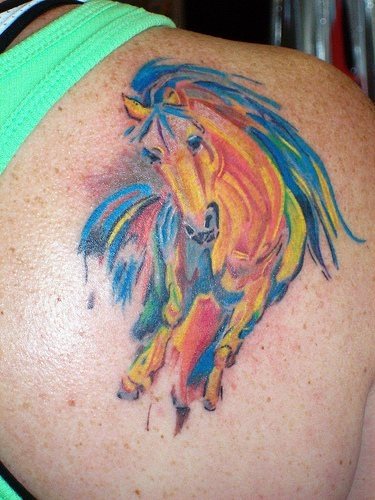 Design highlighted by the striking tones and shapes, which look like an oil painting.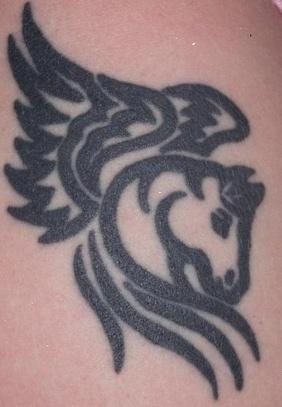 Simple head of a winged horse drawn in a well-saturated shade of black.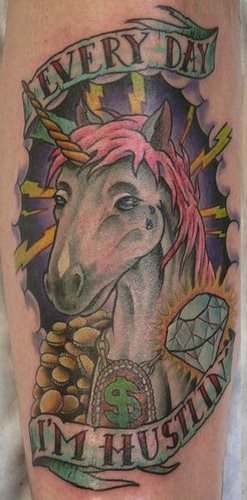 Photograph of a unicorn design with vivid colors and quirky details that make this tattoo unique.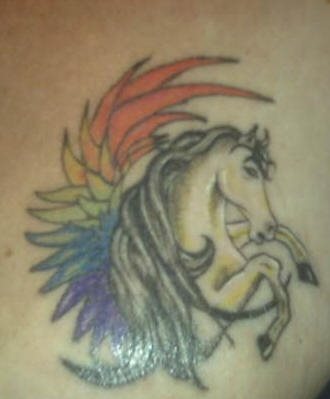 In this image you can see a horse with long manes and a colorful background that contrasts with the white of the horse.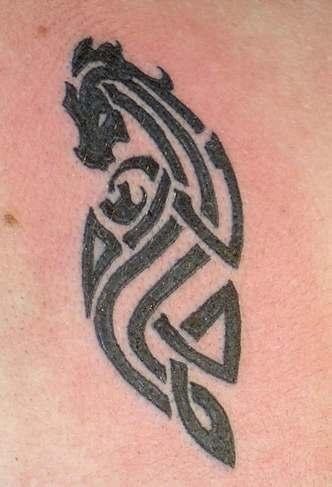 Black tribal shapes forming a horse with curvilinear lines drawn.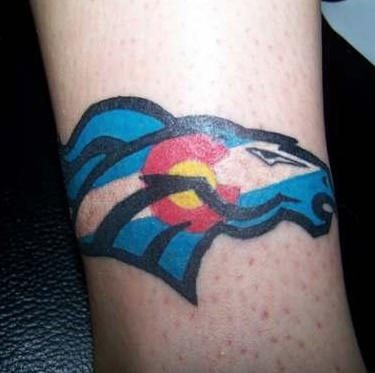 It is difficult to give a description of this design. It is colored by a flag whose provenance I do not know. In the center it has a sun or a red letter C although the image is not appreciated very well.