If we think of an element that is associated with luck, one of those that quickly comes to mind is the clover, and more specifically the four-leaf clover. It is said that only one in ten thousand clovers have four leaves, hence the legend of finding them in augury of good luck. Clovers, which are a family of plants whose scientific name is Trifolium, have as a general rule, hence their scientific name, which means three leaves in Latin.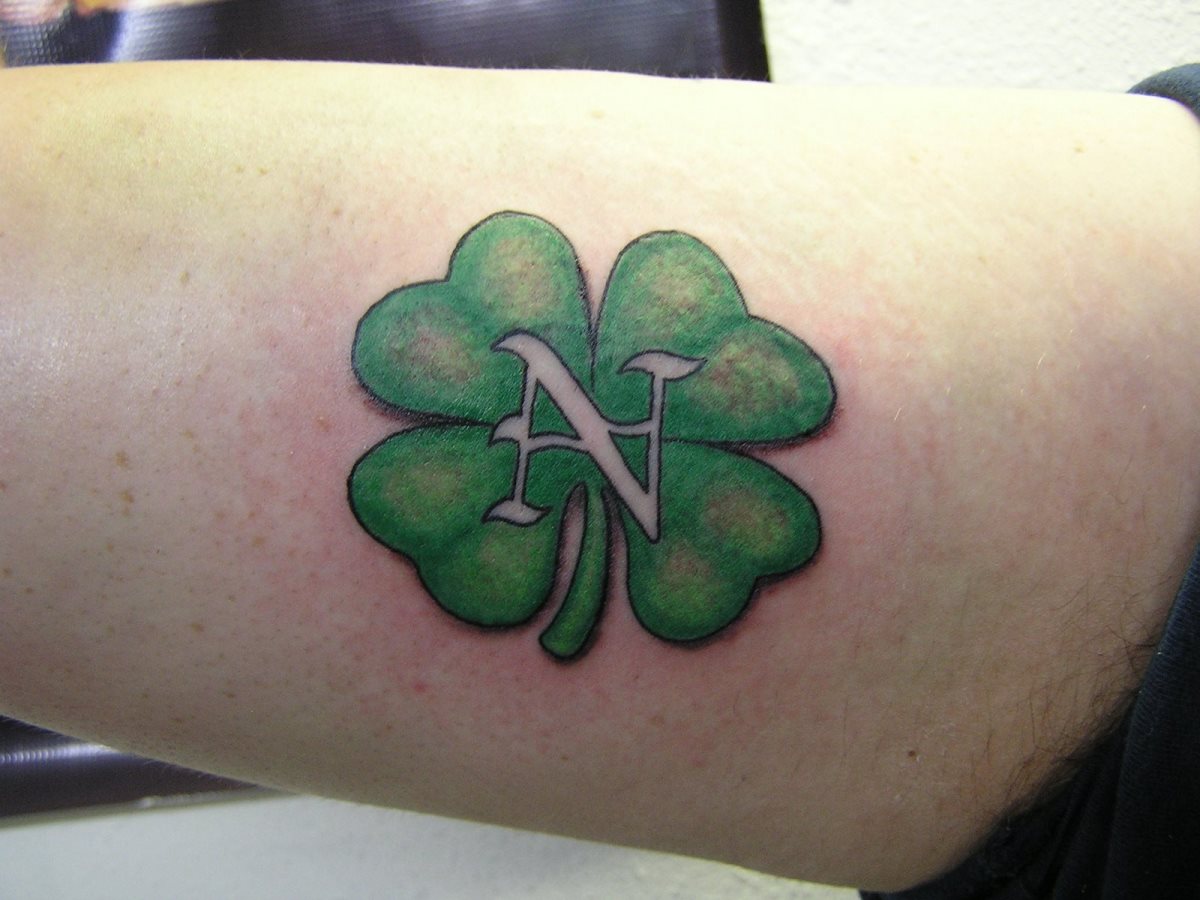 Each of the leaves of the clover symbolizes an attribute, the first of the leaves is related to hope, the second to faith, the third to love and the fourth … to luck. As we can see, they are all very kind and very "cuquis" attributes, and this is because around the world the clover embodies good feelings and good omens. Clovers are closely related to Celtic culturesIn fact, it is one of the symbols of Ireland.
Clover tattoos are usually small tattoos, the most commonly used areas are the wrists, neck, biceps, near the navel or the sole of the foot. As I said before it is a very harmless tattoo, and if you think that by wearing tattoos your professional career can be compromised, it surely does not happen with a tattoo of a clover, since it does not have that negativity charge that a typical tattoo can have gangster.
There are tattoos of clovers with infinity of designs, obviously they all have a clover shape, how could it be otherwise, but there are small ones: on the wrists, on the neck, on the ankles; there are bigger ones: in the back, the chest, the leg; monochromatic unfilled, polychromatic, totally green; sets of small clovers winding an area of ​​the body, accompanied by other Celtic elements such as elves, mushrooms or elves, with letters inside or forming calligrams and dozens of different designs.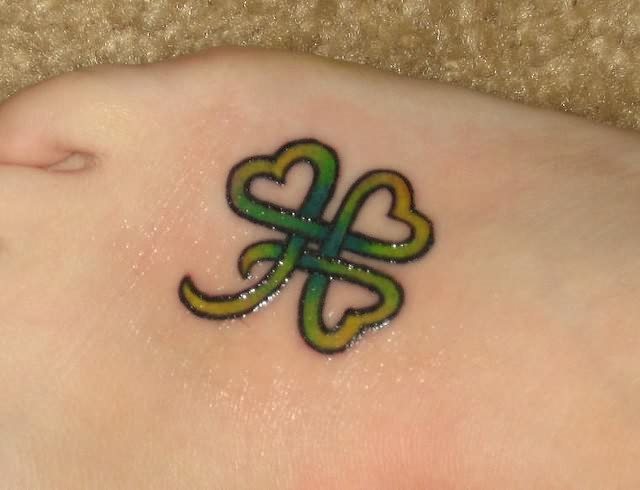 It is true that clovers are elements closely linked to Celtic cultures but it is also very common to find clovers tattooed in the style of tribal tattoos, or accompanying Maori symbols and other elements of oriental cultures. It is one of the advantages of being an element, as a rule, benign, that can be interrelated with other cultures and other symbols without generating great controversy.
Something must be clear, the vast majority of designs of clovers that you will find in tattoo studios are four-leaf clovers, that's why, when someone decides to get a tattoo they want their tattoo to be striking, original, different And, evidently, a three-leaf clover is very common, in fact 9,999 out of 10,000 clovers have three leaves.
You know, if you are a descendant or have ties to Celtic cultures, it is already taking time to get your clover tattoo and if you are not, you are also taking a tattoo of a clover, and if it is four leaves, much better .
To start with our lucky gallery, here we have a nice tattoo of a green 4 leaf clover, located on the nape of this girl. It is a simple and elegant design, made using a palette of soft green tones, achieving a genius finish.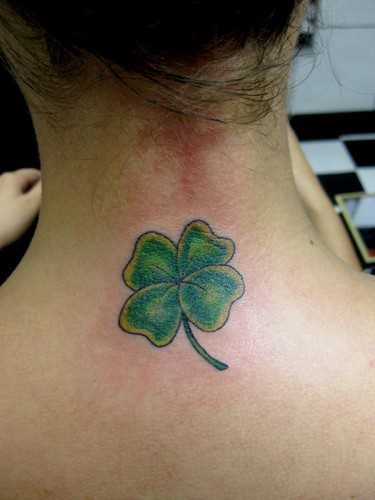 Then we find a peculiar tattoo located on the shoulder and arm of this person, in which you can see a partially burning clover that is being chewed by a mouse, and under which a scroll with a few dates is placed. All made with gray tones and cuttlefish with shading.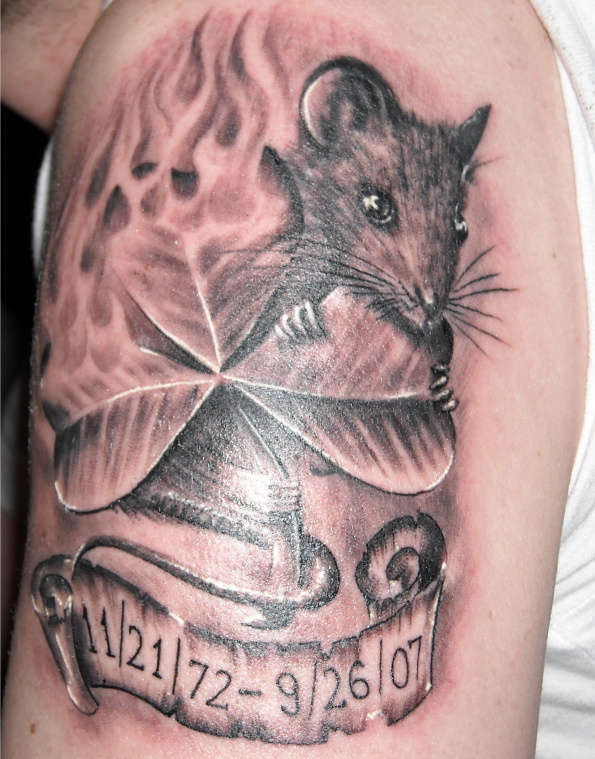 In this case, we have a great tattoo of a black clover with a kind of doll on the top that inevitably reminds us of a queen, who accompanies her king at the bottom of the drawing. The contrast between the black tone of the clover and the color of the king and queen is fantastic.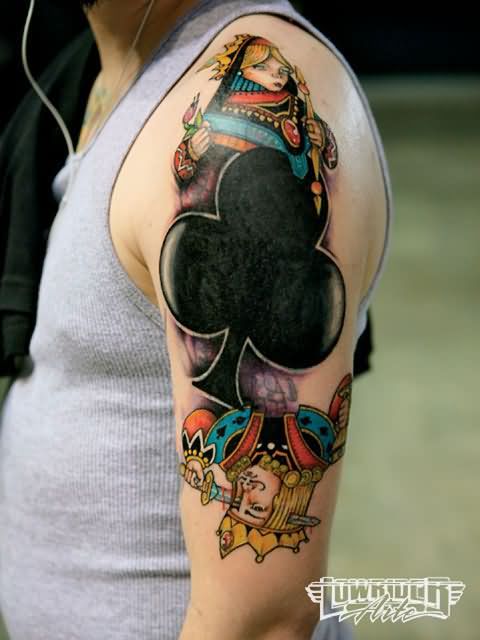 We continue with this image where you can see a swallow that carries a four-leaf clover on its beak while flying with its wings extended. For this design, very soft and eye-pleasing pastel tones have been used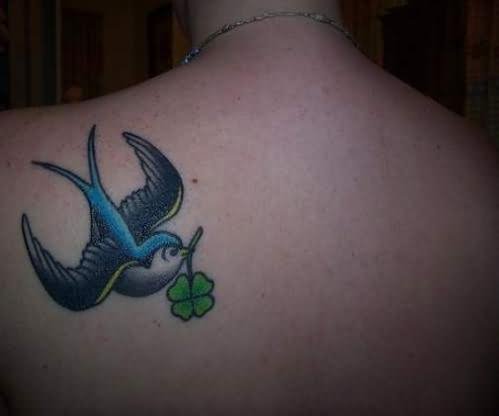 In the following image we find a large design of a four-leaf clover with an accompanying parchment and in which you can read the English word "lucky", which means "lucky". It may be that this person is superstitious, but what is certain is that the tattoo is recent, because it still has the protective cream.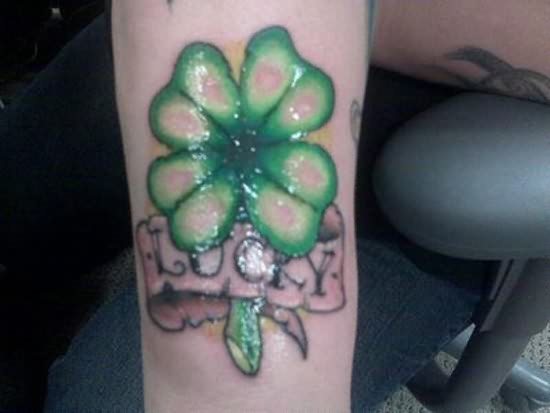 Here we have other tattoos of a four-leaf clover, this time with a large size and with a very generic design, thus being valid for both men and women. For this design, the external part of this person's elbow has been chosen as the location.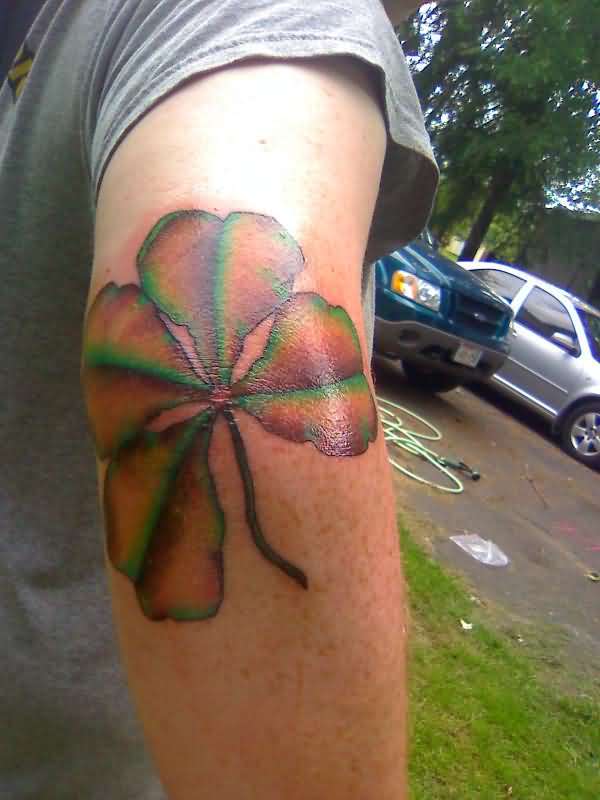 On this occasion we are facing a wonderful design of a clover with a marked Celtic style, since it can be seen in the characteristic network of lines of this style of tattoos. In addition, the combination of the green color of the clover with the gray tones of the latticework results in a magnificent result.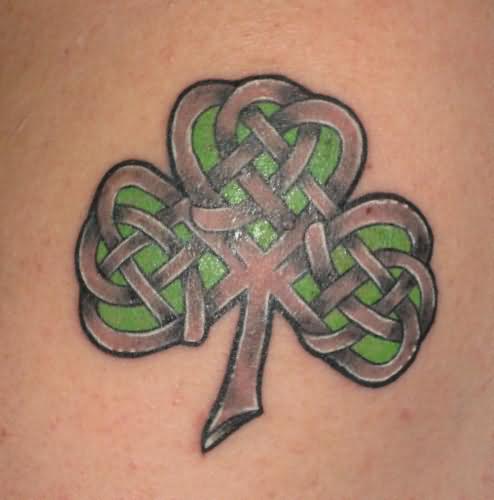 Clover a bit weird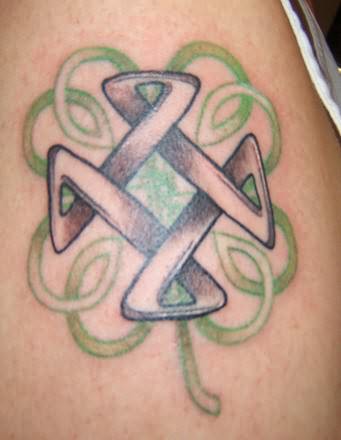 Other clovers with other colors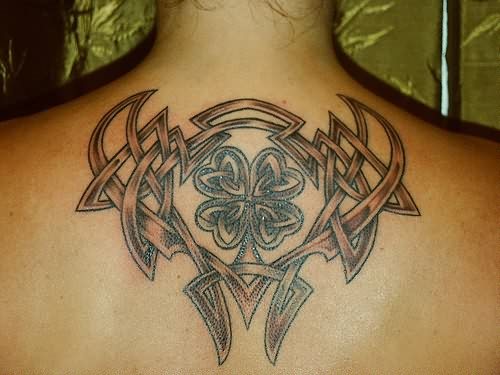 Nice clover with the colors of the flag, different choice to tattoo a clover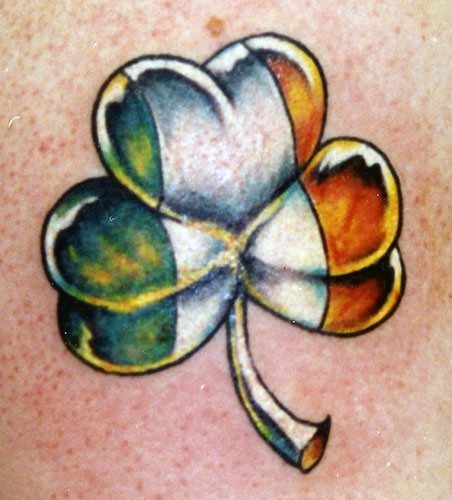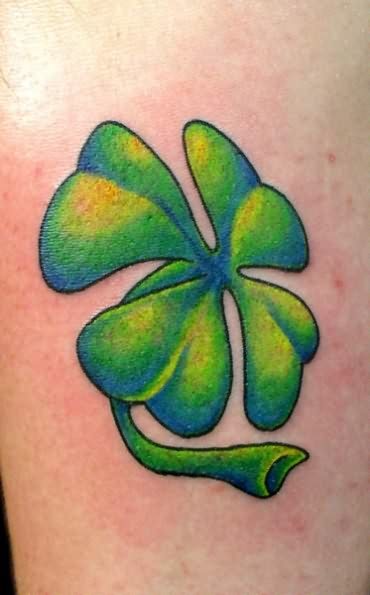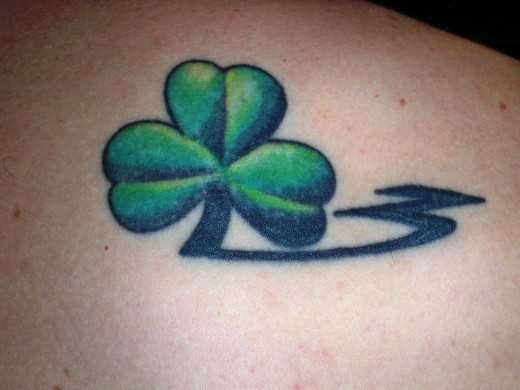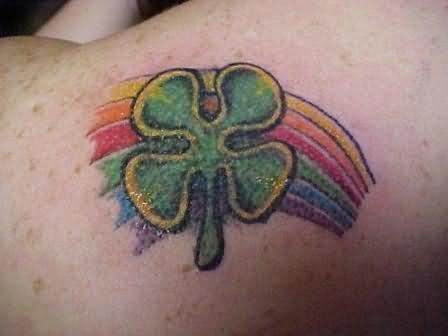 Tattoo made and dedicated to his mother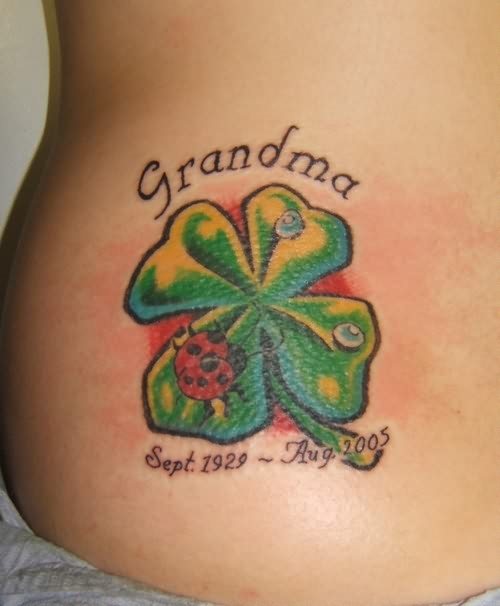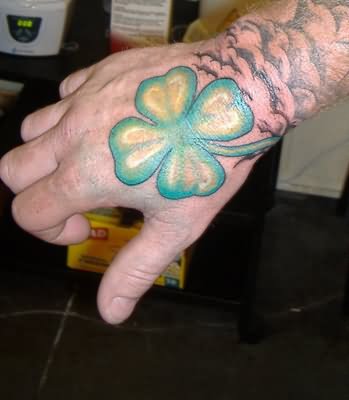 Just behind the ear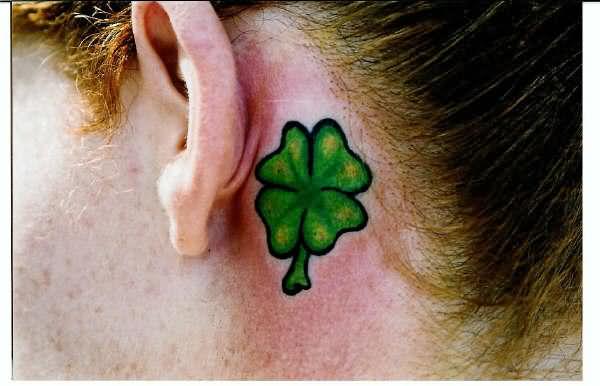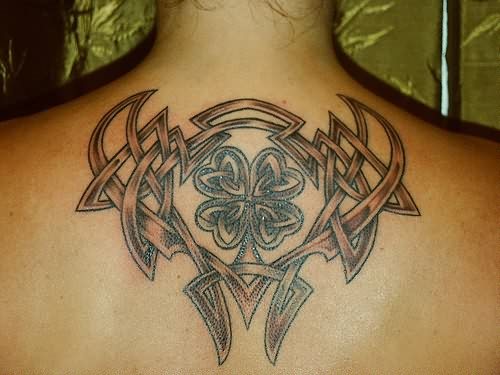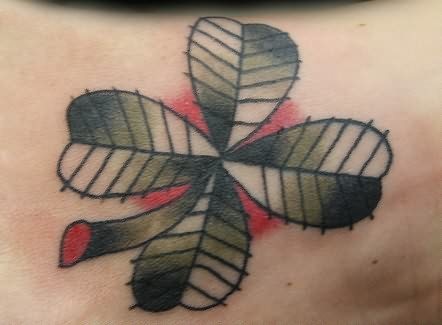 On the lower back of a lady or girl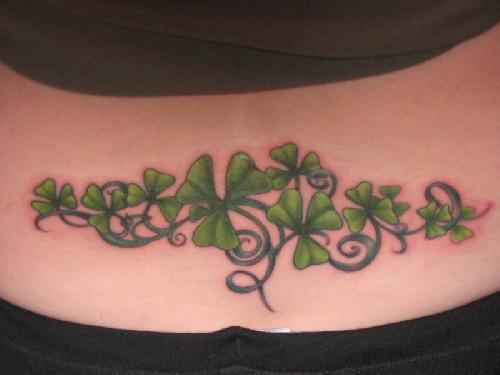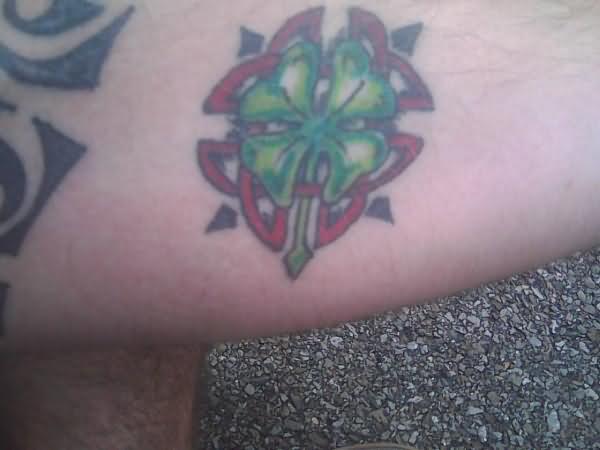 Small tattoos of clovers on the instep and other parts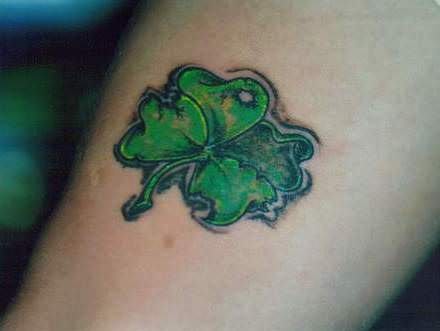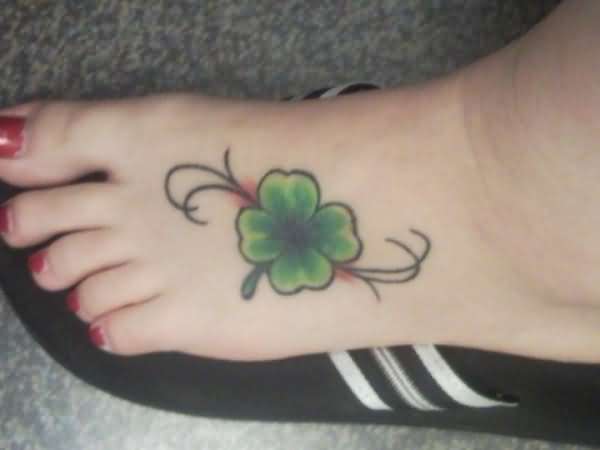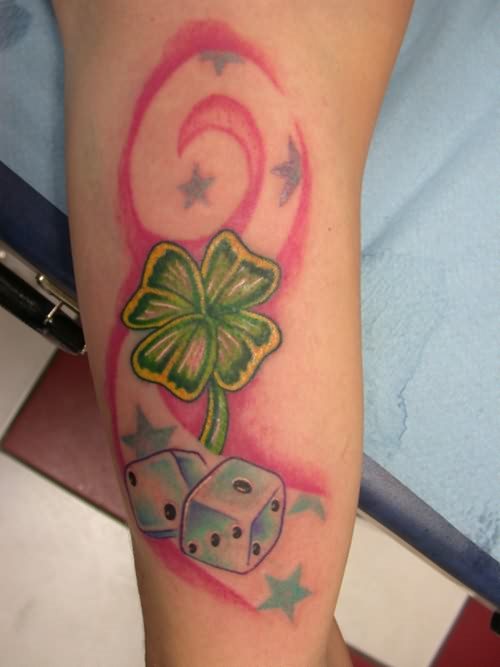 Super small tattoo almost near the sole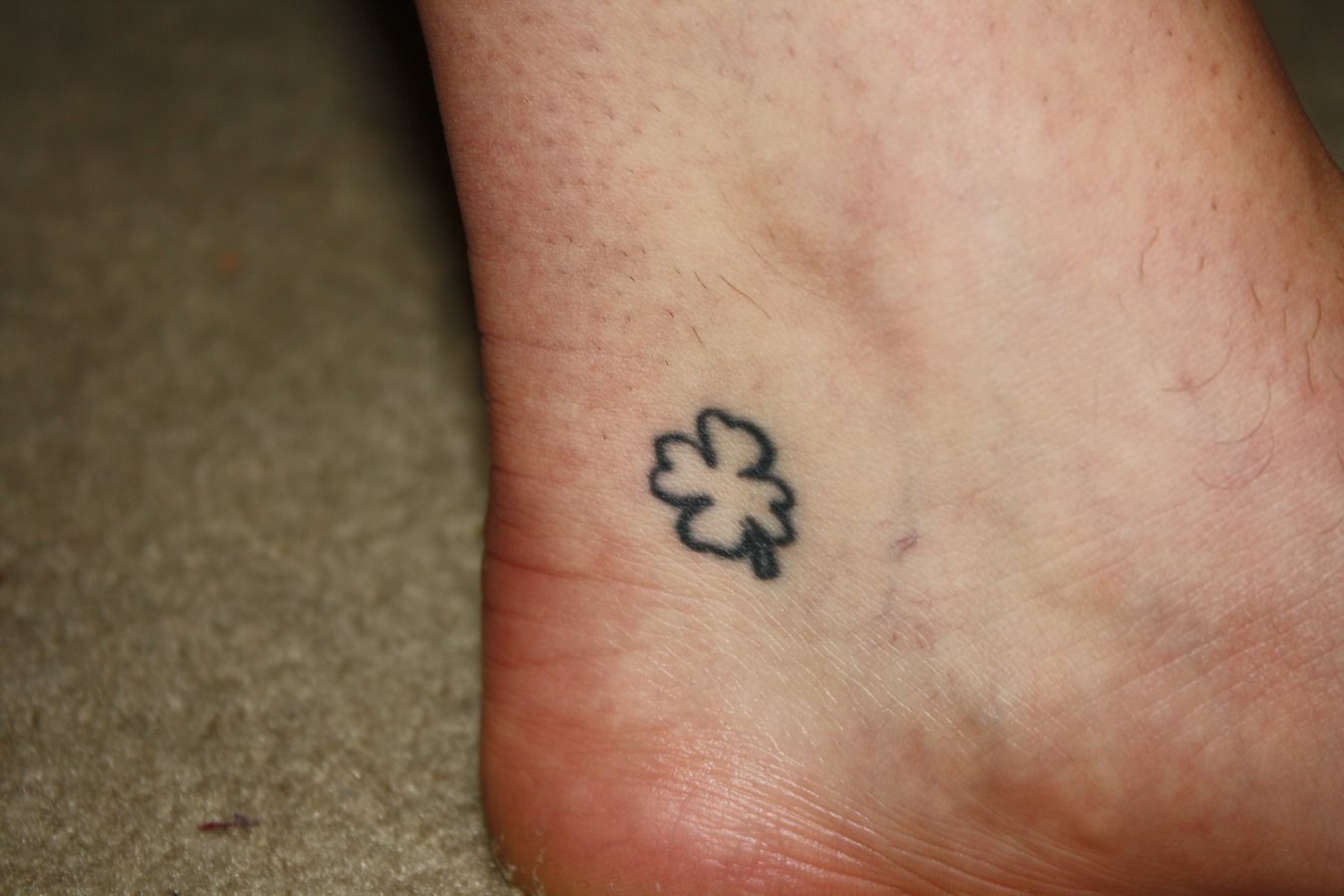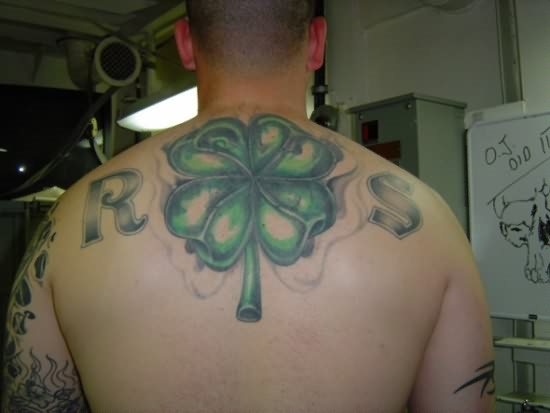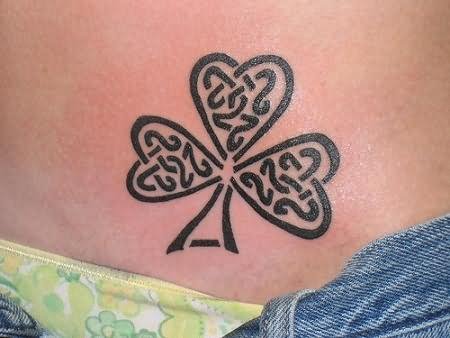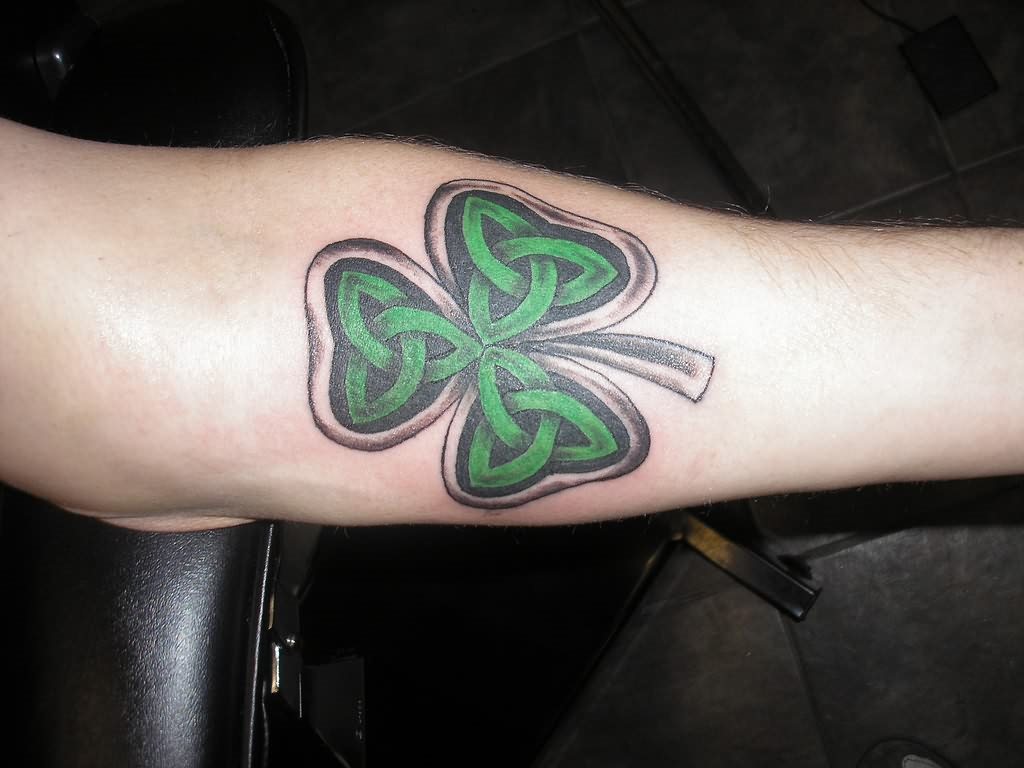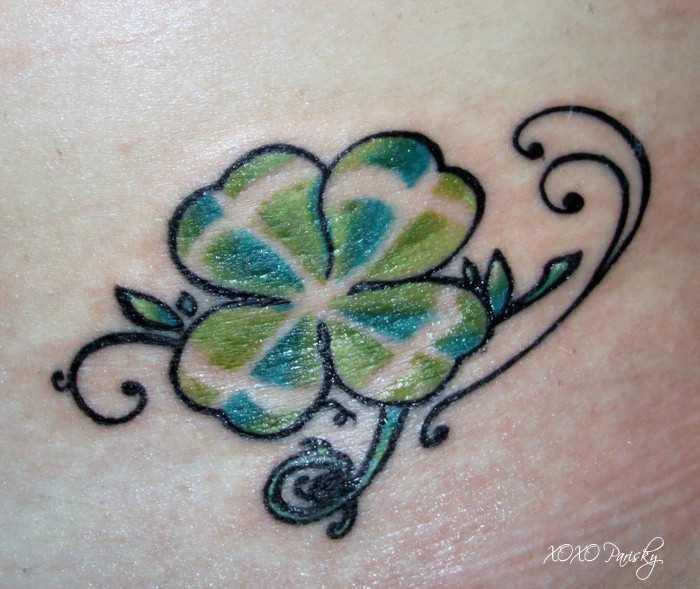 On the back of the lip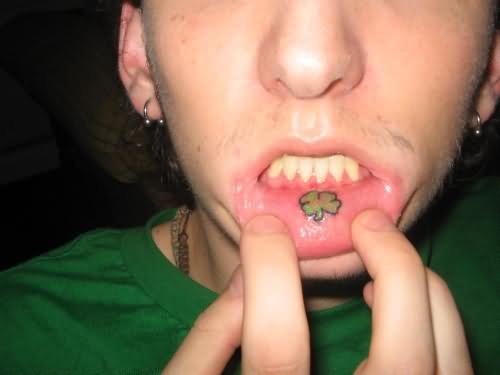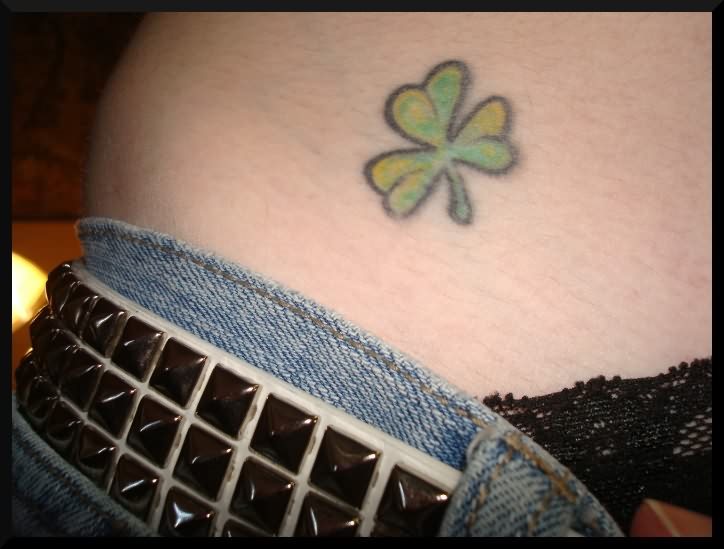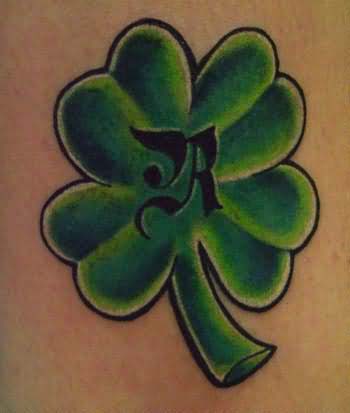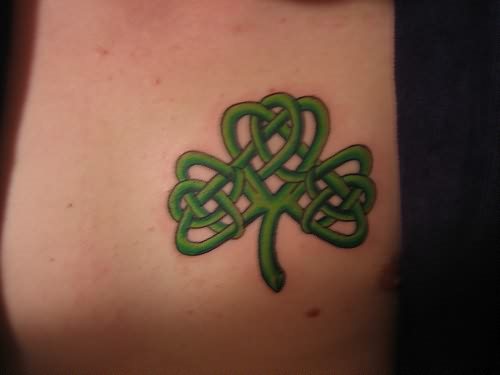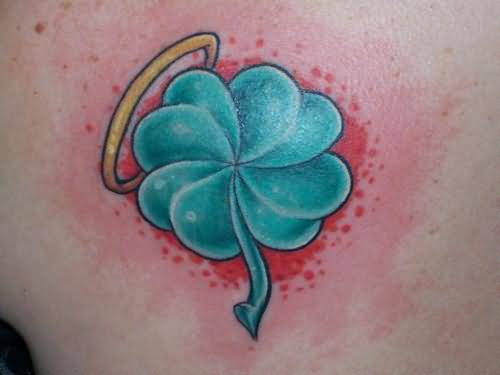 Other very small and funny tattoos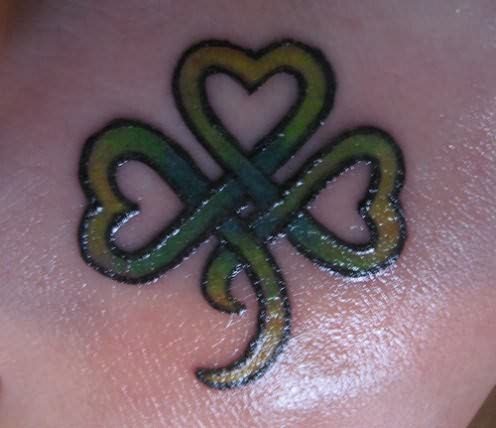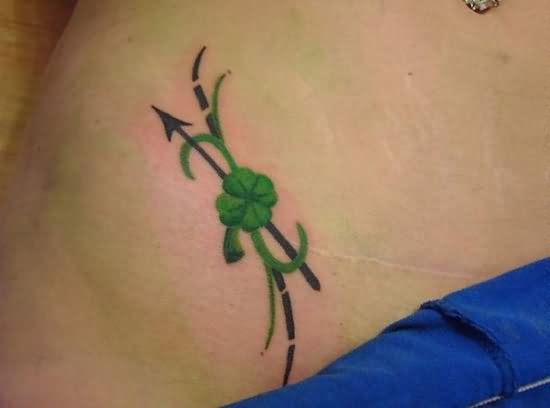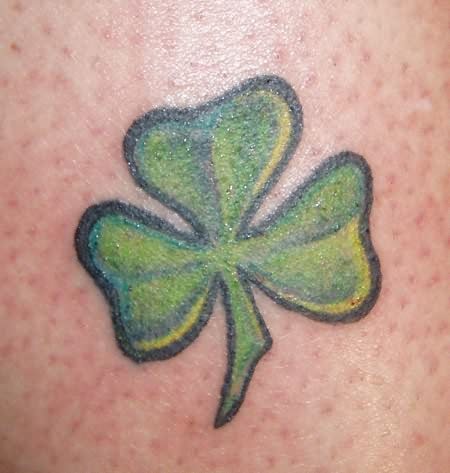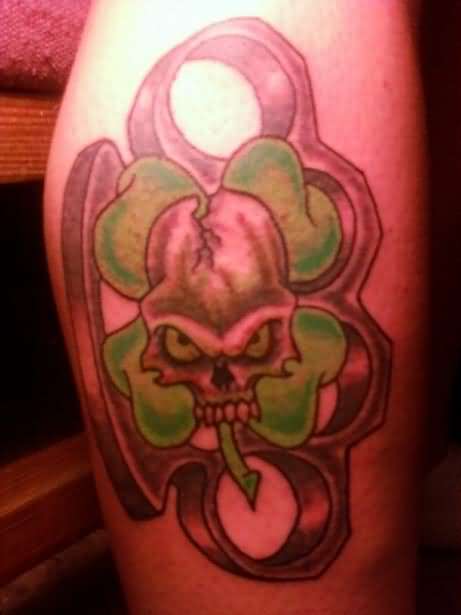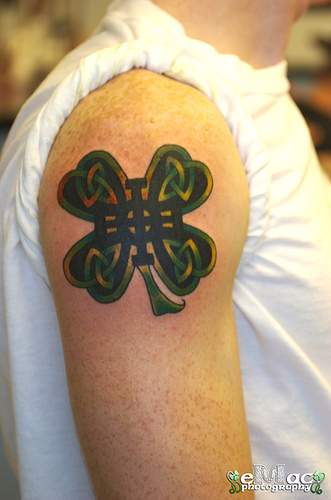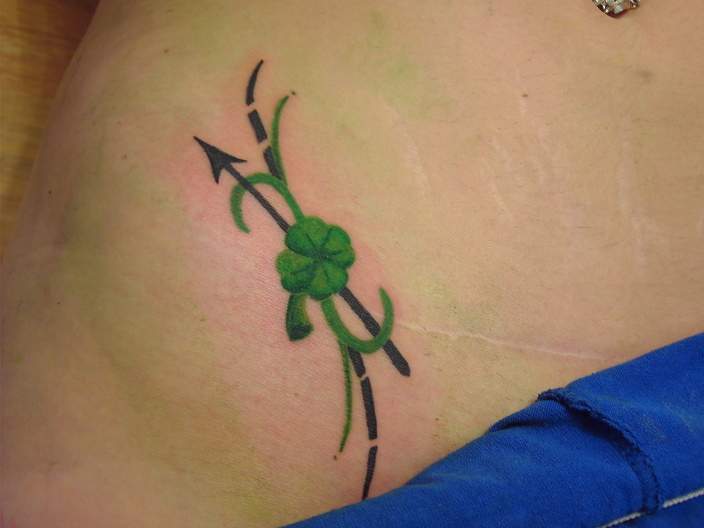 Clover in the center of the back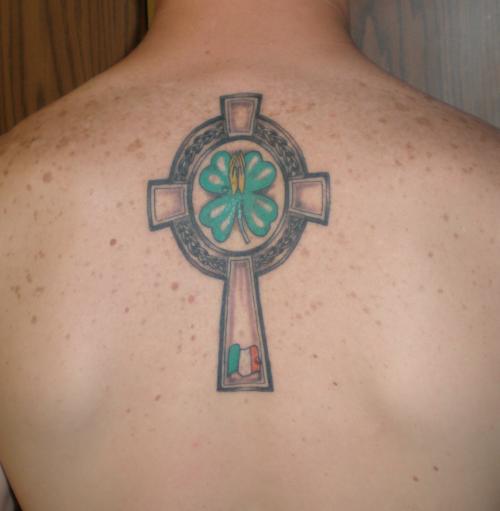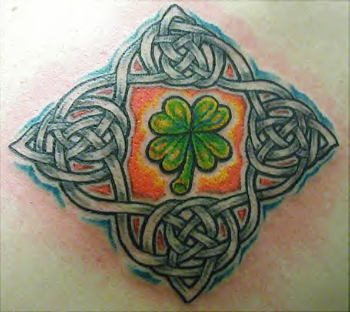 Whole arm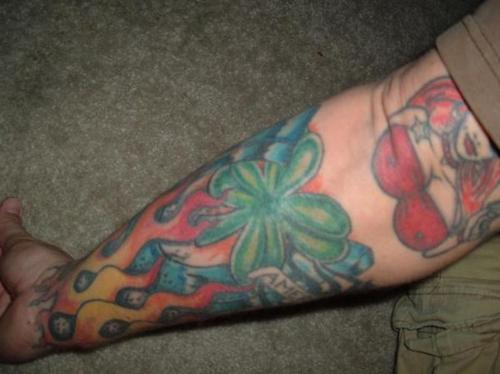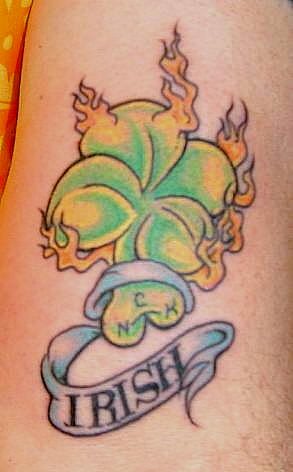 Clover tattoo accompanied by letters where names of people appear and in the center the word luck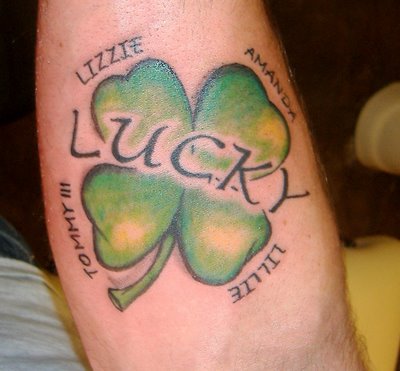 Small clover tattoos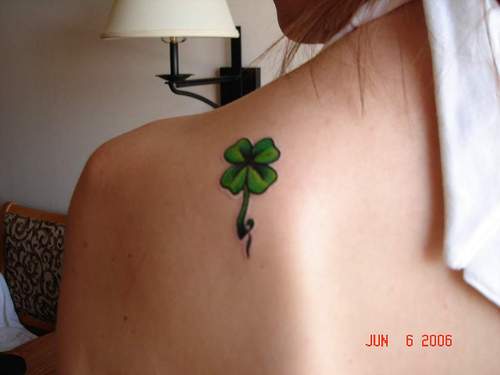 On the lip, a very rarely seen tattoo. I have rarely seen anyone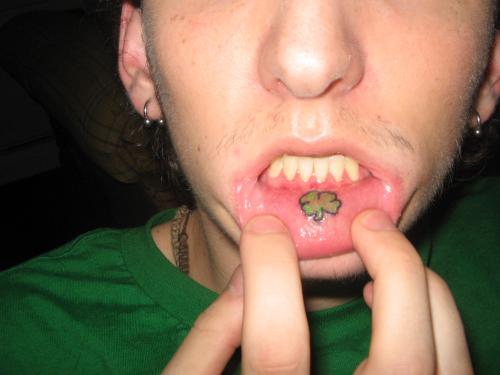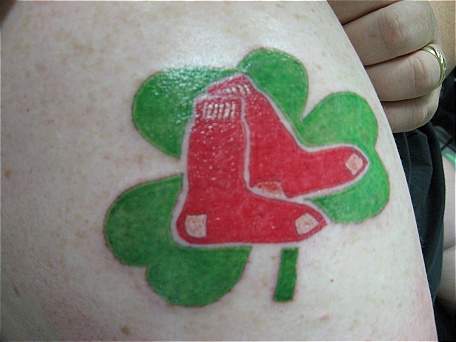 Clover on the instep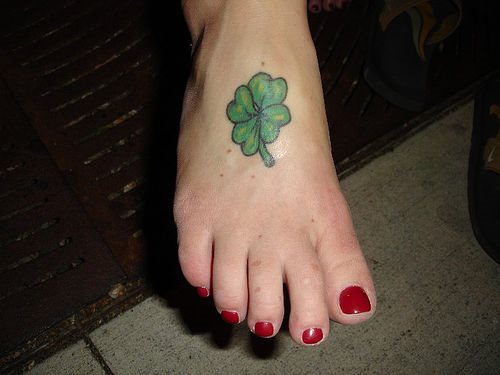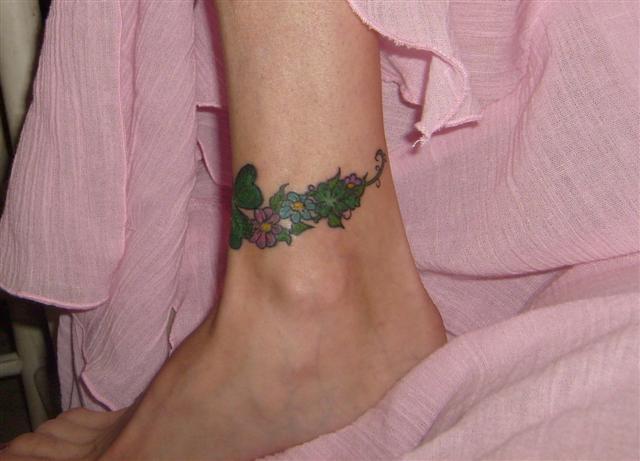 Another very small tattoo on the foot, near the fingers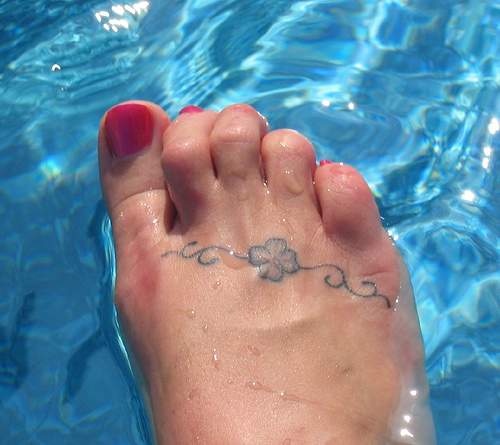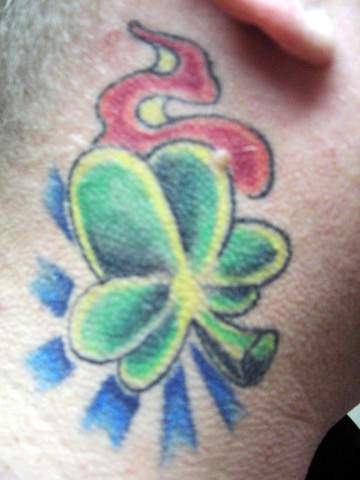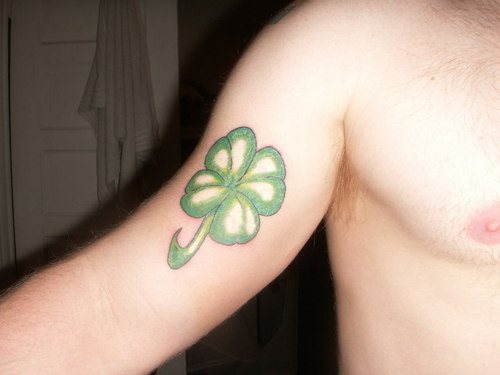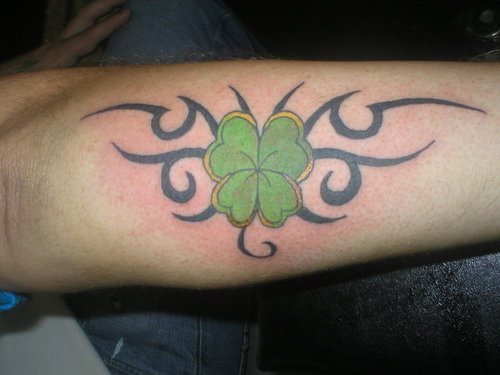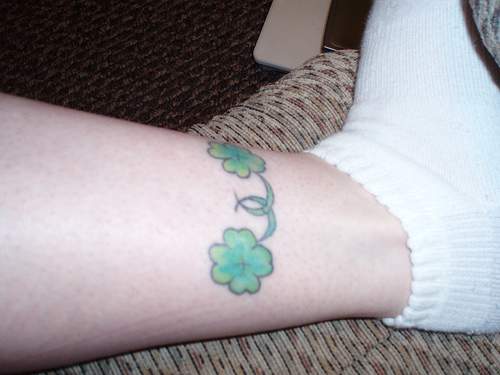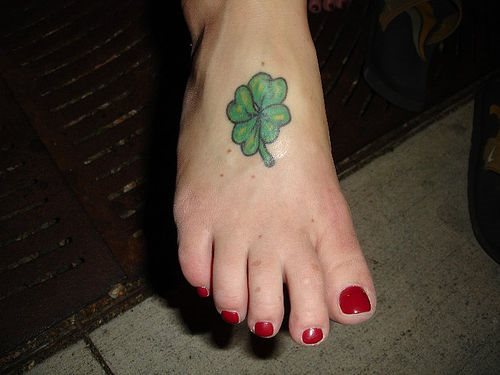 In this case near the ankle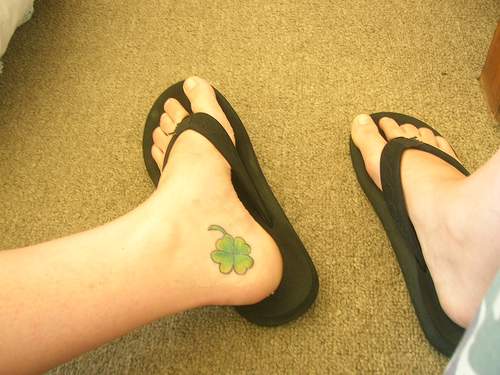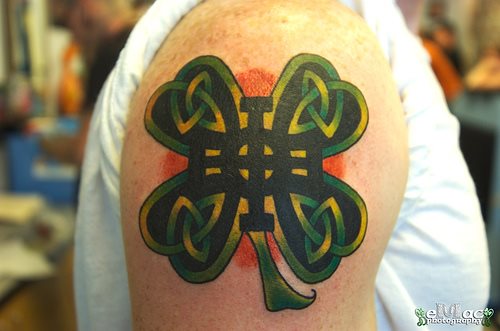 Many clubs spread all over the back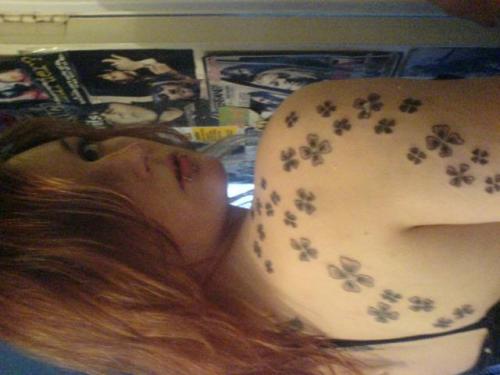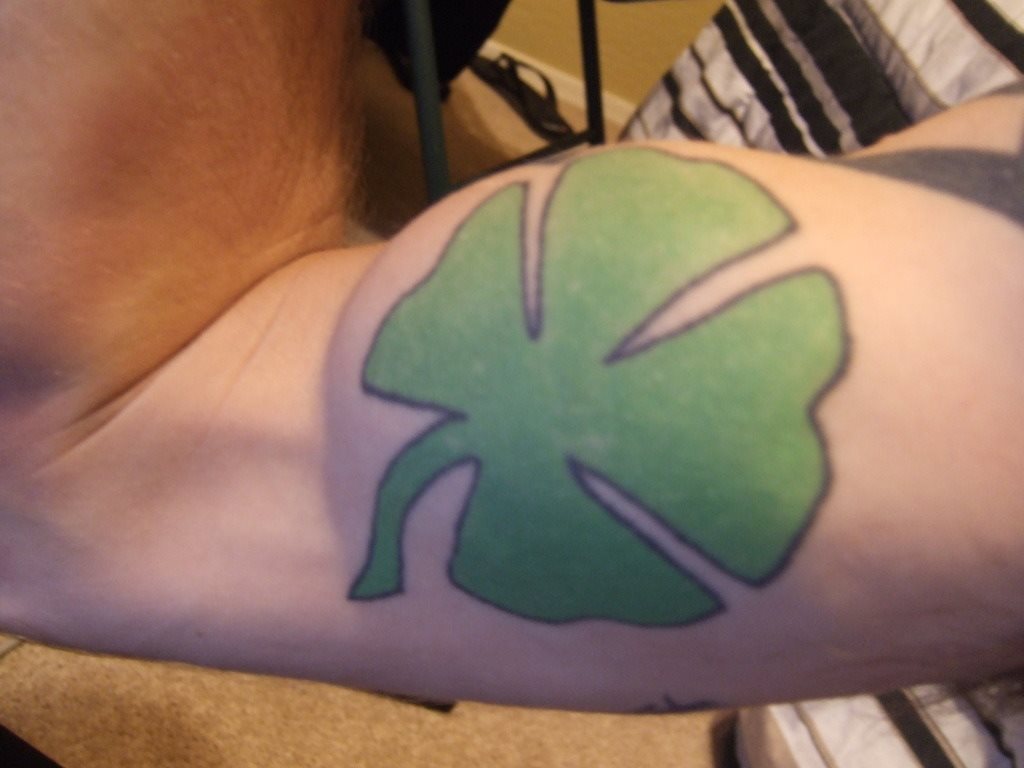 A bird or swallow with a clover leaf in its beak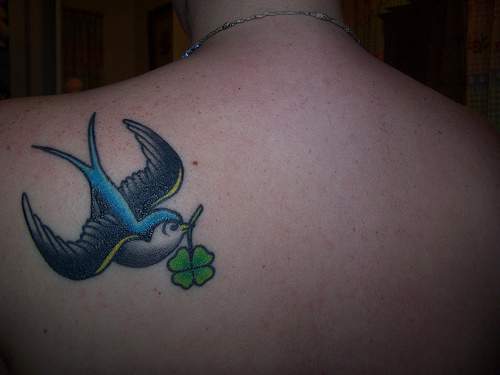 Some small tattoos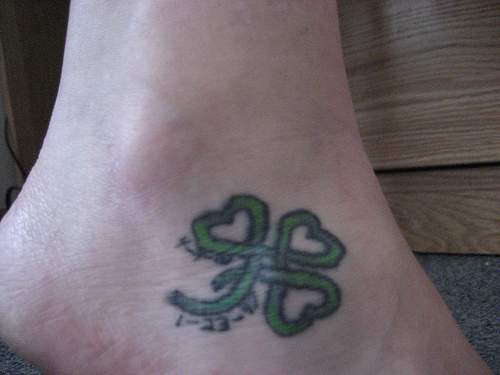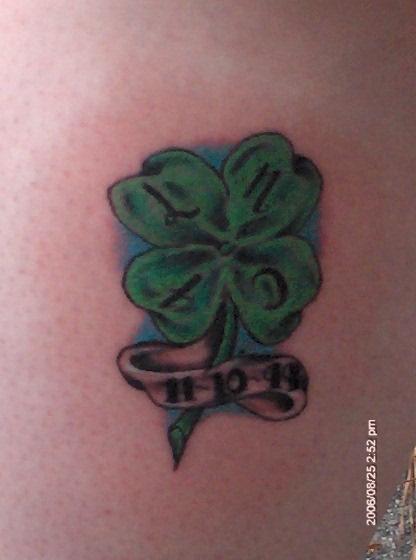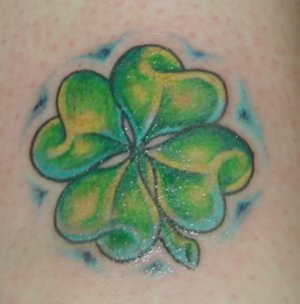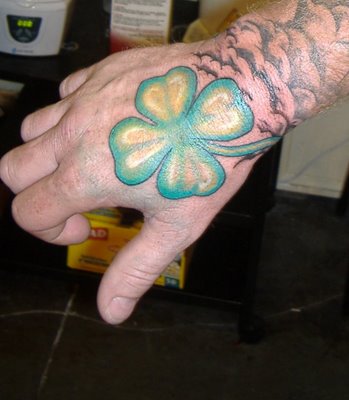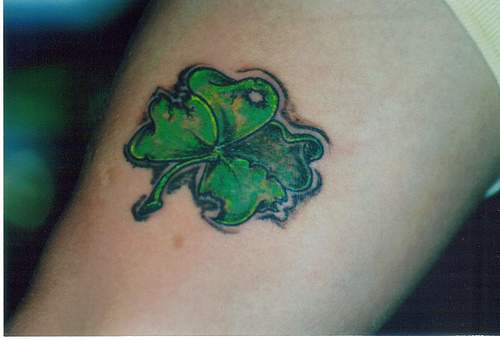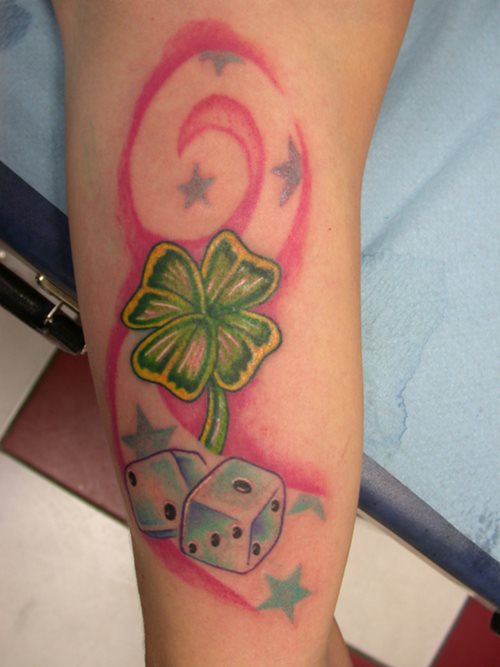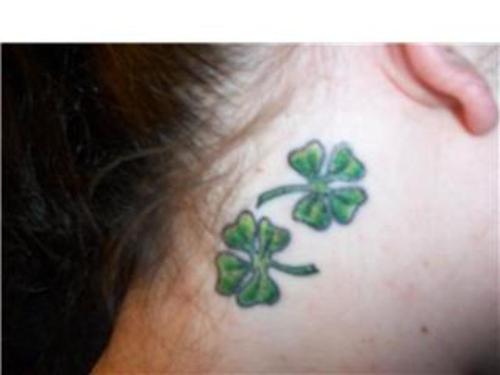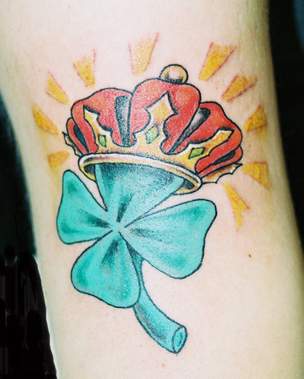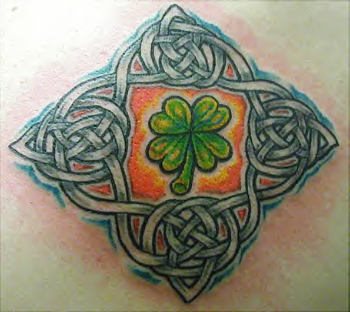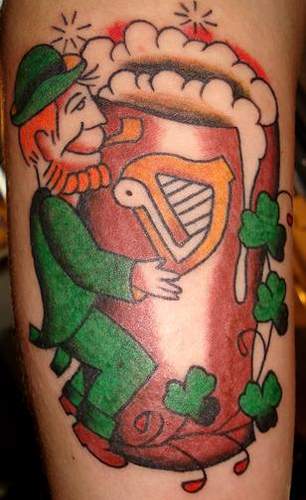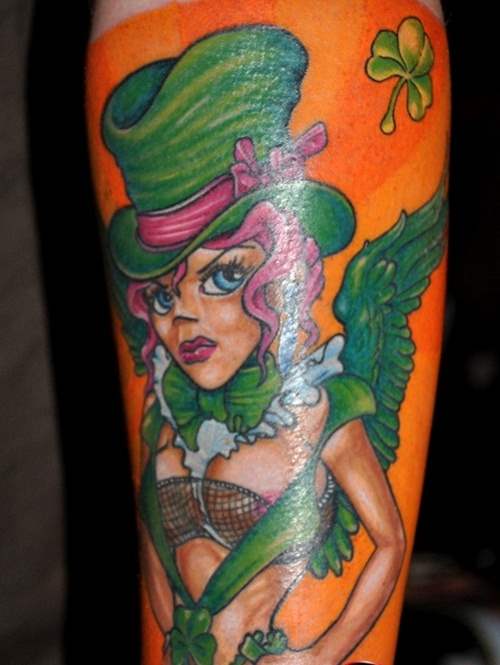 Tattoo depicting a leprechaun woman with sinister face.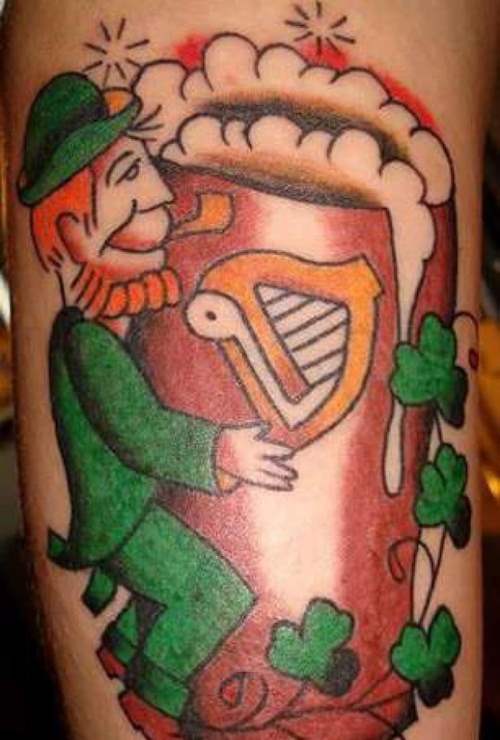 Tattoo of a man dressed in green playing a harp and several lucky clovers.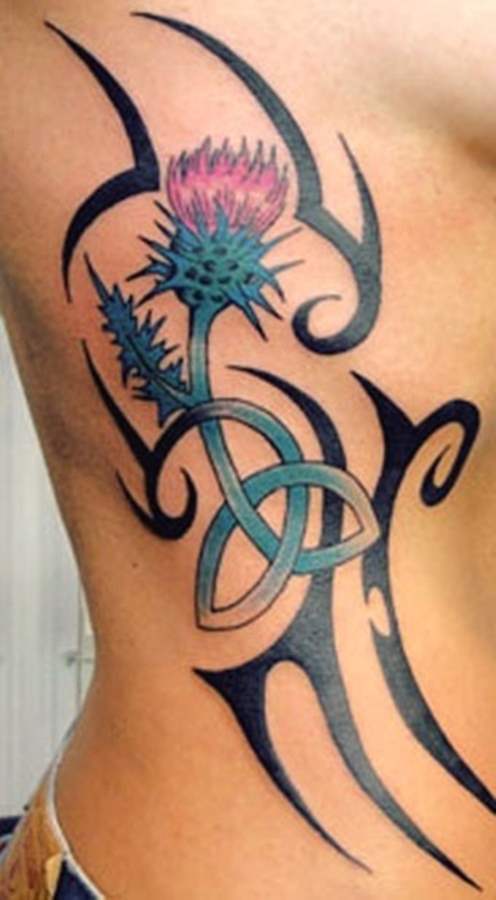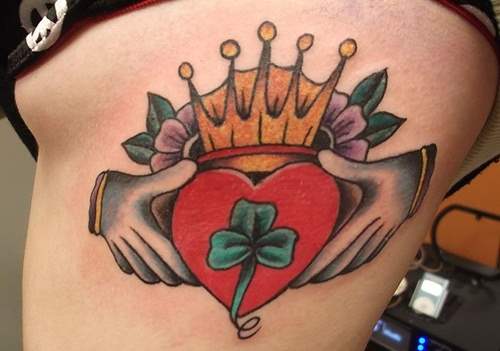 Amazing tattoo of a heart with a clover in the middle, and two hands that hold them.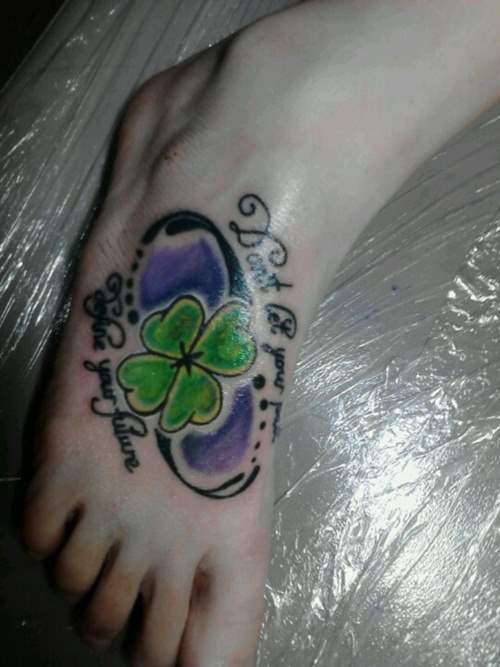 Tattoo of a four leaf clover on the instep of this girl's foot. Around it appear several phrases with mystical significance.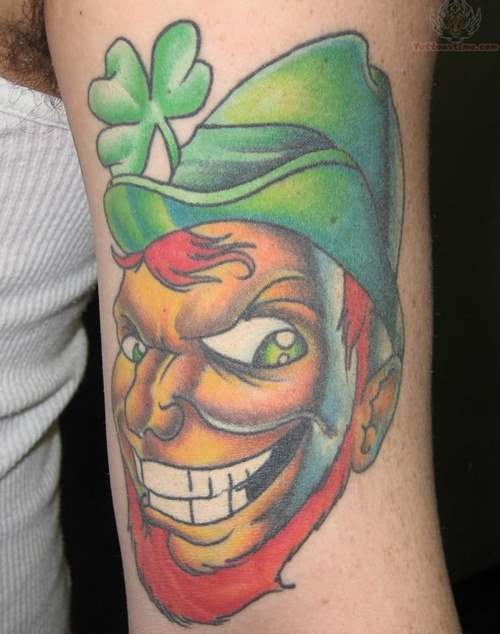 Tattoo of the face of an elf with an evil look and smile. The design is very successful.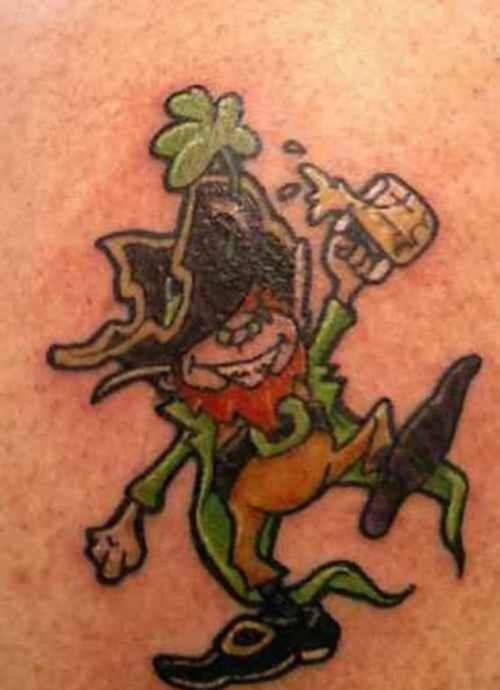 Cartoon leprechaun, tipsy and happy.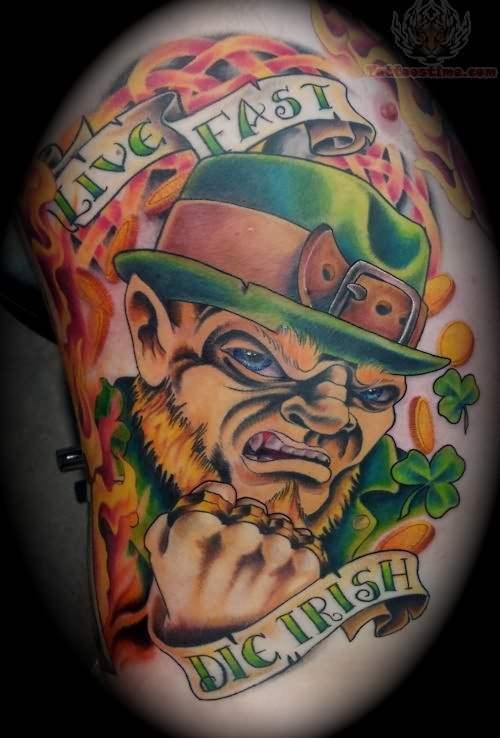 Amazing tattoo on this boy's arm, with the face of an evil elf, surrounded by phrases with great meaning, clovers and coins with a fortune symbol.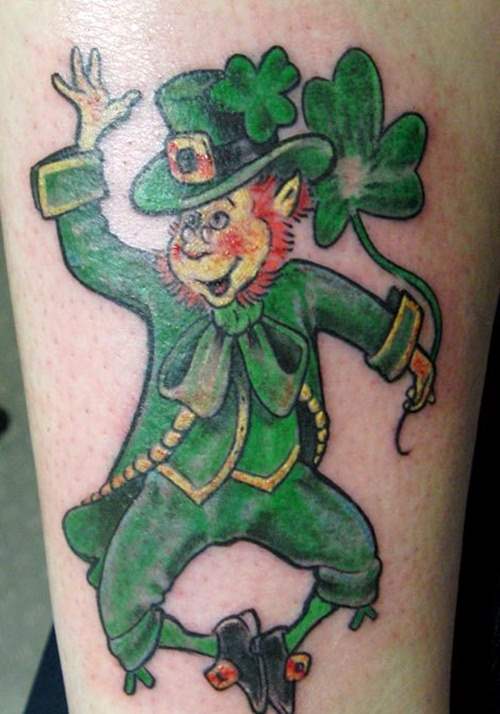 Funny cartoon leprechaun, drawn with a lucky trifolium in his hand.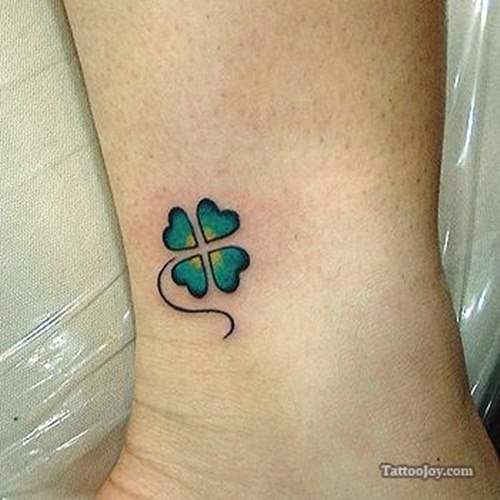 Very simple and reign of a four leaf clover on the ankle.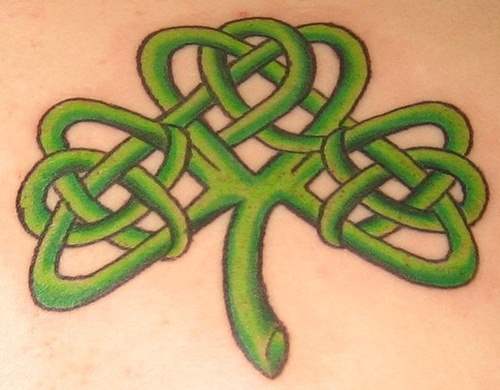 Made of intertwined green lines.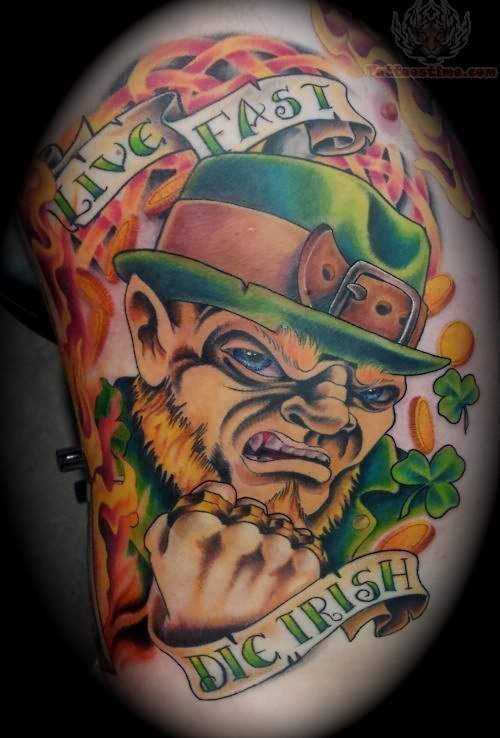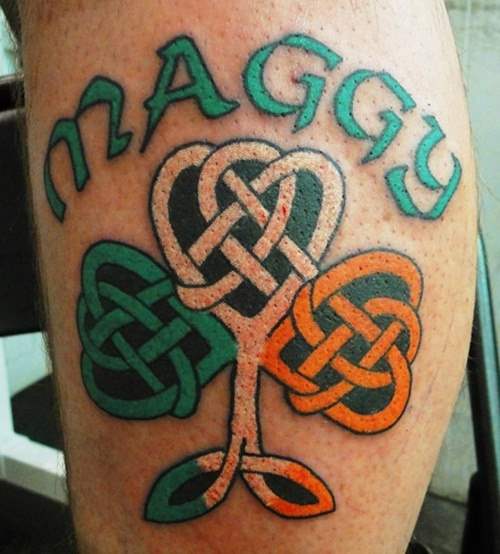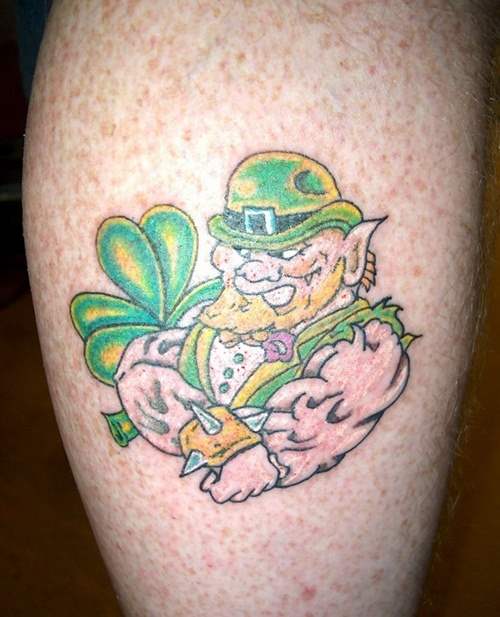 Leprechaun in the leg and in an attitude of reproach.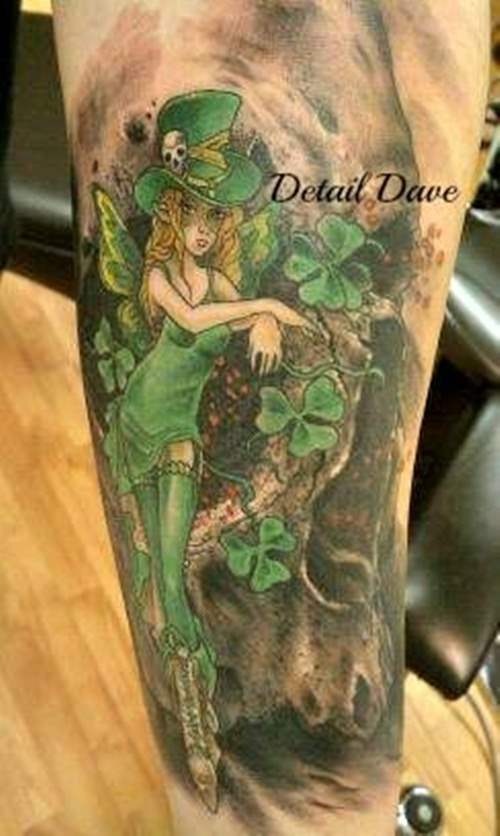 Fantastic leprechaun in a forest surrounded by clovers and in an attitude of vigilance. Very well done and very realistic.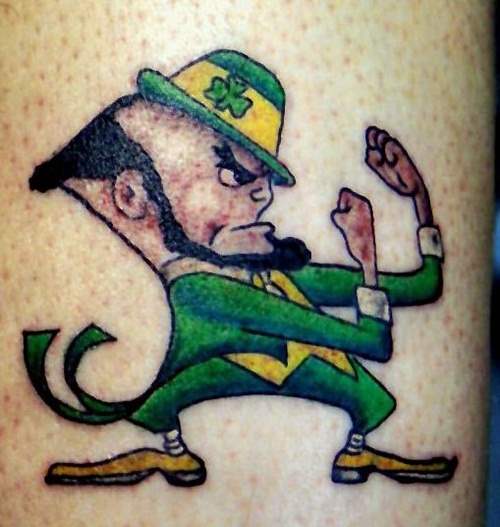 Funny tiny elf in an attitude of anger and fight.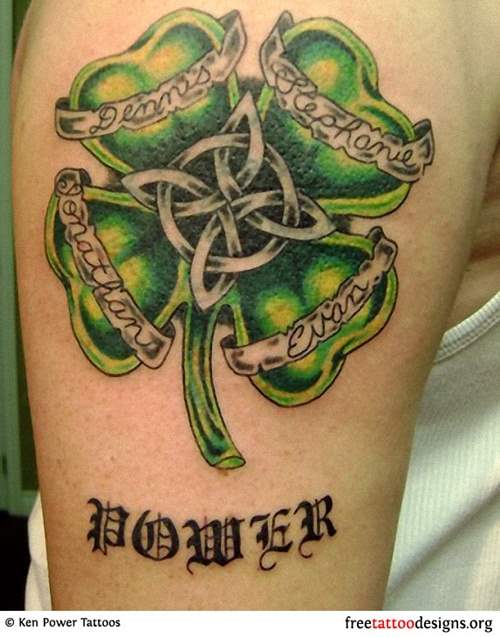 Large and arm surrounded by words of great symbolism.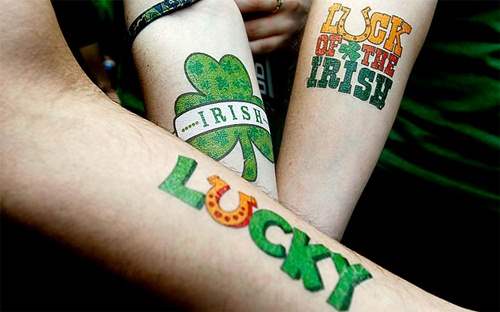 Three tattoos on the forearms of these boys, with shamrocks that represent luck, along with words like lucky and with patriotic meaning.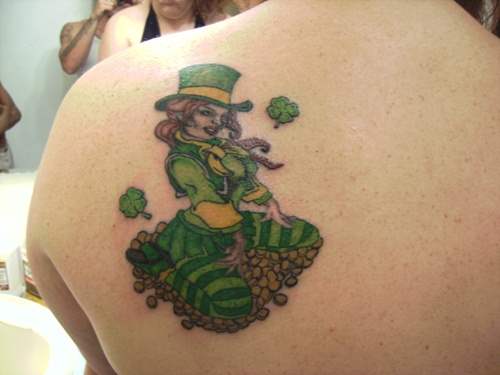 Leprechaun woman in suggestive attitude.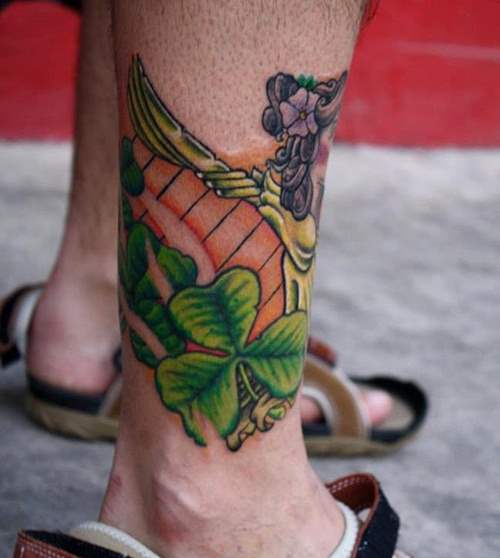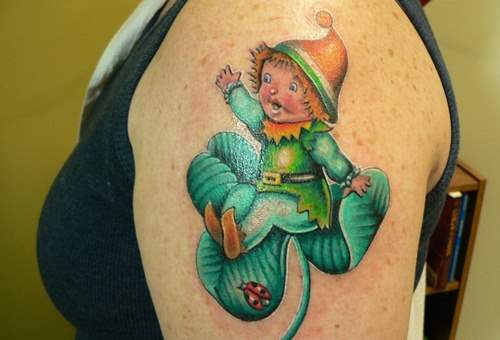 Leprechaun boy sitting on a four-leaf clover.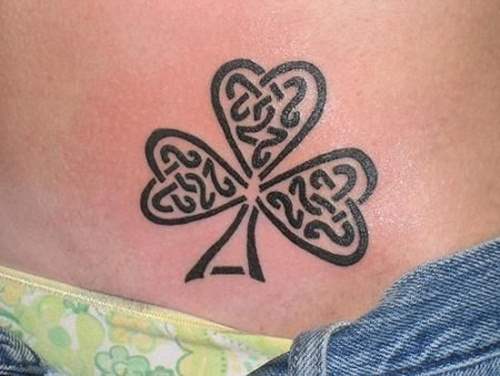 In the abdomen, of a tribal shaped trifolium.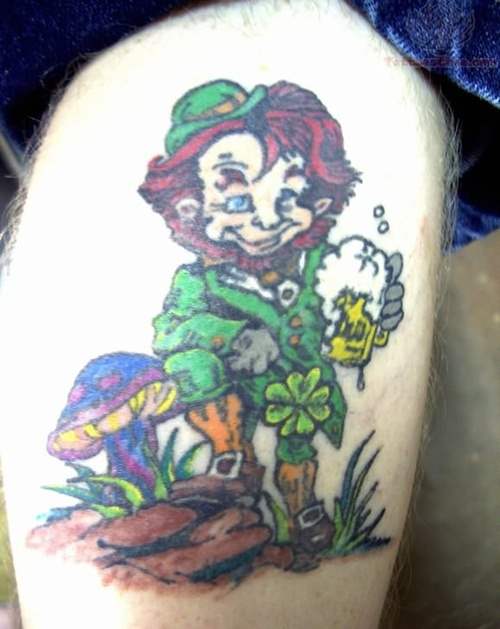 Amazing trifolium branch that crosses the entire back of this girl, next to a leaf in the center.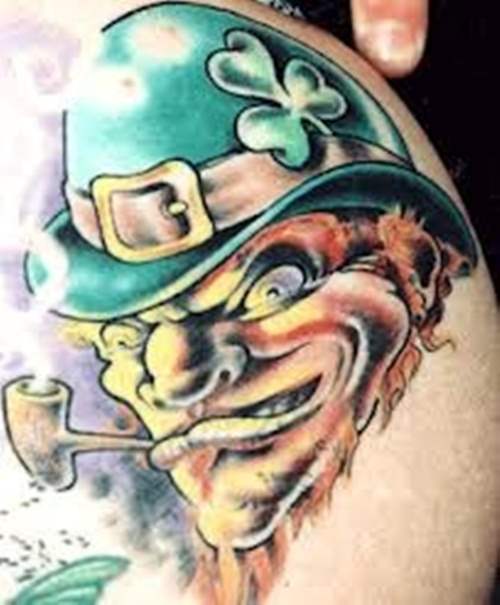 Great the face of this old and evil elf, smoking in a pipe.