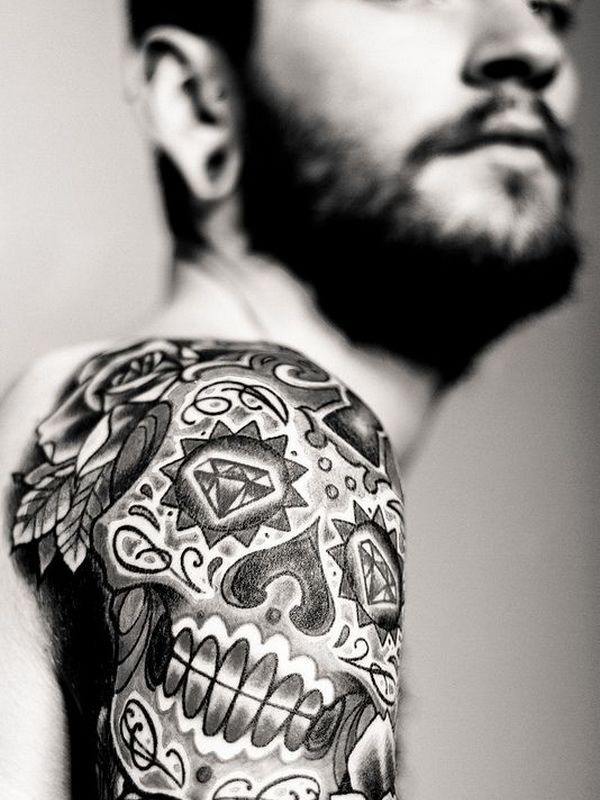 Skull designs are one of the probably most common tattoo designs that have been in print for the longest time, in a multitude of styles: old school, new school, tribal, nautical, etc. Not only aesthetically they can give a result that appeals to us, but they also carry meanings. Something that should be noted here is that women have recently started tattooing skulls too (they can also be given a feminine touch with a bow or red lips).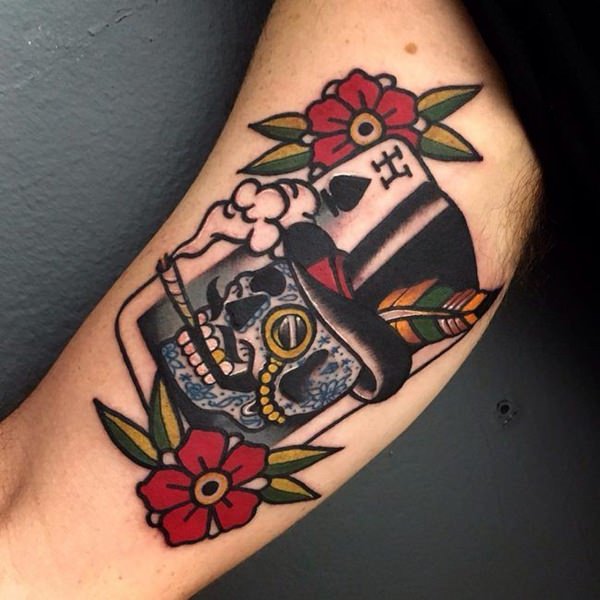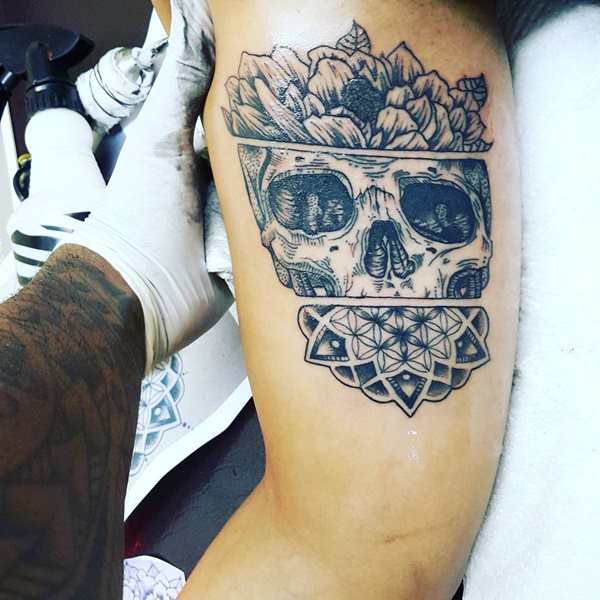 The skulls easily attract our attention and although we are aware that they are inanimate objects, when we observe these elements it seems that they still have remains of life. Something that catches our attention and that is inevitable is the empty eye sockets, which are huge in proportion to the rest of the skull. Undoubtedly, the skull is a symbol of death and this is what it is related to, but there are people who tattoo it simply for an aesthetic reason.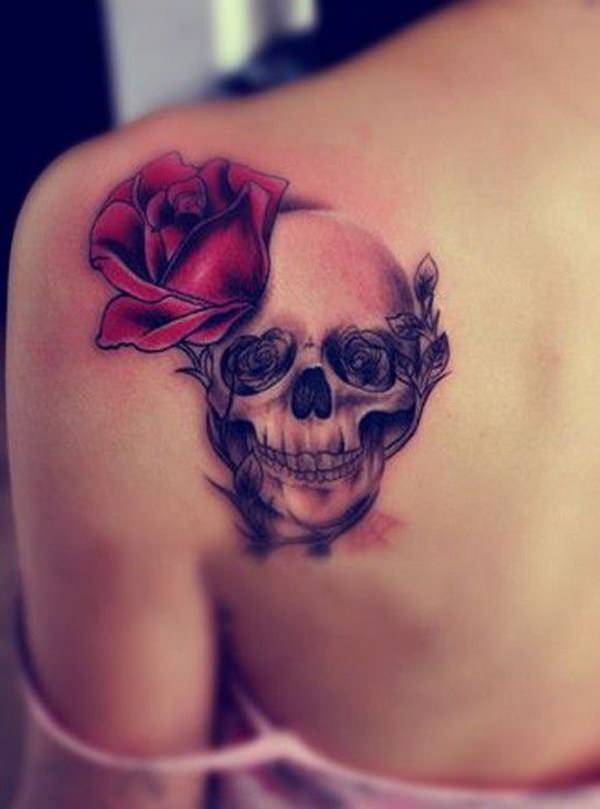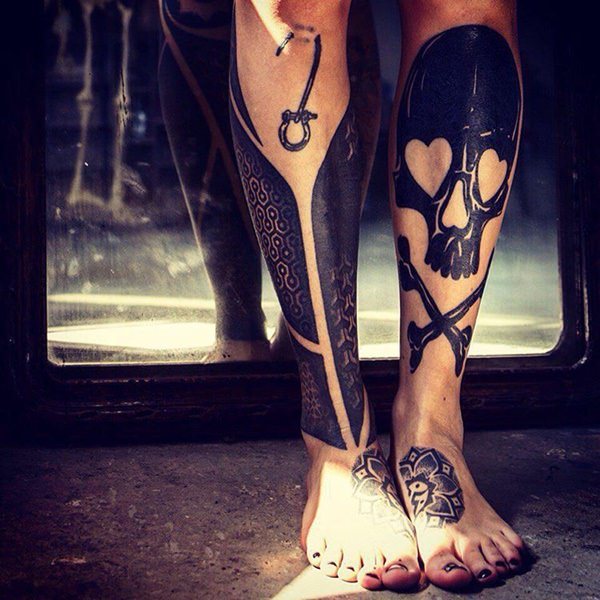 A design that has become popular recently is that of two skulls (one male and one female with a heart in the middle at times). What this type of design symbolizes is eternal love; the skulls, which symbolize death as previously anticipated, appear in love, which undoubtedly refers to the famous phrase "until death do us part" and not only that, but with this design it is said that it goes further beyond death and that even this will not be able to separate us.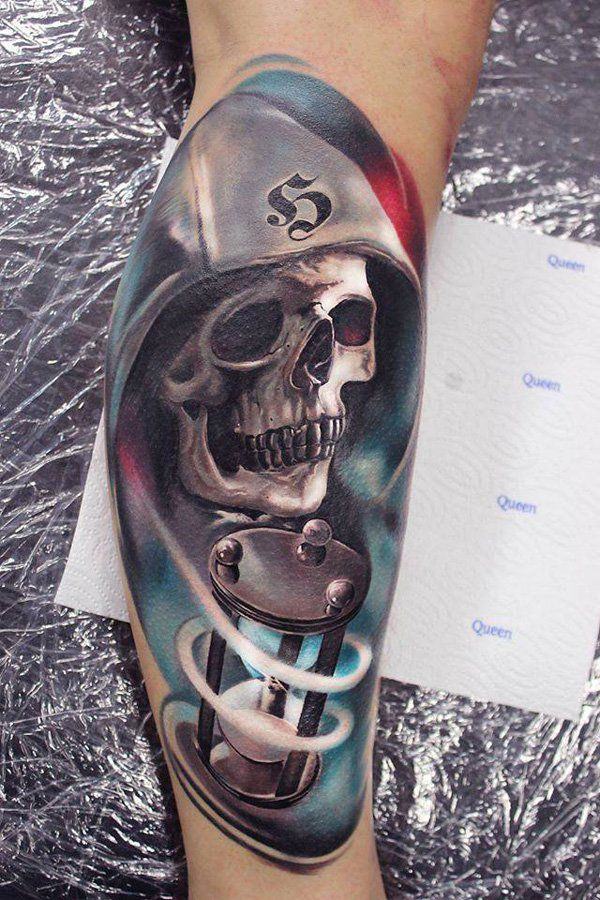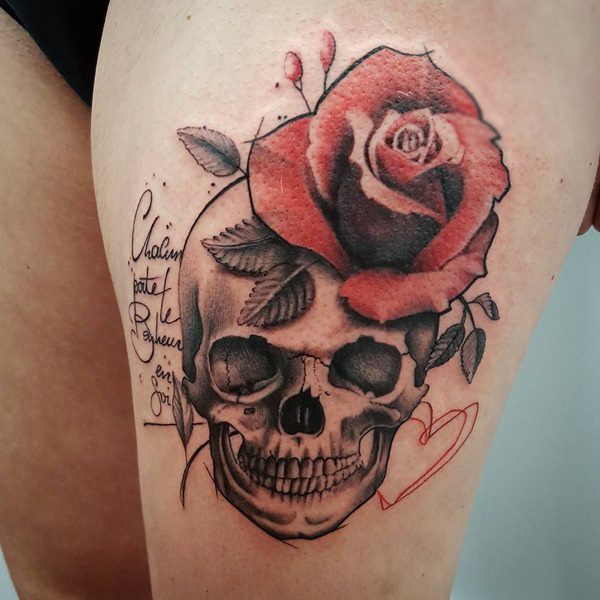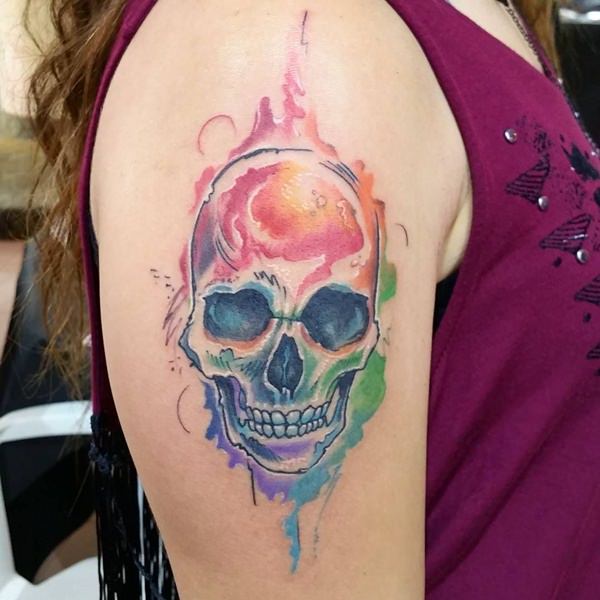 Mexican skulls deserve a special mention, which have gained great importance in the world of tattoos in recent years. The Mexican skull may seem somewhat different at first than we are used to seeing, but it is simply the same shape only more decorated and with many details and colors. This allows the designs of these skulls to be much more attractive than we can imagine a priori and allow the tattoo artist more variety of styles. It is a good choice, which is why women opt more often.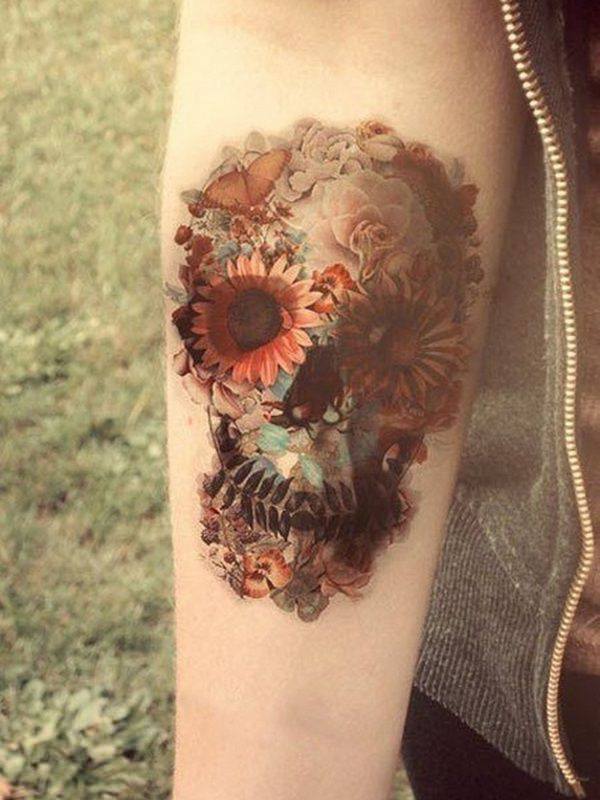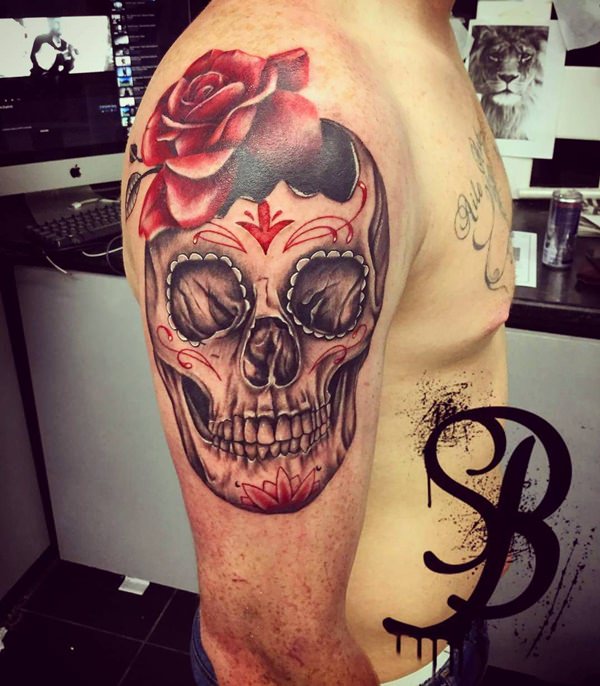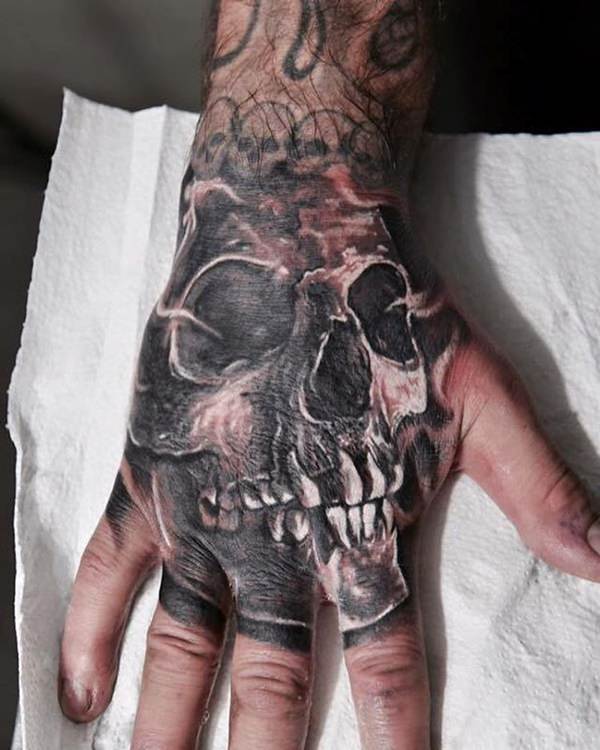 In conclusion, skull tattoos that at first may seem very limited and unoriginal, have a wide variety of styles and designs, which, described above among others, offer visually very attractive results and can combine different colors and styles, details , etc. Therefore, both men and women currently opt for this style of tattoos and, in addition, it adapts very well to different areas of the body such as the back, arm, leg and even some people tattoo skulls on the insteps of the feet.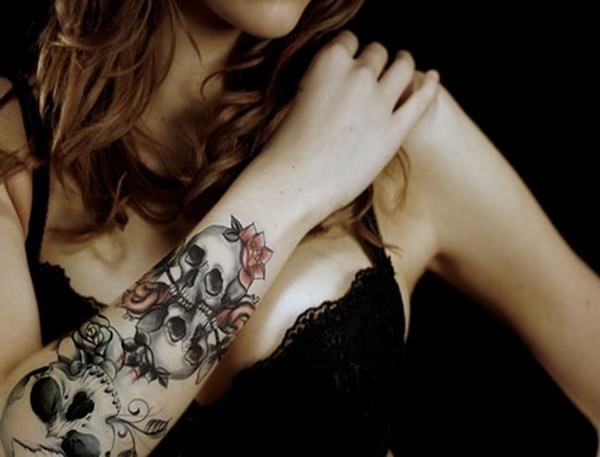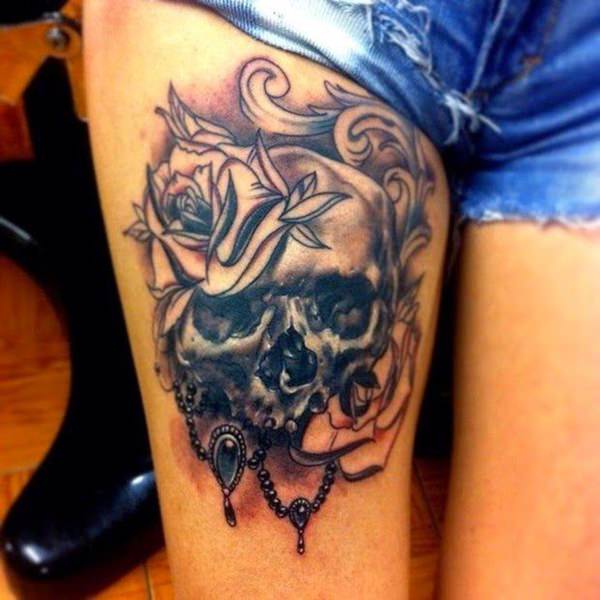 In this collection we will find skull tattoos, which represent the face of death. For many they also symbolize the mortal and ephemeral condition of life and of the human being. They are usually accompanied by meaningful phrases (often in Latin) and other motifs such as knives, fire flames, etc.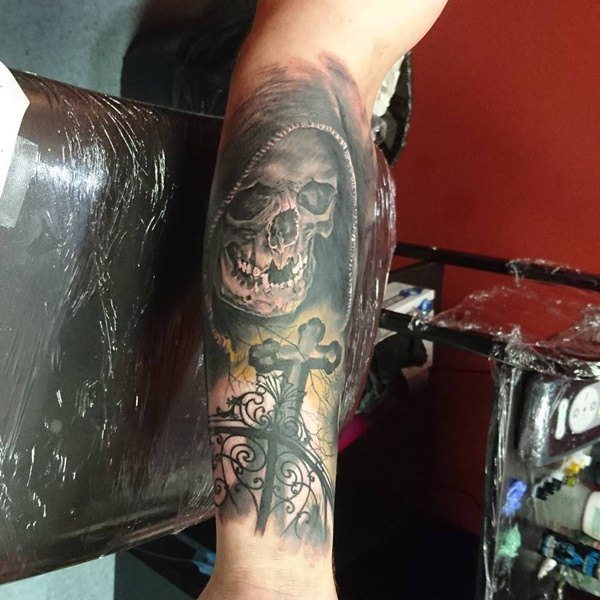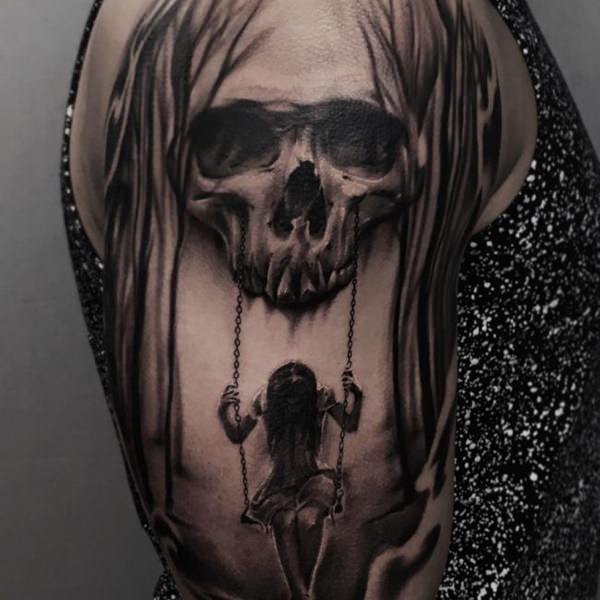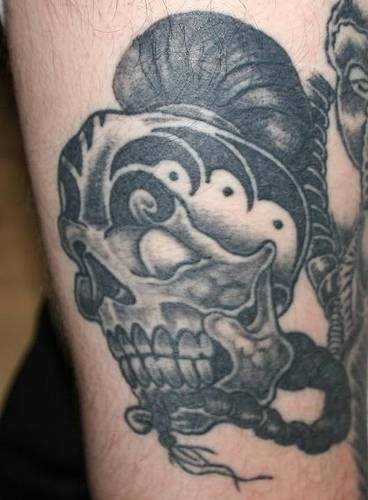 The skull tattoo, the design par excellence to represent death.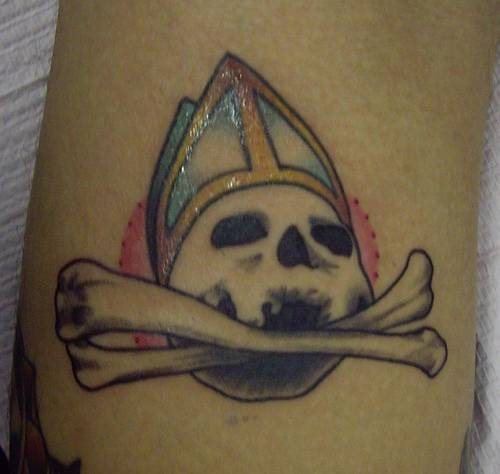 This design has the typical hat of a priest.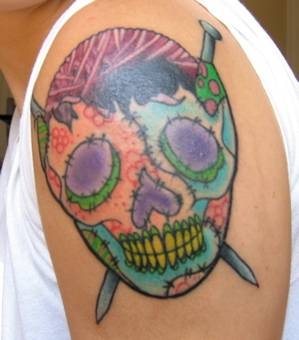 This skull in unusual shapes reminds us of the Mexican Santa Muerte.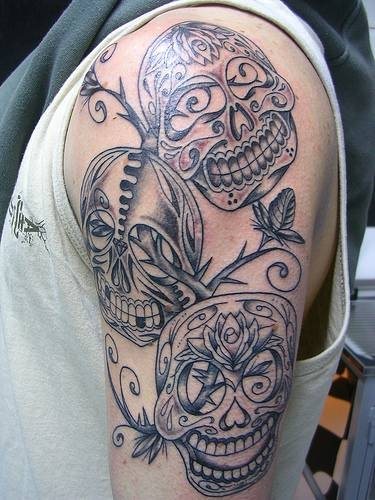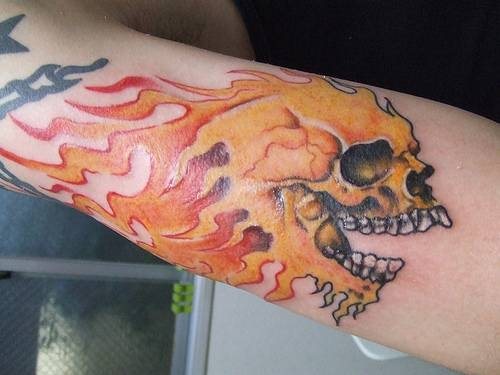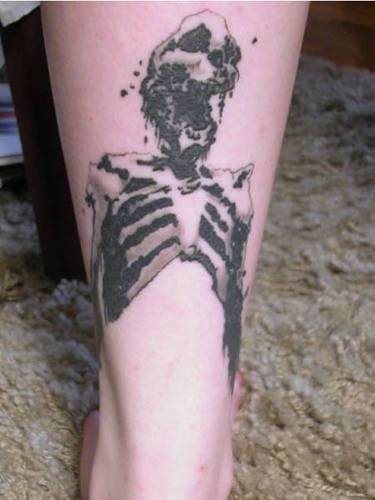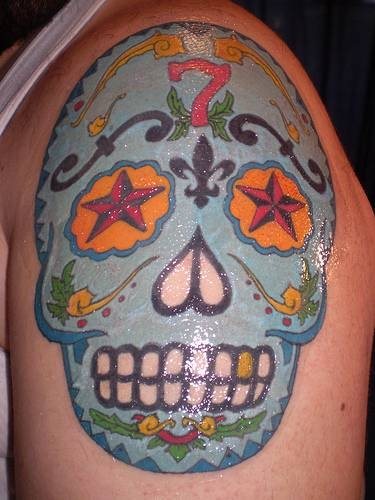 This design, like the one we have discussed above, bears a resemblance to the Mexican Santa Muerte in its interior shapes and colors.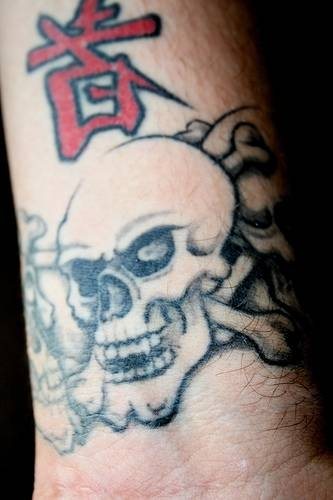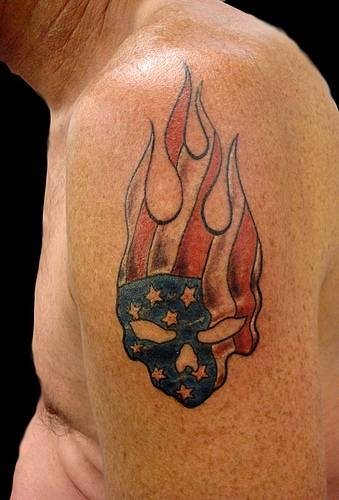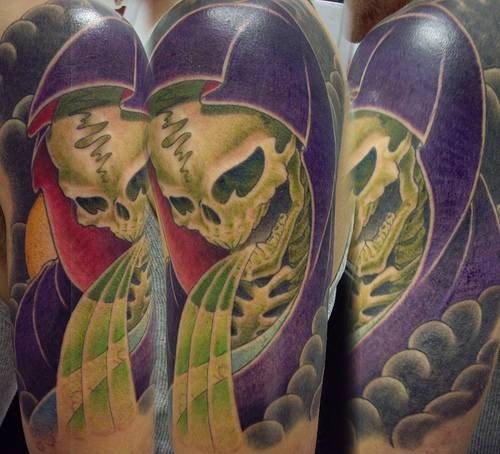 Typical pirate skull design, accompanied by two flaming torches.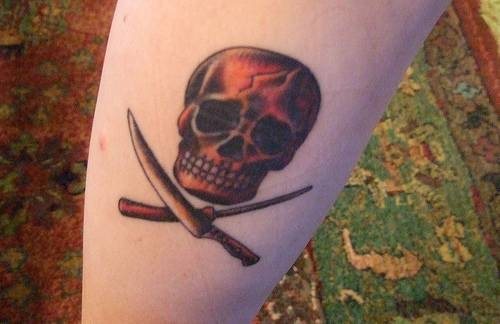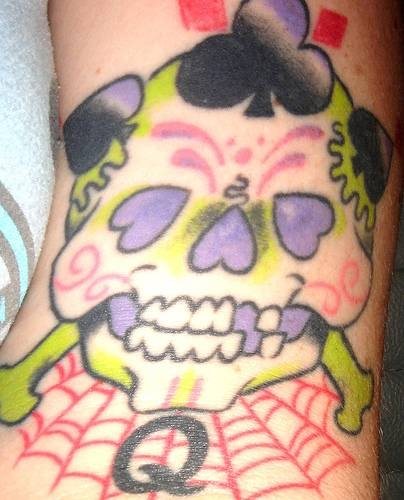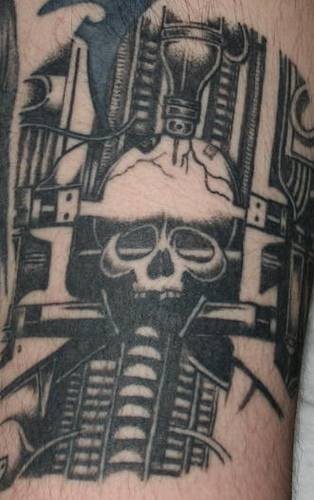 This skull looks like it is connected to an electric chair.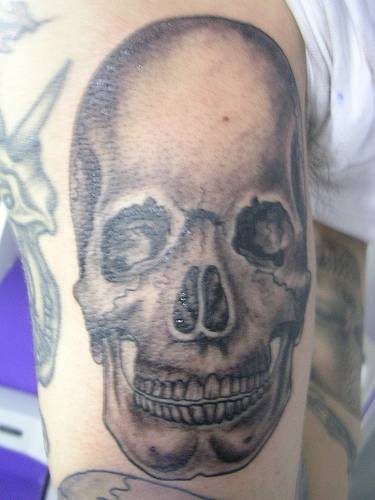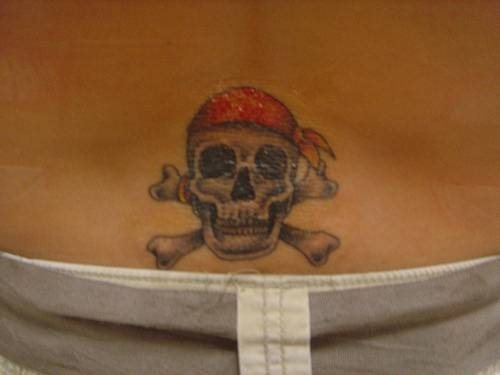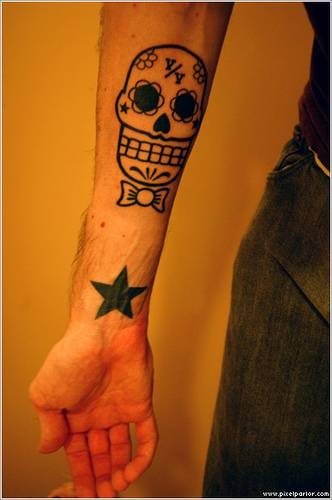 Skull design with childish shapes inside: flower-shaped eyes, heart-shaped nose, a bow, etc.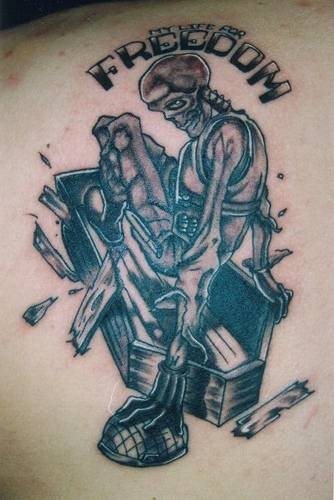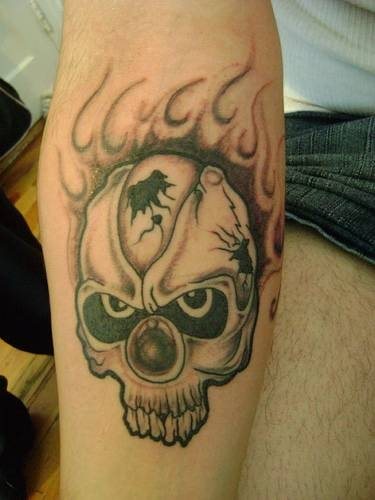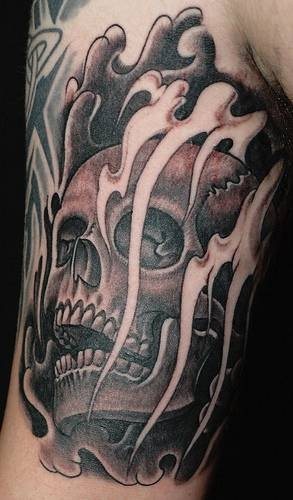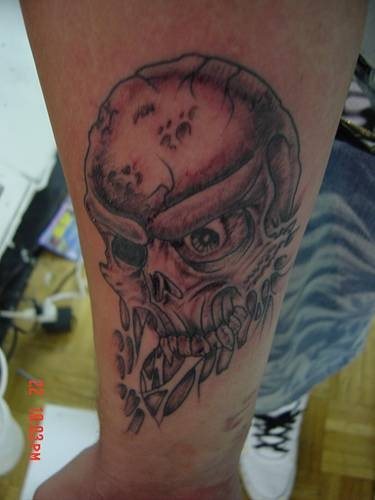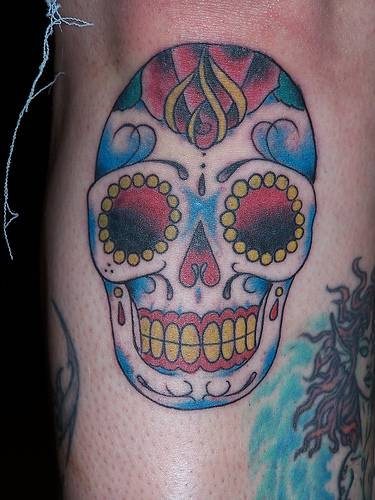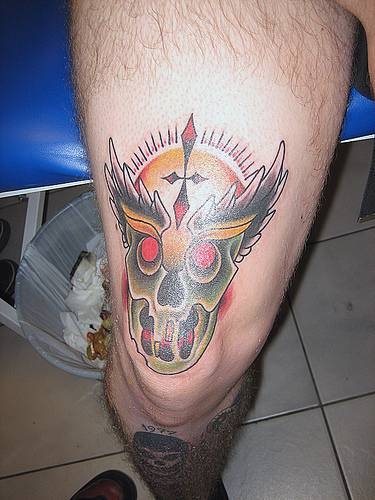 Rare skull design with feathers coming out of the eye sockets and a cross on top.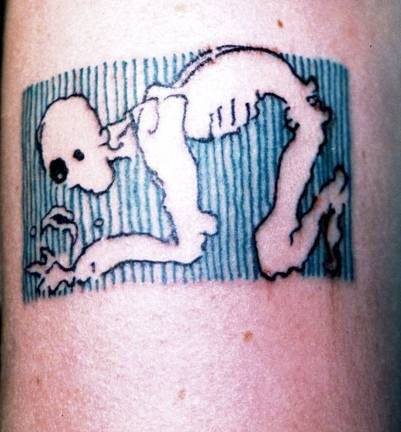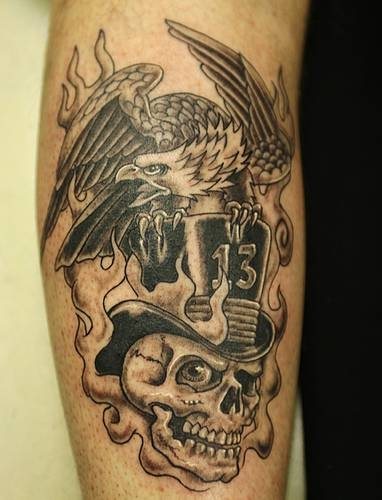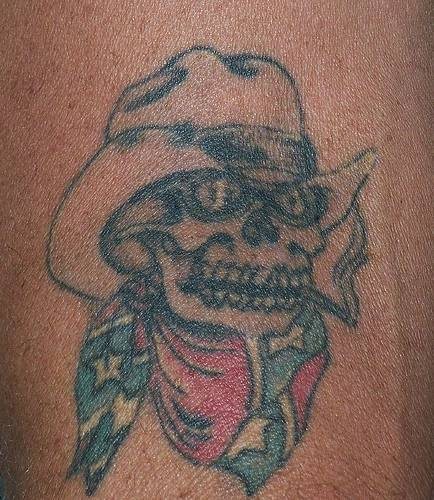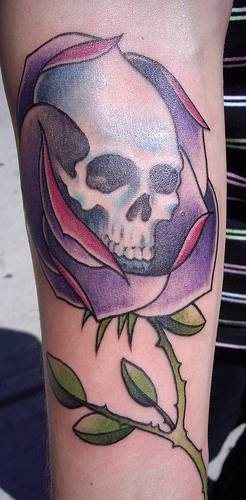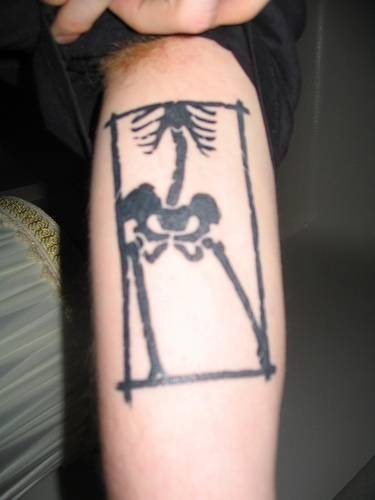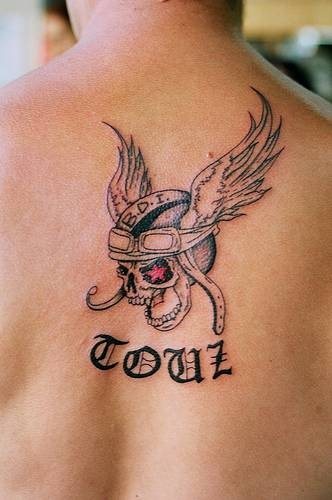 This skull with helmet and biker / aviator glasses, is accompanied by some letters at the bottom.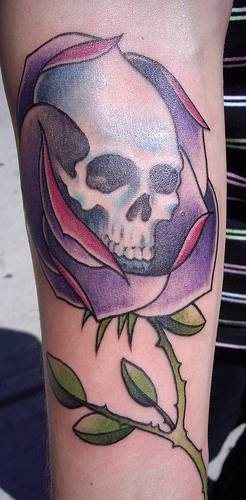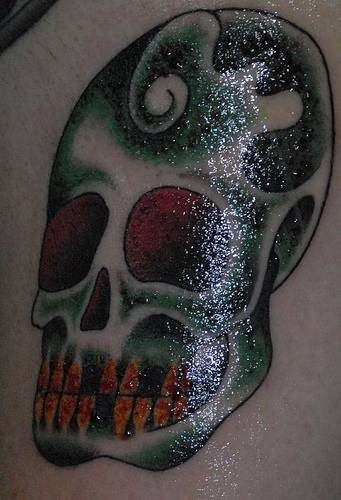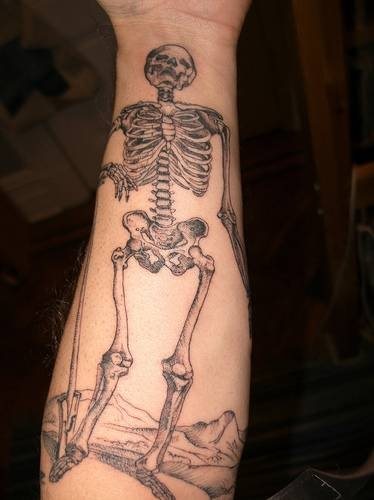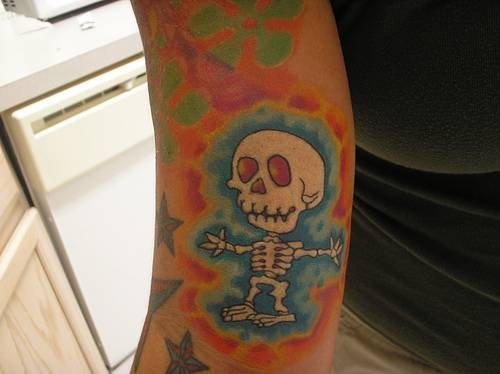 Children's design of a boy's skull surrounded by striking shapes and colors.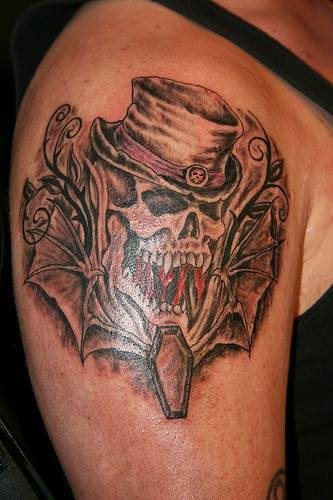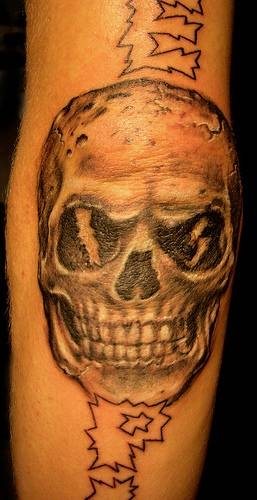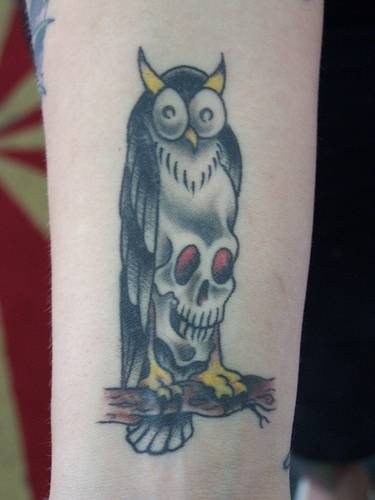 Skull with an owl on top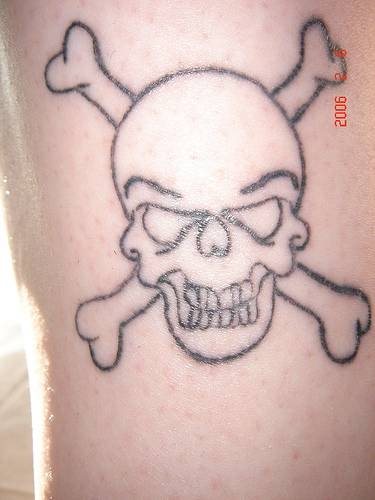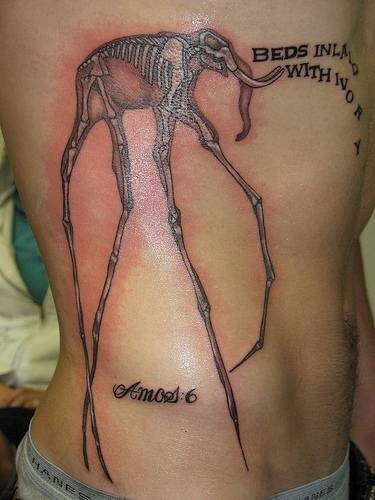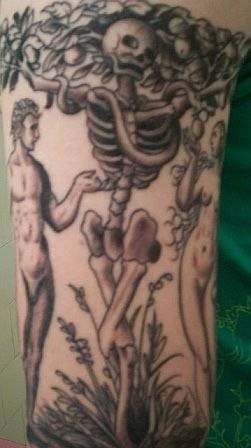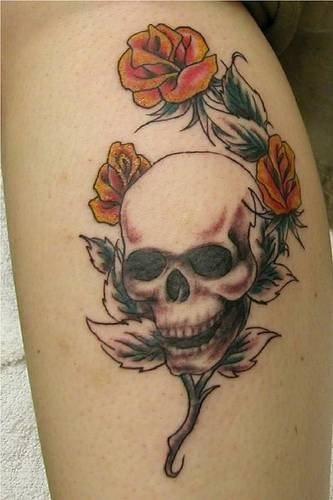 Mexican skull with the message "mi vida loca" at the bottom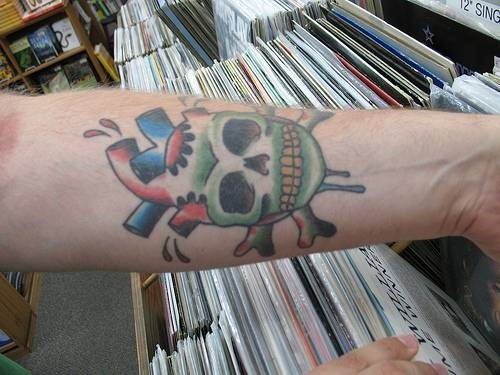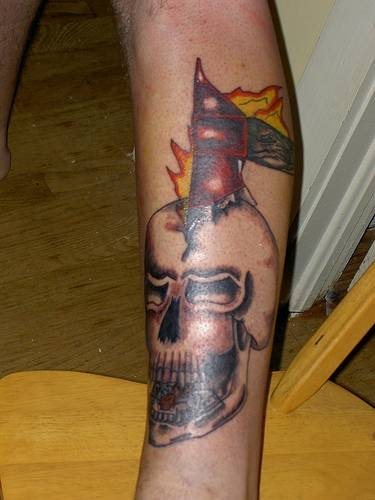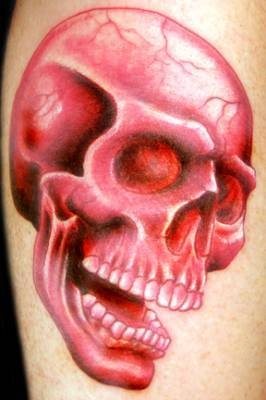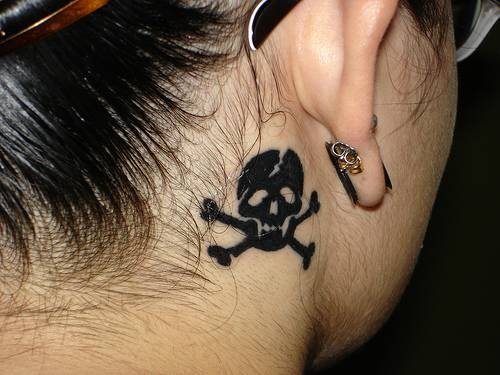 Small skull in black ink, made on the back of the ear.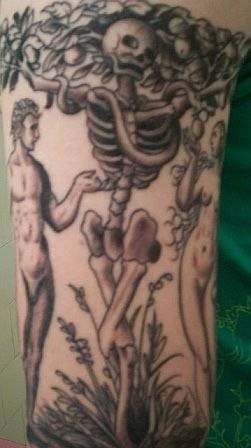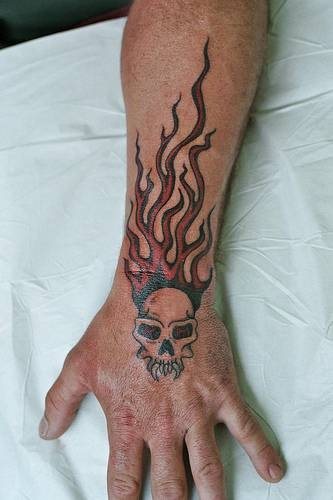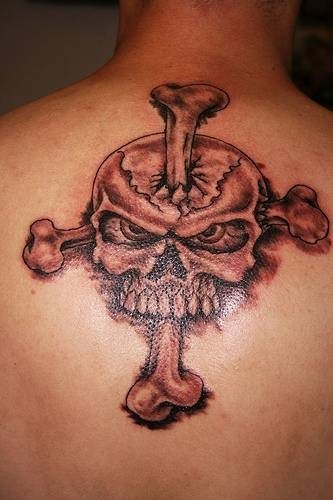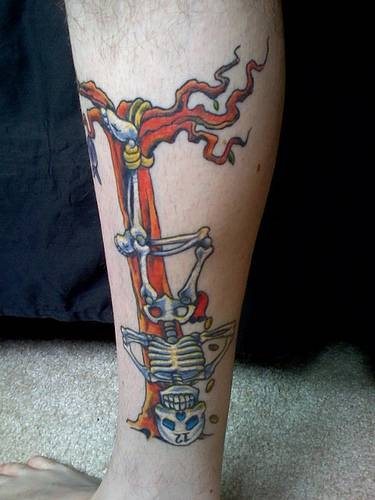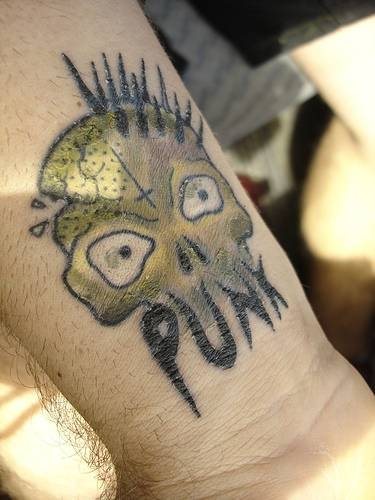 This skull represents the punk movement.
Strange design of an element with wings that can be a skull with an original shape.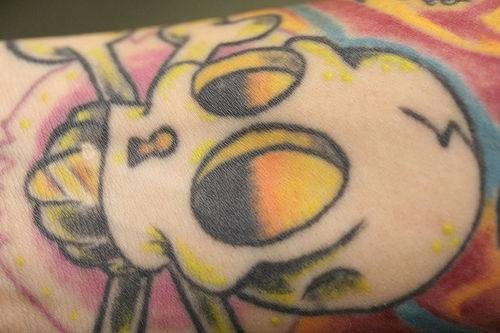 Skull in yellow colors and with a very original bluish background.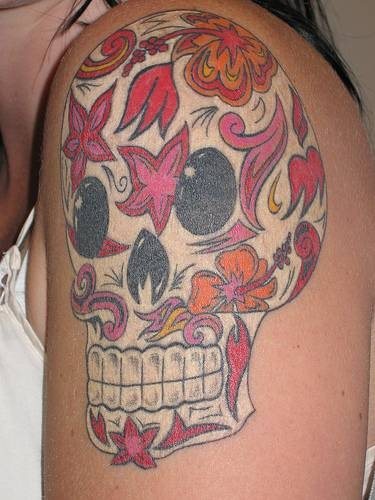 White skull full of details and colorful elements that give it the least original result.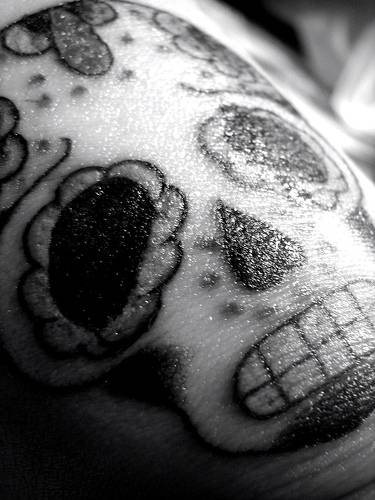 Mexican skull with many details and shadows.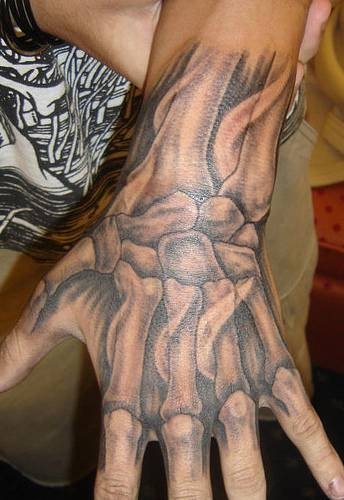 Biomechanical influence design in which the bones of the hand can be seen through the skin.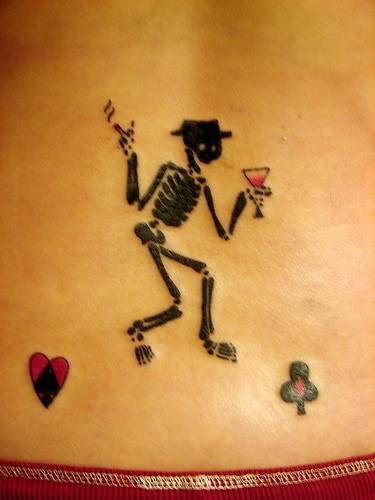 Skull silhouette with hat and funny posture holding a cup. It can be interpreted as a nod to the good life.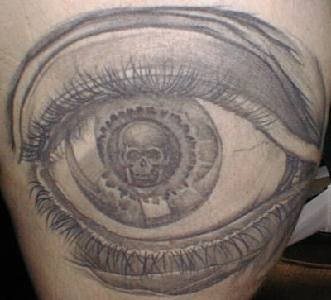 Design of a skull inserted into a large eye design.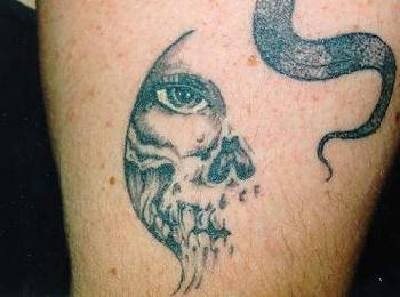 An image of a face that turns into a skull in the lower area.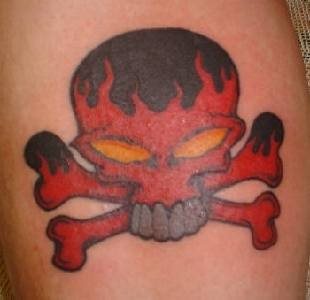 Simple skull design in red, black and yellow tones.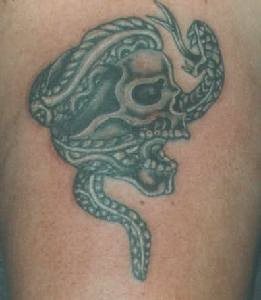 This skull in profile is surrounded by a snake.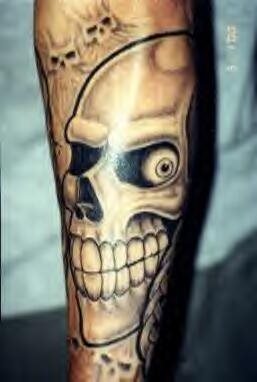 Horrifying is the sensation offered by that eye that we can see inside the skull.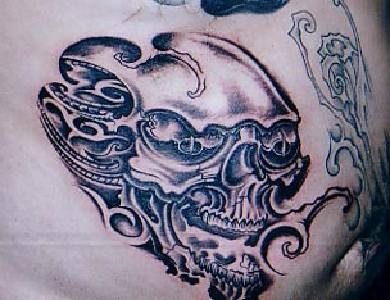 Design made with tribal shapes in black ink.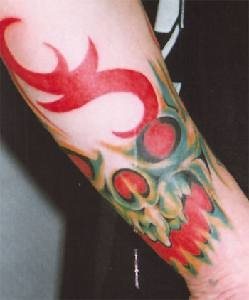 Original design of this element in red and blue tones that offer a creative result.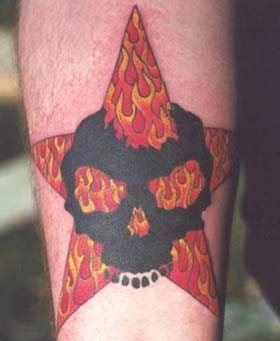 Black skull design that appears to melt into a flaming red star.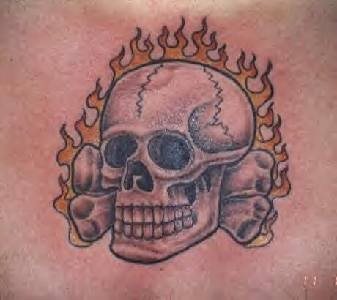 Design of a skull surrounded by unnatural flames.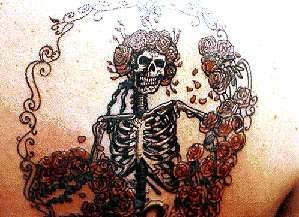 Skeleton with a flower crown and surrounded by a printed flower frame with many details.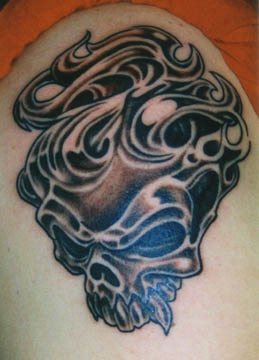 Image of this element in black tones and that seems to light up in the upper area.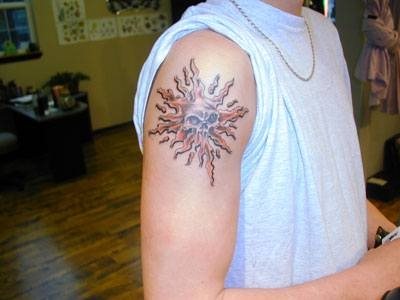 Skull crushed against the arm of this young man.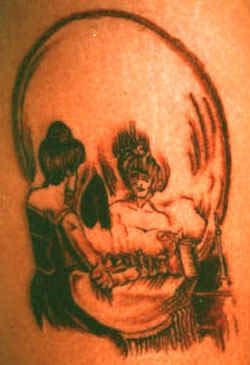 This design harbors an optical illusion: inside the skull we see a woman reflected in the mirror.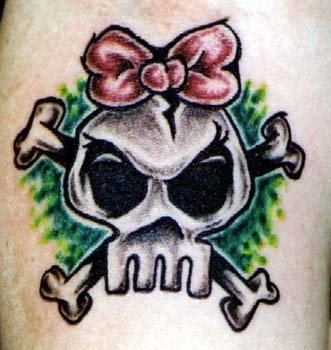 Skull on a rather poor green background and with a bow that tries to give it a feminine touch.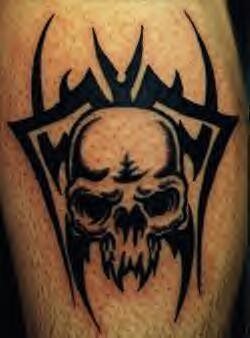 Skull smiles a few traces of tribal influence.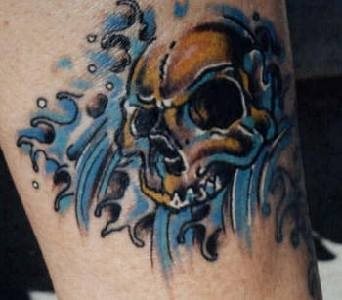 skull that seems to be in the middle of the water and with glitters that add volume.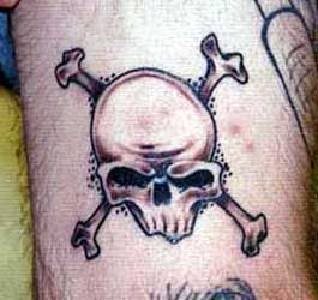 Disproportionate skull, too much forehead and too small eyes.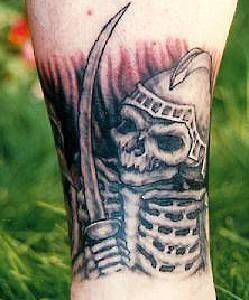 This skull is the lifeless body of a warrior with a sword and helmet.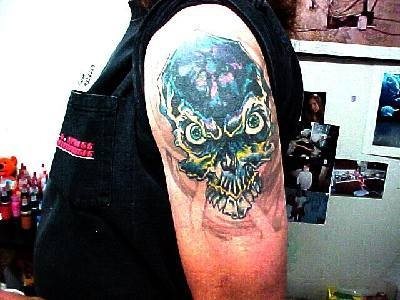 Skull printed in black tones and with fluorescent colors such as yellows and blues.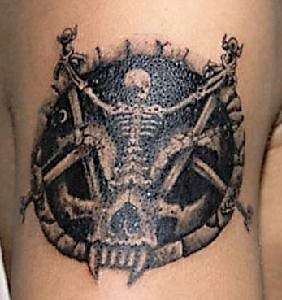 Skeleton printed inside a circle that if we look at it from another perspective becomes the part of the nose and forehead of a large skull.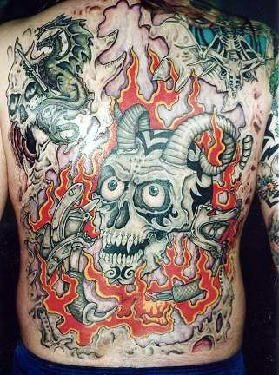 Horrible skull design with twisted horns and surrounded by fire and other motifs.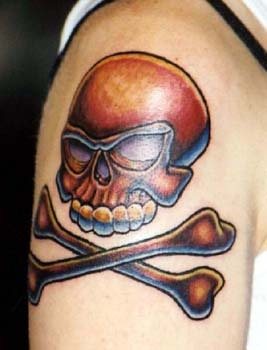 Skull in brown tone with shades in purple, blue and yellow tones.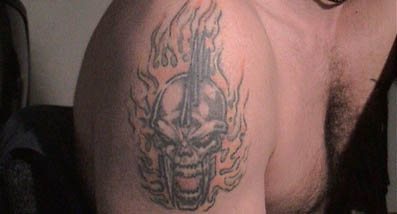 Skull with a punk crest and surrounded by flames that genuinely lack some color.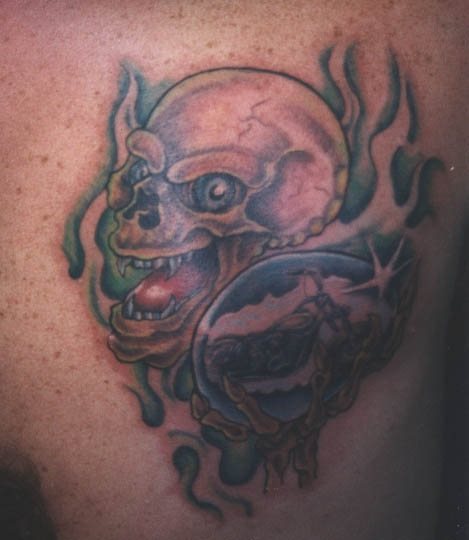 Evil-faced skull holding something in his bony hands.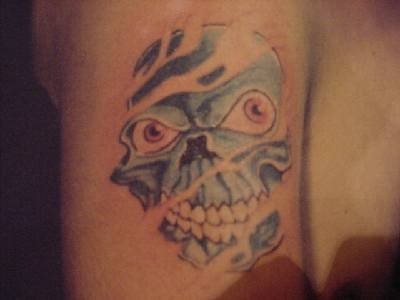 Skull in blue tones and with quite human features that are somewhat disconcerting.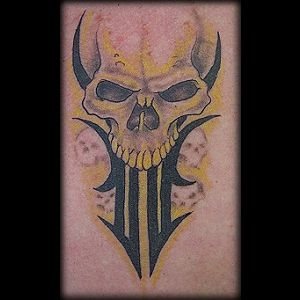 This skull has between its teeth a kind of sword made with rectilinear shapes.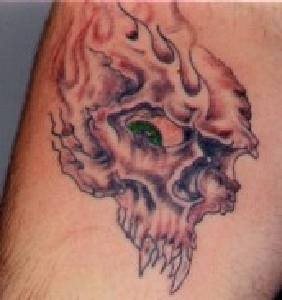 Skull that burns into flames and seems to look directly at us.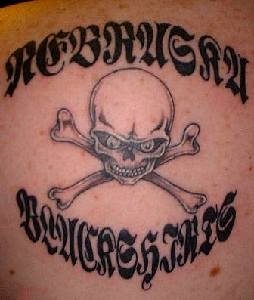 This design is accompanied by some letters at the top and at the bottom.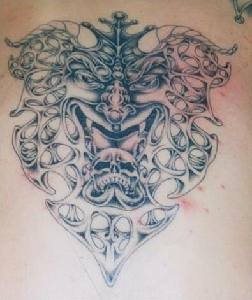 Horrifying face in which if we pay attention we can discover a skull that serves as a tongue.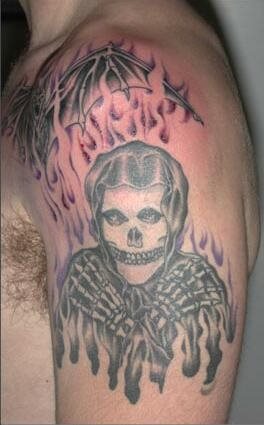 Clavera with a kind of cape that reminds us of the figure with which death is represented. Flames in purple tones have been added.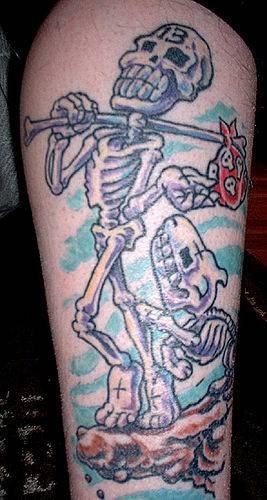 This unusual design is made up of two skulls: that of a human being and that of his dog in a fun position. Unlike other designs, it is funny.