Tattoos with the zodiac signs as a design have gained a great increase in popularity among all kinds of people around the planet in recent decades, becoming a popular way to show your astrological sign today. If you consult your horoscope on a regular basis or have you ever made an astral chart, that means that astrology has a great weight or is part of your personality and belief system. If this is so, don't waste time and check out our wonderful gallery of tattoo images of zodiac sign designs.
The word "zodiac," or "zodiac," comes from the Greek term "zoon-diakos," which means "circle of animals." The zodiac is a band of constellations that surrounds the Earth in which each division is a constellation that corresponds to a sign of the zodiac, and each sign of the zodiac is intrinsically related to an animal, hence the name of "zodiac" . The human being, since the dawn of humanity, has always been fascinated by the heavens in general, and particularly by the stars. This is precisely why it is not surprising that tattoos with zodiac sign designs are so popular and continue to increase in fame day by day.
The constellation band that circles the Earth is called "ecliptic", and contains twelve divisions, each corresponding to one of the constellations of each of the zodiac signs. To deal with this topic in depth and give all the possible information, we are going to see the zodiac signs one by one and discover the meaning and symbolism that each one hides behind.
The first sign of the zodiac is that of Aries, represented by the ram. Their dates are from March 21 to April 20. His motto is "I am." As positive features, people under the sign of Aries are usually adventurous and brave, understand anything quickly and have energy and enthusiasm in quantity. As a counterpart, these people also tend to be selfish, finding themselves more important than anyone else, and lose their temper quickly, being abrupt and impulsive.
We continue with Taurus. This zodiac sign is represented by the bull. Their dates are from April 21 to May 21. His motto is "I have." As positive characteristics, people influenced by the sign of Taurus usually have a great sense of responsibility, so you can count on them. They also love art and good food. On the contrary, as defects, these people can be possessive, stubborn and lazy or materialistic and greedy.
We continue with GeminiZodiac sign represented by twins. Their dates are from May 22 to June 21. His motto is "I think." As positive qualities, people under the sign of Gemini are generally very flexible and communicative, they are also spontaneous, fun, intelligent and talkative. As defects, these people can be inconstant and superficial.
The next sign is that of Cancer, which is represented by the crab. Their dates are from June 22 to July 22. His motto is "I feel." People influenced by the sign of Cancer are usually very sensitive, understanding and with great intuition, as well as being attentive and affectionate. As a counterpart, these people may become too sensitive, melancholic and taciturn.
The zodiac sign that concerns us now is that of Leo, represented by the lion. Their dates are from July 23 to August 22. His motto is "I believe." As positive characteristics, Leo people tend to be powerful, self-confident and creative. They are good leaders and organizers. On the contrary, these people can also be dominant and intolerant, often seeking to be the center of attention.
We continue with Virgo, sign represented by a virgin. Their dates are from August 23 to September 23. His motto is "I analyze." Within their virtues, Virgo people stand out for being analytical, modest and intelligent. They are good workers and tidy. As defects, these people can be too critical and selective, paying too much attention to detail.
Now play Pound, the balance. Their dates are from September 24 to October 23. His motto is "I balance." People under the sign of Libra are kind and charming, idealistic, romantic and with a sense of justice. But they can also be very indecisive and changing.
The next sign is that of Scorpio, represented by a scorpion. Their dates are from October 24 to November 22. His motto is "I look inside." Scorpio people tend to be intense and passionate, with powerful emotions. On the other hand, these people can be jealous, stubborn and sometimes cruel.
The sign of Sagittarius It is represented by an archer. Their dates are from November 23 to December 22. His motto is "I seek freedom." Sagittarius people are optimistic and sincere, also having talent for languages ​​and studies. These people can also be restless and lacking in touch.
We continue with Capricorn, represented by a water goat. Their dates are from December 23 to January 19. His motto is "I use." People under the sign of Capricorn are generally reliable, determined, rational, patient and disciplined. As defects, these people can be strict and pessimistic.
We continue with Aquarius, the bearer of water. Their dates are from January 20 to February 19. His motto is "I know." People under the influence of Aquarius are very independent, original and inventive, loyal and intuitive. These people can also be eccentric and careless.
Finally, we have the sign of Pisces, represented by some fish. Their dates are from February 20 to March 20. His motto is "I believe." Pisces people are usually kind, sensitive, humble and empathetic. But it is also true that these people can be undecided, lazy and disorganized.
When choosing a tattoo of some zodiac sign, there are several options regarding the tattoo style. One of the most commonly used is to represent the animal characteristic of the sign of the zodiac in question, resulting in tattoos of greater size, colorful and, usually, colorful. On the other hand, another very widespread style is to choose the glyph representative of the zodiac sign, thus obtaining smaller and more discreet tattoos, but that retain all the meaning. Some zodiac sign tattoos admit a more open interpretation than others in terms of choosing images to represent them.
We must not forget that the zodiac system we have chosen for this article is the western one, but as we all know, there are other zodiacs according to the culture in question. For example, it is in Chinese zodiac or that of the Native American Indians, which also contain a multitude of great signs and symbols to create beautiful tattoo designs.
These types of tattoos are not usually large, they are usually of medium or small sizes, so that both men and women look at them in the body part they prefer, since there are no areas of the body specially reserved for these tattoos, The whole body is available for the cause.
We wish we had informed you or even discovered curiosities about this great tattoo theme. If so, you may be thinking of getting a tattoo like the one you have seen in our gallery. For this we always like to recommend that it is advisable not to risk and go to centers with professionals in charge, so that you can wear on your skin a beautiful tattoo for life with adequate quality guarantees.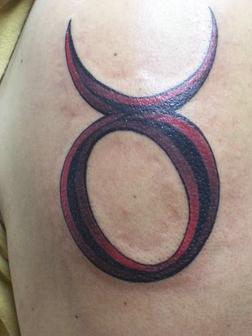 If you are Taurus surely you have known this symbol. A simple design where the Taurus symbol appears where two colors have been used: Black and red.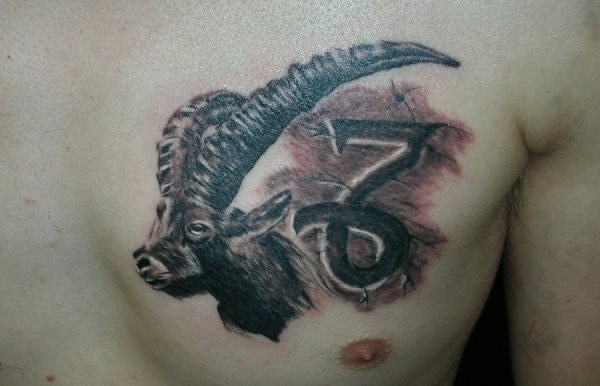 This second image has the symbol of tattooed Capricorn next to the animal that is usually related to this symbol that is a goat with a fish tail.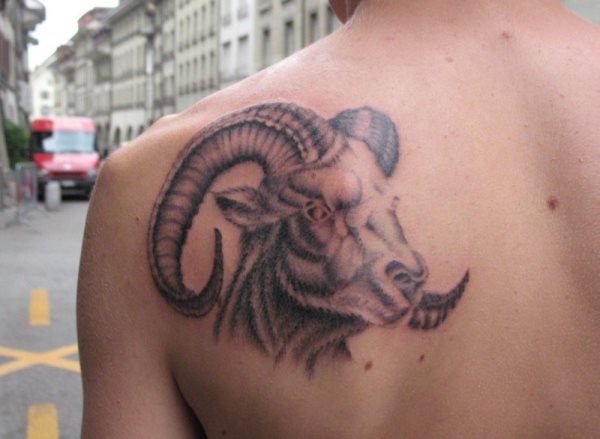 Capricorn symbol, earth sign, its meaning has to do with a beneficial being that shows us the meanings of life and death. As for the design, we can see that it seems incomplete, since the paths are not well defined, although the good use of the dimensions that have been used must be pointed out in its favor.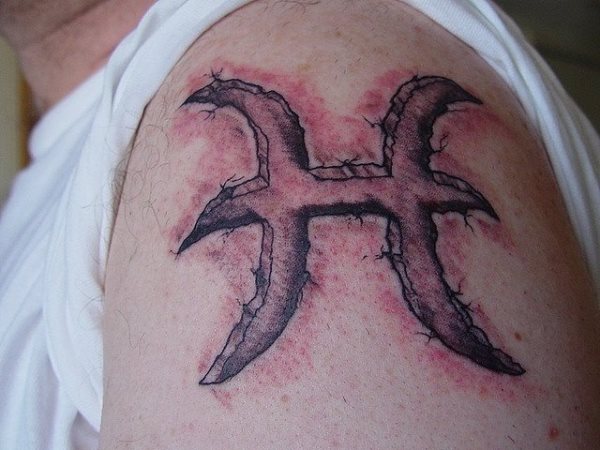 Design with a good, clear and clean layout that looks somewhat hindered by the blurring that has been done. The shading used is somewhat far from what we usually see, but it has a good result.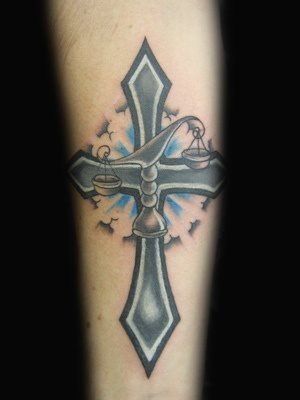 The sign of the balance, pounds; They have the power to carry intelligence in different situations, balance as the main feature. In reference to the design, it can be seen that a new symbol has been introduced, which is that of the cross as the bottom of the scale, which, as already indicated above, is the symbol of the sign libra.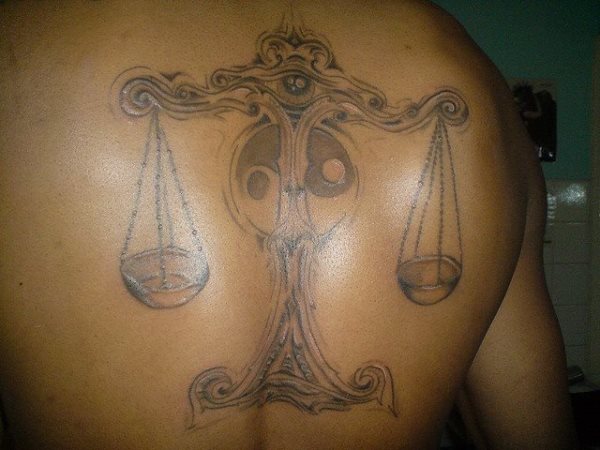 Zodiac sign, as seen above, reference is made to balance. The design of the photograph, which is large, can be seen that integrates other elements such as an eye in the central part of the scale or the symbol of yin and yang (although this last element not as well integrated as the First).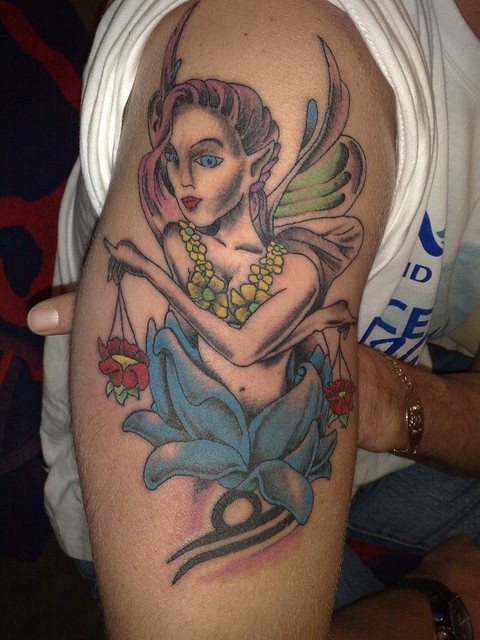 We do not know if it is Virgo, for the fairy or for the pound for the balance that the fairy holds, but we believe that it is the first sign of the named zodiac. It represents virginity and spirituality, as well as order. The design we see is full of color although the features of the fairy's face are not very well proportioned.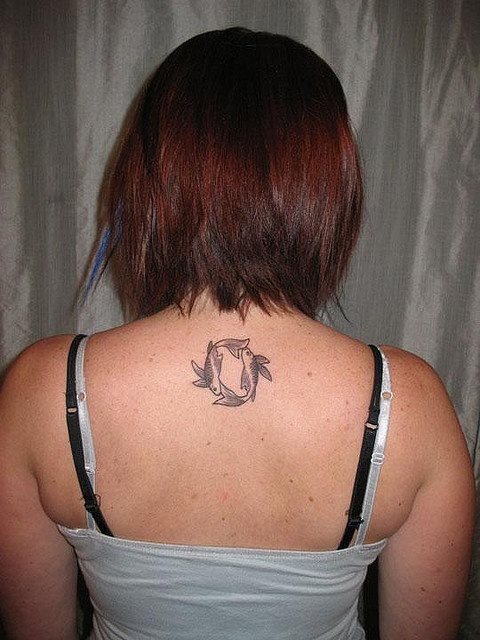 The symbol we see here is that of pisces, which is obviously a water symbol. The characteristics of the people who belong to this zodiac are: intuition, creativity, artistic creation … Although there are also negative aspects such as lack of ideals, hysteria or lies. In relation to the design of the image, which is quite simple, two fish can be seen representing this zodiac sign in gray tones. We believe it is a design with greater difficulty.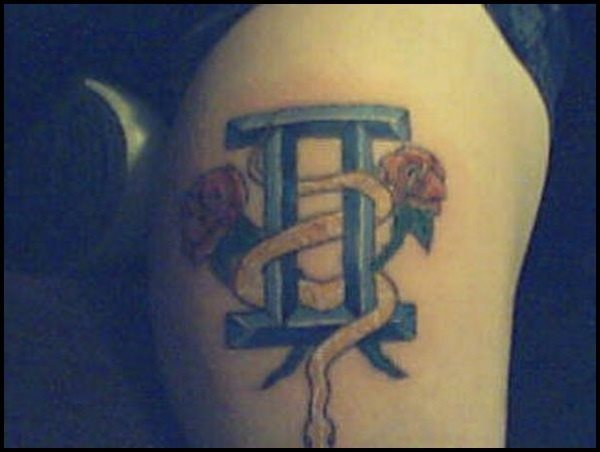 Aquarius, which is an air symbol although paradoxically many people think it is water. It is related to philosophy, serenity and spirituality in relation to soul and spirit. People who belong to this symbol are usually as said before very spiritual. A design that due to the image looks somewhat blurred, but we can see the use of different colors and brightness, although the path we can intuit is not a very clean path.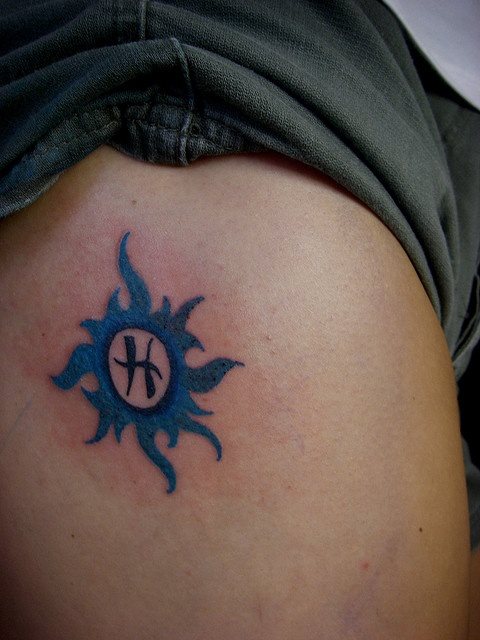 Image of another aquarium symbol. In this case we can see that it is surrounded by a kind of blue sun, here it is played with colors and shapes, that is, we will rarely see blue sun rays, so it does not cease to give originality to the design without taking center stage of the central part of it, the symbol. There seems to be a shading on the right side of the sun's rays, which is somewhat darker but does not give the sensation of shading but of dirt.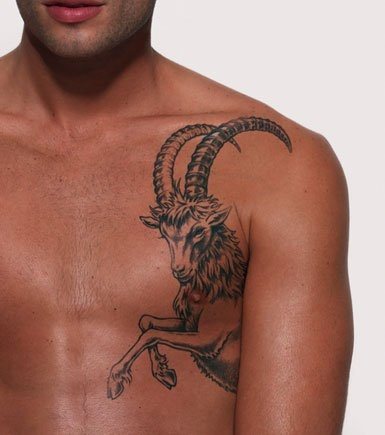 Another capricorn symbol, which has already been explained previously in another of the designs. The way in which the design is adapted to the shape of this man's body is impeccable. The paths are very clean and although only a black tone has been used, the amount of textures that has been achieved is incredible: the horns, the fur of the head, the fur of the rest of the body … It is a magnificent design for both the layout, as per the dimensions and how it adapts to the body.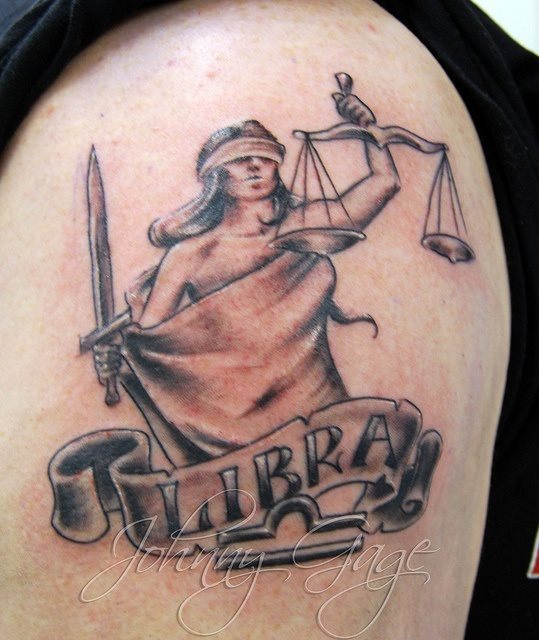 Here we see another pound design. In my opinion it is somewhat redundant to repeat the name of a sign that is already being represented by the symbol. Not only that, but below where "libra" is read, another way of representing this zodiac sign appears, which is excessive. As for the design, it can be seen that a sepia color has been achieved and that through white paths it gives the design a very subtle shine.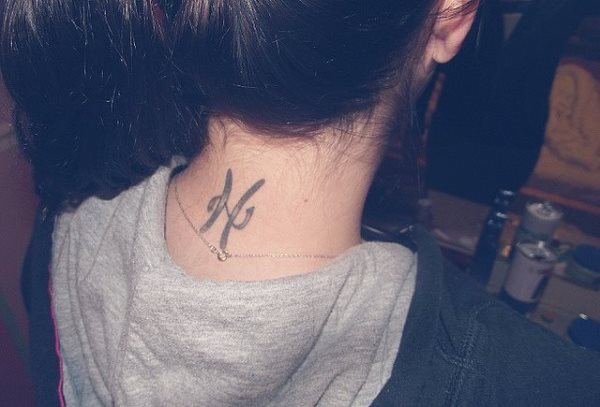 Aquarius symbol, already explained in the previous designs. The chosen area is suitable for this design, since it is a small design. It is not at all a complicated tattoo, it is very simple and although a gradient of color has been added that goes from darker up to lighter down, it is not appreciated that it has been an expensive job.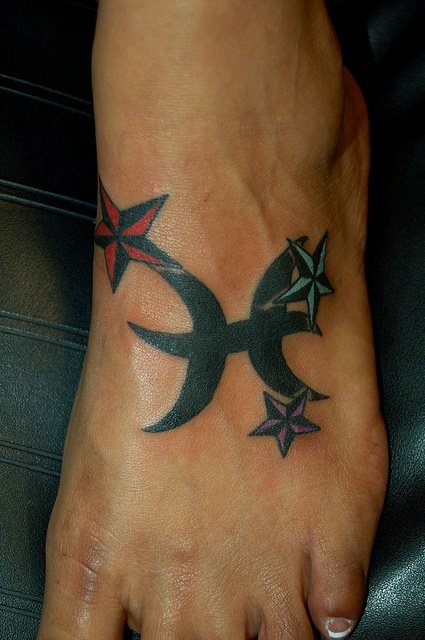 The same symbol as the previous one, this time drawn in larger dimensions on the instep of the foot. Three stars have also been added in different colors, although these are not well conjugated with the tattoo, since at the point where the stars are touched and the symbol appear uncolored areas, which gives it an unfinished appearance.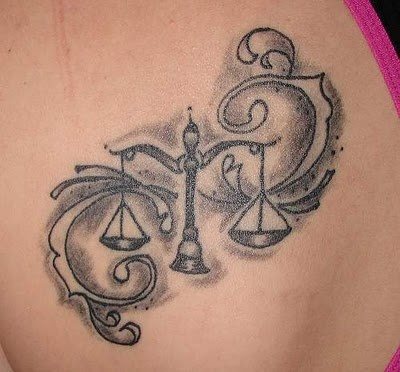 Pound symbol in black tones and with shaded and dotted around it. The balance, which is the main element, is in the shadow of a background with so much detail and shading. Once this has been commented, the importance of the proportions of the balance must also be stressed, which has a larger part than the other.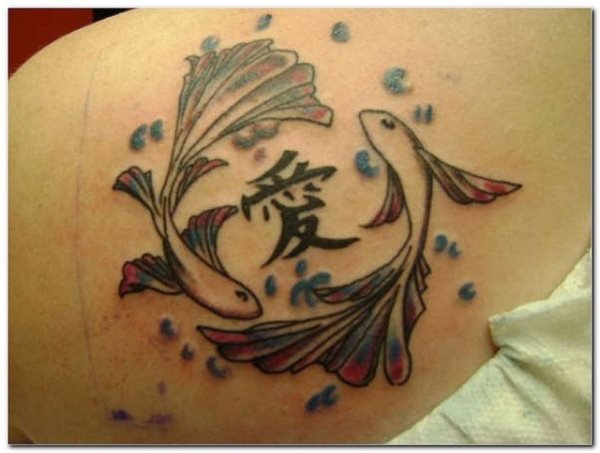 Another pisces design in which a Chinese character has been included (somewhat outdated today). The bubbles with another added element that give the design some consistency, however, the tones used, as well as the layout of the design do not offer us any spectacular results.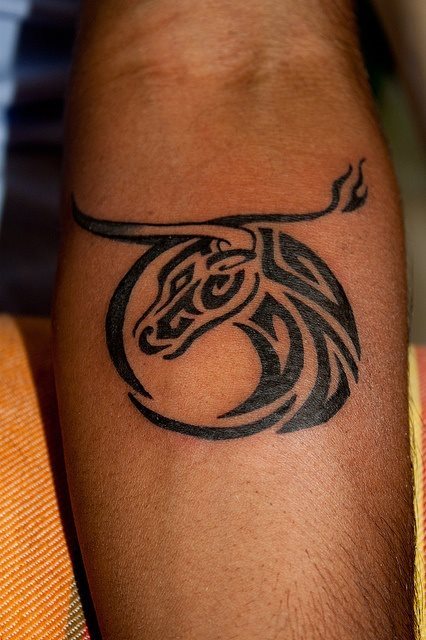 The Taurus symbol with tribal influence. Symbol of stability, of perseverance; Also performing different complicated tasks that require time, Taurus can do them much faster. The originality of the design by how the animal's tail is arranged in a circle gives it a great result full of personality and meaning.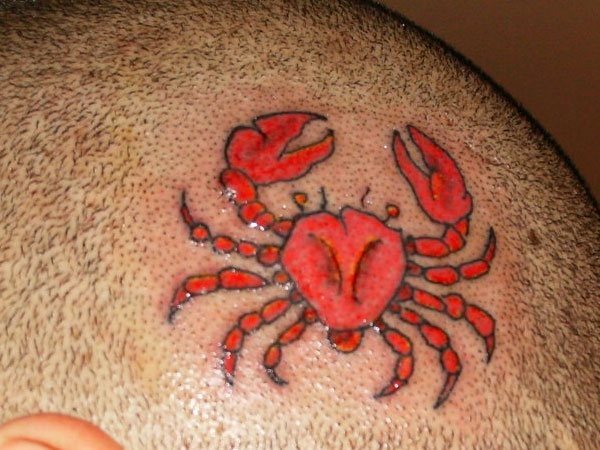 The pound symbol with some letters on the upper part and a bar code almost on the neck of this muchcacho. There is something ornate, since there are three elements that do not match. As for the symbol of libra that is what concerns us, the woman seems somewhat older, and must represent youth, although the folds of the suit and the movement they bring are undoubtedly the result of good technique.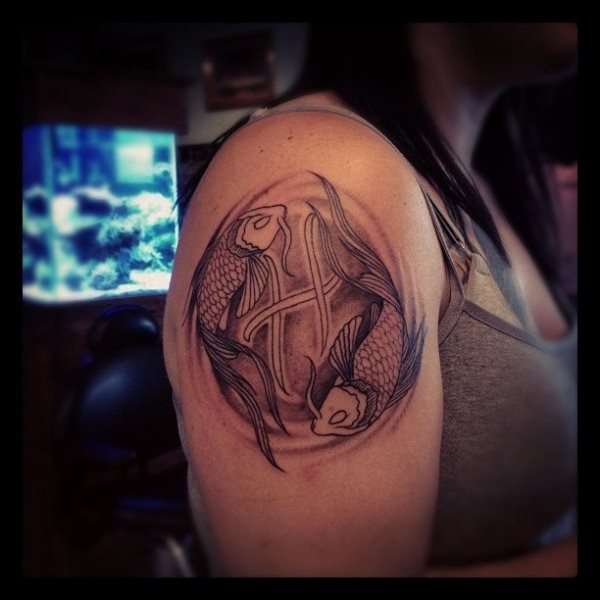 Something strange design, it seems unfinished, it screams color. The shading is correct and is well integrated in this area of ​​the body. However, it can be seen that the fine traces of the fins of the fish and their scales have a good result.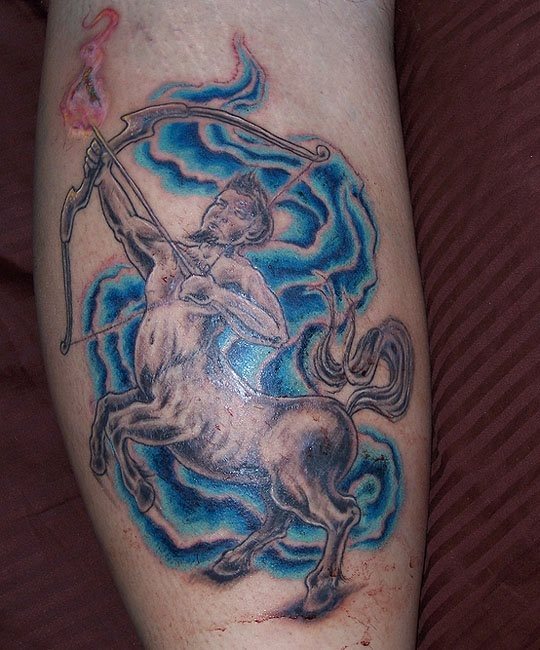 Sagittarius, half man, half horse. It represents lucidity, the intellectual, the philosopher. Some positive characteristics: sense of duty, sincerity, freedom, intelligence … The negative: stubbornness, inconstancy, etc. The design is strange because all our attention is diverted to the bottom of the electric blue design that leaves the archer in the background which is in black tones.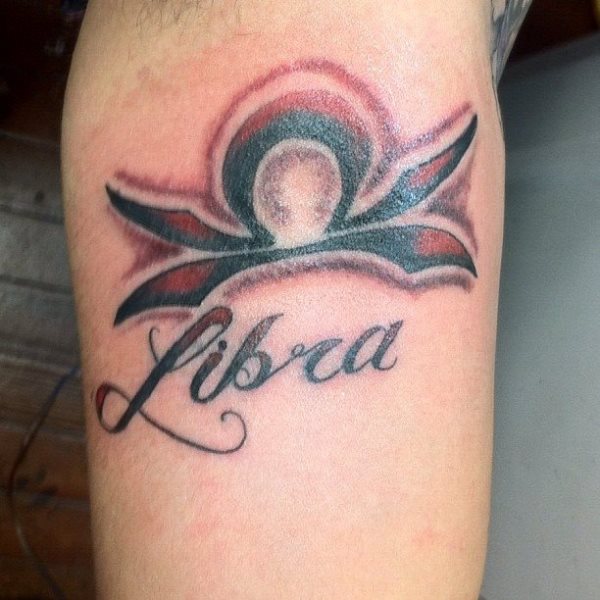 Another pound design that is repetitive. In my opinion, when someone is tattooing a zodiac sign, they must choose between writing the name, the character or the symbol, but not 2 or 3 elements together, because they are repetitive tattoos. As for the design, dark colors have been used that do not give dynamism to the design and the shading is horrible.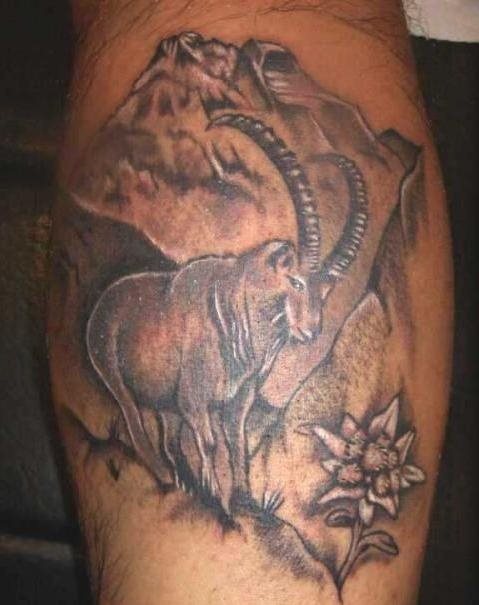 We have already seen other capricorn designs. Unlike the rest, the one we observe now is more worked above all in that it has been provided with a background. In addition, white tones have been incorporated that give more identity to the design. Both proportions, as paths and brightness are very well achieved elements in this design.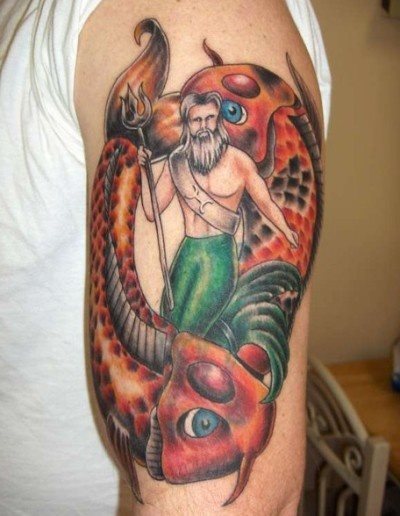 Although pisces are being represented, because of the fish that appear as the background of the design, it seems that another element is being represented. This is because the Neptune god that appears in the central part of the design grabs all our attention and prevents us from looking at the fish.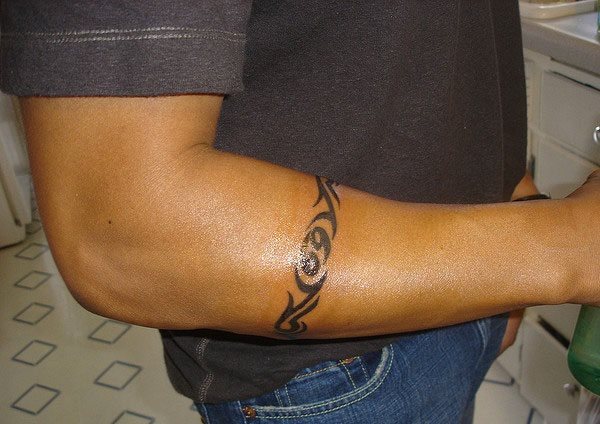 Very simple black bracelet. It has no greater mystery on which we can focus to comment, rather than in the center of the tribal tattoo we can observe how the zodiac sign of Cancer has been tattooed, which comparing us with the Chinese zodiac sign would be equivalent to the goat, so it could also Having opted for a goat as a tattoo.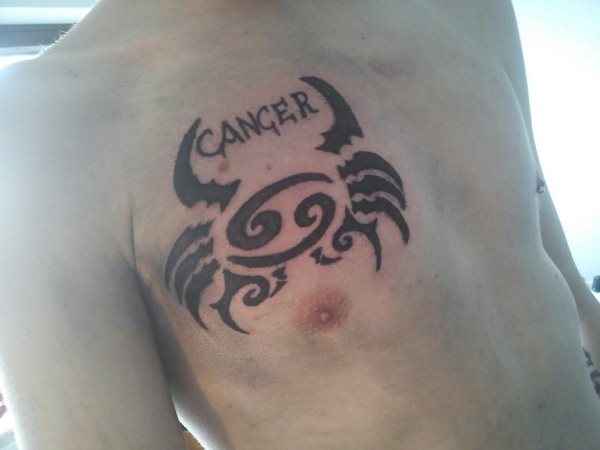 Another design in which we see again that concepts are repeated, the symbol of cancer, the crab, and the word. As I have repeatedly mentioned in other designs, it is repetitive to tattoo the symbol and the word. Intuition, conception and other characteristics are what the people of this sign show. The most negative thing about cancer is that they tend to lock themselves up, often forgetting the people around them.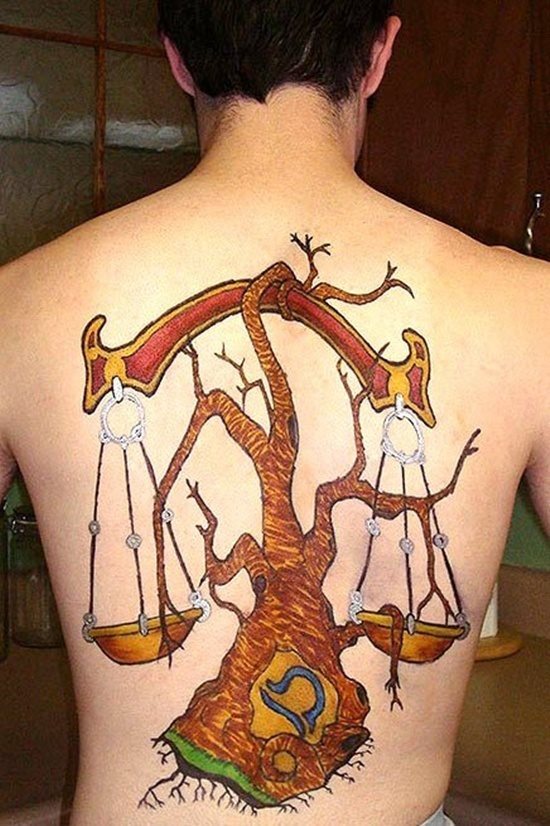 Original design of the pound symbol which is perfectly integrated with the tree (with a somewhat curious texture this element, although with good result combining brown and yellow). The branches are in line with the balance and the only rebound that can be said is that more effort could have been made to blur, for example, the bottom of the tree so as not to finish the tattoo so sharply.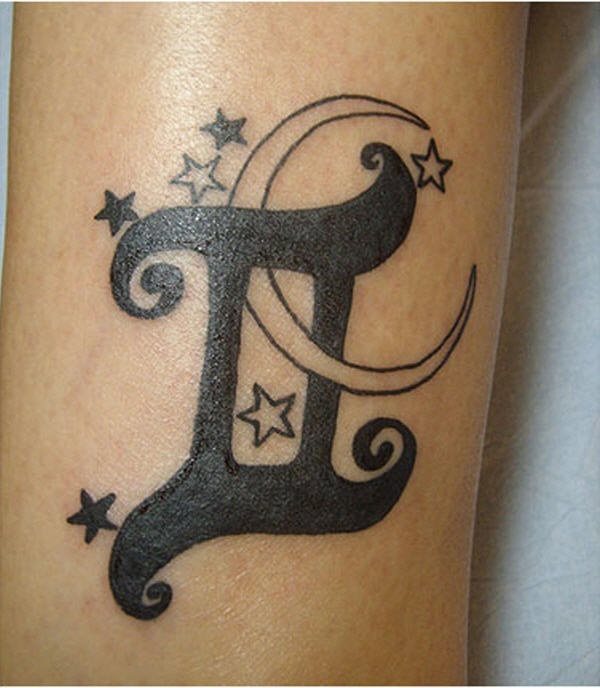 In this other design we can see that the black color has been simply used and although the saturation is correct, since with this tone it is not difficult not to get a good saturation due to the darkness of this tone, you can see that the paths are clumsy and They are not clean at all.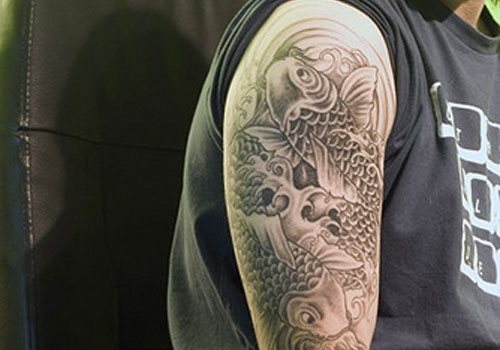 Tattoo on the arm with several fish, of which we highlight the magnificent finish of the scales, the shading of the fish and the seabed that have been drawn represented by the waves, maybe this tattoo if it finished in color, would enter the list of the best fish tattoos ever seen.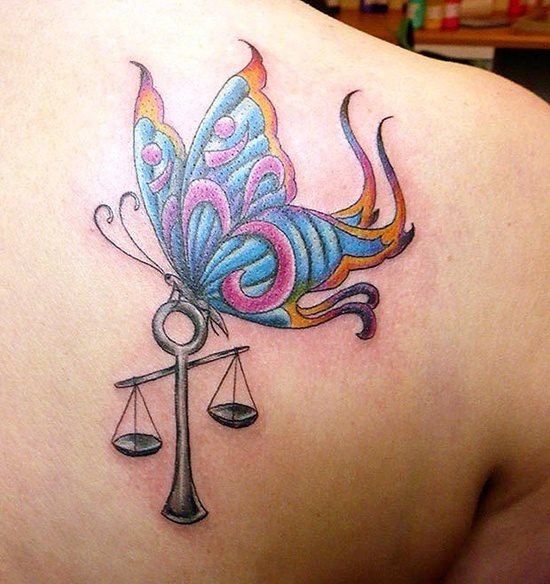 Tattoo of a butterfly with colored balls and perfect finishes that is perched on a scale, this element of the scale has a great meaning in the field of justice, which comes to represent the balance of the balance between truth and justice.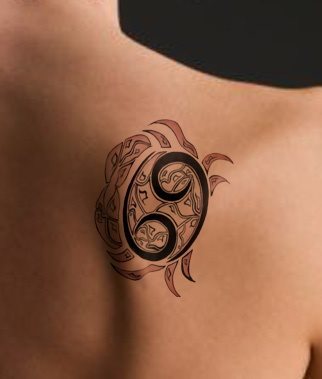 Tattoo of the zodiac sign Cancer, is located on the back with tribal motifs. This sign symbolizes the family and its symbol represents a crab and finally add that this sign, together with Scorpio and Pisces, belong to the water element.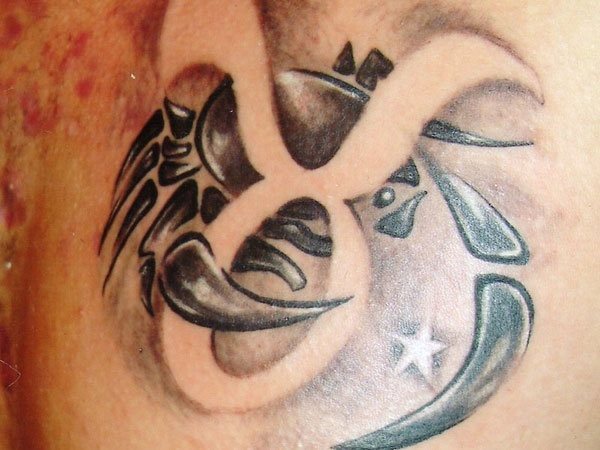 Very original tattoo because the zodiac sign of Taurus has been achieved leaving that space without tattooing and surrounding by a very well finished shading. Taurus symbolizes consolidation and its symbol represents the head of a bull with antlers.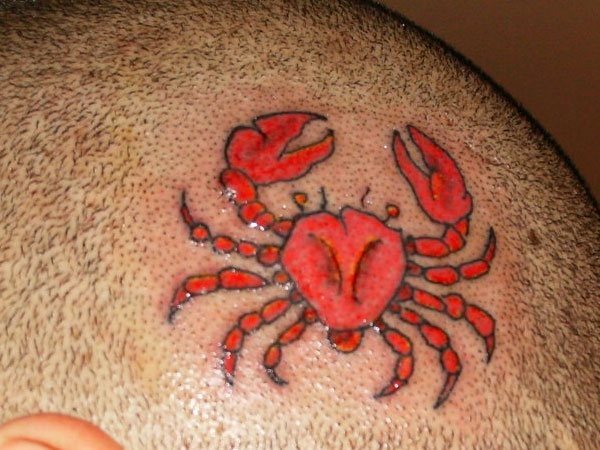 Tattoo on the head of a red crab, maybe it can represent the zodiac sign Cancer, which as we know is represented with a crab. A tattoo on the head is a very risky option, with a positive element and if you never bald, you can show it only when you shave your head.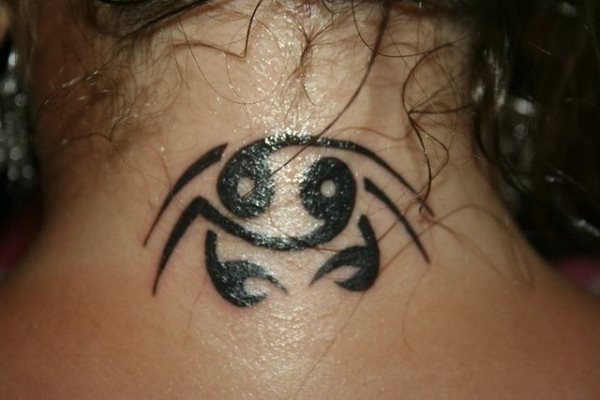 Zodiac tattoo in which a very good result has been achieved resulting in the connection of a crab and the very sign of Cancer itself, as you know, cancer is born between June 21 and July 22 and the metal assigned to This zodiac sign is silver.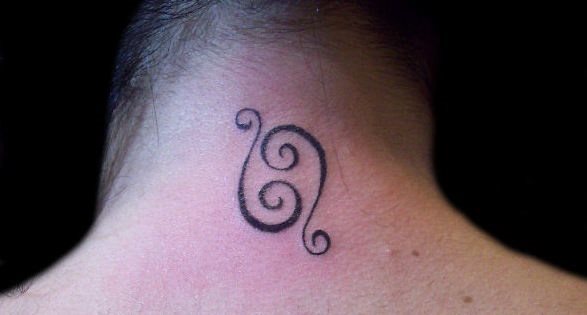 Another design on the neck of a thin zodiac sign corresponding to Cancer, which we already know can also be represented with a crab and we consider that a crab on the neck of a girl would also be spectacular.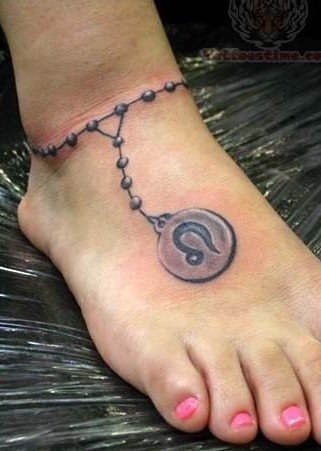 Rosary tattooed on the foot whose final auction is a small medal with the zodiac sign Leo tattooed inside. The Leo tattoo symbolizes the life force and its symbol represents the lion's mane.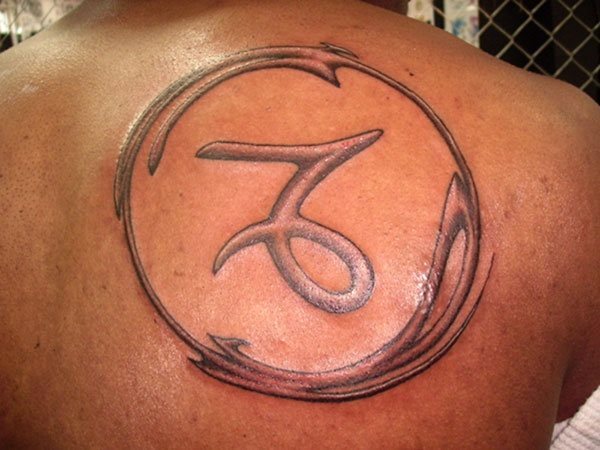 Tatauaje on the back of a zodiac sign surrounded by a large circumference, the truth is that we can not risk too much to guess what zodiac sign it is, a priori it seems Taurus, but we are not sure, no doubt, there lies the magic in which you only know The meaning of its owner.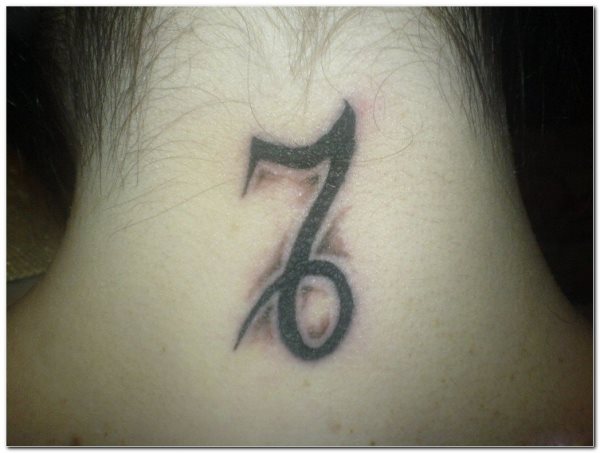 Taurus sign. This zodiac sign for those born between December 22 and January 20 symbolizes wisdom and its symbol represents the mountain.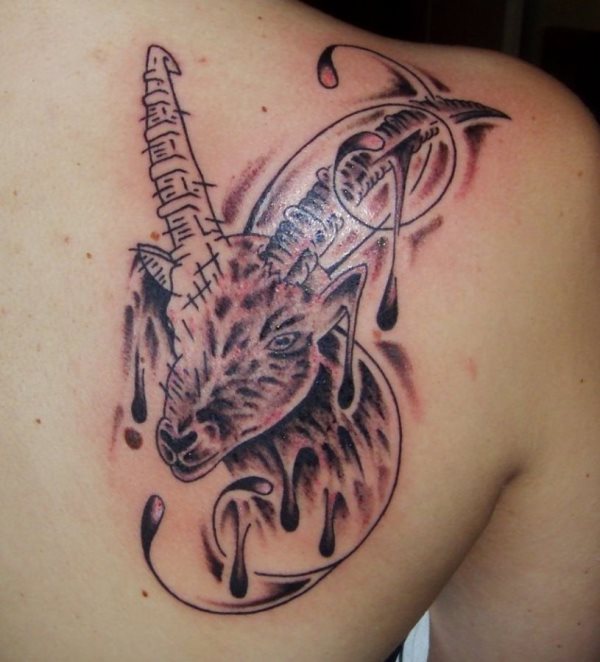 Goat surrounded by small lines, probably for a Capricorn, since this sign is symbolized with a hybrid goat, that is, a fish-tailed goat or sea monster.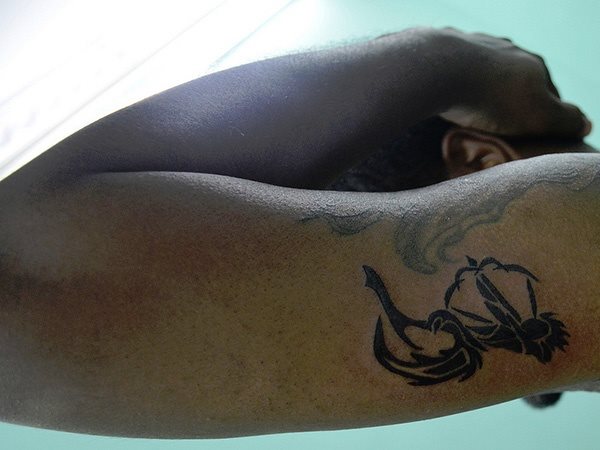 The Sagittarius symbol on the triceps, a zodiac sign for those born between November 22 and December 22, which symbolizes the higher consciousness and its symbol represents the archer's arrow. It belongs to the fire element.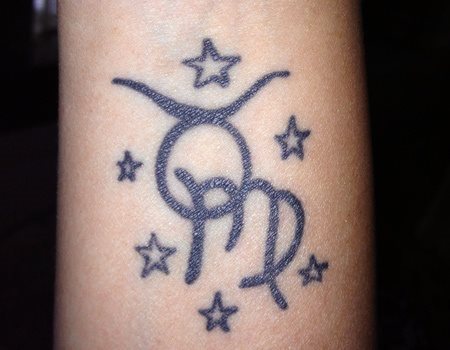 Here we have the signs of Taurus and Scorpio surrounded by unfilled stars. Taurus represents those born between April 21 and May 21, its star is Venus and belonging to the Earth element, and in Chinese astrology it is represented by a snake.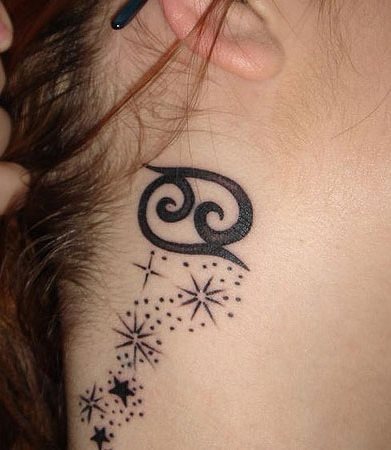 El signo zodiacal es un recurso muy utilizado en este arte. En esta ocasión el signo Cáncer se ha tatuado bajo la oreja y se ha completado con conjunto de pequeñas estrellas y puntos que van por el cuello.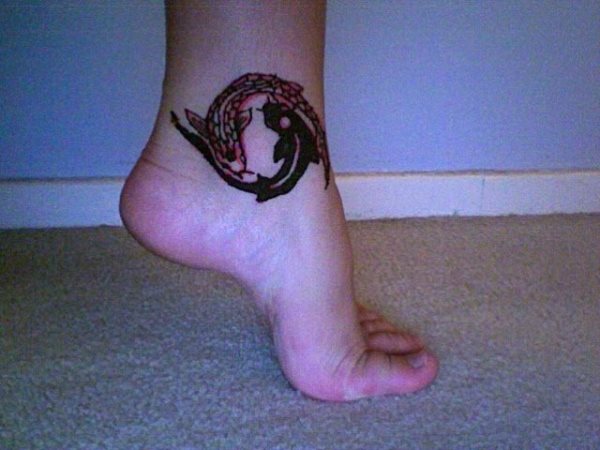 Otro tattoo zodiacal, en esta ocasión la parte escogida para tatuar es el tobillo y podemos ver como se han representado los dos peces nadando en sentido puesto que hacen mención al signo zodiacal Piscis, que simboliza la disolución y pertenece al elemento Agua.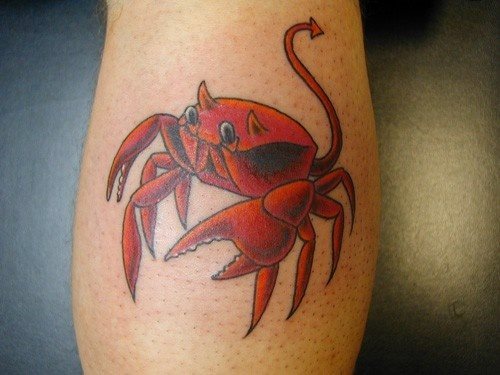 Simpático cangrejo al que se le han añadido dos pequeños cuernos en la cabeza y una laga cola que acaba en flecha, muy típica de la forma de representación de diablos. Bastante original y divertido.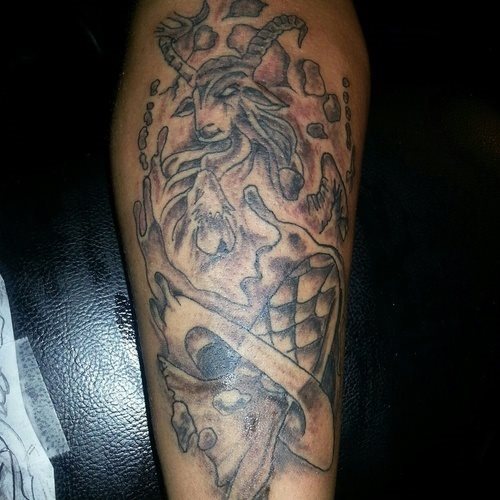 Conjunto de elementos en el antebrazo, del cuál destacamos la cabra híbrida que parece representar al signo zodiacal Capricornio, que en la astrología simboliza la sabiduría y su elemento es la Tierra.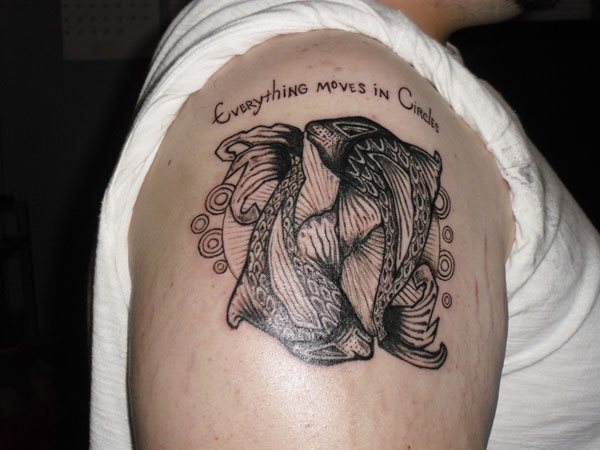 Dos peces nadando en sentido opuesto y que se ha acompañado con la frase "Everything moves in circles". Viene a representar al signo zodiacal Piscis ( entre el 19 de febrero y el 20 de marzo).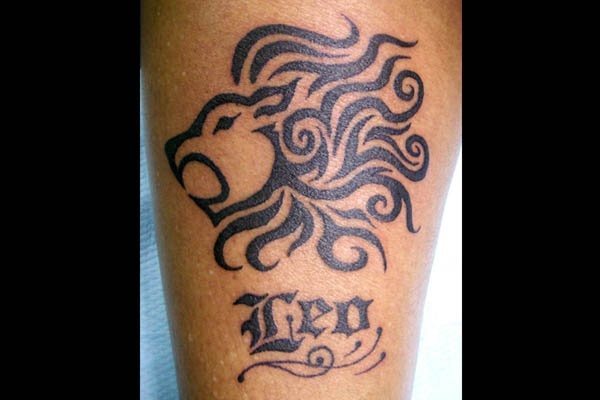 León con una melena muy bonita, conseguida gracias a unos trazos semicurvos y rematados con unas curvaturas, junto al león se ha tatuado la palabra Leo, que en el signo zodiacal simboliza la fuerza de la vida.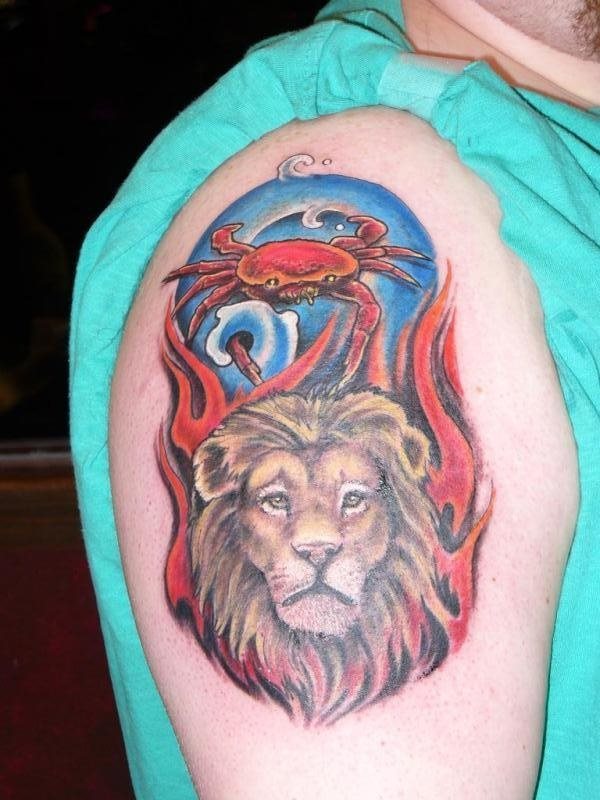 Cabeza de un león rodeada por unas llamas de fuego y unas olas de mar con un cangrejo, al parecer, podría representar a dos signos zodiacales diferentes, por un lado el león de Leo y el cangrego vendría a representar el signo Cáncer.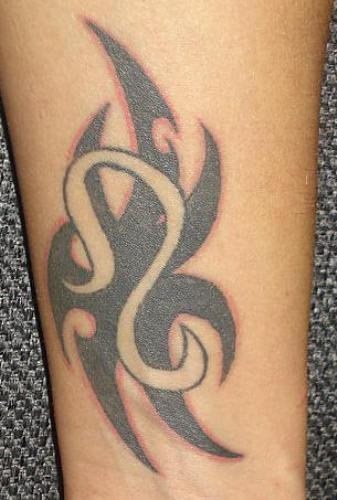 Un tribal y un signo zodiacal, en concreto observamos que se ha realizado la silueta del signo zodiacal Leo. Una mezcla interesante la de unir tribales y signos zodiacales.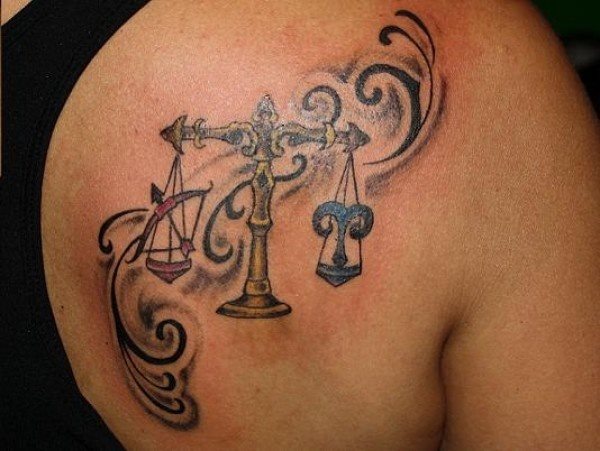 Una balanza en la que a cada lado se han realizado dos signos zodiacales diferentes, a la izquierda podemos observar el signo zodiacal de Sagitarios y a la derecha se aprecia el signo zodiacal de Aries y de fondo se han tatuado unas pequeñas cenefas.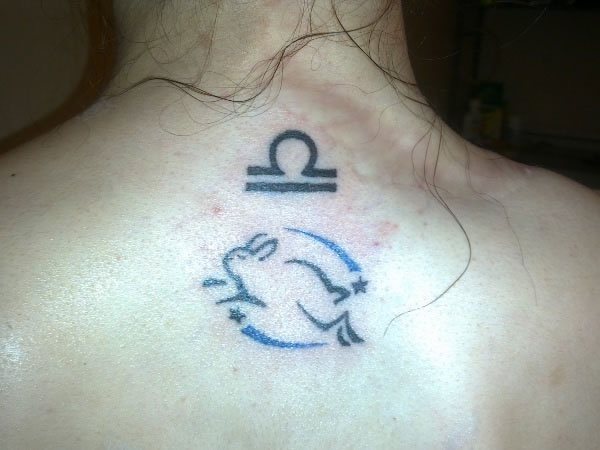 El signo Libra en la nuca a color negro y junto a la silueta de un pequeño conejo en pleno salto al que se ha envuelto con unas pequeñas líneas curvas que forman pequeñas estrellas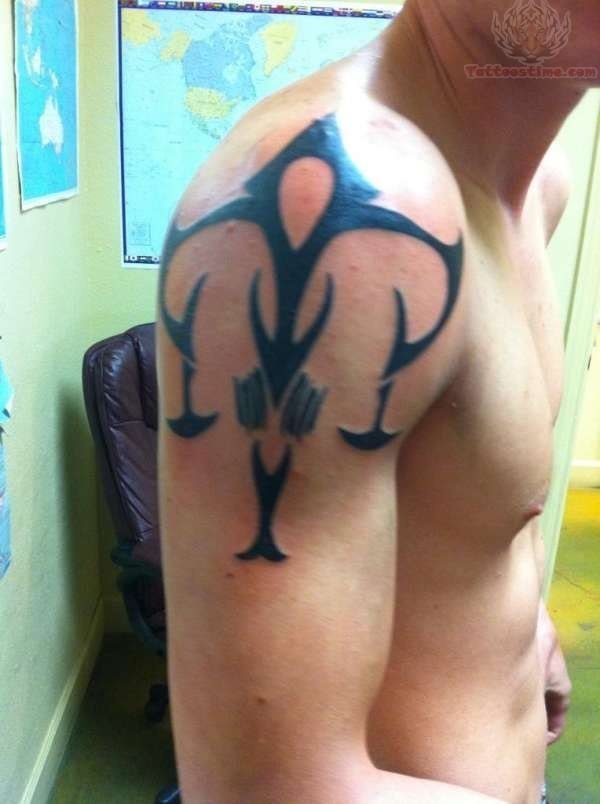 Tribal en el hombro compuesto por largos y delicados trazos, en esta ocasión podemos apreciar el gran espacio que se ha dejado entre trazo y trazo, dándole un aspecto muy bueno y en el que podemos apreciar con claridad todos los acabados.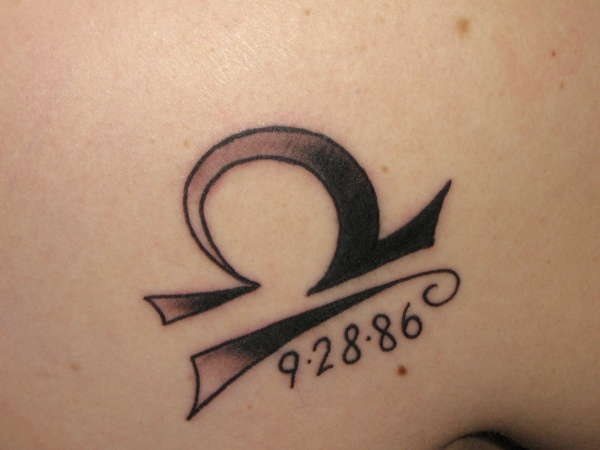 El signo zodiacal Libra compañado de unos número, como sabréis Libra representa a los nacidos entre el 23 de septiembre y el 22 de octubre y simboliza el equilibrio y la armonía, además añadir que su símbolo representa la balanza y pertenece al elemento Aire.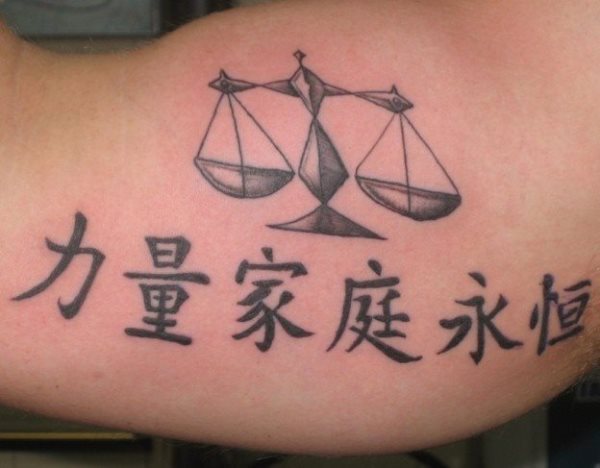 Una balanza sobre unas letras chinas. La balanza en el signo zodiacal hace referencia al signo Leo, que es uno de los cuatro signos cardinales, junto a Aries, Cáncer y Capricornio. Un signo zodiacal que está regido por Venus y cuyo signo opuesto y compatible es Aries.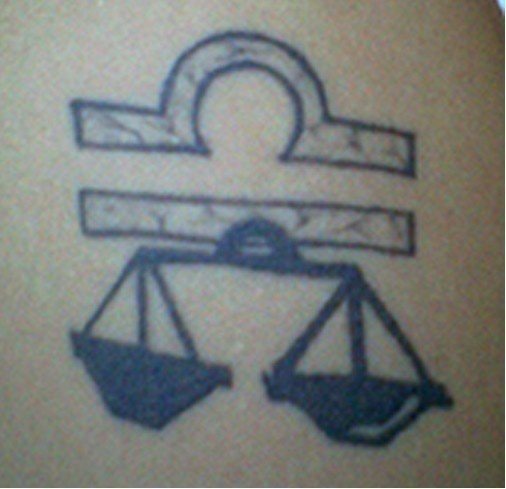 El signo zodiacal Libra, representado por una balanza y en esta ocasión podemos ver tanto el signo como el símbolo, Para aquellas personas nacidas entre el 23 de septiembre y el 22 de octubre. Este tattoo simboliza el equilibrio y la armonía.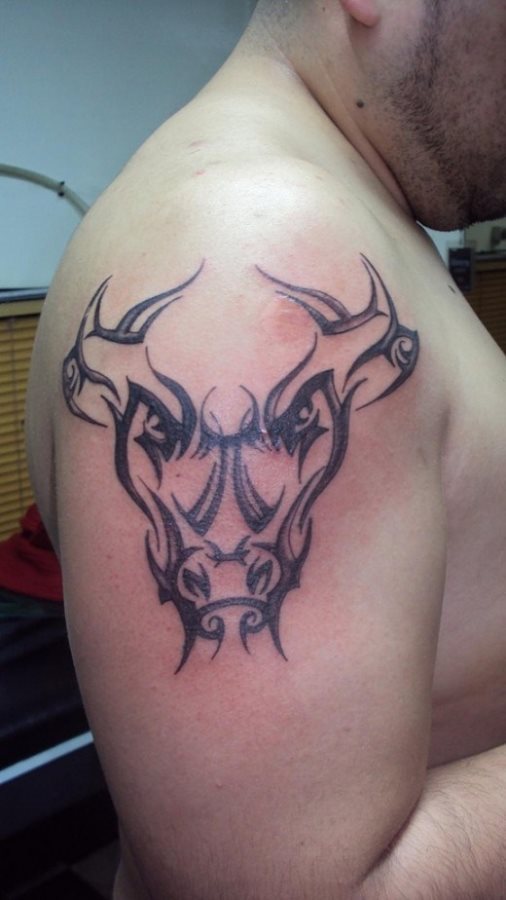 En el brazo con unos signos tribales que van compomiendo la silueta de lo que parece un animal, nos aventuraremos y diremos que es un toro y que tal vez represente al segundo signo del Zodiaco, es decir, a Taurus, es un signo de naturaleza negativa y de cualidad fija, representado por un toro con astas circulando a su alrededor.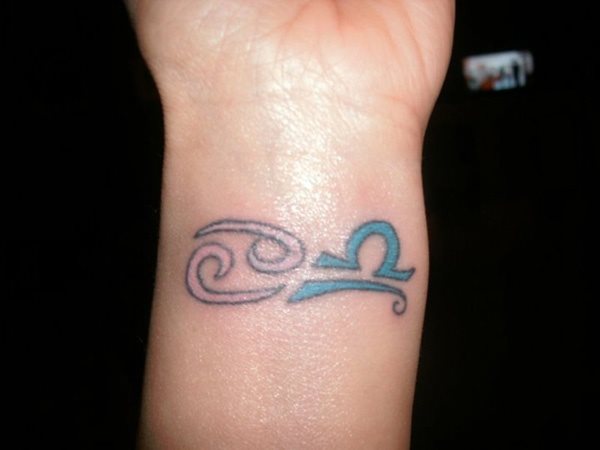 En esta ocasión podemos apreciar dos signos, por un lado Piscis y por otro lado Libra. En resumen, ha quedado algo muy fino, con unos colores a tonos pasteles muy bien rematados.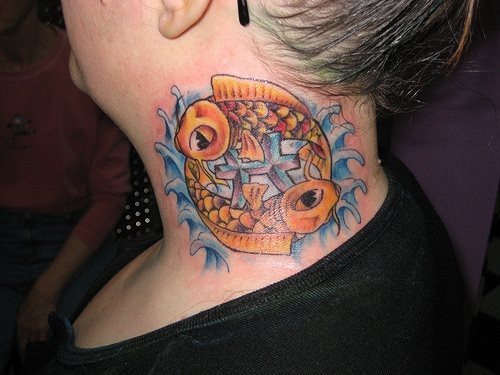 En el cuello de dos peces nadando en sentido opuesto sobre un fondo muy bien conseguido de olas en tonos celestes y blancos. Como ya sabéis, este es perfecto para los Piscis ya que los dos peces juntos formando una especie de círculo representan a este signo.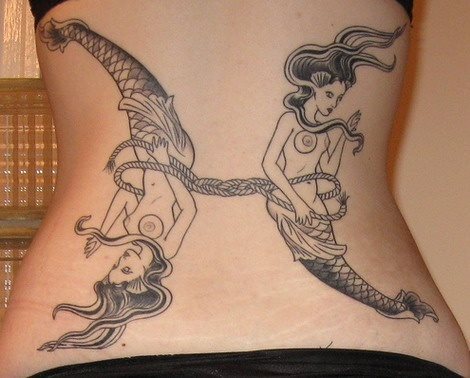 Dos sirenas en sentido opuestos, a las que se han dejado desnudos los pechos y que están unidas por una cuerda. Representa el signo zodiacal Géminis, para los nacidos entre el 21 de mayo y el 21 de junio.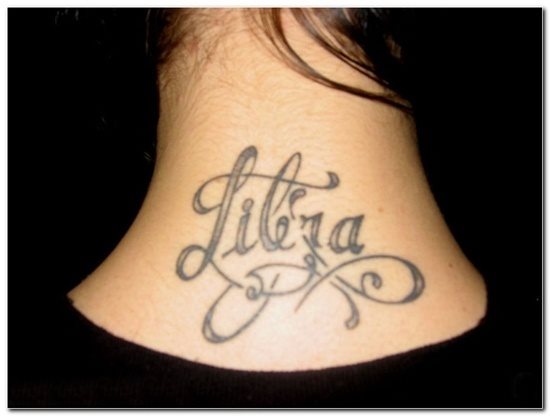 En la nuca de una palabra que no atinamos a descifrar muy bien cuál es, por lo que poco podemos decir de este tattoo, más que la tipografía es bastante acertada al igual que los trazos que se le han ido añadiendo a las letras, aunque como aspecto negativo decir que no se entiende muy bien lo que dice.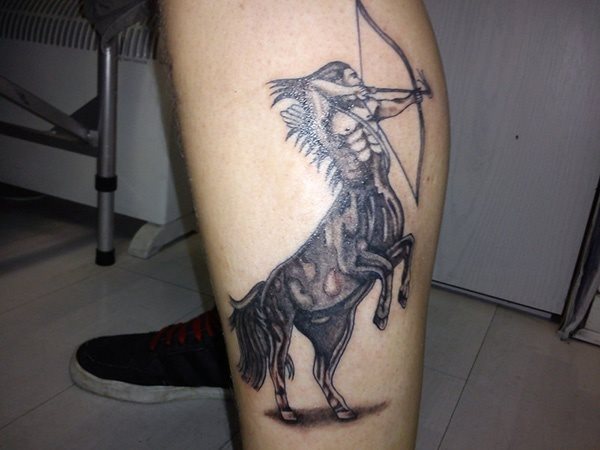 Centauro en la pierna, que como podemos ver es un fornido guerrero que está tirando una flecha con su arco. El centauro es una criatura típica de la mitología griega, que vivían en las montañas y se les consideraba hijos de Kentauros.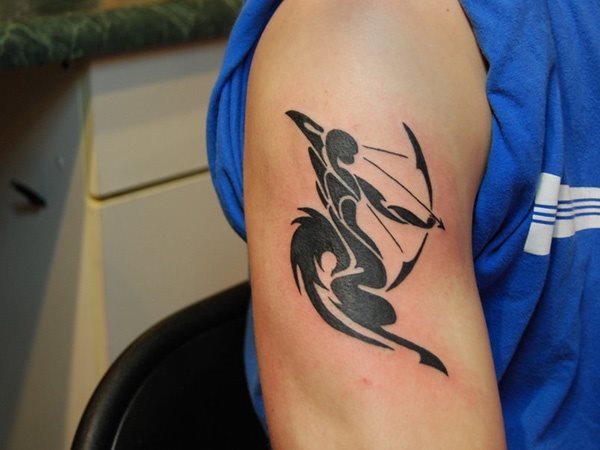 Otro zodiacal en el brazo, del que no se han obtenido grandes resultados en su diseño, tal vez por conjugar los elementos tribales poco definidos con la silueta del hombre tirando una flecha con su arco. Es poco vistoso y estoy seguro que a la persona que lo lleva sobre su piel le gusta mucho, pero que a nosotros nos cuesta trabajo de ver.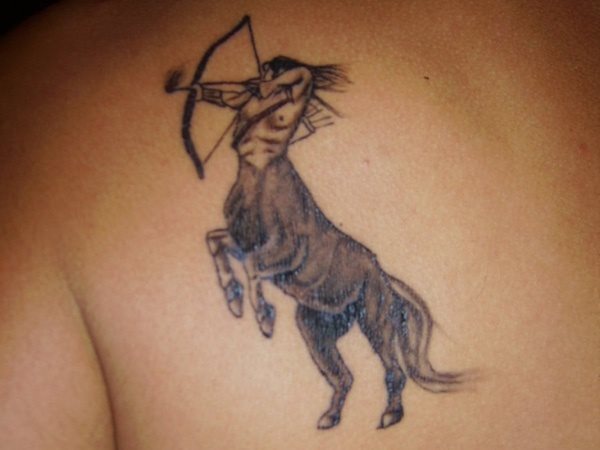 Un centauro, representado por una criatura mitad caballo, mitad hombre, en esta ocasión esta representación tan característica de la mitología griega está basada en un guerrero tirando una flecha con su arco y caracterizado por un largo pelo negro.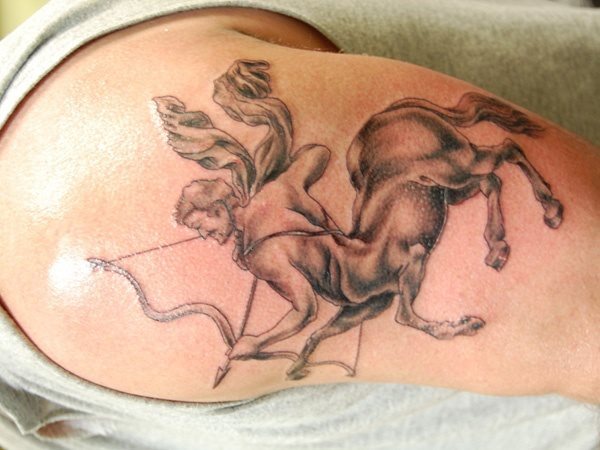 En el brazo de un centauro, para esta ocasión se ha conseguido un gran acabado gracias a la gran cantidad de sombras y detalles utilizados en el diseño, sin duda, un tattoo muy apreciado por los amantes de todo lo relacionado con la mitología.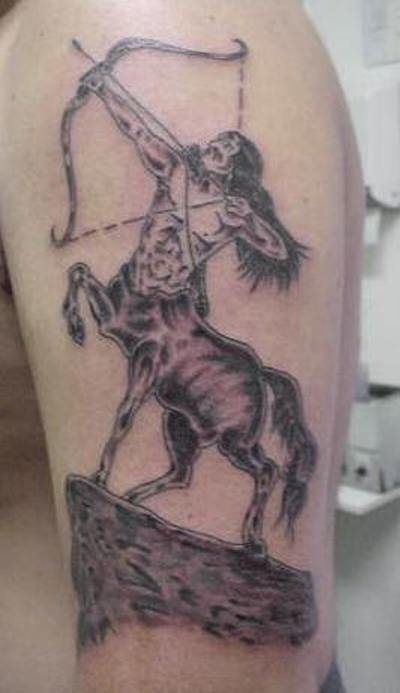 Diseño mitológico de un centauro en plena guerra tirando una flecha con su arco, no podemos decir que tenga unos trazos muy conseguidos y que tal vez le vendría bien un repaso para reforzar los colores negros y que un rediseño del dibujo también le sentaría bien a este tattoo.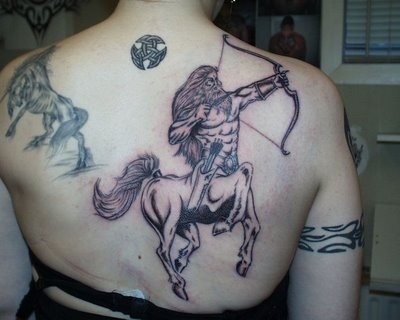 Un gran centauro sobre la espalda de esta chica, a este tattoo representativo de la mitología griega no se le ha dejado ni un detalle al azar, como podemos observar se le ha tatuado un largo pelo, un archo y una funda con las flechas, además no es el único que tiene cómo podemos ver en la foto.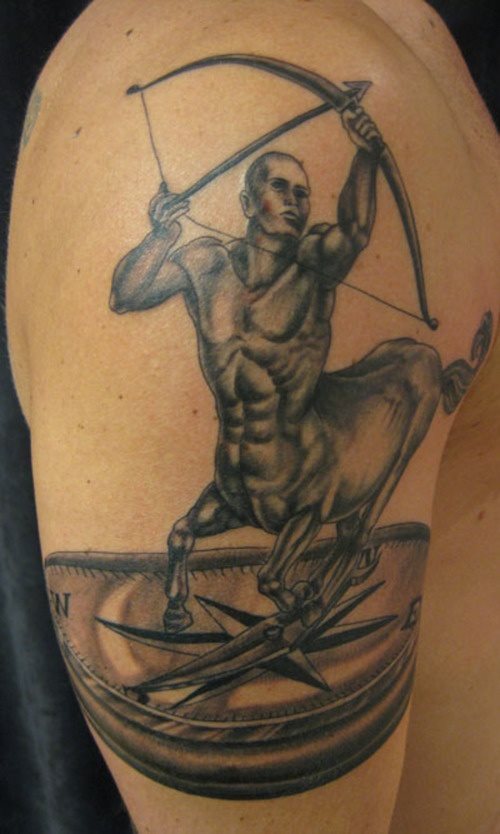 Hasta ahora todos los diseños que veníamos viendo sobre centauros de la mitología griega estaban caracterizados por un hombre fornido de pelo largo, sin embargo en esta ocasión, se ha optado por un hombre fuerte totalmente calvo y la ubicación es el brazo. Además se han incluído otros elementos en el tattoo.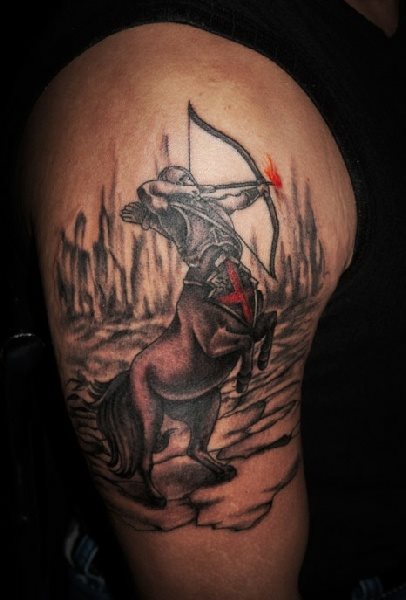 Un centauro tirando una flecha en llama. De este nos gustaría destacar que el fondo ha quedado genial y que el detalle de la armadura del centauro con el escudo con una cruz roja, luce perfecto en este tattoo.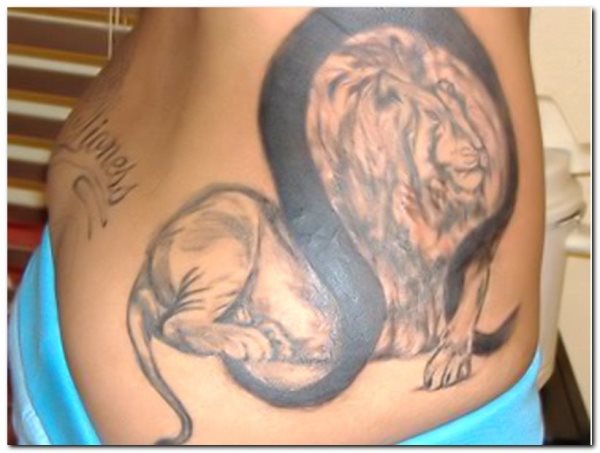 Representando al signo Leo para el que se ha tatuado un gran león de larga melena sentado y rodeado por el propio signo zodiacal leo.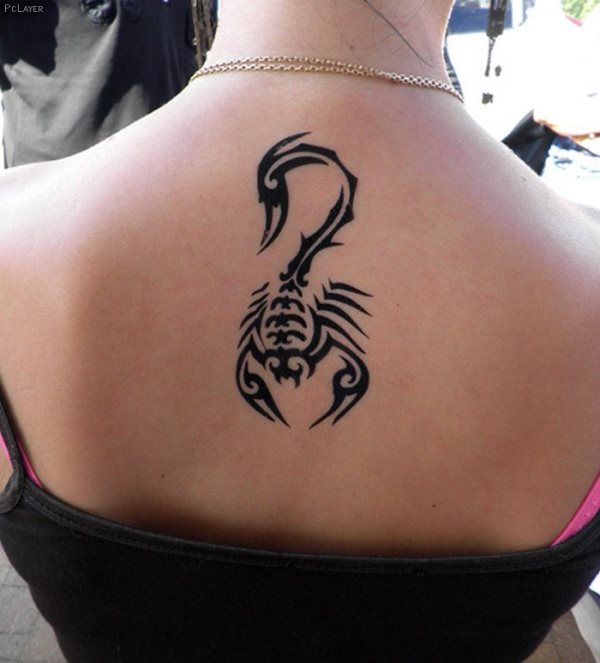 Escorpión diseñado a partir de motivos tribales y ubicados en la parte central de la espalda para el que sólo se ha utilizado el color negro y ha dado un resultado más que aceptable.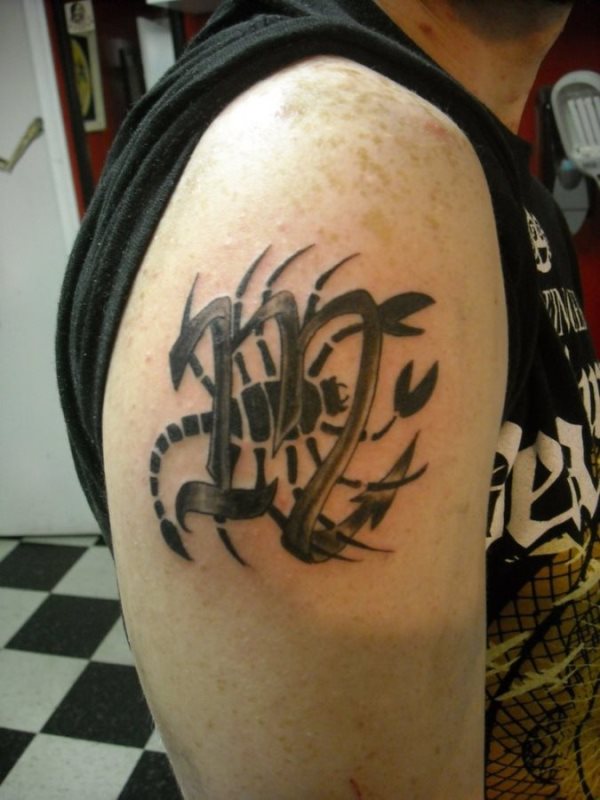 Tattoo de Escorpio sobre el brazo en el que se ha tatuado el animal representativo de este signo y sobre el mismo el propio símbolo, suponemos que esta persona ha nacido entre el 23 de octubre y el 22 de noviembre, fecha para los scorpio.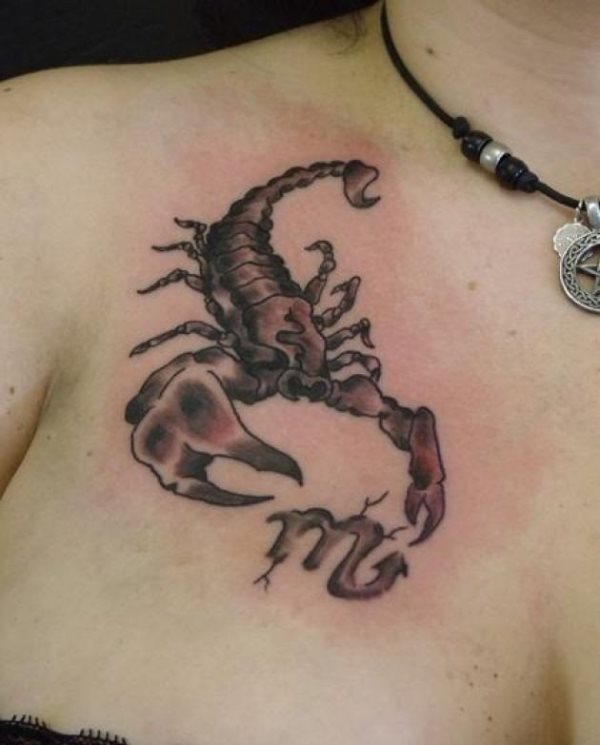 Cangrejo que entre sus pinzas tiene un el signo zodiacal de Scorpio con unas pequeñas ramas que le salen al propio signo. Escorpio es el octavo signo del zodiaco, el cuarto de naturaleza negativa y el tercero de cualidad fija.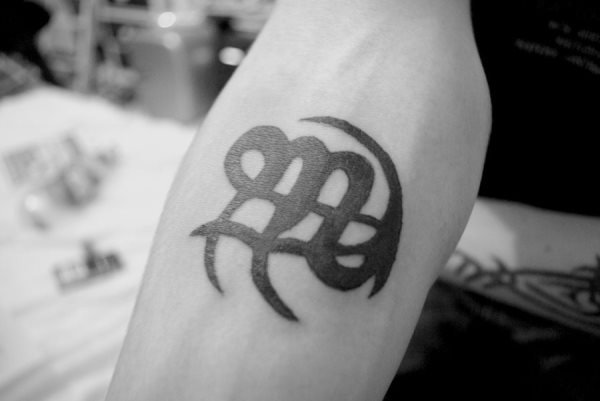 Otro diseño zodiacal tatuado sobre el antebrazo a color negro y que viene a representar el signo del zodiaco de Escorpio, del que podemos decir que atendiendo a la mitología, se dice que el origen de la constelación se encuentra el leyenda de Orión, de la que os aconsejemos echéis un vistazo porque es muy interesante.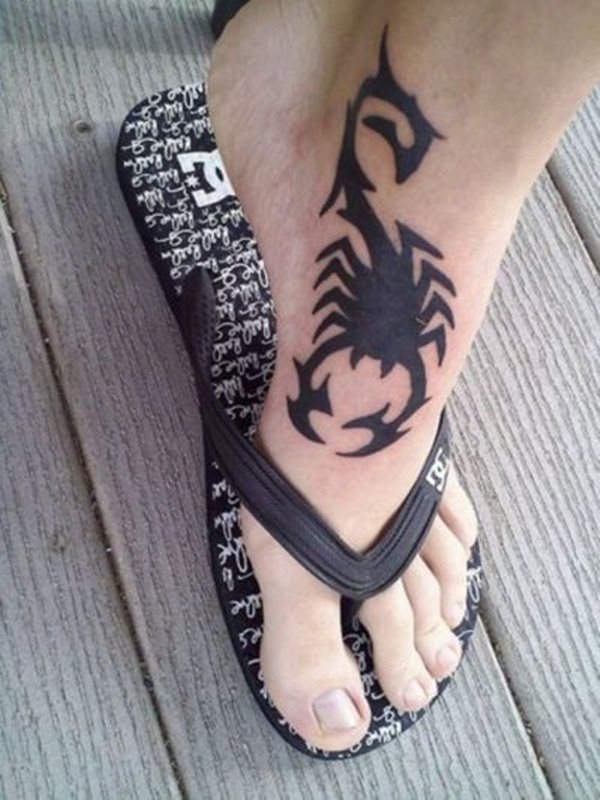 Diseño zodiacal por antonomasia del signo escorpio tatuado sobre el empeine ocupando casi la todalidad del pie y para el que sólo se ha utilizado el color negro.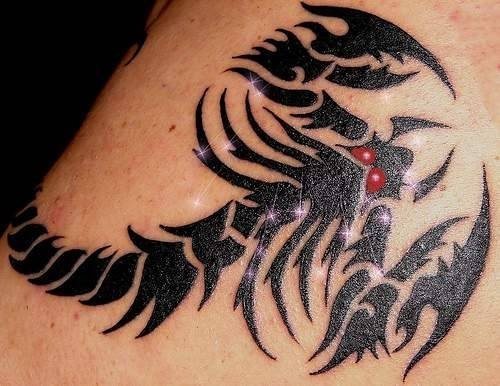 Representando a Escorpio y en el que la originalidad de este tattoo reside en los dos puntos rojos que se han tatuado y que hacen las veces de ojos. La verdad es que nos gusta encontrar siempre algún elemento que le dé ese toque de originalidad, por muy pequeño que sea, como es este caso.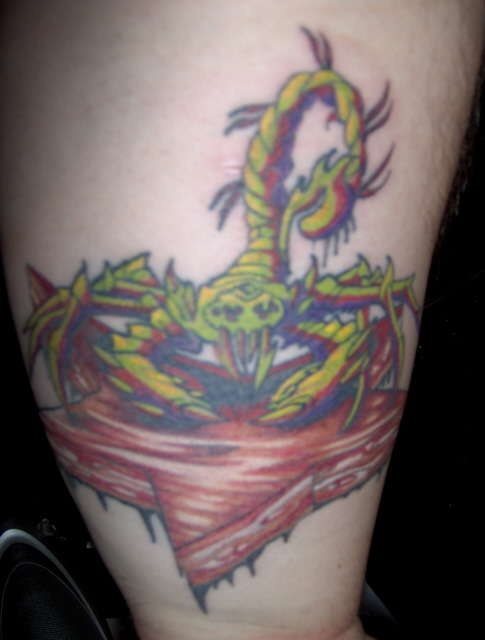 Resalta el colorido y temeroso toque que se le ha dado a este signo, que como podéis apreciar representa a Escorpio, cuyo elemento es el agua y que está regido por Marte y Plutón.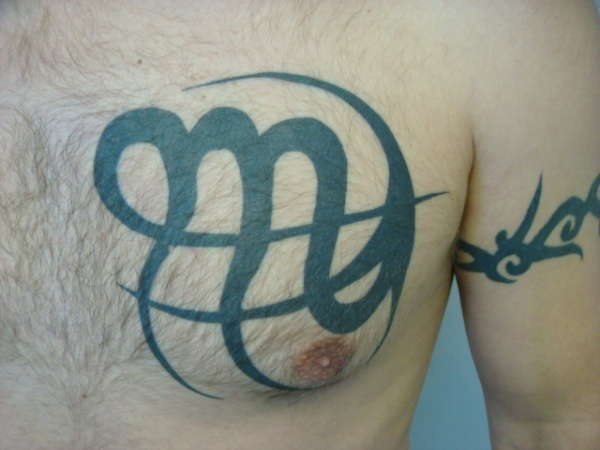 Gran diseño zodiacal sobre el pecho para el que se ha hecho un diseño muy original del signo del zodiaco Esocorpio, del que debemos decir que su signo opuesto y complemento es Tauro. Para los nacidos entre el 23 de octubre y el 22 de noviembre.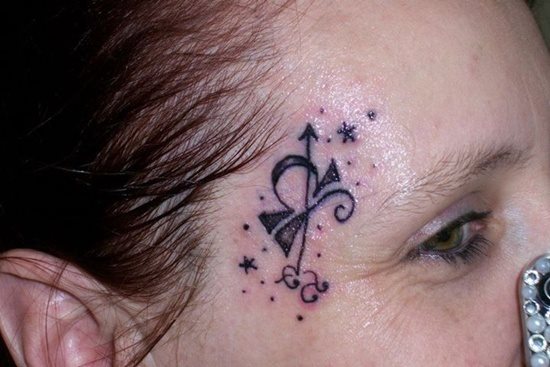 En la cara del signo zodiacal Libra, muy arriesgado y del que esperemos no se arrepienta nunca, ya que como hemos dicho en otras ocasiones, los tatuajes en la cara están poco extendidos en la cultura occidental y hay que tener muy claro que queremos que la tinta nos acompañe permanentemente en la cara.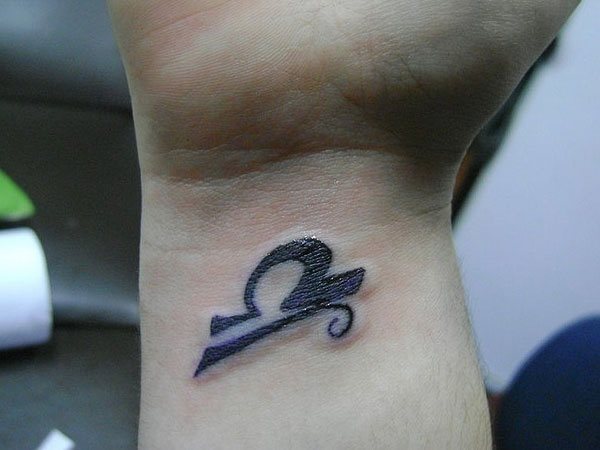 En la muñeca y del signo zodiacal Libra. Pequeño y coqueto a color negro, que simboliza el equilibrio y la armonía y su símbolo representa la balanza, perteneciendo junto a Géminis y Acuario al elemento aire.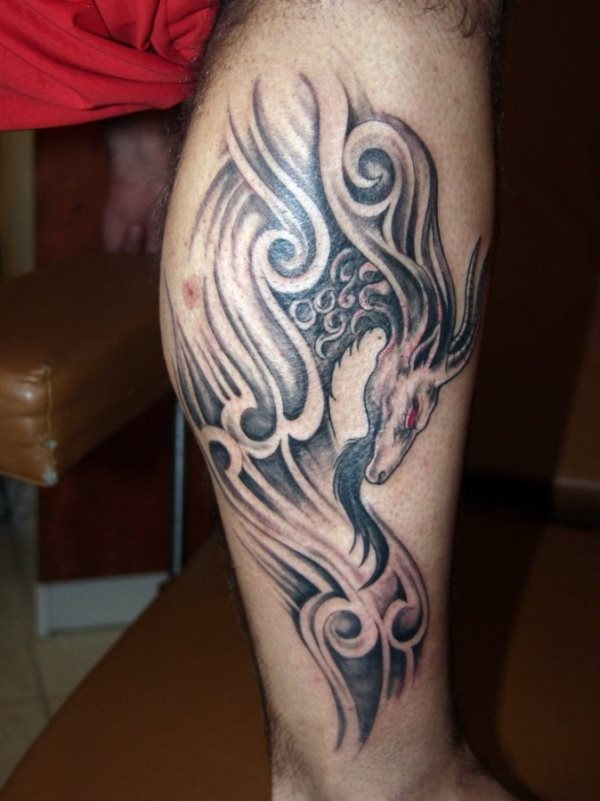 Pierna con un animal mitológico con grandes melenas, del que nos gustaría destacar que nos gusta mucho la forma que se le ha dado a las melenas y el pequeño detalle de pintar los ojos rojos, un detalle muy pequeño pero a la vez muy atractivo.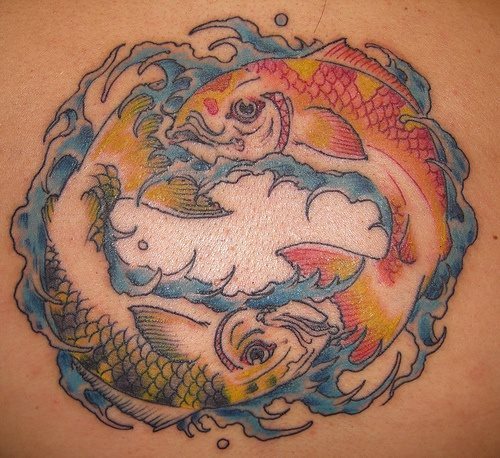 Muy colorido este en el que se aprecian dos peces nadando en sentido opuesto y que como ya sabréis estos animales representan al signo zodiacal piscis. A decir verdad nos gustan mucho los fondos de olas aunque en esta ocasión nos gusta mucho más el acabado tan colorido de las escamas.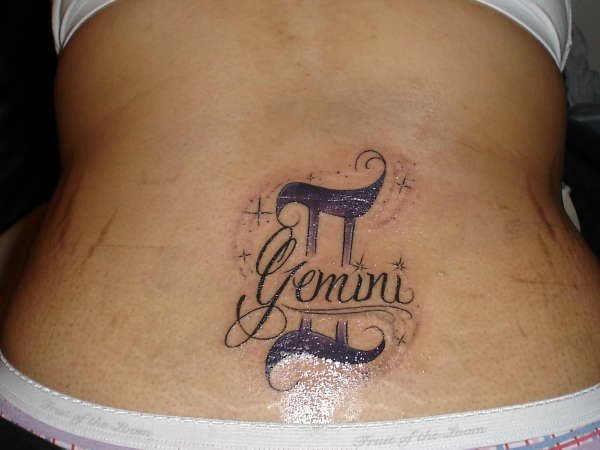 Del signo zodiacal Géminis, un signo que simboliza la conciencia concreta y que es opuesto y compatible a sagitario. Signo zodiacal el de géminis que, junto a Libra y Acuario, pertenecen al elemento Aire y que es regido por Mercurio, el dios del comercio cuyo nombre está relacionado con la palabra latina merx, que significa mercancía.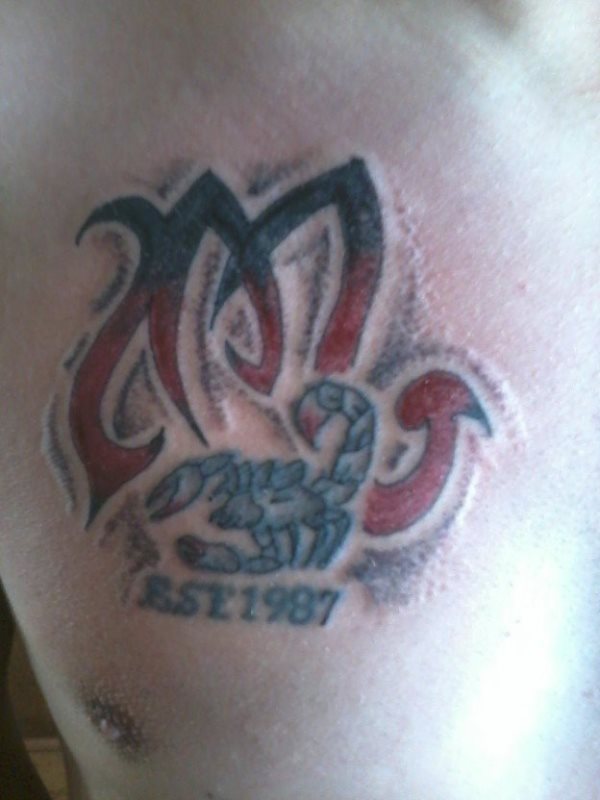 Para los Virgo, que son aquellos nacidos entre el 24 de agosto y el 22 de septiembre, un signo que que simboliza el servicio y el trabajo y su símbolo representa a una virgen, que pertenece junto a Tauro y Capricornio al elemento Tierra y que está regido por Mercurio y hasta 1970 se creía que por el inexistente planeta Vulcano.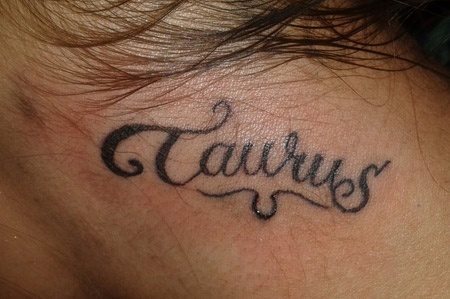 En el cuello con la palabra Taurus, el signo zodiacal para los nacidos entre finales de abril y de mayo, que simboliza la consolidación y cuyo símbolo representa la cabeza de un toro con astas circulando a su alrededor.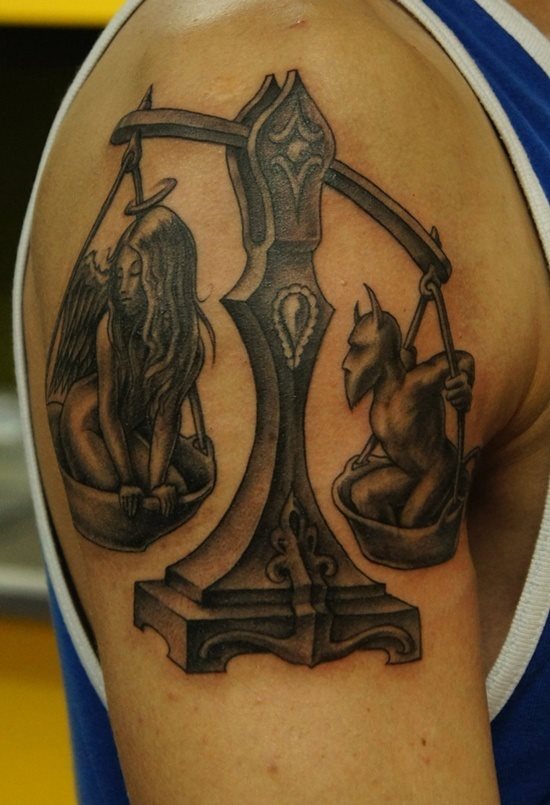 La balanza zodiacal en el que a un lado de la balanza podemos apreciar una mujer ángel desnuda con alas, corona y un bonito pelo largo, mientras que al otro lado de la balanza y parece que con más fuerza, por el peso, se encuentra un demonio mirando al ángel.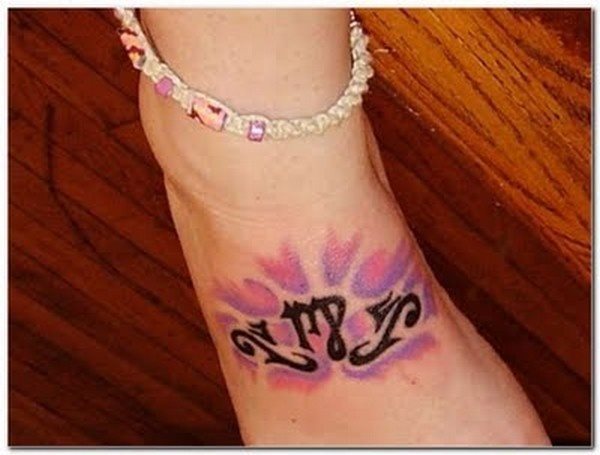 En el empeine del signo zodiacal Virgo que se ha complementado con unos pequeños detalles tribales alrededor y un fondo en tonos rosados y morados para aquellos que han nacido entre el 23 de agosto y el 22 de septiembre.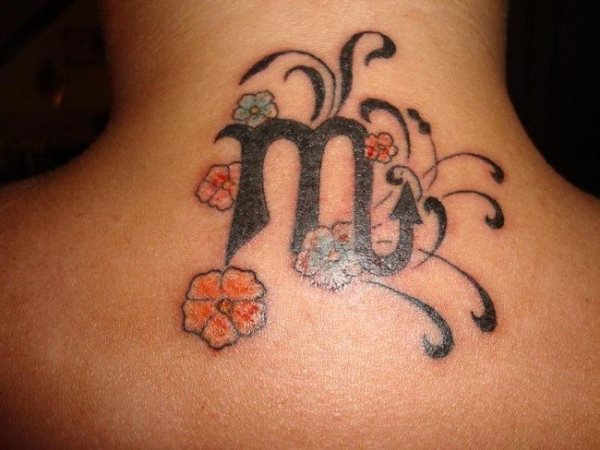 Del signo zodiacal Escorpio a color negro sobre la nuca de una chica y para el que se ha decorado con unas pequeñas flores naranjas y otras turquesas, completado con unos pequeños ramilletes en color negro que dan un toque muy sensual.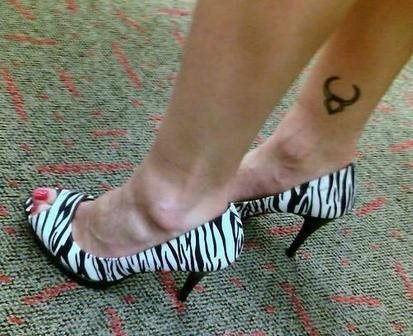 Del signo zodiacal Taurus ubicado un poco más arriba del tobillo por la parte interna de la pierna, estamos ante un motivo sencillo y pequeño que le ha quedado muy bien a esta chica y que combina muy bien con su estilo.
Resumen
| | |
| --- | --- |
| ¿Cuáles son las zonas del cuerpo más tatuadas en esta categoria? | He visto símbolos de los signos del zodíaco en todas las partes del cuerpo. Por citar las más importantes, diremos la muñeca, el antebrazo, la nuca, las manos y el brazo. |
| ¿Cuáles son los colores más utilizados? | El negro en este caso es la tinta más utilizada. |
| ¿Es más de hombre o de mujer este tipo de tattoos? | Las mujeres suelen creer más en el zodíaco que los hombres así que esto también se ve reflejado. |
| ¿Cuál es su tamaño? | En esta ocasión, son pequeños o muy pequeños. |
| Simbolismo y significado. | Son símbolos que representan los signos del zodíaco y todo lo que esto representa. |
| Dificultad media de los diseños | Al tratarse de símbolos en la mayoría de ocasiones, la dificultad es mínima. |
¿Qué opina una chica sobre estos diseños?
El problema de los tattoos de signos del zodiaco es tal vez la falta de originalidad, que se puede arreglar con la imaginación suficiente para hacer de un símbolo universal como son estos un diseño único. Por eso, para las chicas imaginativas que se sientan atraídas por el mundo de la astrología y que tengan la imaginación suficiente para hacer de su signo un diseño original y único estos motivos seguro que son una muy buena opción.