There can be many reasons why a person chooses seahorses as a reason to tattoo their skin, either because of the symbology they represent, for how strange and exotic these animals are, or simply because they like cute little animals. You can find out what your reason is by visiting our fantastic seahorse tattoo gallery, welcome!
The seahorse, or also called the hippocampus, belongs to a group of very unique marine fish. It receives this curious name due to the similarity of the shape and pose of its head and neck with that of horses. This animal, as some of you may already know, has the peculiarity of being the male who carries the eggs during their gestation, a great father! It is perhaps because of events like this that seahorses symbolize the protection and patience, concepts that are often the inspiration for this type of tattoos.
There are many options when it comes to tattooing a sea horse, since an animal as picturesque as this one, which seems to have come straight from the imagination of a story illustrator, admits tattoos that can range from realism and naturalistic style to capture the appearance and real essence of this animal. Or, you can choose to tattoo a seahorse in a more cartoonish way, with a variety of colors very vivid and accompanying decorations to highlight all its rarity. And the latter case is very common. Mainly it is girls who opt for this type of tattoo, since, especially the tattoos of this animal that follow a cartoon style, they usually look quite feminine. Seahorse tattoos often incorporate other elements, usually linked to the marine theme, whether they are waves, bubbles, other marine animals, characters from mythology related to the sea and the oceans … although other types of elements are admitted that do not they have to be strictly related to this field. Of course, there will be people who opt for a tattoo simple and small of a seahorse in black, everything is supported!
As we have seen, the options are multiple, everything is left to the creativity of the person and the tattoo artist, as well as hygiene and professionalism. And, as we always remember, when acquiring a tattoo, it is extremely important to go to specialized centers and with good professionals, and continue at home with the necessary care. A tattoo is something for life and you have to take care of it as such.
Summary
| | |
| --- | --- |
| Most tattooed areas of the body | The legs, chest, back or foot are the most chosen areas. |
| Most used colors or inks | The green color is the most used as expected. Different types of greens although there are some that have been tattooed in colors that have nothing to do with reality such as pink. |
| More men or more women? Is it a male or female tattoo? | It is a feminine tattoo and almost all the people who decided to become a sea horse are young women or girls. |
| What is their size? Are they usually large, small or medium? | The most common size is a medium size although there are a few small ones in this gallery. |
| Symbolism or meaning of these motifs | The seahorse symbolizes patience and protection among other things. |
What does a girl think about these designs?
When I talked about tattoos with marine motifs, I made a special allusion to tattoos of seahorses. These little animals can be one of the most curious and original of the animal kingdom due to their shape and characteristics and that is why they are so common and chosen as tattoo designs. I love tattoos with these motifs, they seem to me to be fun and happy drawings. They are also usually accompanied by beautiful colored inks, which make them more eye-catching and eye-catching.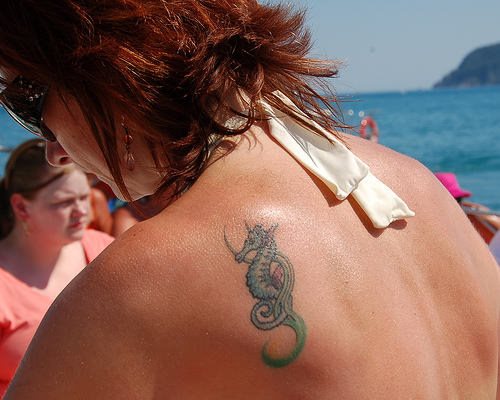 As the first image we have chosen a sea horse that was real or that had at least been tattooed with the real colors of a sea horse. Maybe we could have chosen better but well, I think this reason is quite good. In this case, the place of the body chosen by this woman to decorate her body has been the back, specifically the left part of the back.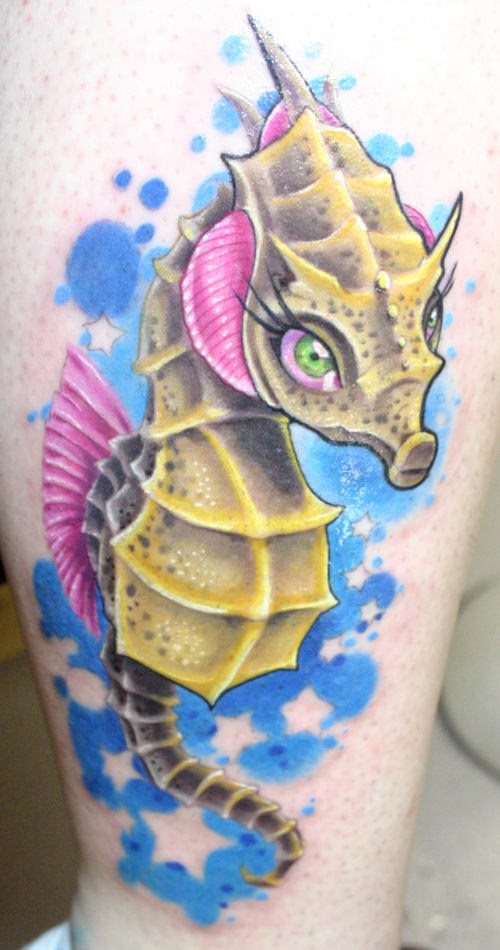 As the second main image of this article we have chosen another design but this time regardless of whether the colors were the real ones or not and here we have a magnificent design that has been made with green, pink and black. The seahorse is completely surrounded by water and some bubbles.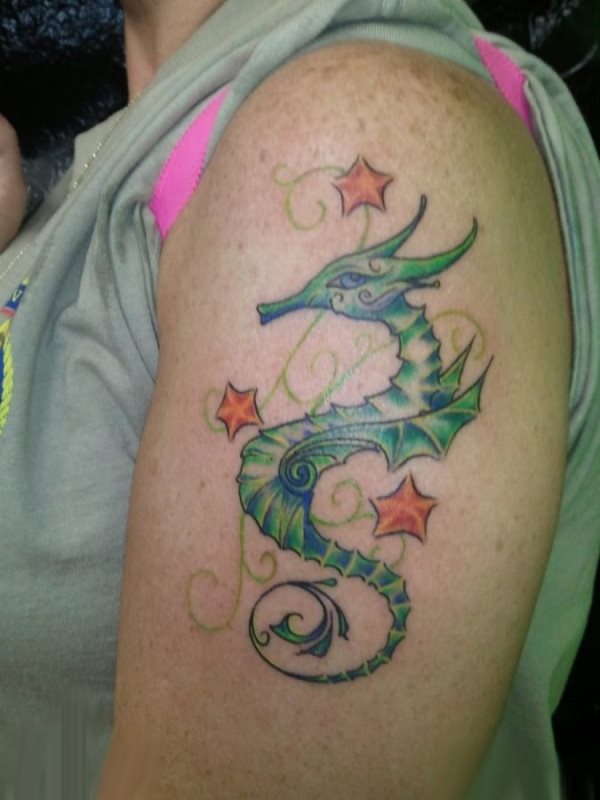 Tattoo of a seahorse in green tones surrounded by stars. The tone of the subjects that appear in the background is too weak, so it does not give cohesion to the design.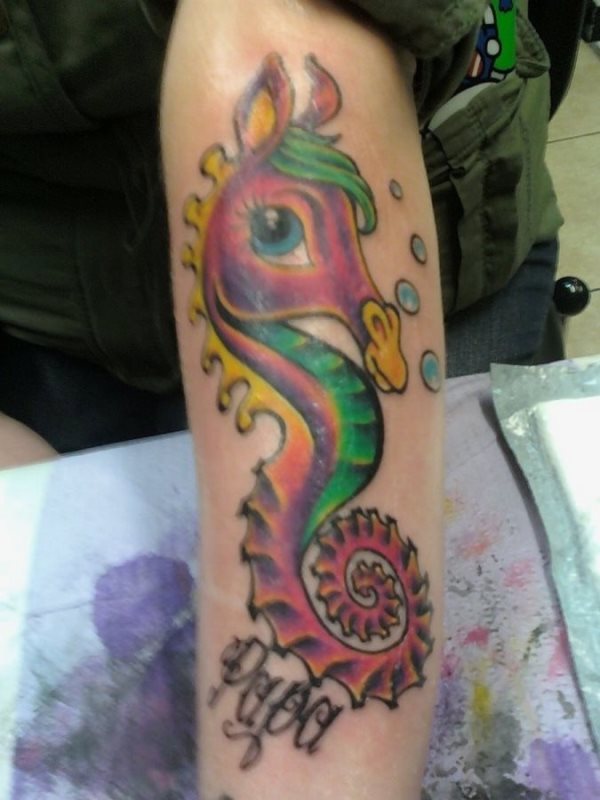 Fun design of a seahorse on the arm. Different shades have been used, giving it the appearance of an imaginary element by the use of these colors. The element that may be strange in the design is the word "potato" under the seahorse, both in tone and meaning.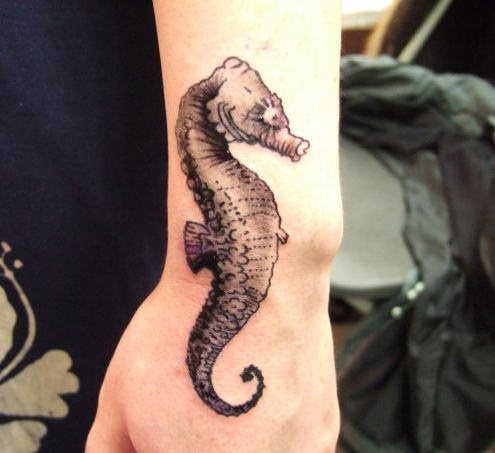 Design of a sea horse in the hand and arm. The chosen area is somewhat strange for the design, since its dimensions are somewhat large to integrate correctly with this area of ​​the body. A multitude of details and shading that give the tattoo a more realistic appearance, although the importance of the tail has not been stressed, which should be somewhat larger and have more prominence in the design, since these animals are characterized by the same .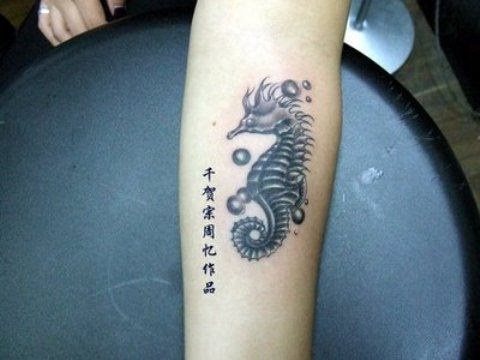 Design on the inside of the forearm with Chinese letters. The seahorse looks terrifying, this concept does not fit very well with the idea that we have about seahorses. The Chinese letters do not give unity to the tattoo, very different tonality, completely uneven paths between the letters and the drawing …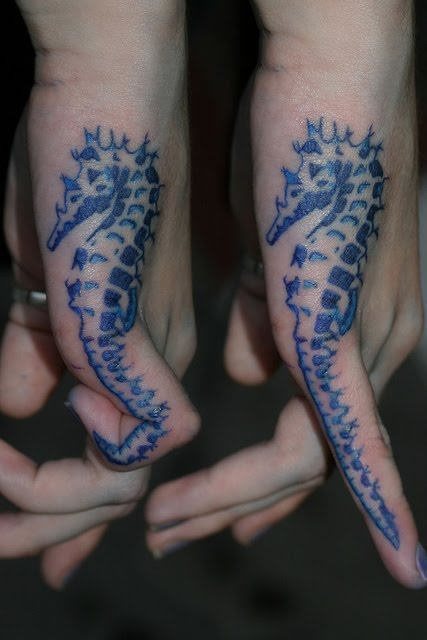 Blue seahorses on the side of the hand. Original area to get a tattoo that, without a doubt, gives movement to it. Importance is given to the animal's tail, a very well-managed element, since it is an essential component in which every seahorse tattoo has to give it a certain prominence.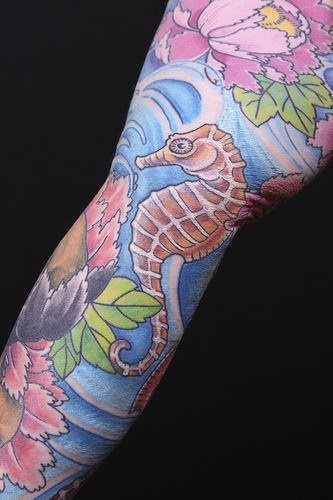 Tattoo with several flowery motifs and a sea horse that covers the entire leg. The saturation of the different colors is very successful and how the animal's design integrates with the background as well. Both the flowers and the seabed are integrated into the tattoo, it is a very good design.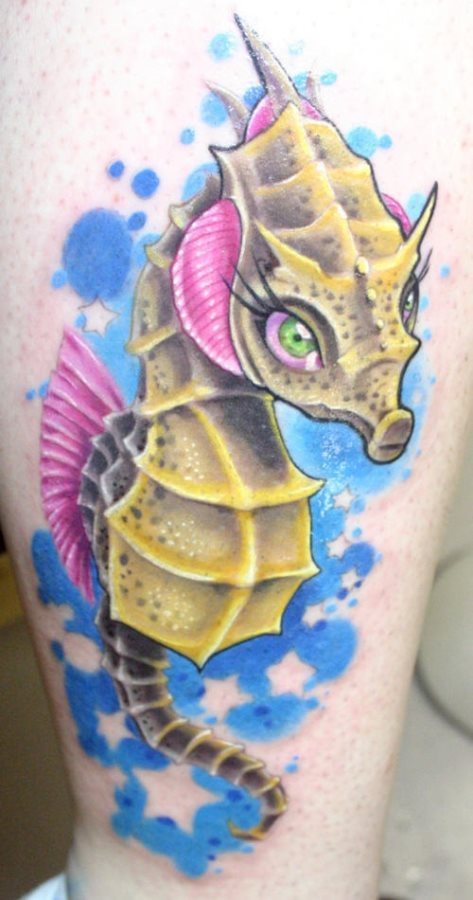 Design of a seahorse tattoo in yellow and pink tones, with the blue background. A multitude of details on the animal's skin and with humanizing aspects such as the eyes, the brightness of these … Without a doubt, the animal's eyes are the central part of the tattoo and focus all our attention.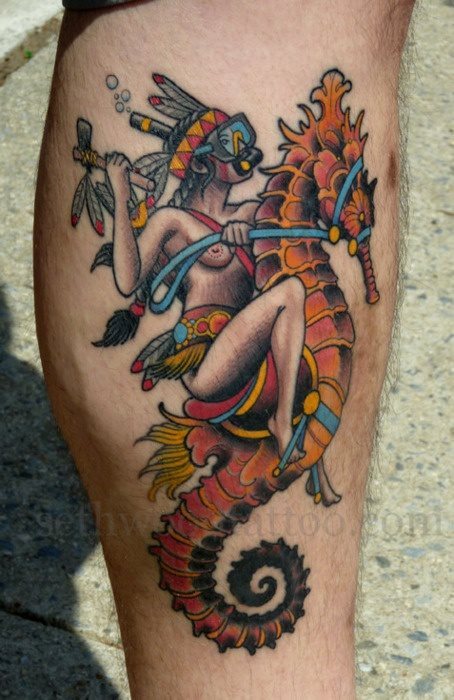 Funny design of a woman riding on a seahorse. The shading technique is very well achieved and the saturation of the colors as well. The proportions and shapes of the tattoo adapt correctly to this area of ​​the body.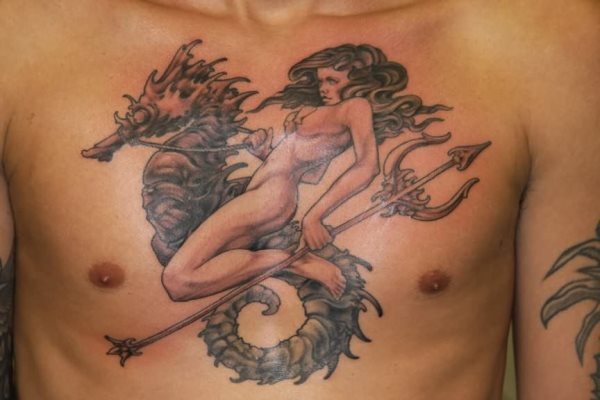 Another new design of a naked girl riding on a sea horse tattooed on her chest. A large design with many details and great use of shading with good use of black tones.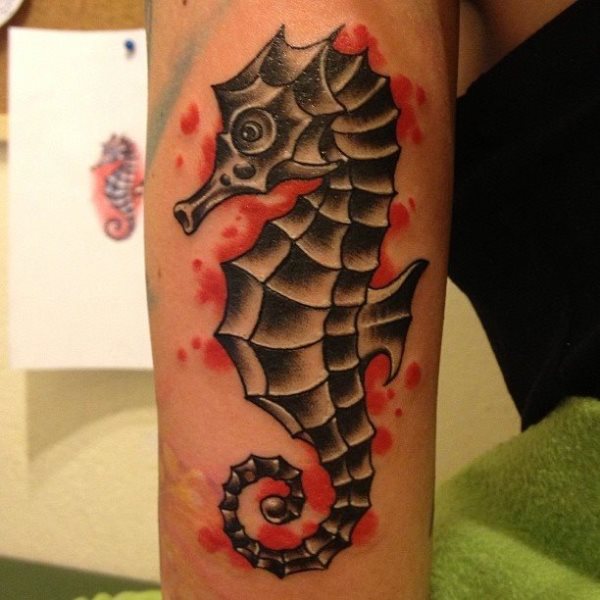 Seahorse with red ink in the background. It may be strange that the background is given more prominence than the animal, in terms of shades. We see a great shading technique and the use of tonso balncos on the scales of the animal's body that give depth to the design.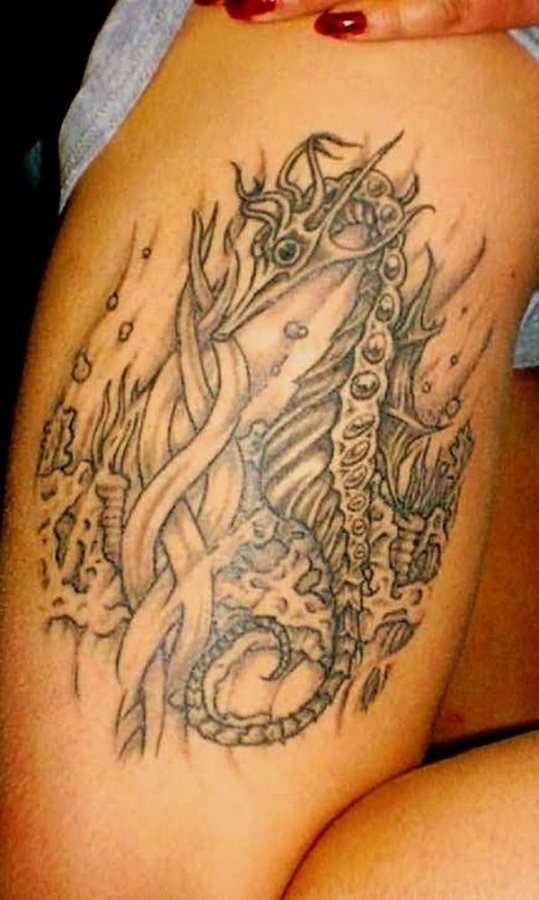 Sea horse in the sea This design is somewhat confusing, there is no good distinction between the animal and the background and the shape of the animal is somewhat disproportionate. However, the use of shading is very well achieved.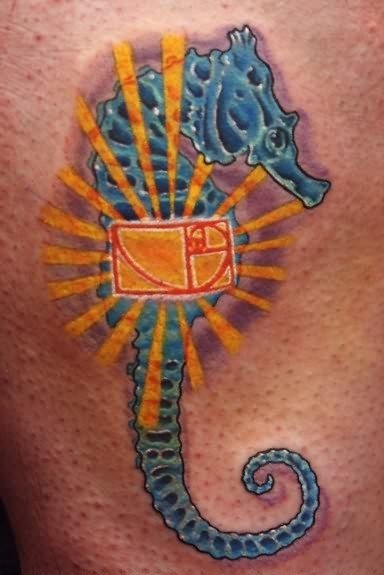 Tattoo of a seahorse in blue tones. The central element that appears in the tattoo is very important, however, I cannot tell you what meaning it can have. If any user knows or thinks they know what it can mean, they can leave a comment.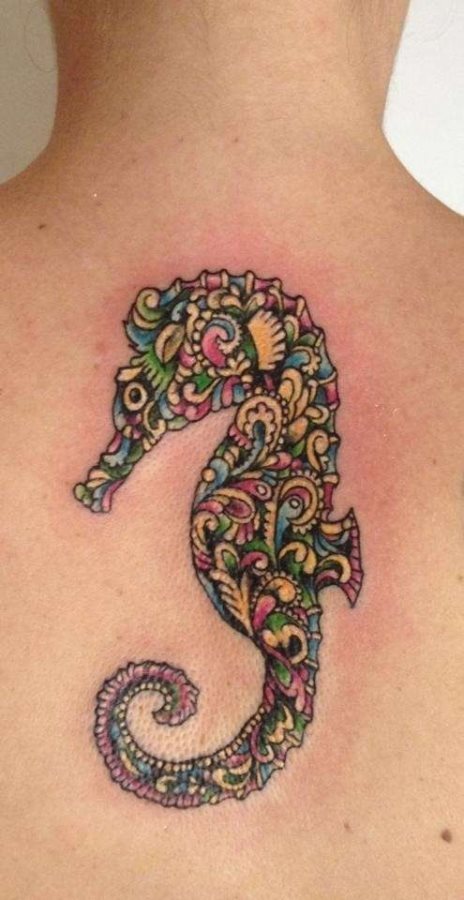 Colorful design of a seahorse made in different ways. A multitude of small details and colors with shading that require a highly polished technique on the part of the tattoo artist. All those details that we have been talking about give a lot of personality to the design and nourish it with different textures.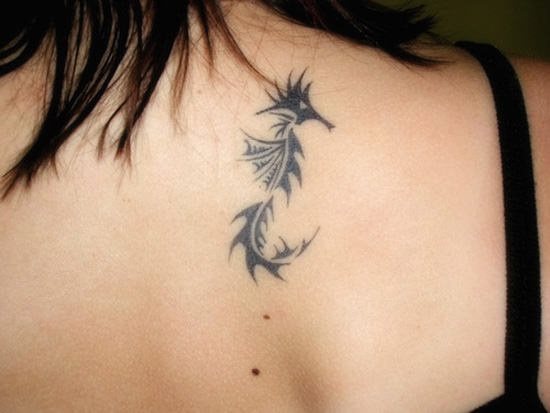 Tribal style tattoo. I consider that the tribal style "more aggressive" in its forms, does not fit completely with the smooth and curved lines that an animal like the seahorse has. Therefore, it starts from a shaky base so that a correct result is achieved.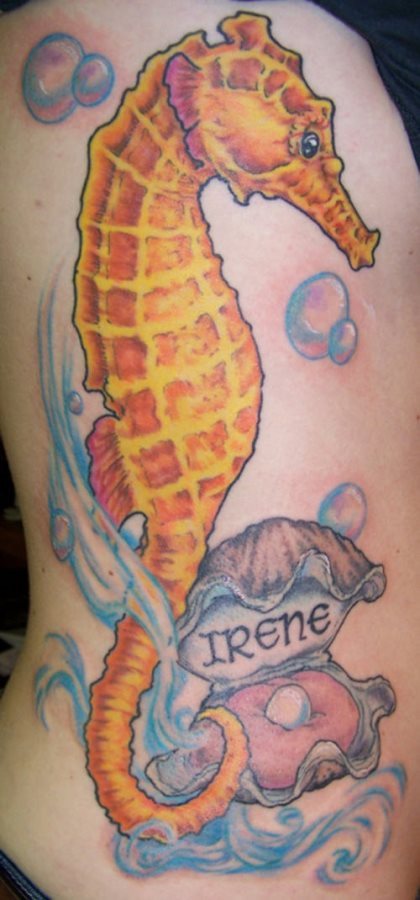 Orange seahorse surrounded by bubbles with an oyster and its own name. Correct tattoo design and very well defined colors that add depth to the design. However, the bubbles and lines in blue tones are not in tune with the rest of the design.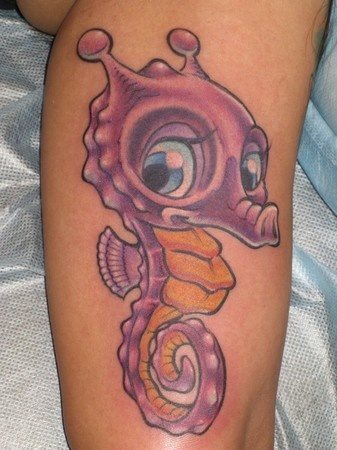 Fun design of a sea horse in which importance is given to the features of the head and eyes. Good use is made of the different shades and shading of the design. It also has a 3D style on the tail part of the animal, which gives the tattoo personality.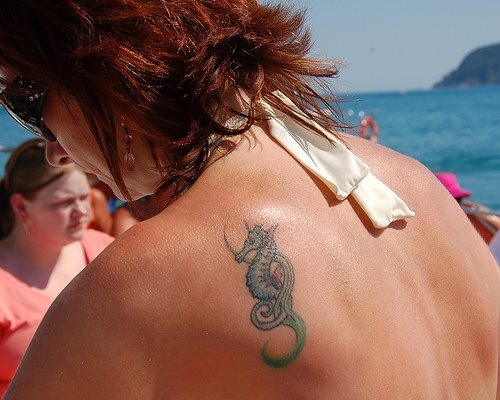 Small design on the back. The image taken from this design does not allow us to appreciate all the details that we would like. However, it can be seen that the animal's tail is not given enough importance, which is a defining element of it. It seems to be fading and not completely finished.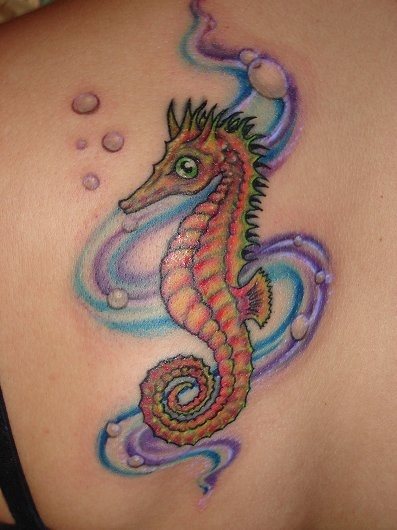 Seahorse tattoo in different shades. We must refer to the light tones used in the background, which give the background a feeling of design. The layouts are correct and the tones used, although not common, give a good finish to it. Perhaps the bubbles would need a touch of color to avoid being so far away from the rest of the design.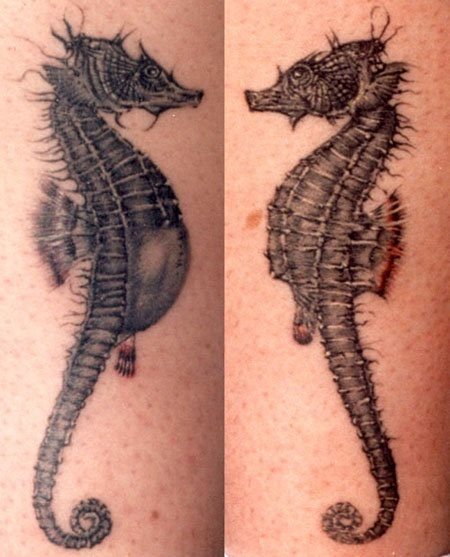 Two images of two very similar tattoos. However, the saturation of the black tones are very different.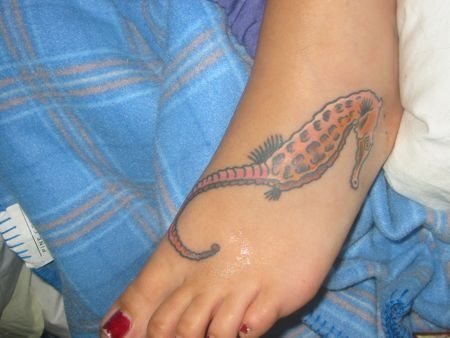 On the instep. The way in which this tattoo has been printed does not adapt very well to this area of ​​the body. We must pay attention to, when we want to tattoo something, in which area it will have a better result and will adapt better to the shape of the body. The shades it presents leave a lot to be desired, there is not a good saturation of the color and it gives the impression that it is not finished.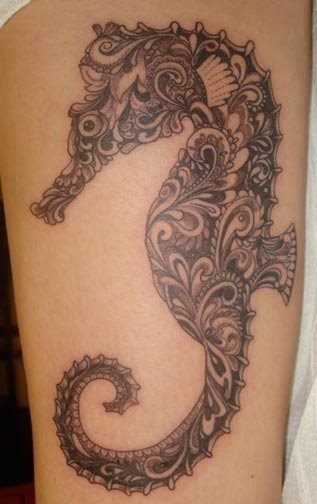 This tattoo has thousands of small details that have a certain difficulty and above all a lot of work.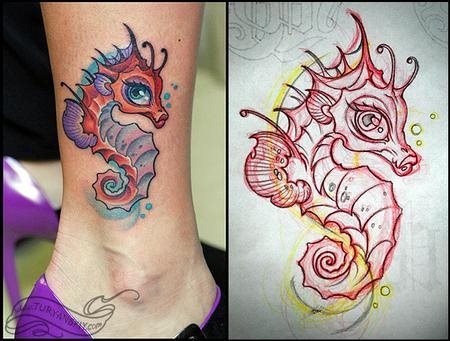 Colorful design of a small seahorse with big and pretty eyes. First this girl has drawn on a paper the design she wanted and then she has given it to the tattoo artist so that he can tattoo it.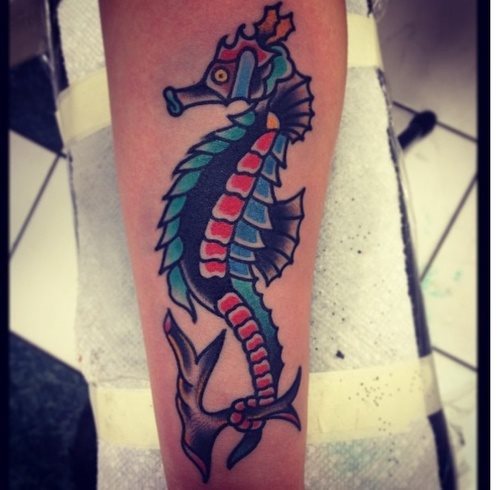 The size, within this type of tattoos, is large because they are usually small. Although it does not have many details and is limited to drawing the interiors with colors, it is beautiful because it uses great colors and with a lot of life.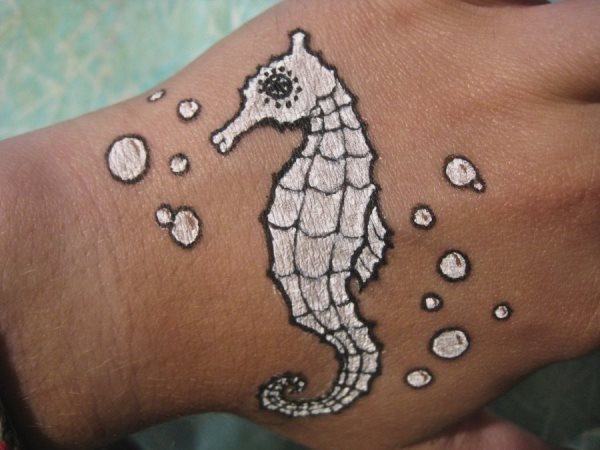 The use of white ink in tattoos is not common, except for a few touches to provide lighting. In this case, the seahorse is completely colored white.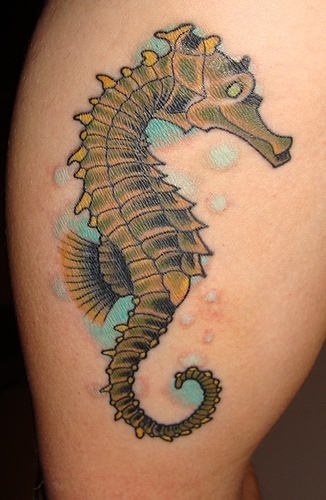 This may be one of the few seahorses in this gallery that has used the true or true colors that these beings have in animal life. In addition, several drops of water and bubbles have been tattooed.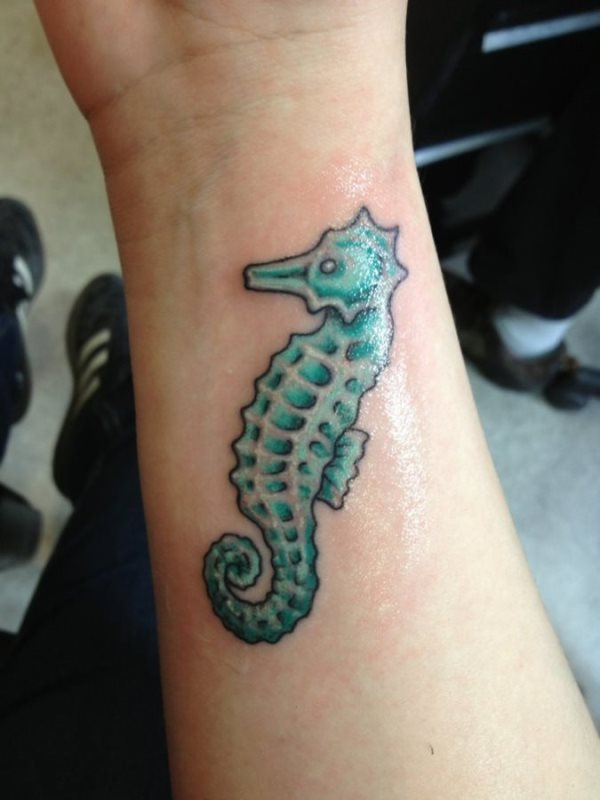 Simple design of a seahorse in green tones. This tattoo, on this part of the body, 90% of the time belongs to a woman since this area and also this motif are characteristic of women.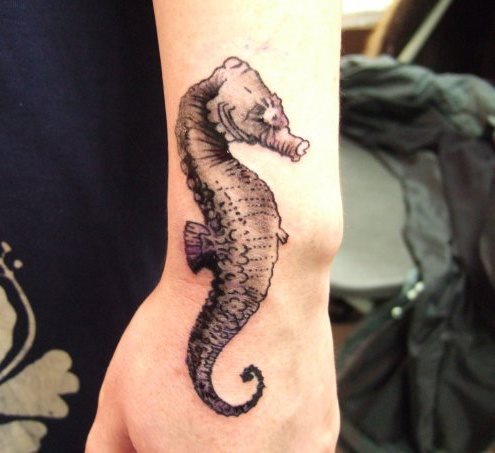 In this case, it is a man who has decided or chosen a motif of a seahorse to decorate his body. This part of the body is very visible and I do not recommend it because in some societies or countries, having tattoos at work is not yet widely accepted and you may have problems finding a job if they require dealing with the client.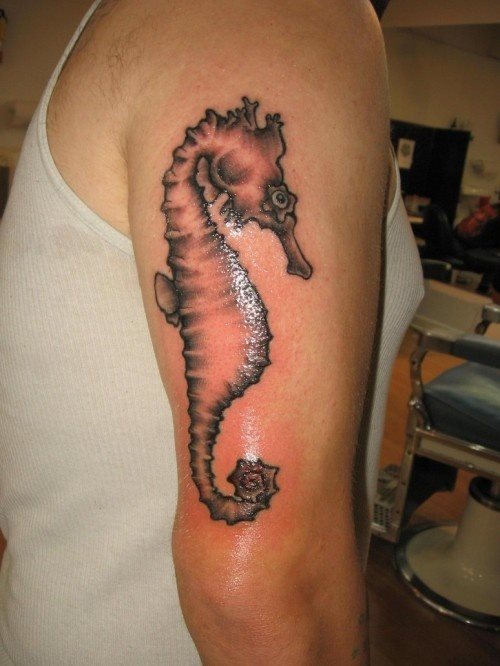 It seems that the design was done recently, because the skin is still quite red and you can still see the protective cream that is usually applied to recently made tattoos.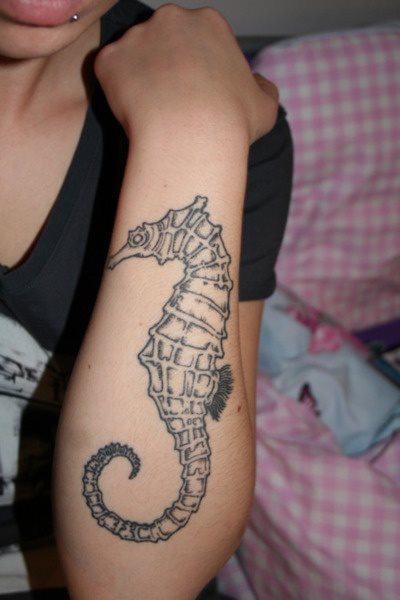 On the forearm. Do you think it would be much better if vivid colors like green or blue had been used? I think so, although the result is quite good but nothing is perfect and everything can be improved.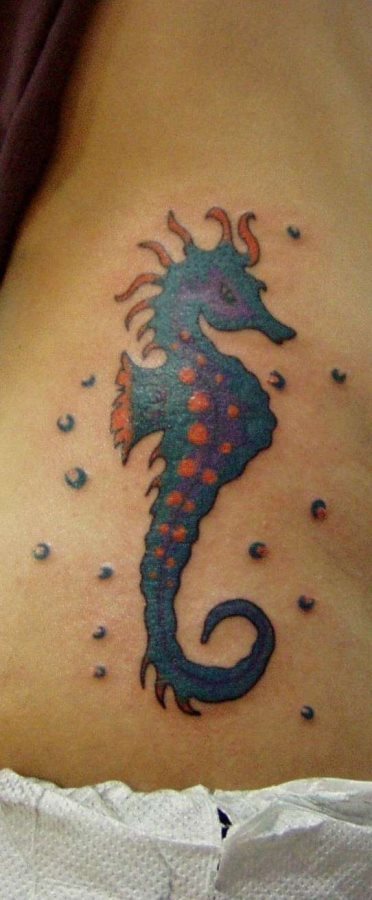 In the next image we have a nice cartoon-looking tattoo of a seahorse surrounded by bubbles. The seahorse is made by combining blue, violet and orange colors.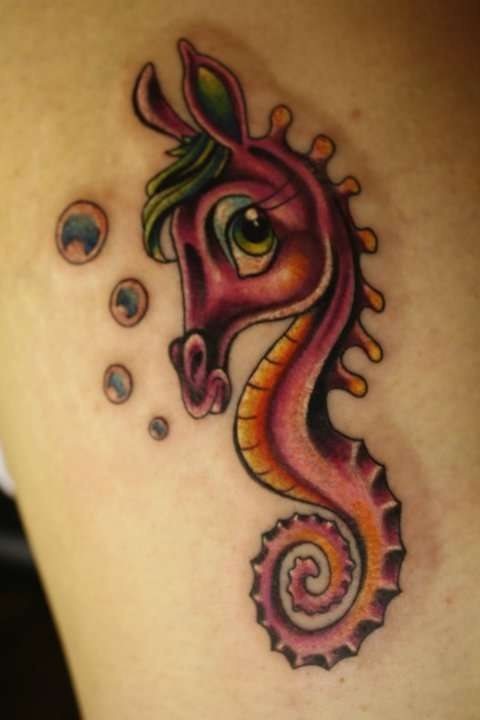 Exaggerated head of this seahorse. Undoubtedly a childish look was sought for this tattoo, something that is supported by the choice of colors for it, with some striking tones.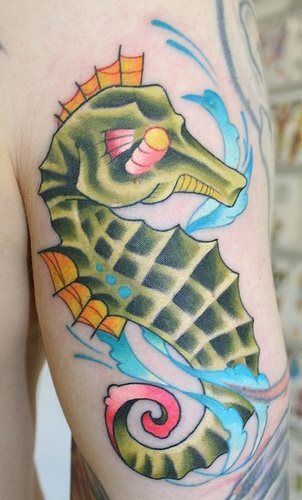 Next we have a nice colorful tattoo of a seahorse surrounded by water flows. Striking bright shades such as blue, yellow, fuchsia and green have been used for this design.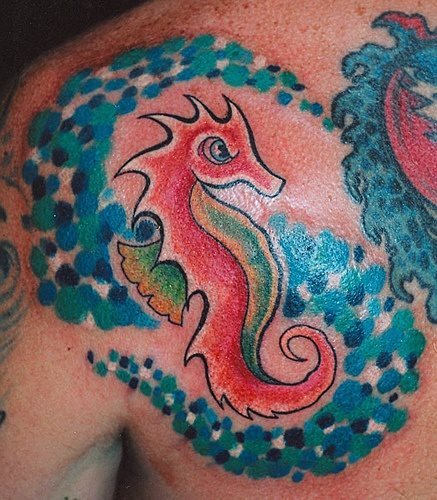 Design with a background in blue tones where we can see a sea horse surrounded by water everywhere.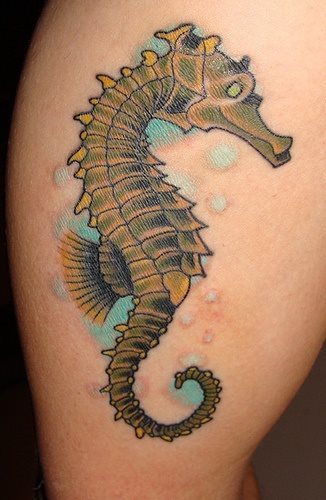 This time we are faced with a design of a beautiful seahorse where happy tones such as light blue or turquoise are combined with other more muted ones such as dark green.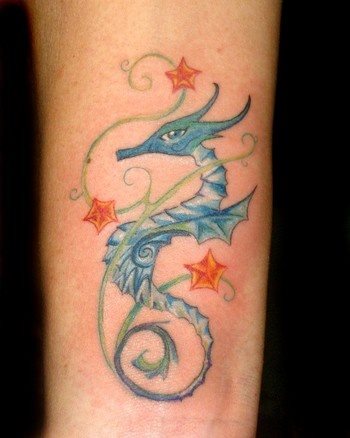 Slim design of a seahorse with a very marked fantasy style, helped by some starfish that float next to it.
Fun design on the instep that seems to be made with brushes and colored pencils.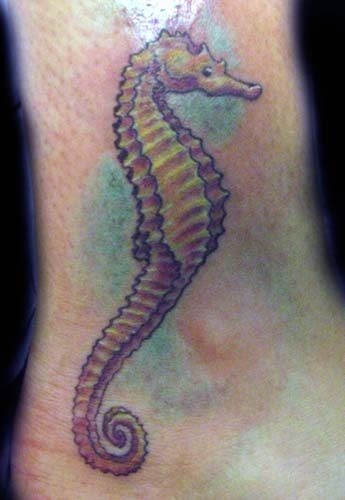 The seahorse in the following image belongs to a design of somewhat faint colors and pastel tones. Maybe he was looking for a delicate and discreet tattoo.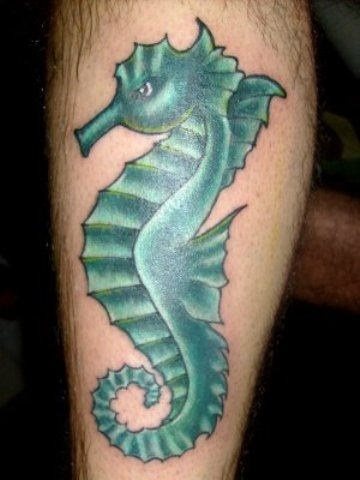 In the following image we find a tattoo of a seahorse of an intense light blue color, which has a somewhat serious or angry expression.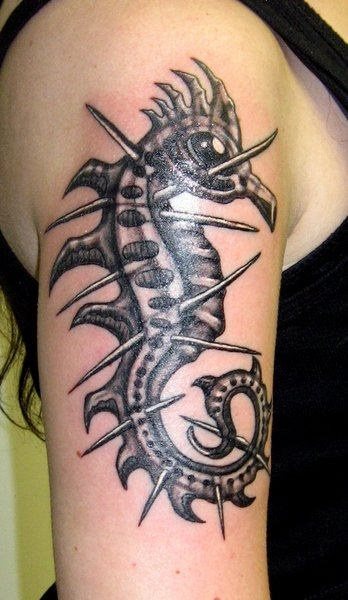 You can see the skeleton of the seahorse with thorns, with a somewhat alien appearance, something that is helped by the dark gray shades of the design, which is located in the biceps area of ​​this girl.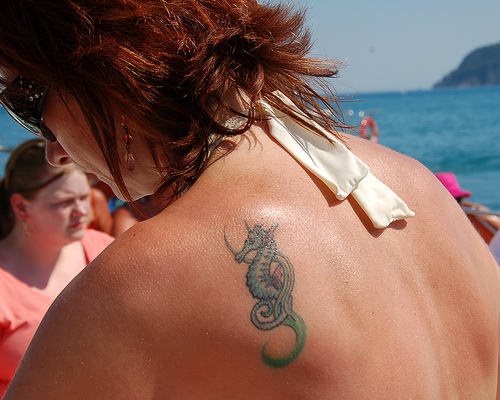 This time this girl shows us her beautiful tattoo of a seahorse, located in the area of ​​her left shoulder blade. The design is not large, and for him a color palette with greenish and bluish tones has been used.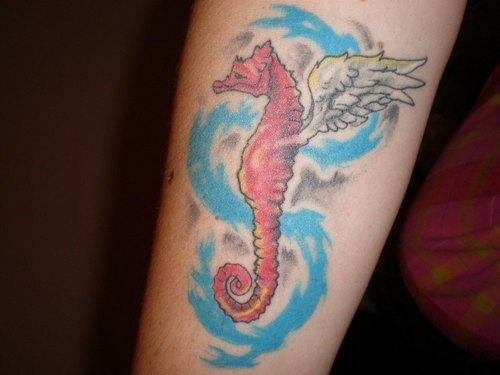 This winged seahorse on a blue background and a small shading make up this fun tattoo, which we do not like too much the finish of the head of the sea horse, nor the lines so little marked on the body of the animal.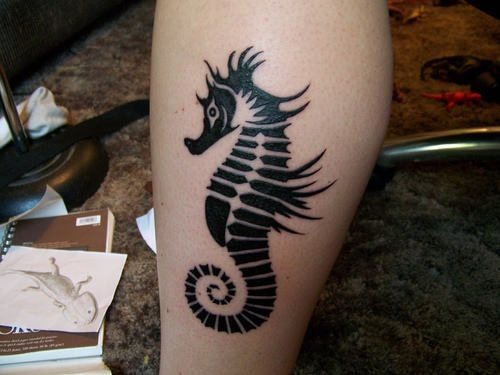 One of the feminine tattoos for excellence, which this time has been given a masculine touch, thanks to the curved lines and the kind of mane that stand out from the sea horse. We are facing a tattoo that has managed to have a point of originality, to make it one of the most interesting sea horse tattoos that we have seen so far.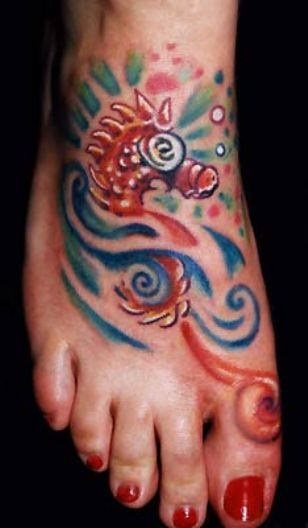 If you love marohorses or if it is simply a drawing that conveys values ​​or joy, here is an original design of a sea horse with bulging eyes, in which the strokes to define the water predominate and only some parts have been tattooed such a cute animal.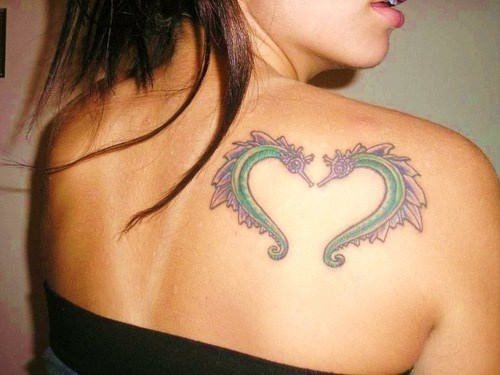 Two seahorses form a heart tattooed on the back with some very fashionable colors, purple and green, colors that are increasingly being seen more in the latest designs that we are showing you.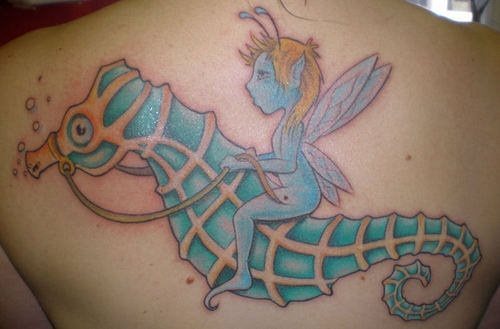 Tattoo of a handa riding on a sea horse.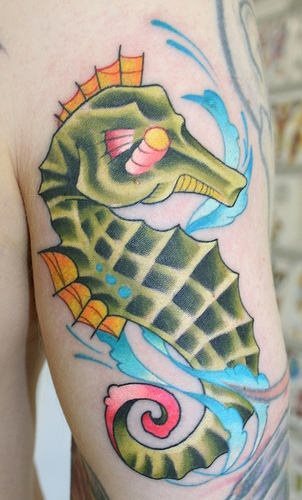 Tattoo of a peculiar sea horse, with a spectacular shading that forms the skin of the seahorse and that has a dragon-like appearance, in addition this tattoo has been accompanied with corsages in various blue tones to form the water on which this animal is swimming.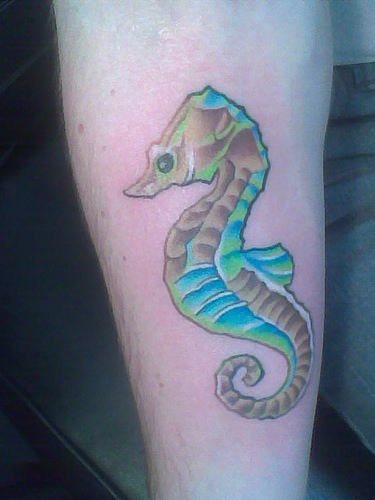 Large sea horse on the forearm, for which white tones have been chosen that we rarely see so well achieved in a tattoo, in which the drawing is not the main protagonist, since it does not have a great variety of details .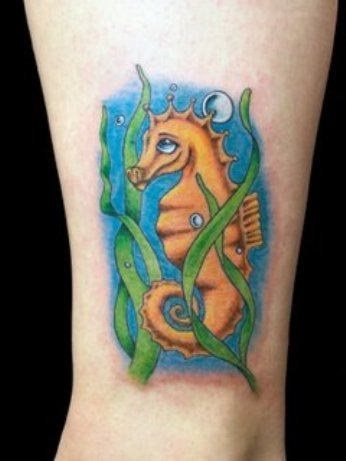 Tattoo on the forearm of a sea horse in black and blue tones, with a bit of red, the tatto is surrounded by beautiful water bubbles of the same color as the tattoo, giving it great harmony and resulting in a good tattoo.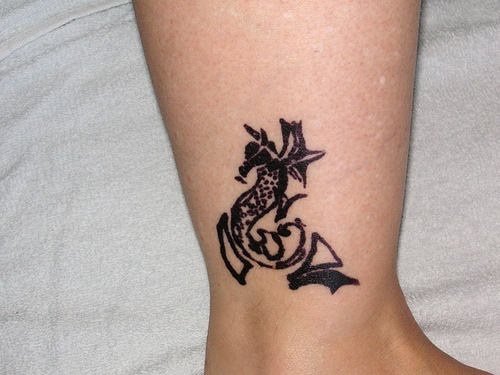 Small design on the ankle of what appears to be a sea horse, we deduce that it is not a tattoo itself, rather it looks like a drawing made with a marker as a base idea to see how it would look if it were really tattooed.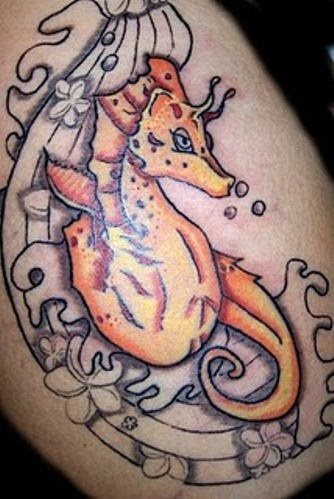 Tattoo of a seahorse in orange tones, which we see is being completed with a spectacular wave, which when finished will look great on the skin of this person.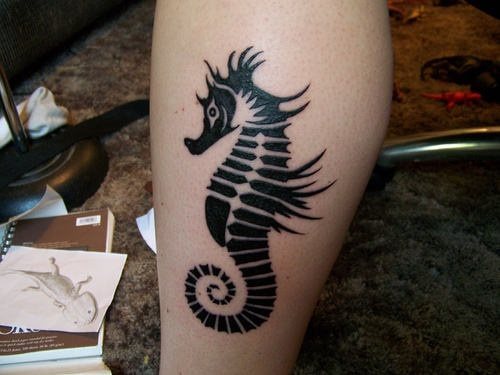 Tribal style design on the leg, which as we can see is a sea horse and that we would complement with a bit of color, perhaps in the filling of the eye or in the parts that have been left without tattooing to form the silhouette of this nice sea horse.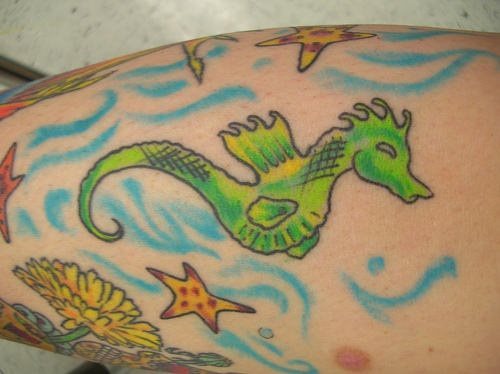 Sea horse surrounded by marine elements.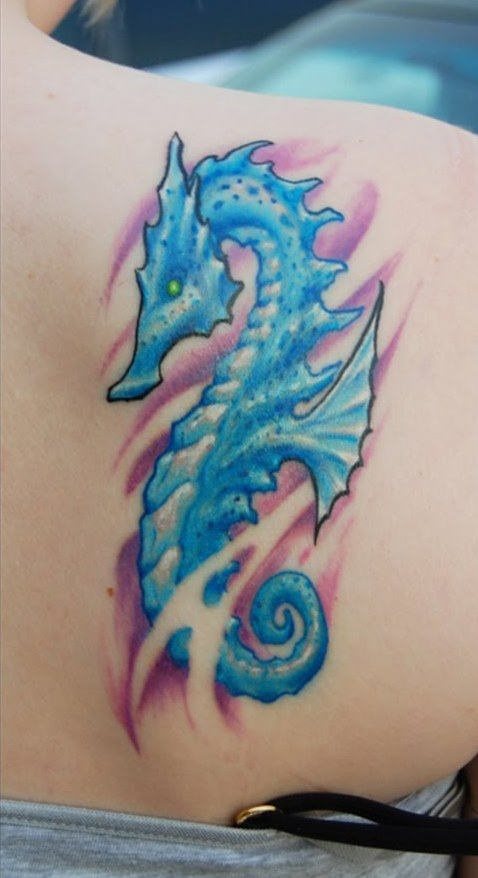 Upper back design.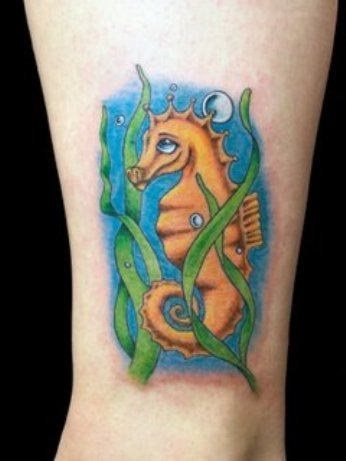 Seahorse with a slightly sad look, but we sincerely love the great background achieved with the blue color acting as the sea, the bubbles and the green leaves that seem to have been taken from the bottom of the sea.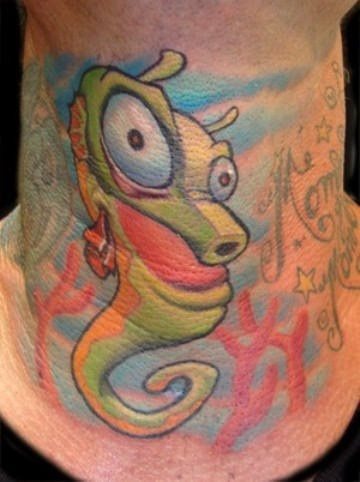 Sorprendido diseño de un caballito de mar con grandes ojos  que resultará llamativo tanto por el animal en sí, como la zona escogida para realizar el tatuaje, el cuello y que, como podemos ver, no es el único tatuaje que tien en el cuello.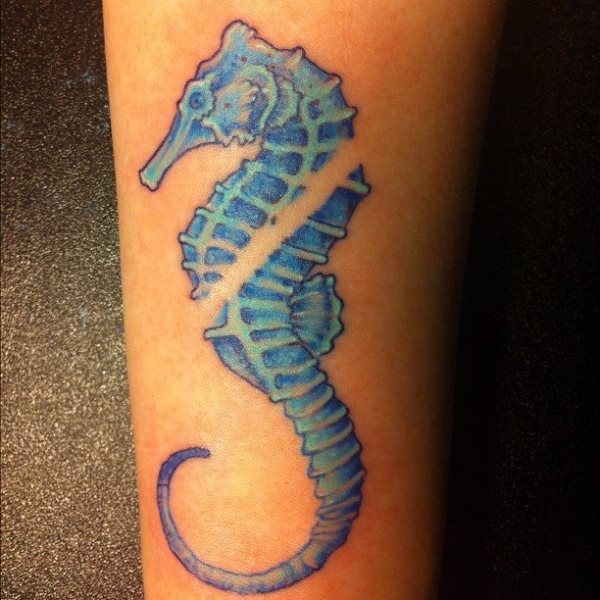 Tatuaje de un caballito de mar para el que se ha decidido dejar una línea diagonal que parte en dos el caballito de mar y que le da un aspecto muy interesante, en esta ocasión esta idea de dejar la línea sin tatuar es la que le da ese punto de originalidad que todos buscamos en nuestros tattoos.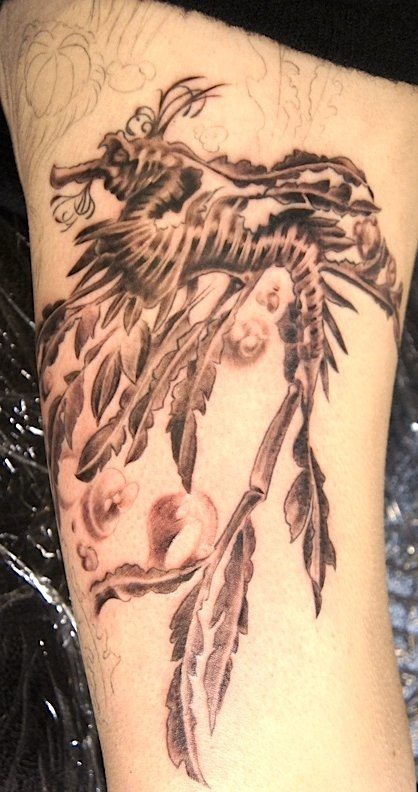 Este diseño está aún incompleto. Tatuaje marino, a camino de convertirse en un caballito de mar o un conjuntio de ramas, un tatuaje difícil pero a la vez muy interesante, que como vemos aún no está terminado.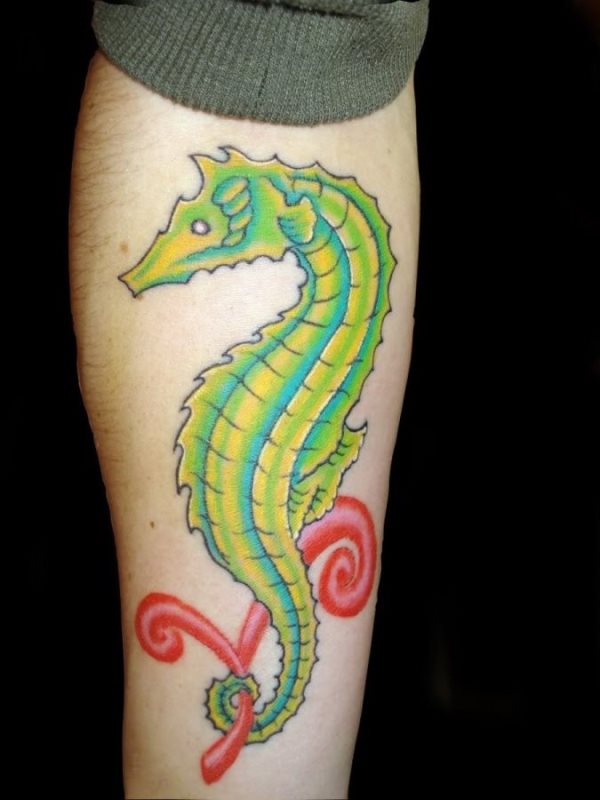 En este caso tenemos uno de estos caballitos de color con apenas detalles, dibujado con colores vivos como azul y verde en la pierna y sosteniendo algo en la parte final de su pequeño cuerpo. En concreto está tatuado en el gemelo o pantorilla. No es el mejor de esta galería!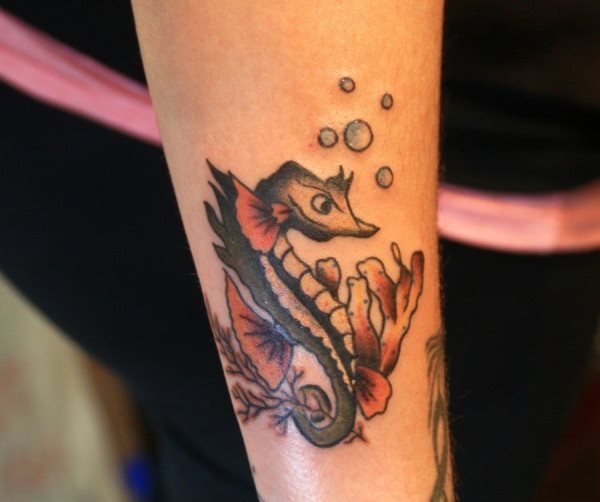 Este ejemplar es mucho mejor que el anterior. Tiene muchos más detalles y parece mucho más real. Este necesita de mucho más tiempo para su realización y de un tatuador más profesional. Podemos ver diferentes motivos como búrbujas en la parte superior y árboles marinos en la parte inferior.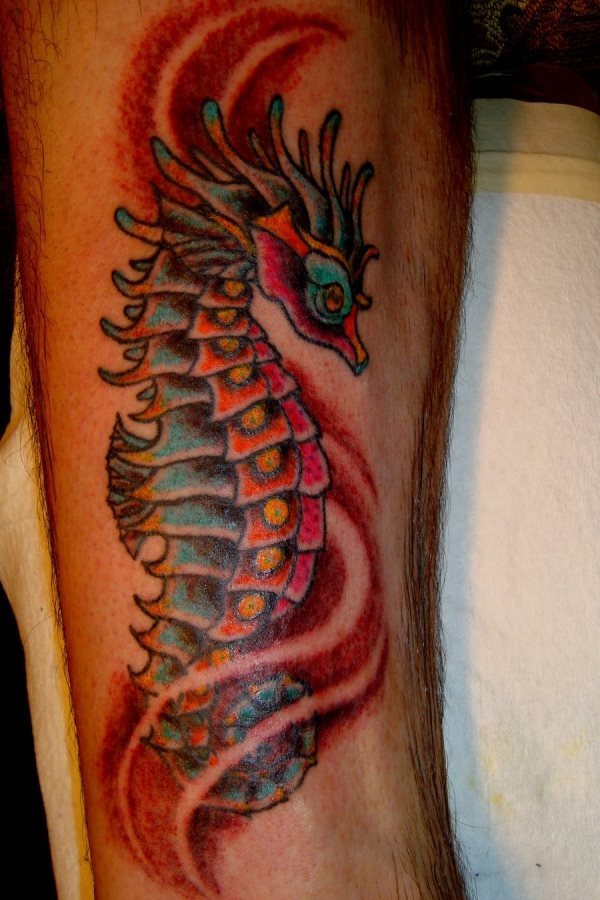 Un nuevo y colorido diseño en la pierna que como estamos viendo es un lugar muy popular para tener a uno de estos pequeños seres. En este caso, este ejemplar tiene unos colores poco relacionados con los que ellos tienen en la realidad pero aún así con esta excepción, el diseño es genial.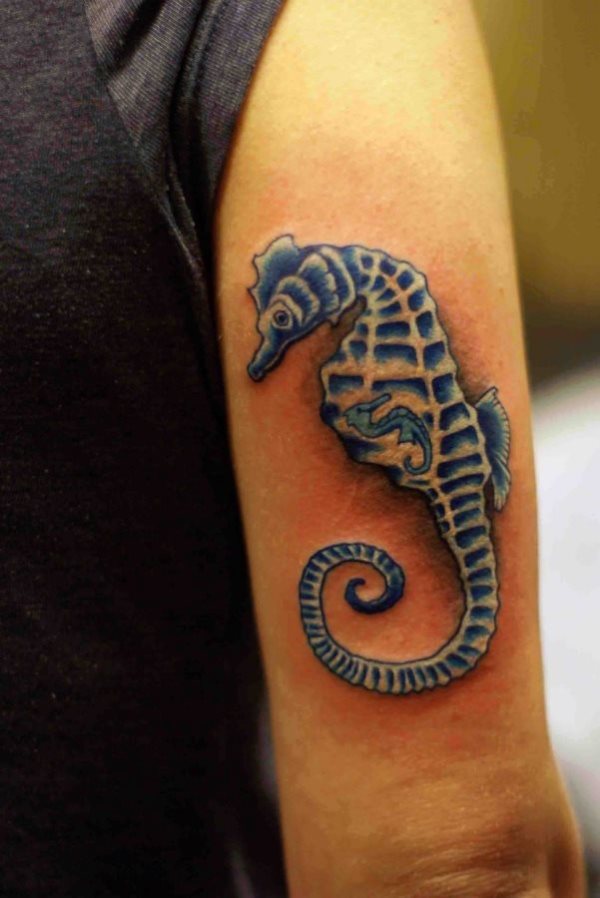 En tonos azules y blancos en el brazo de un hombre se ha tatuado un caballito de mar de un tamaño considerable y que si decide seguir completándolo con un gran fondo de oleajes y otros animales marinos, le quedará un brazo espectacular.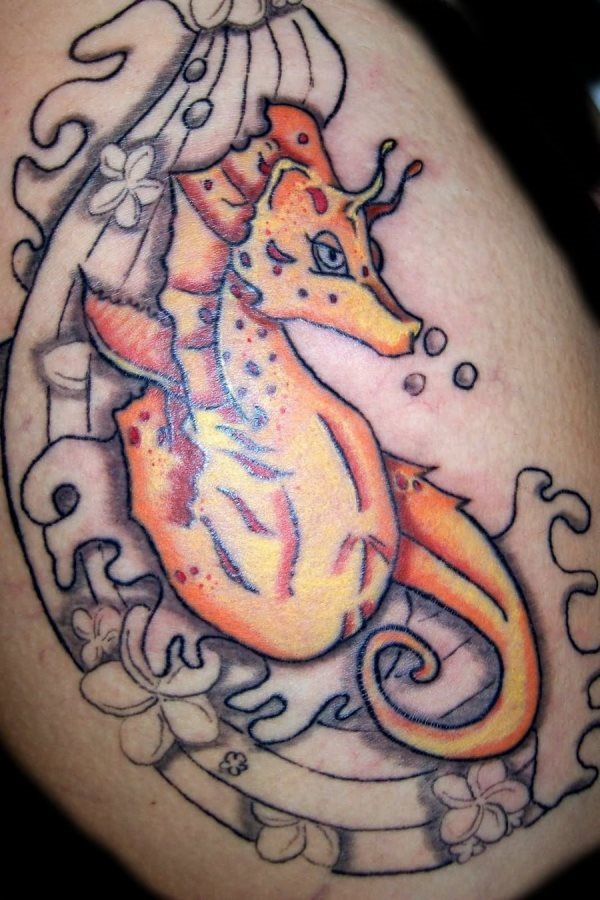 Aún falta el relleno total del diseño que es quien dará un acabado espectacular, porque como ya estamos observando, el dibujo elegido es muy bonito y cuando finalmente se coloree, quedará un tatuaje espectacular en el que el protagonista es este divertido caballito de mar.