As we have already commented in other articles, we not only focus on designs that can be good ideas for tattooing ourselves, but also the areas of the body that are most chosen for tattooing and some tips and guidelines of what designs are usually tattooed in those areas according to with the dimensions or if men or women are the ones who most opt ​​for that area of ​​the body to get it tattooed.
Traditionally the shoulder area has been a space reserved for men and we say this because until a few years ago they were the only ones who tattooed in this area of ​​the body. However, luckily today, women have joined this trend and more and more are choosing to get tattoos in this area of ​​the body.
The main advantages of this area of ​​the body when it comes to tattooing are: large space that allows designs of a larger or smaller size to be tattooed; area in which the tattoo can continue to be enlarged in the case of tribal designs for example or when different figures are tattooed to which others can be added, this is due to the fact that many designs that start on the shoulder extend through the chest, back or neck; easily concealed area, since if we wear a short-sleeved shirt instead of suspenders we can easily and comfortably cover the design.
One of the tattoos or better said design that we can most commonly observe in this area of ​​the body are tribal influenced designs. This is because the shapes of the circular lines drawn with thick black lines have an aesthetically very beautiful result and also allow it to be extended by the arm, the back, the chest or the neck. If we also have brown skin, a thick black line will enhance the contrast of the color of our skin and that of the design with an even better result.
In the case of women, the most common designs in this area of ​​the body are flowers and designs with tattooed elements as a detail, that is, in small dimensions such as stars, hearts … Unlike the other tattoos explained above , which refer to the tribal influence that is preferred by men to tattoo it on the shoulder, women do not opt ​​for a specific influence, but if we stop to observe their designs, we can easily identify that they are designs with great color.
In conclusion, the shoulder area can be a good choice to tattoo a design and nowadays not only men choose this area, more and more women choose to tattoo different motifs on their shoulders. One of the main advantages is that it is easily concealed with a short-sleeved or long-sleeved t-shirt and during the summer we can easily show off the design.
This area of ​​the body is very attractive for those who are looking for a part of the body to get a tattoo. More and more girls are beginning to tattoo this area.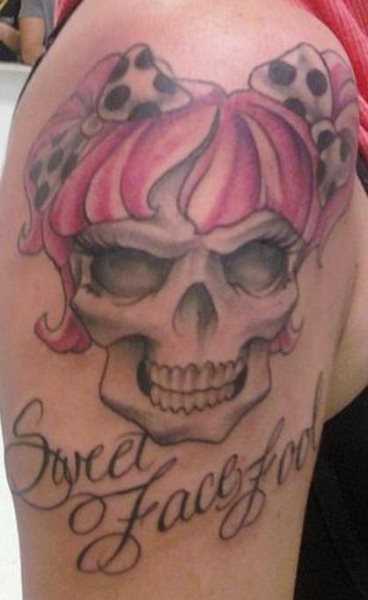 We start with this image, in which we see this girl, who has a skull tattooed on which she has put a pink wig and two bows. At the bottom some letters that form the phrase in English "Sweet Face Food".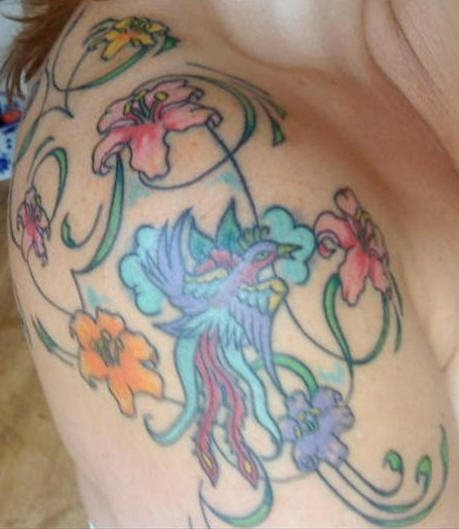 Design on the shoulder of this girl of a beautiful bird in blue tones surrounded by flowers of various colors. The best thing about this tattoo is the combination of colors, resulting in a composition of cheerful and vivid tones.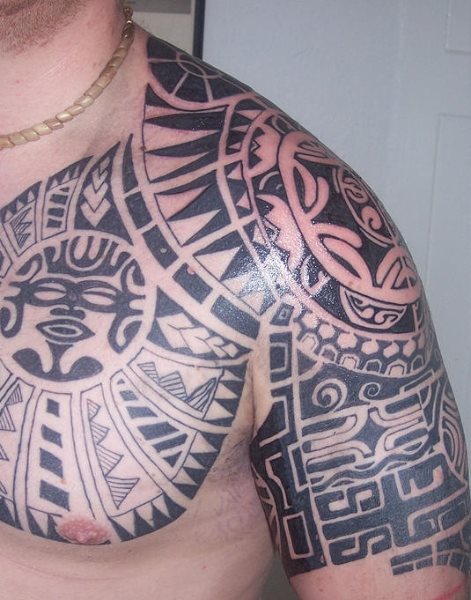 This boy shows us his fabulous design with Maori or Aztec shapes that cover, in addition to the shoulder, part of his arm and chest. For the design only black ink has been used, the most successful considering the style of the tattoo.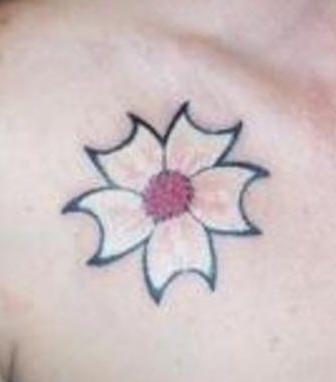 Small tattoo of a flower in which white ink has been used to fill the petals of the flower, while for the area of ​​the stamens in the scepter a reddish tone has been chosen, which creates a great contrast of colors.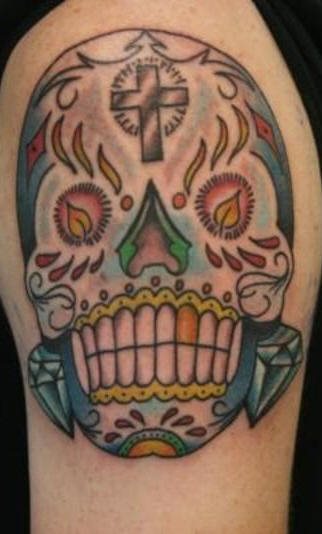 This person shows us his striking design located on his shoulder, in which we can see the symbol of the Mexican holy death. The color scheme is very varied and is made up of very different and striking shades.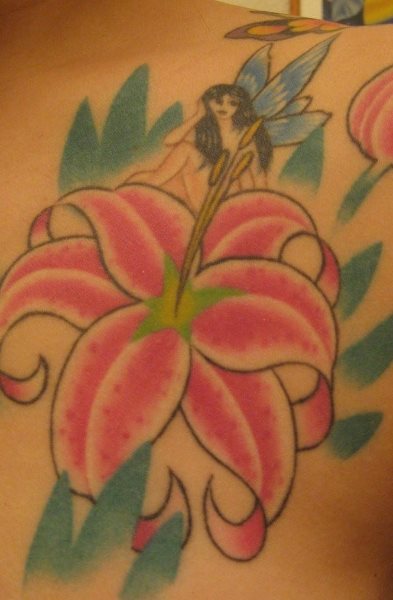 Nymph on a pink flower. An elegant and beautiful tattoo, although it is also true that it could be more detailed, since the level of the drawing is not very high either. For this tattoo, soft tones have been chosen.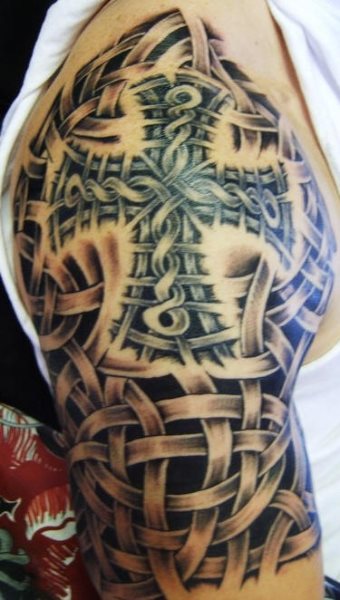 In this case, the shoulder is full of lines intertwined with a cross in the center, which inevitably reminds us of the style of Celtic-themed tattoos, where the lattices are fundamental.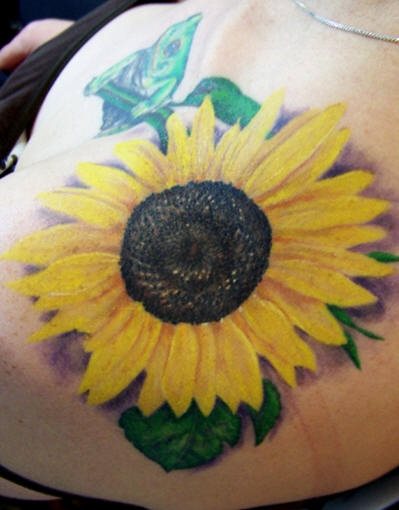 Beautiful and striking sunflower with a frog on top which this girl shows us. While the sunflower is located just above the center of her left shoulder, the frog is tattooed occupying the area of the clavicle. Intense and vivid colors have been used for this design.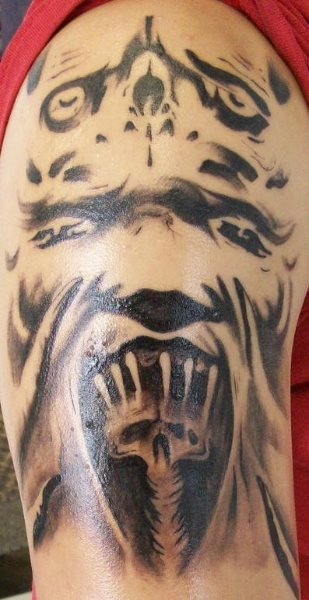 Extravagant image of the face of a creature with several pairs of eyes in whose mouth we can guess a skull. The entire design has been made using only black ink, thus achieving grayish tones and with a lot of shading.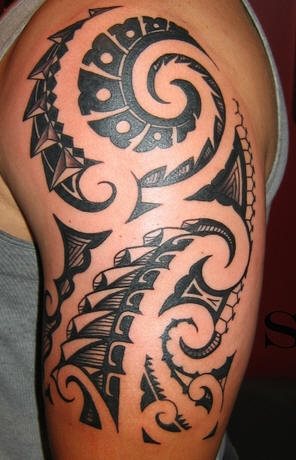 Aztec-style design on the shoulder and arm, where shapes and curved lines predominate, and which is made entirely using only black ink and with some small shading effects.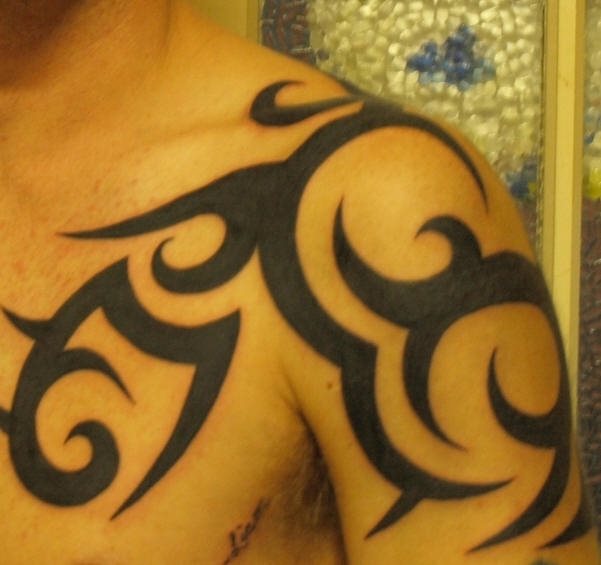 Tribal lines in black that cover this boy's shoulder and chest.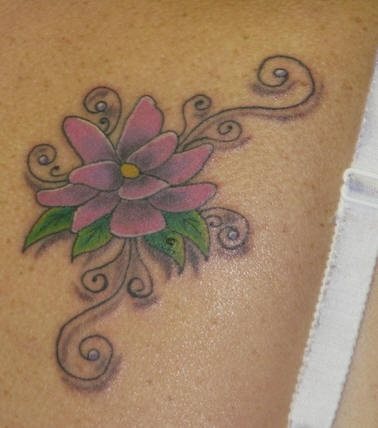 Tattoo of a flower in pink tones. Simple but pretty.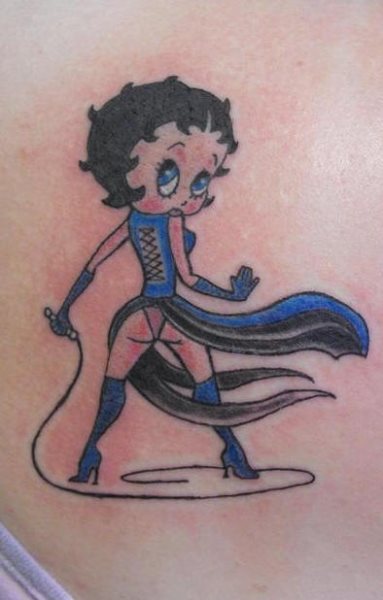 Betty Boop design with her back turned and holding a whip.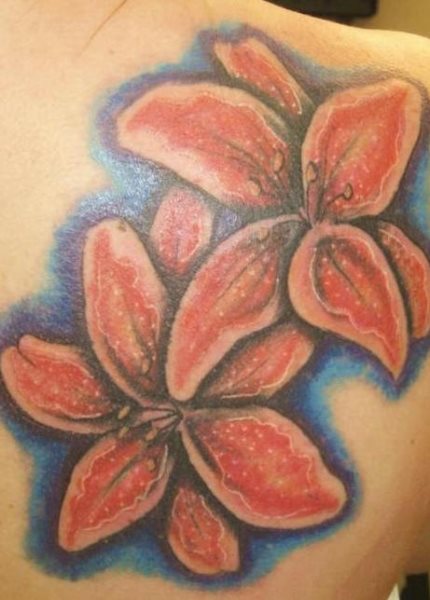 Two large and striking flowers tattooed in orange tones on a bluish background.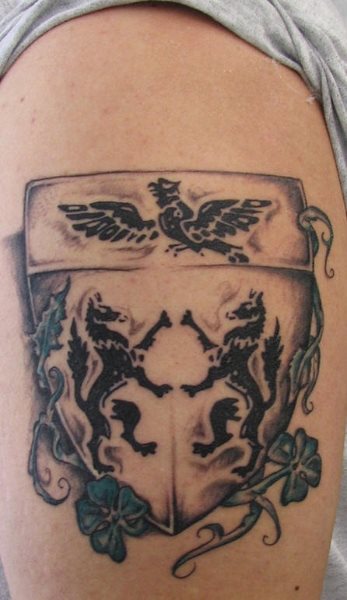 Shield with what appear to be two lions and a bird accompanied by four-leaf clovers.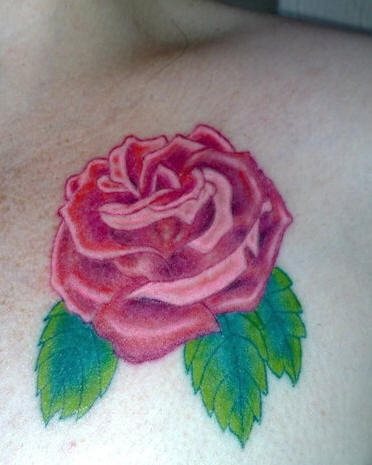 Pink flower in red and pink tones.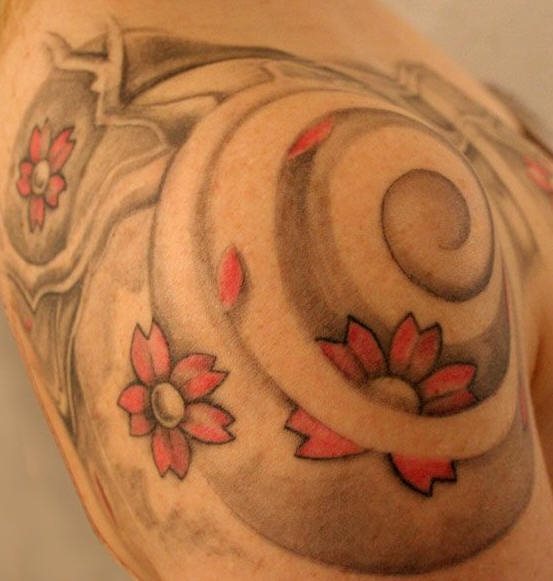 Nice design of spirals in black ink and touches of color with pink flowers.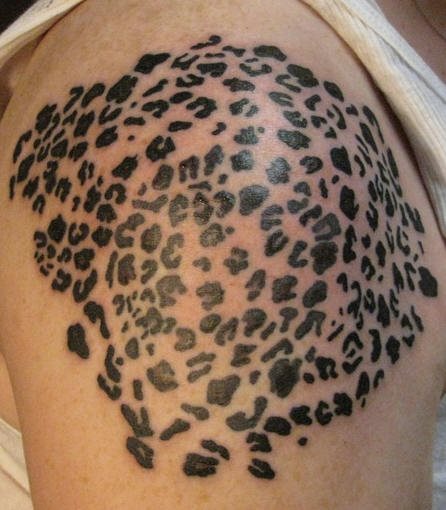 Leopard spots tattooed on the shoulder.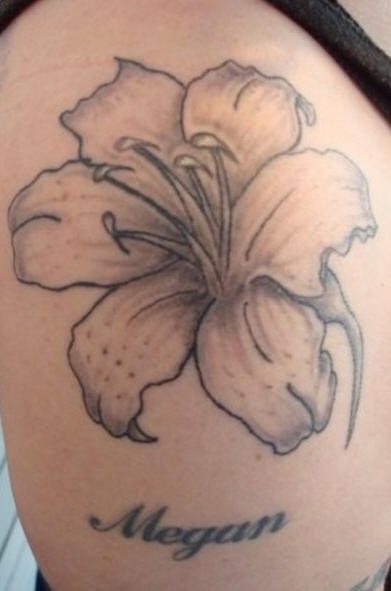 A simple Hawaiian style with Megan's name underneath.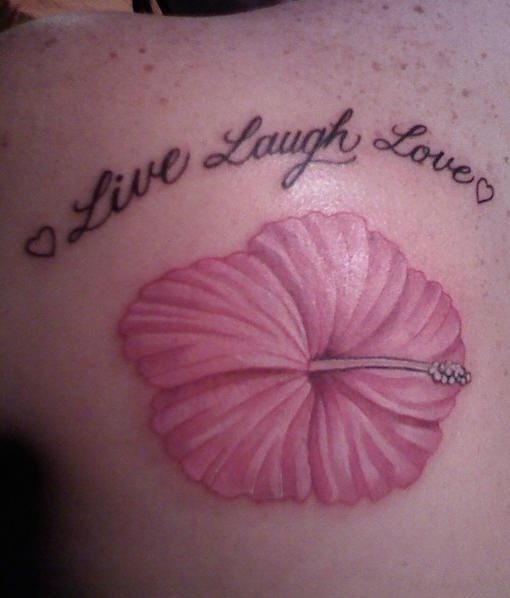 Pretty pink flower with the words "live","laugh","sees it" ("live laugh Love").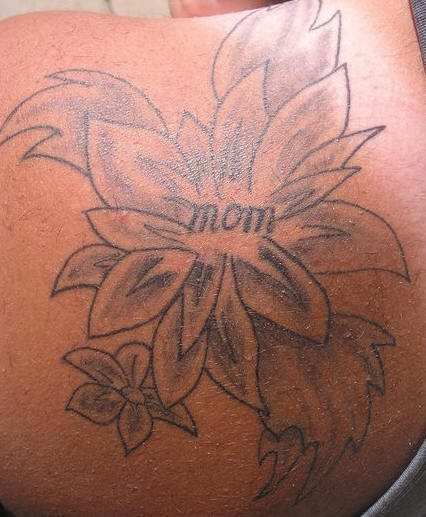 Design dedicated to a mother in which we can see a large flower with the word "mom" in the center.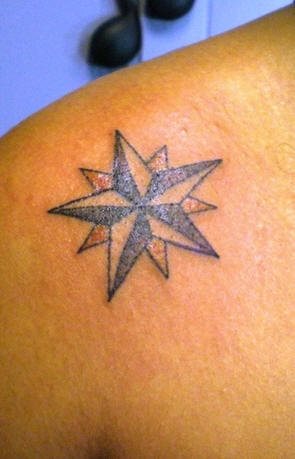 Image of a cross with the name Joshua, name of Jesus.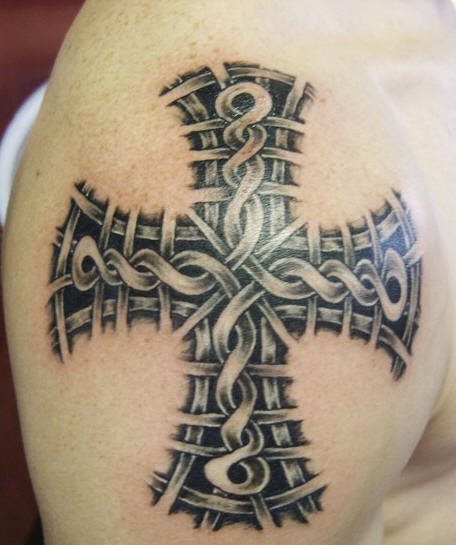 Two crosses. In the first case, the cross is accompanied by a message. In the second case the cross is filled with interlocking shapes.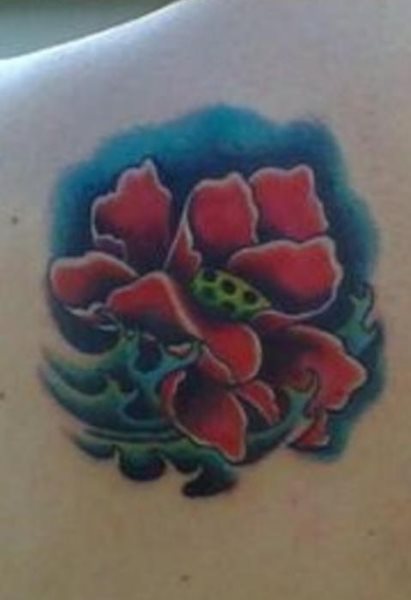 Colorful and simple this one of a flower.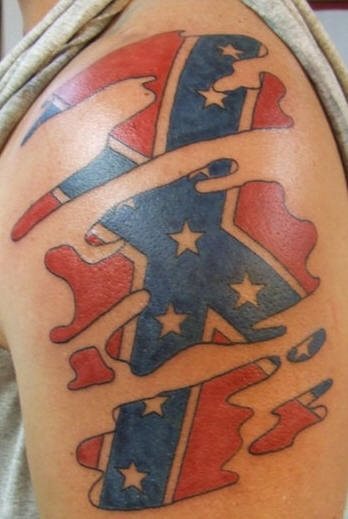 Scrap design of the American flag.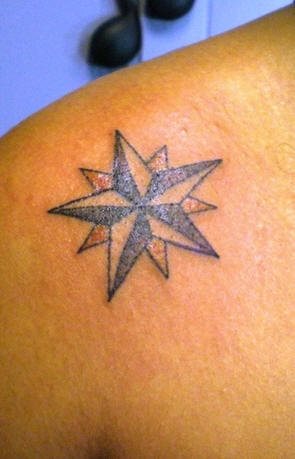 A simple star is chosen in this case.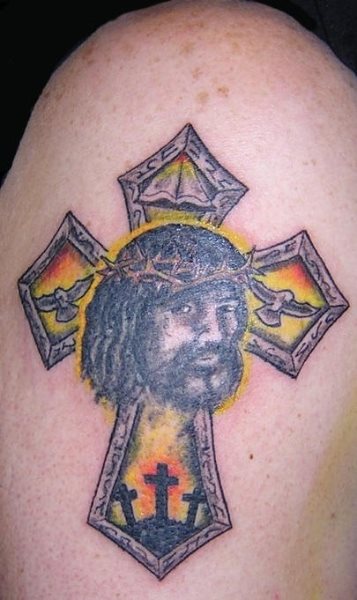 Image of a cross with a colorful background and in which what may be the image of Jesus appears in the center.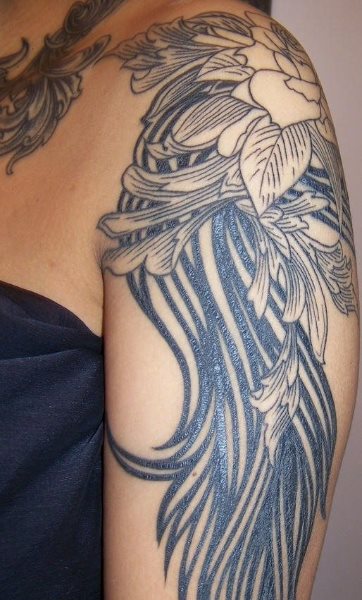 Flower in black tones located on the shoulder of this young man that extends over the upper arm.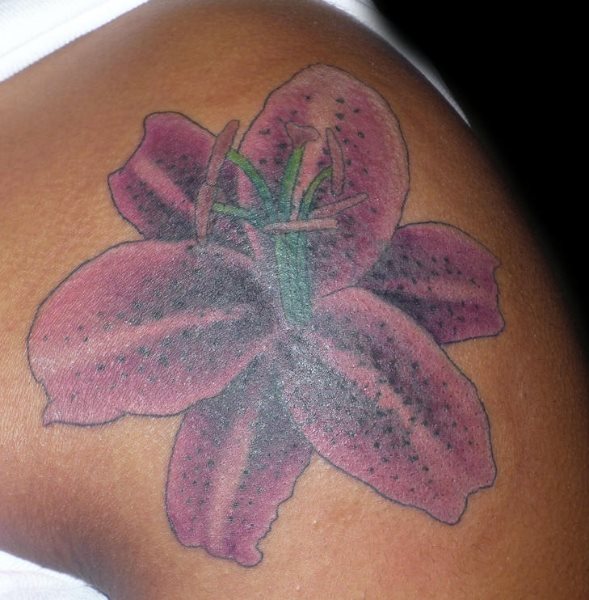 Large flower in purple tones.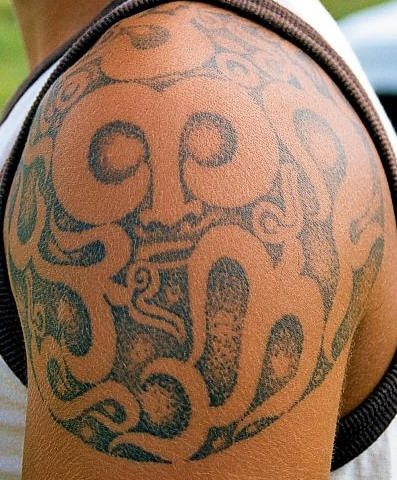 Worn design in which we can see that it is time to review it again, since the black tone has lost strength and consistency.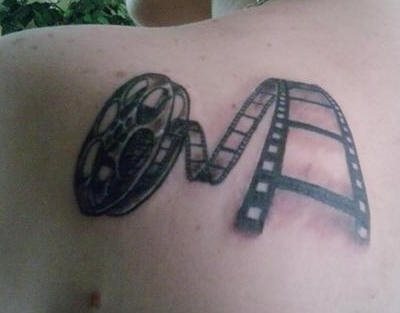 Never seen before design of a film reel.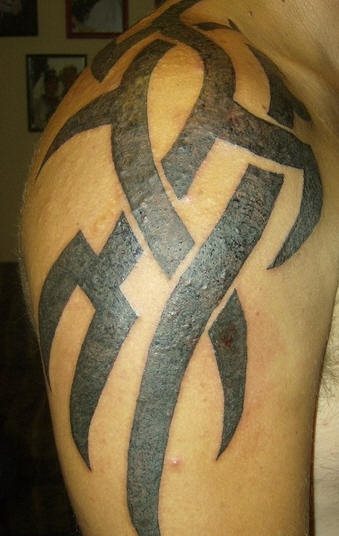 Design of tribal lines tattooed on the shoulder.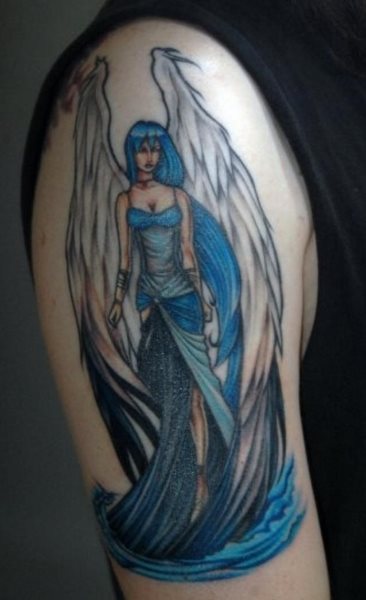 Image of a kind of fairy in blue and black tones.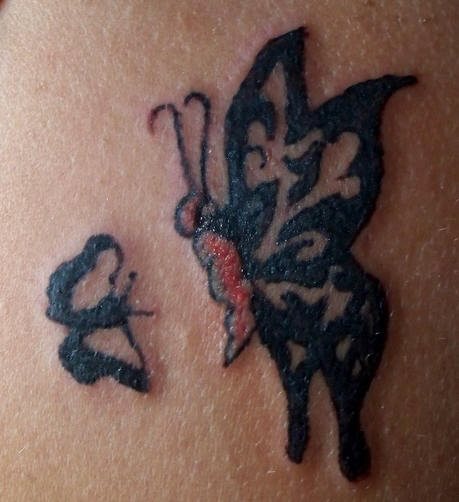 Nice butterfly in profile accompanied by a smaller butterfly.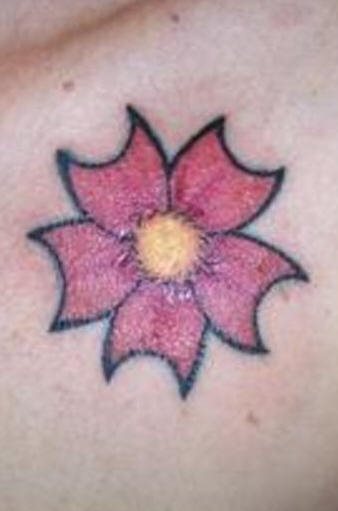 Again a simple but colorful flower.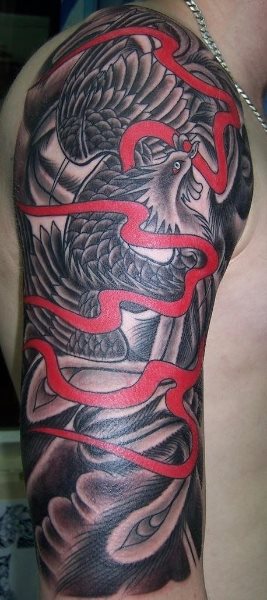 Incredible design of a bird with peacock feathers and various shapes in black and red tones.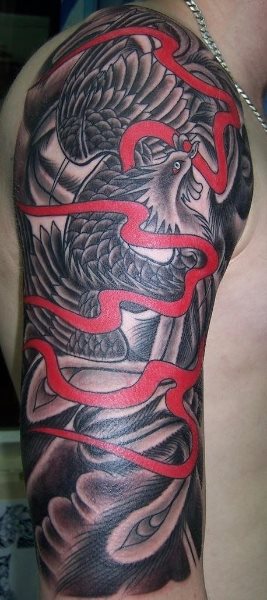 Aztec design that covers the shoulder and part of the chest of this man.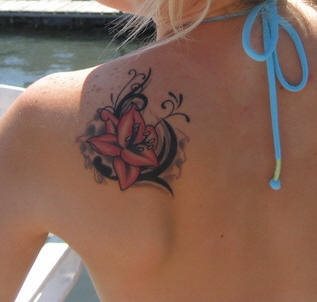 Design of a flower on the shoulder in red tones accompanied by a background with contrasting tribal lines.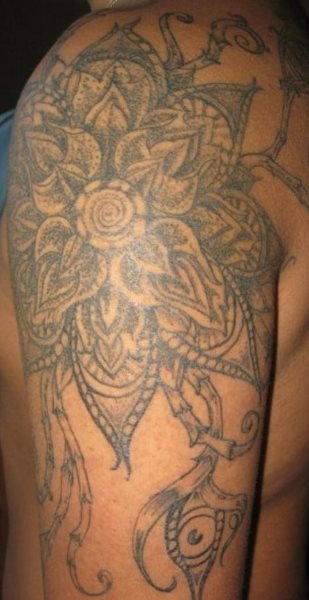 On the shoulder a large flower tattooed with a unique style and it has been given a personal touch because it seems to be drawn in pencil.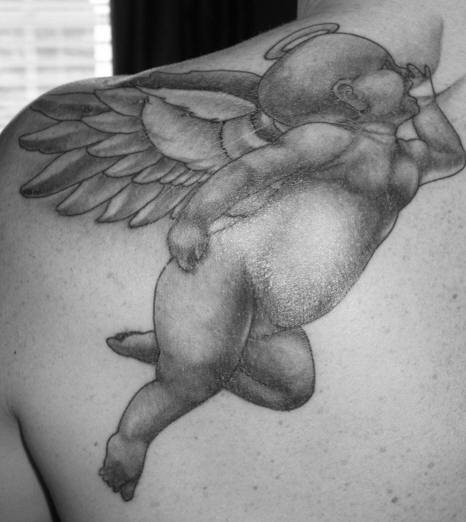 Little angel with a large profile and bird wings. It looks like it's blowing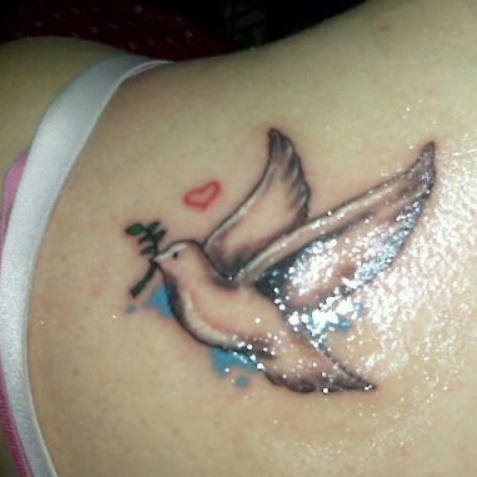 Peace dove with an olive branch in her mouth and a heart on top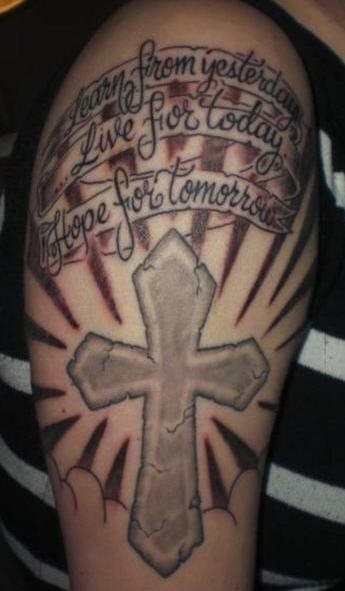 A cross and the message "Learn from yesterday, live for today, hope for tomorrow" ("Learn from the past, live the present and wait for the future")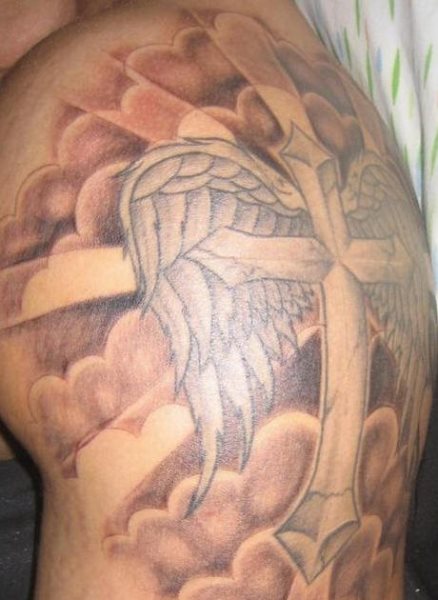 It occupies the shoulder and part of the arm in which we can see in the foreground a large winged cross on a background of clouds that represents the sky.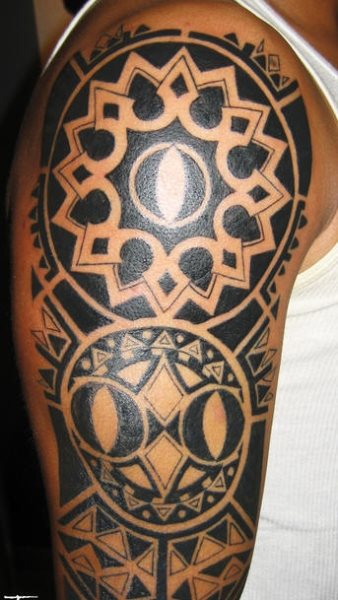 Image of a Maori style design with a good saturation of the black tone and a multitude of details.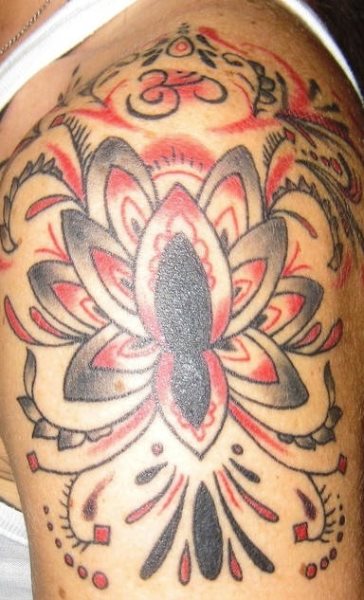 Rare flower design in red and black tones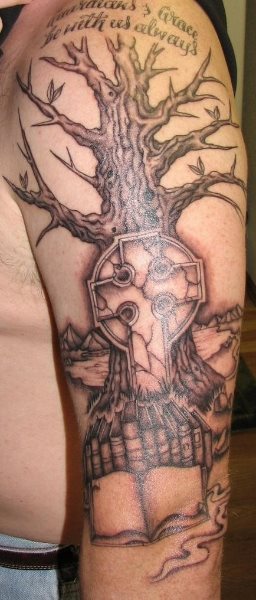 Among the different elements that we appreciate in this image we see a large tree in the background, in the foreground a cross and books. At the top a message in English.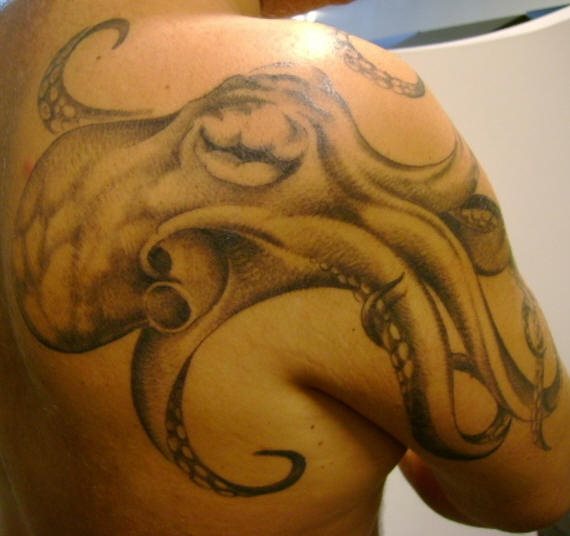 In the shape of an octopus that occupies the entire shoulder. We can appreciate the perfection of the line of the tentacles.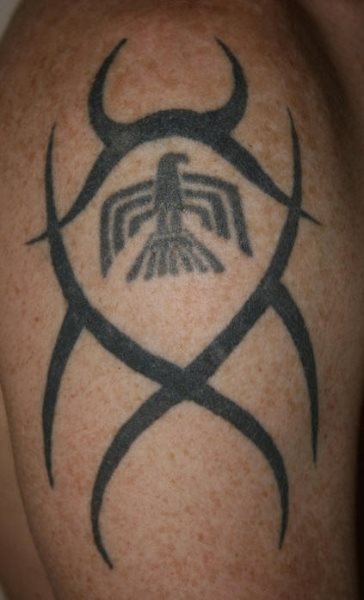 Flowers of different shapes and colors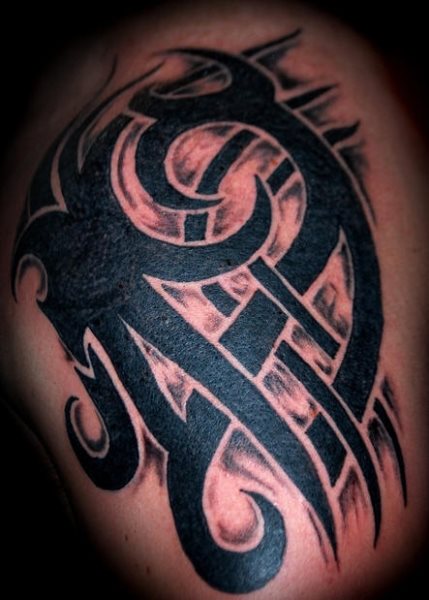 Tribal-style and with slightly poor shading that gives it a rather unpleasant result.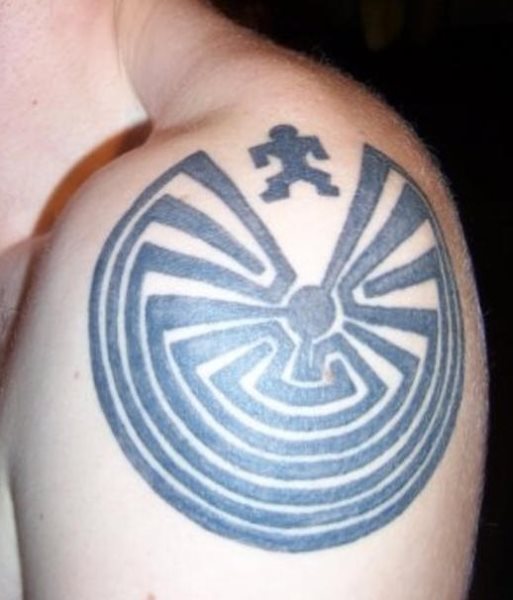 Photograph of a design that is undoubtedly original, in which a figure of a figure appears and circular lines under it.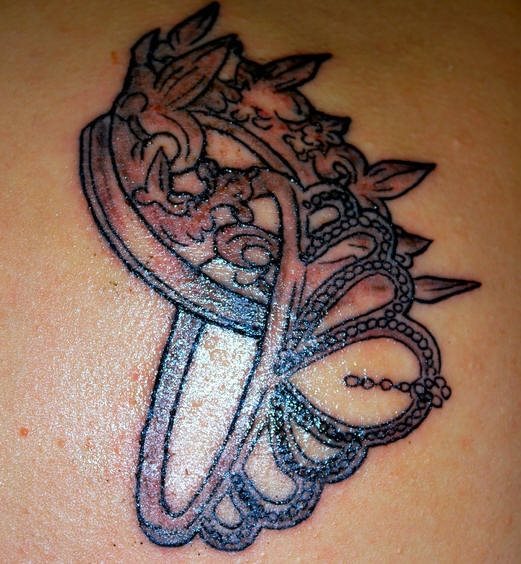 Crown drawn in profile filled with circular figures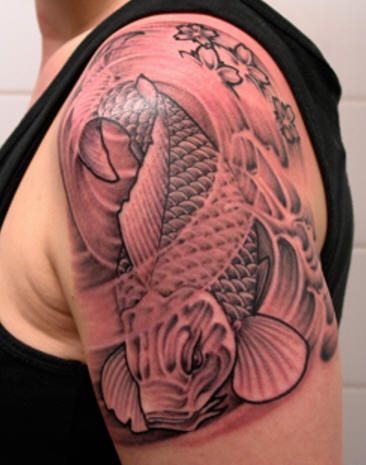 A koi fish and several cherry blossoms in the background. The effect is very good with shadows in red tones added.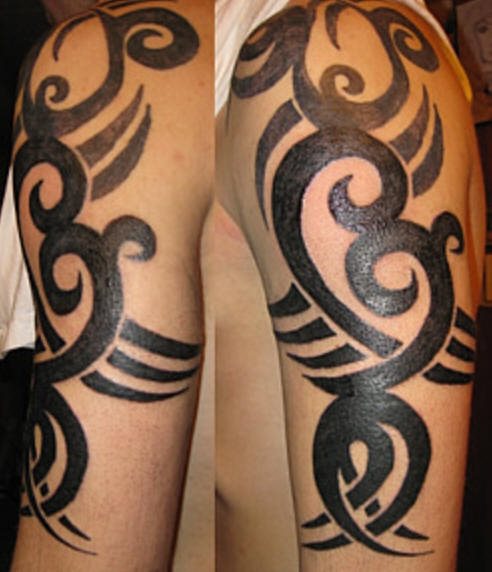 Tribal design that occupies part of the shoulder and arm, it can be seen that it has been made in different phases and that has to be improved, the old tattoo can be reviewed again to avoid falling into this error.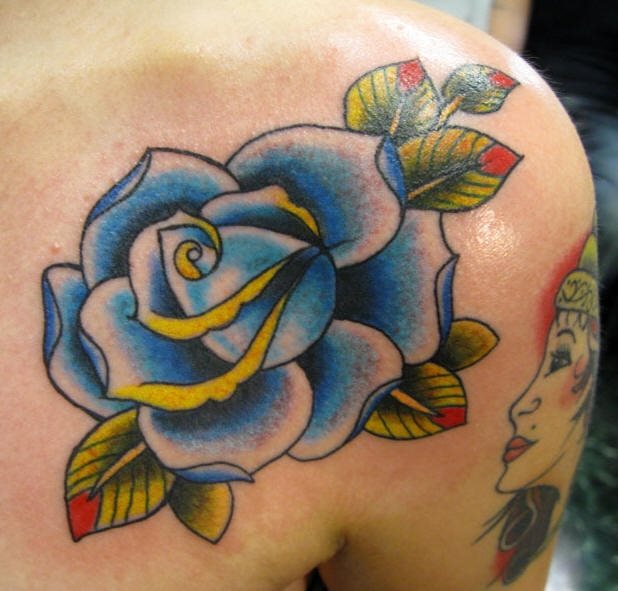 Rose design in blue and yellow tones accompanied by a woman in profile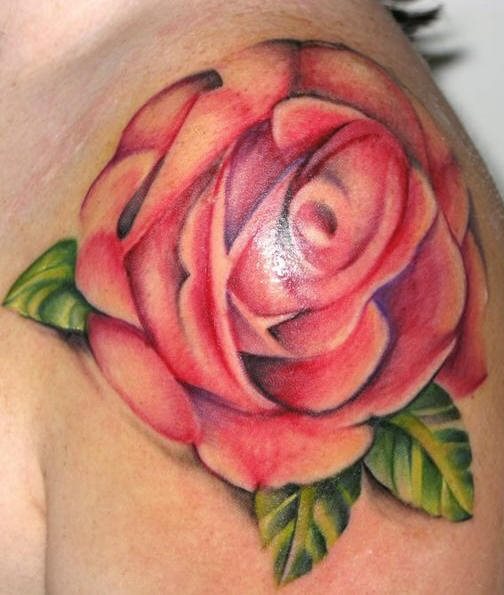 A beautiful rose tattooed with a successful range of colors that give it a hyper realistic result.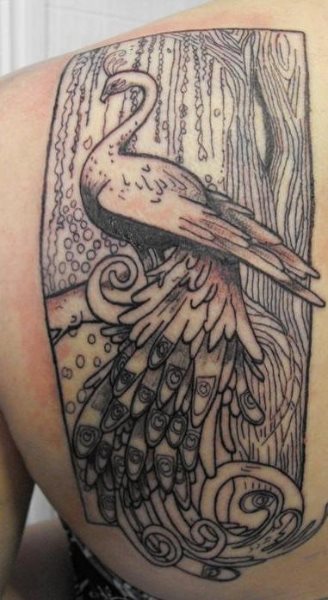 Peacock in black ink with feathers lowered and well defined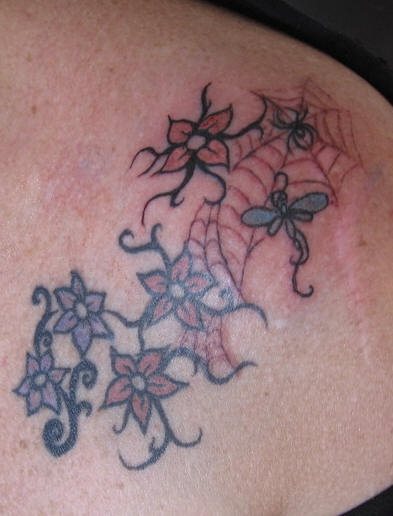 A small spider web with a spider inside and several colorful flowers around it. Simple.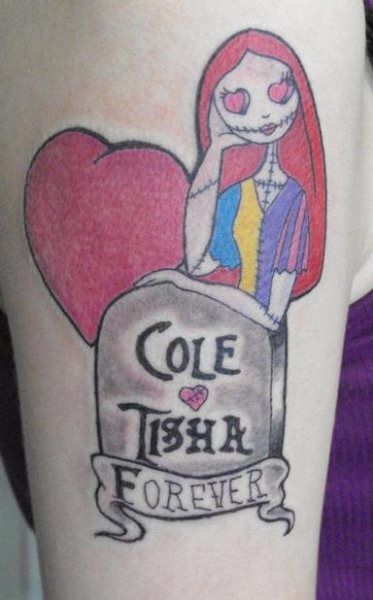 Color drawing of the corpse bride accompanied by a tombstone with the names of a couple and the word "forever"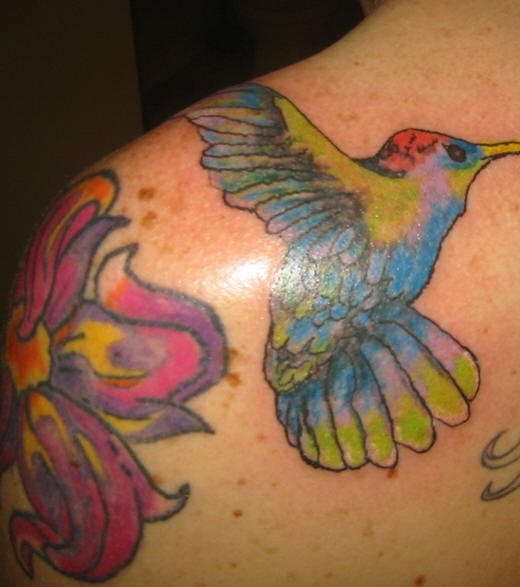 The hummingbird has something that does not quite convince me. Perhaps it is how the drawing of the bird has been made, that the lines are not very well done and it gives an appearance that the quality of it is not very good.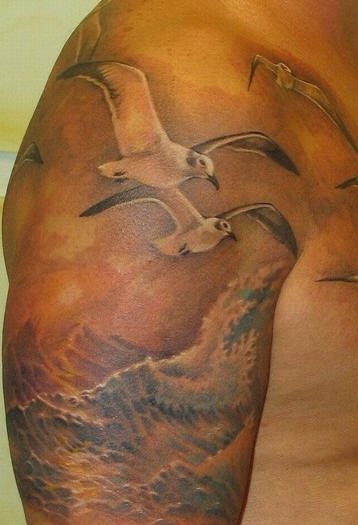 However, this one is of exceptional quality. We see that it covers the shoulder and the biceps and represents a beautiful landscape with large waves and seagulls flying overhead. Both the colors and shades used make the result exceptional.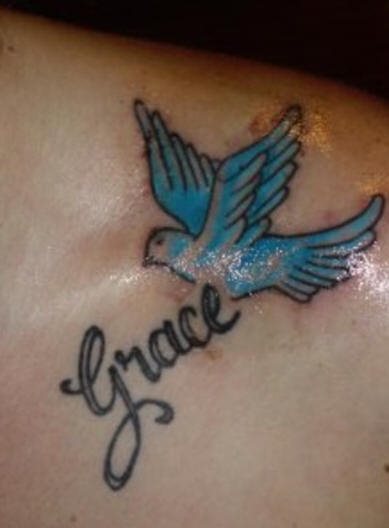 Bird in blue ink accompanied by the word Grace (Grace)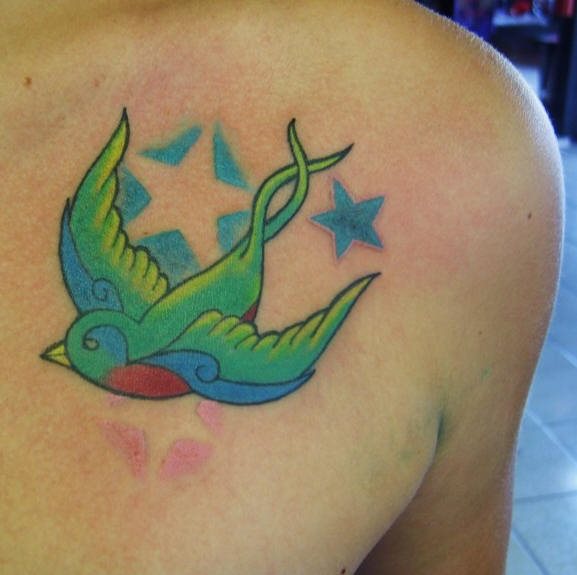 Tattoo of a swallow in striking colors.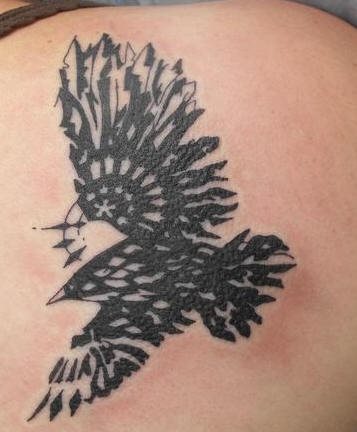 Bird tattooed in black tones, somewhat deformed, it lacks greater definition in its shape.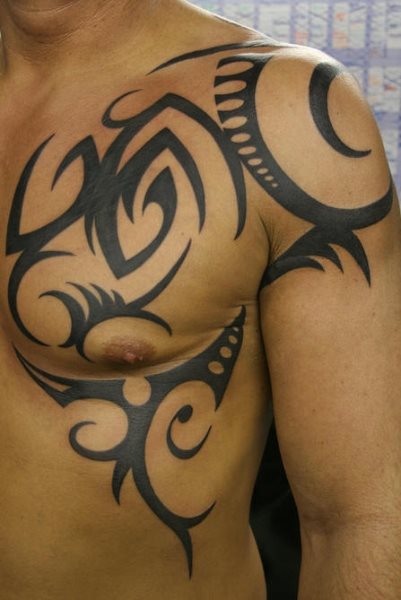 Tribal that occupies the shoulder and male chest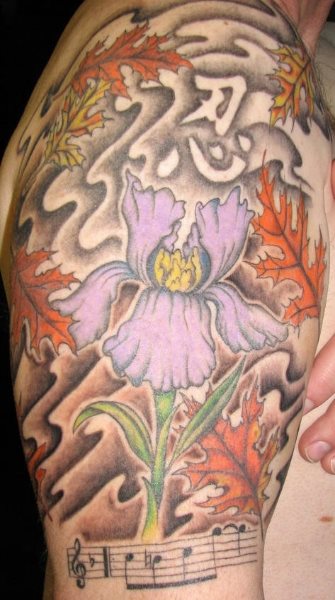 Very large and striking this one, of a large flower with a background of leaves and other shapes and a pentagram at the bottom.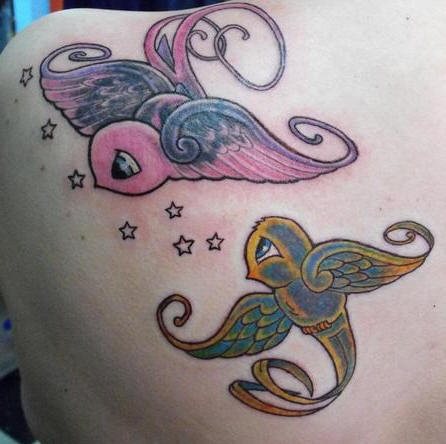 We finished with two colored birds tattooed on the shoulder and part of the back.