In any tattoo studio worth its salt there must be images of eagles, all of them collecting more than one of their profiles, positions, colors or shapes. That because? Because it is very chosen when marking the skin. In fact, it is and has been such a symbolism that encyclopedias are not satisfied with collecting their biological characteristics when describing them, as their given hunting capacity, among other things, their good eyesight and their speed. They also collect the meaning given by many cultures.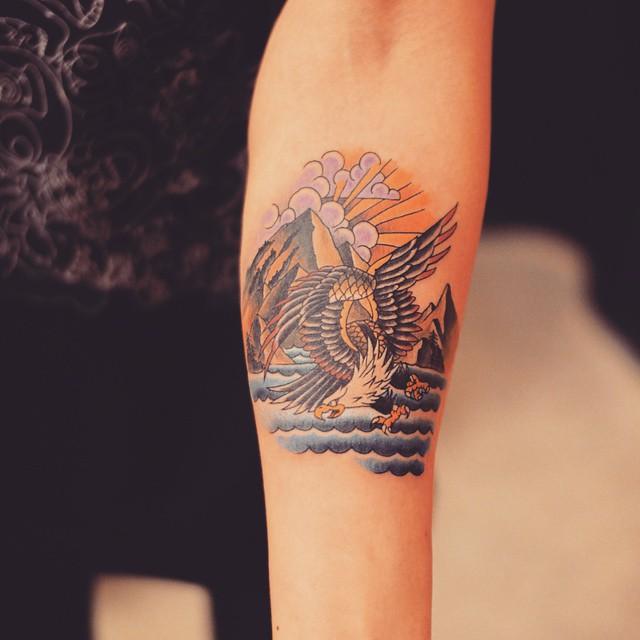 It is the identifying element of the empire, synonymous with majesty, victory. That is why it has been recorded in the symbology since remote civilizations, associated with its image, for example, to war situations. It has also been recurrent in religion as a symbol of Saint John, or as an icon of great houses of European royalty (in the case of the imperial eagle). It has also been located in the orbit of Jupiter.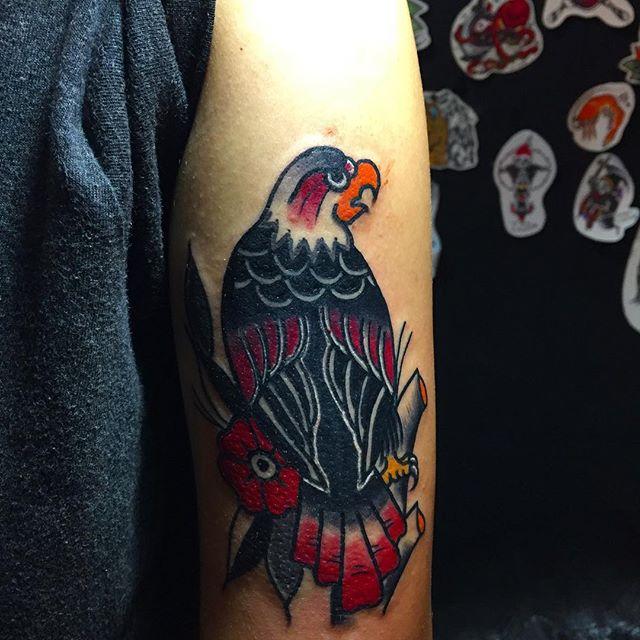 Let's focus, for example, on the double-headed eagle, which you have ever seen on the shield of a country, a city or even a university, such as Granada. It is one of the oldest Indo-European symbols of all those who remember although, they say, there is evidence of its origins by the kingdom of the Hittites, whose shield represented one.
Let's open chapter of eagles stories… Like the one that illustrates that fable in which a raven, after seeing an eagle hunt a little lamb, hovers over a ram to only get entangled in its wool. The shepherd captured him to teach his children who asked him what kind of bird that was. "A raven who thinks he is an eagle" was his explanation, which tells us that, although it is good that we feel willing and capable for many tasks, we should not take responsibilities that we are not able to assume.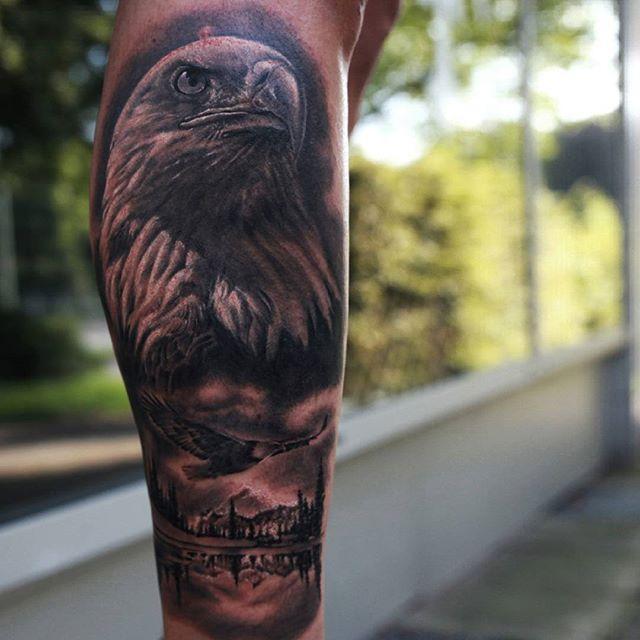 The eagle is also associated with the renewal image, to reinvent ourselves. It is a very recurring myth, which tells us that their abilities one day wear out and seriously endanger their livelihood. The decision is between assuming it and letting yourself die or undergo a long and hard process that will allow you to live a few more years: the beak and claws will have to be plucked to wait for new ones to grow. Hard but is it worth it? There is the crux of the matter: renew or die.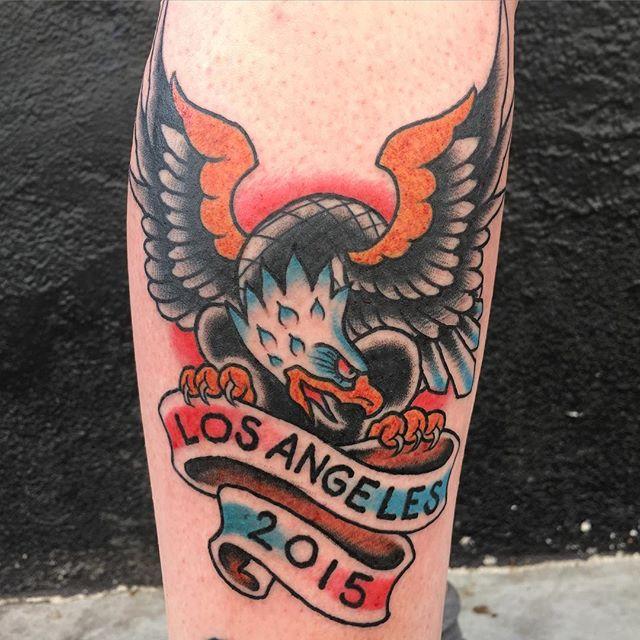 You know, the eagle is a success when it comes to needle and ink. Given its wide presence in the symbology, no one can be surprised that you could think of tattooing one.
We start with the bust of an eagle with a serious and solemn expression, and the flag of the United States on its face. We remember that the eagle is the national animal of this country, so they have great respect and devotion.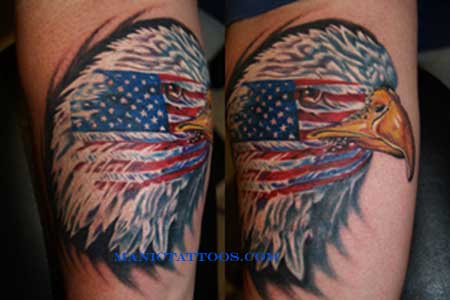 In this case we see a tattoo of a flying eagle that occupies almost the entire back of the person. This design is made with gray and shaded tones, emphasizing the detailed plumage, with a great result.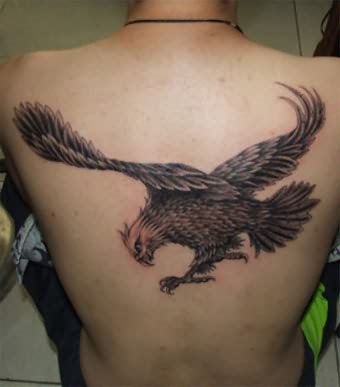 To continue, we can see a design of an eagle flying over the skies with clouds in the background. By the style of the paths, the drawing has a certain oriental aesthetic.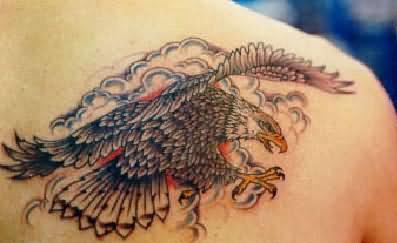 The following cartoon-style tattoo is of an eagle showing its stocky arm and the flag of the United States in the background. The eagle has an anchor on his shoulder with the acronym of the United States Navy, so the person most certainly belongs to this army corps.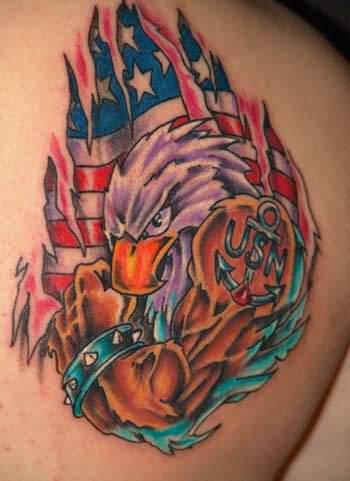 In this case we can observe an eagle perched on a branch. By the style of the drawing, it is intuited that an Asian aesthetic is sought but with a marked cartoon character.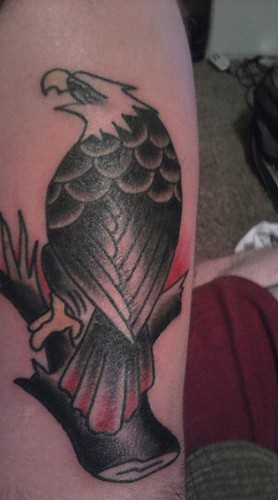 It's weird to think it's an eagle but really if you look it is. It is a skull that has an eagle-shaped mask and for that reason I have included it here.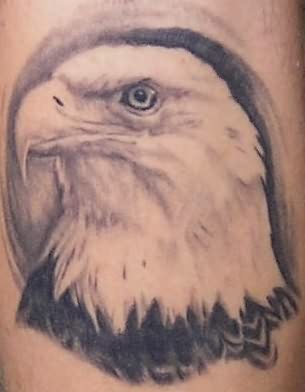 This tattoo has patriotic connotations. Many countries include eagles in their flags as in the case of Serbia and others that I don't remember now.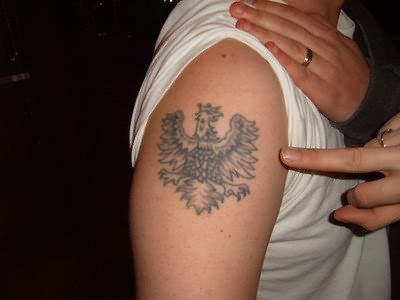 For this tattoo, the person has opted for a design of an eagle in flight with a simple and beautiful tribal style, where black is the only protagonist color. In cases like this, quality lies in simplicity.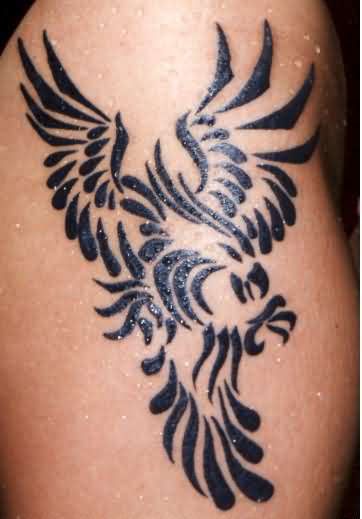 Eagle that goes from the left back to the right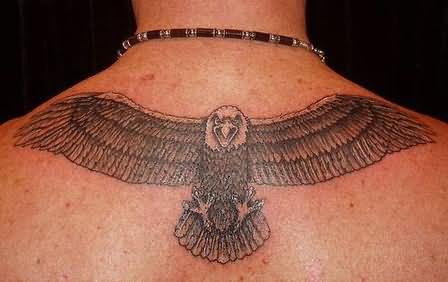 The eagle and the flag of the United States have always had a lot of relationship. In this case, the eagle has been drawn with the colors of the American flag.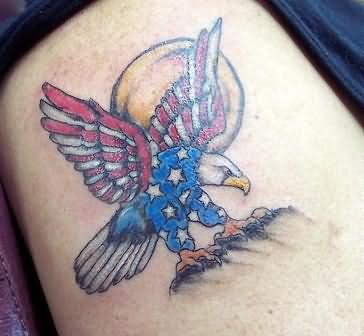 This man has several motives tattooed in his man. We can see several mountains, the sun or the moon, plants, a river and the main reason is an eagle with open wings.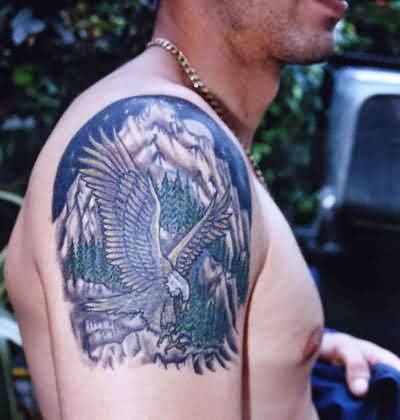 Eagle head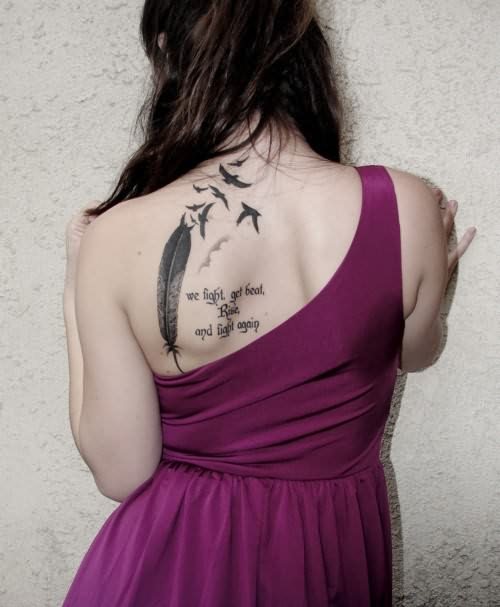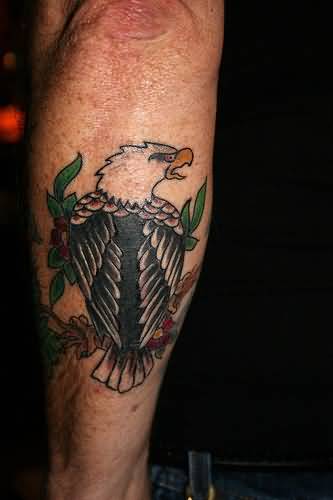 Boy with a large tattooed eagle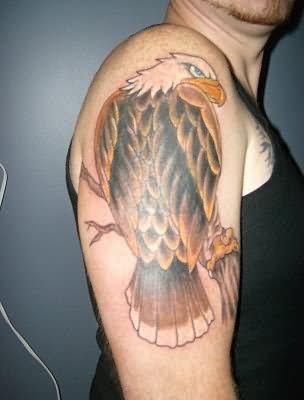 Eagle with open feathers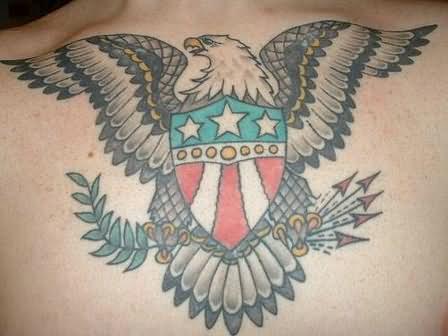 Tattoo of an eagle on the ankle of a man. Eagles are usually more popular in the chest, shoulder or back. I have seen very few tattooed on the ankle or on the foot and the reason is because of the symbolism that these eagles have.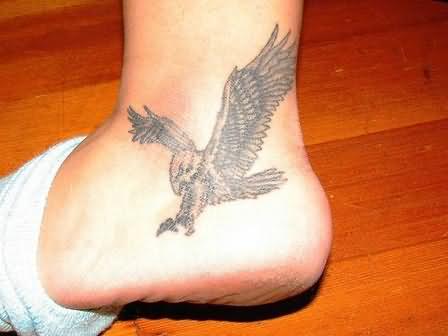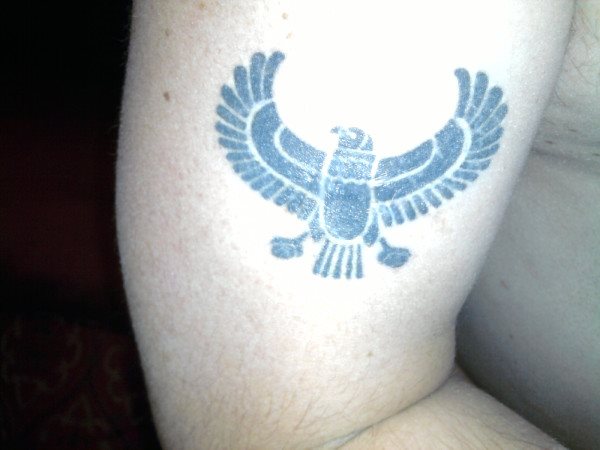 Nice tattoo of a colored eagle wrapped in a flag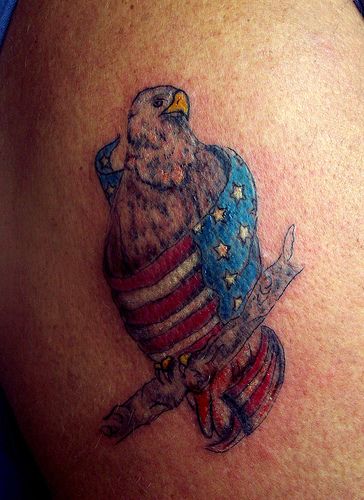 Nice color tattoo of an eagle with the flag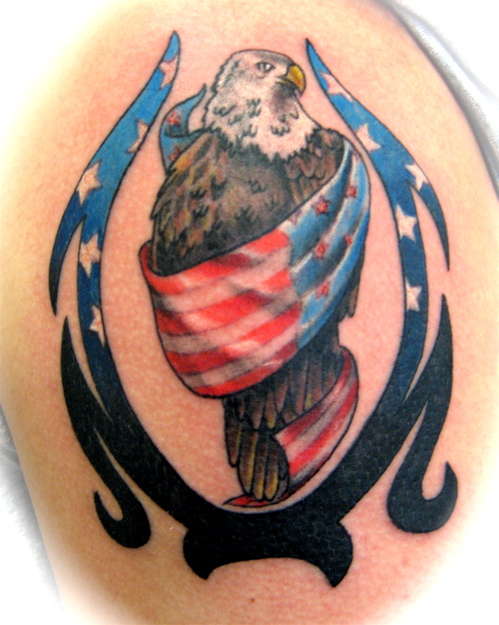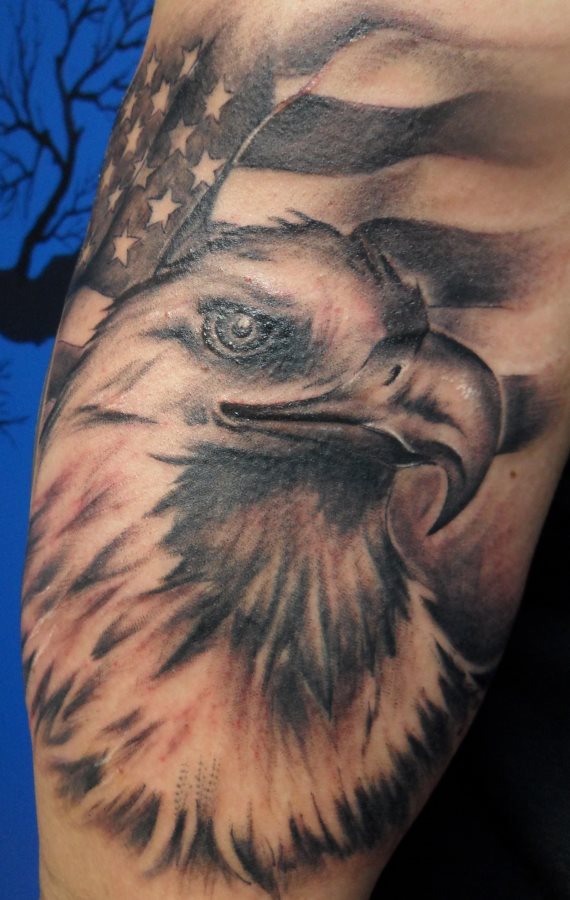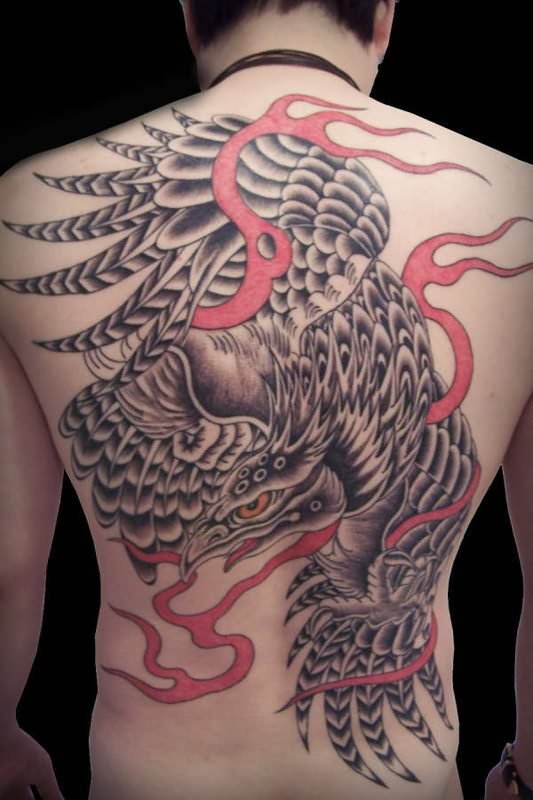 Spectacular tattoo on the chest of an eagle and a snake in fight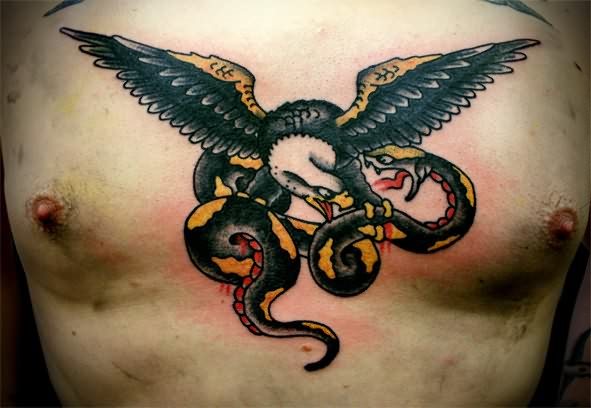 Spectacular tattoo on an eagle's chest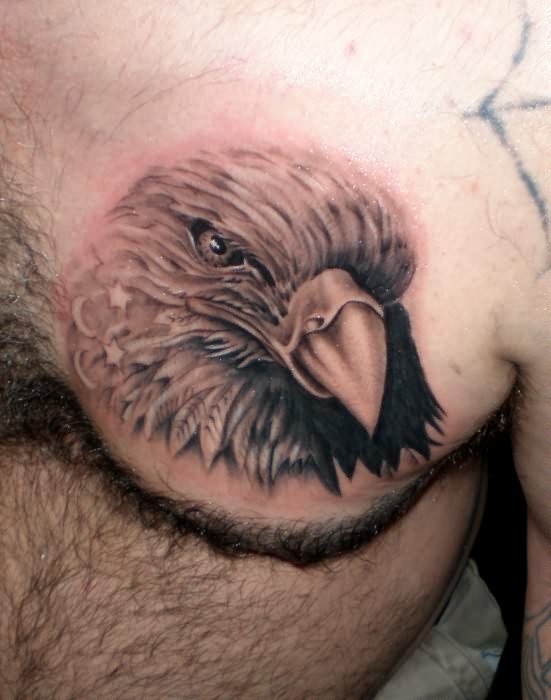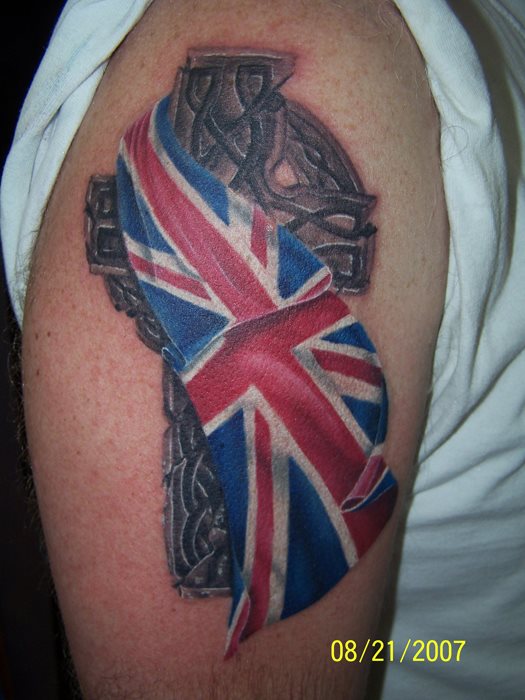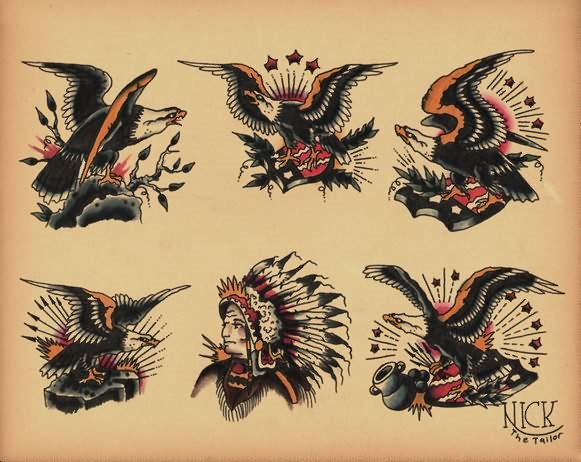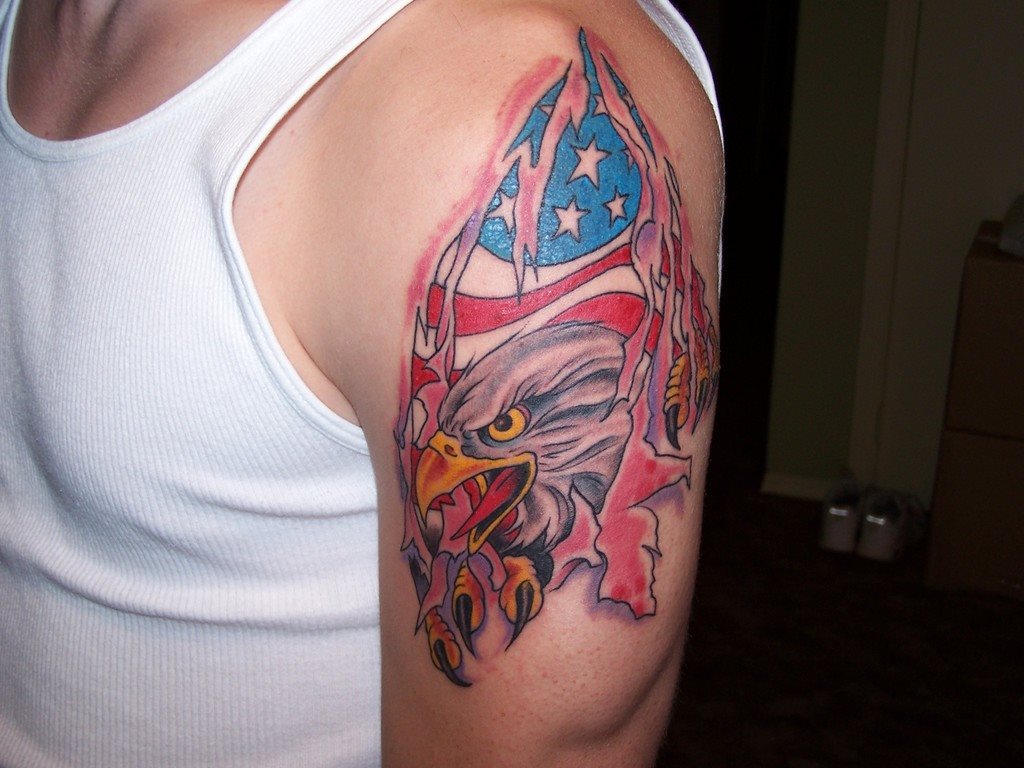 Original tattoo on the chest of an eagle with wings spread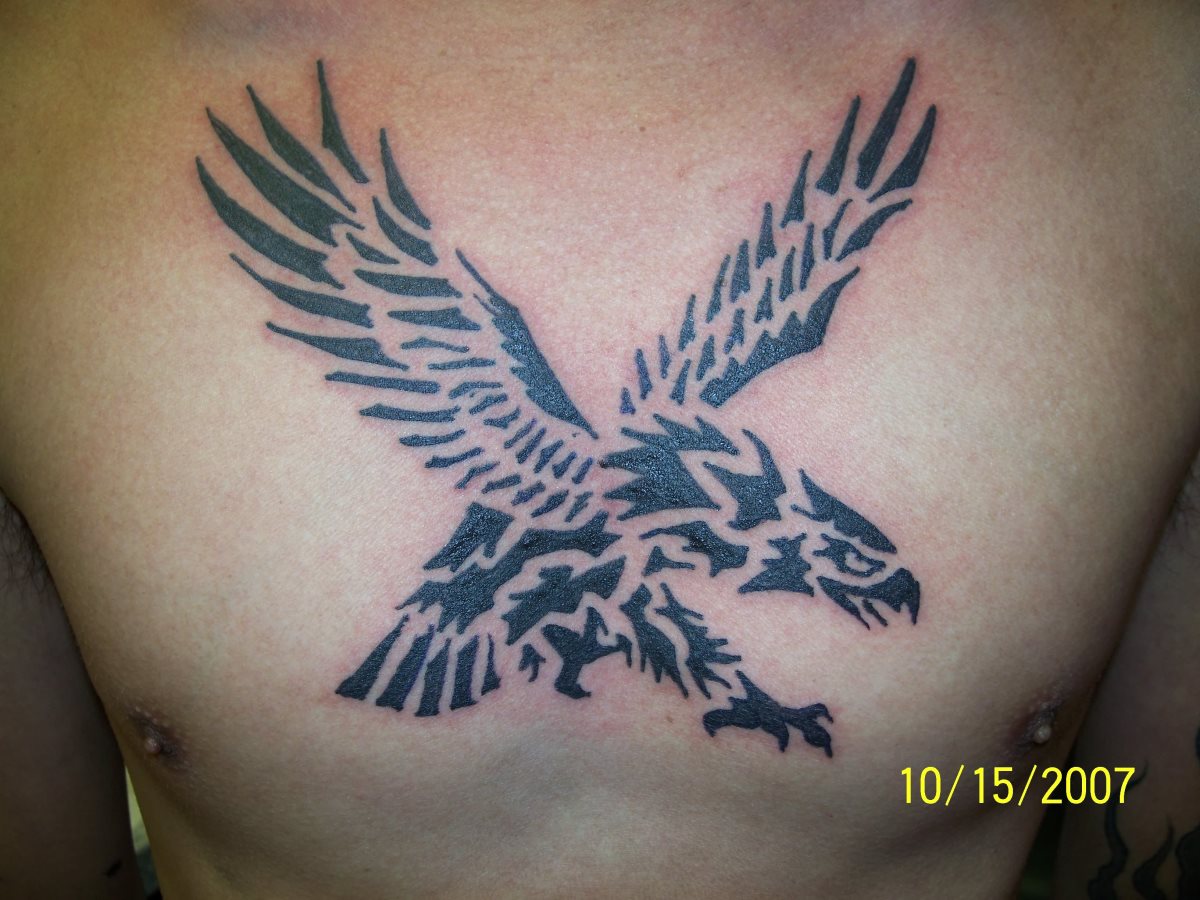 Simple tattoo on the arm of an eagle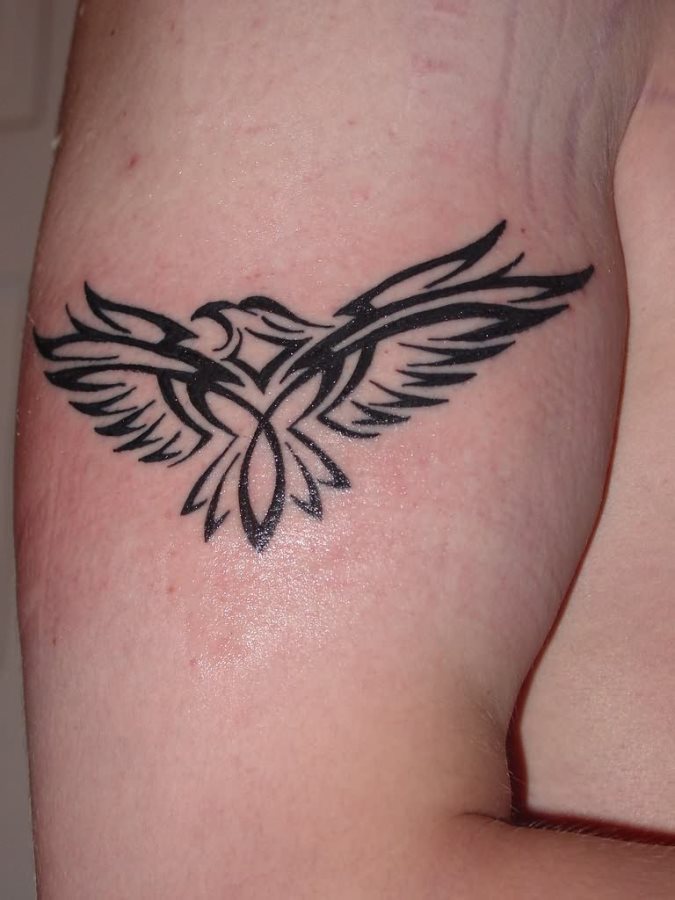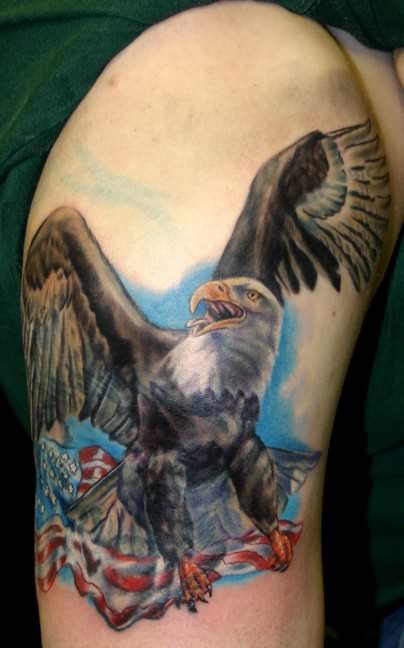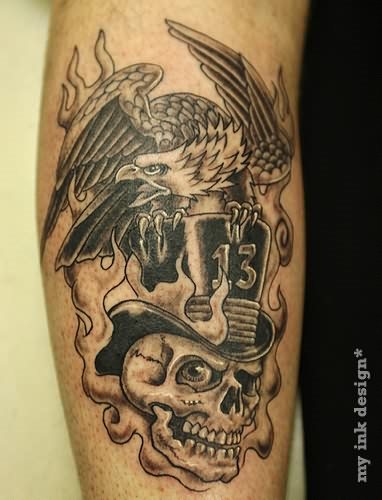 Colorful tattoo of an eagle on a very colorful background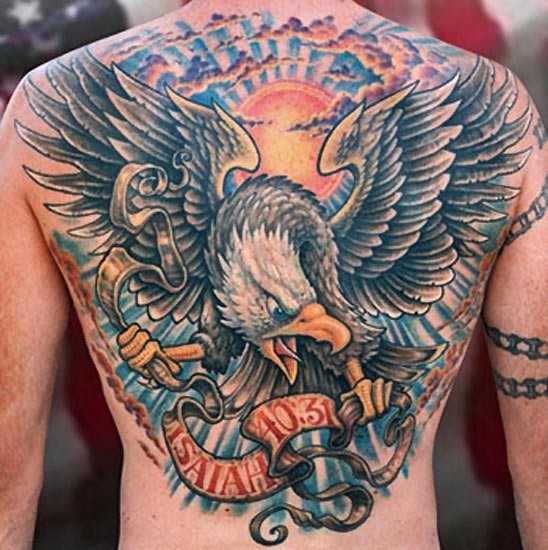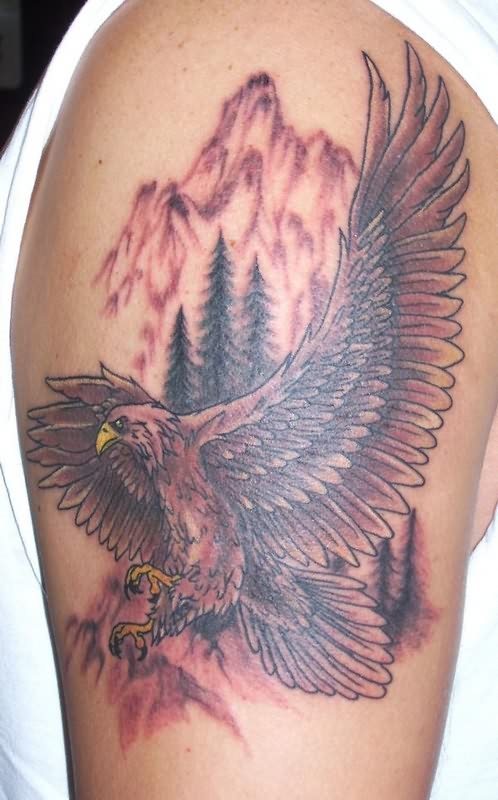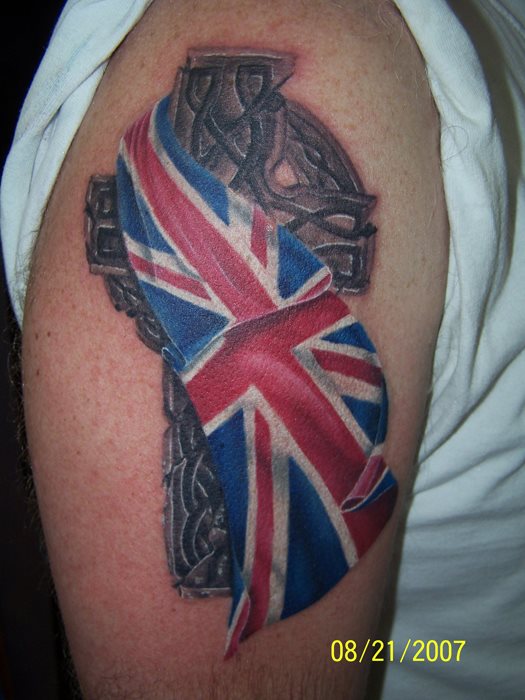 Nice tattoo on the arm of an eagle, shaded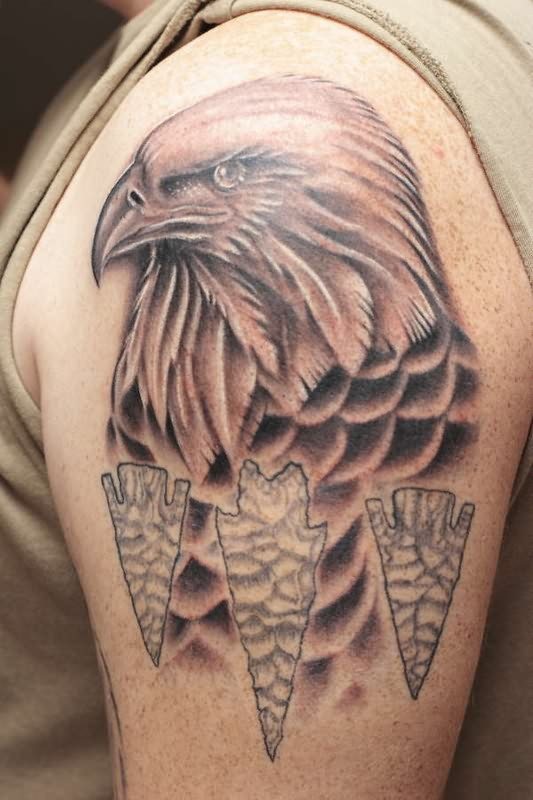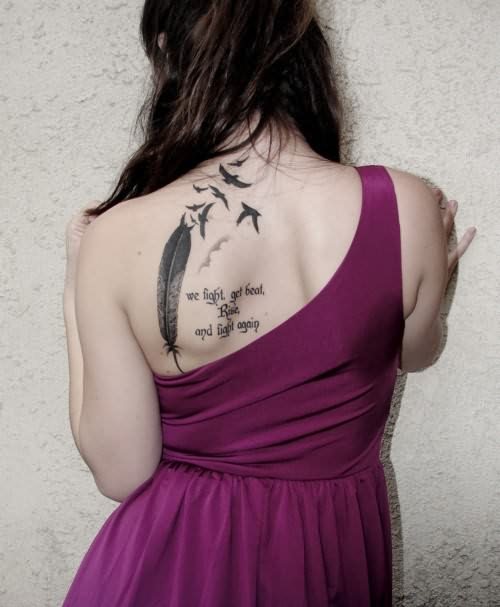 Large tattoo on the back of an eagle on a colorful background. I have also included this tattoo in the article of patriotic tattoos since it includes many things related to the United States.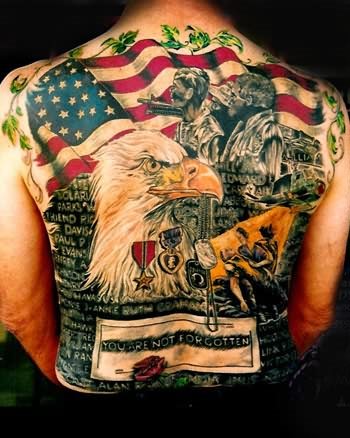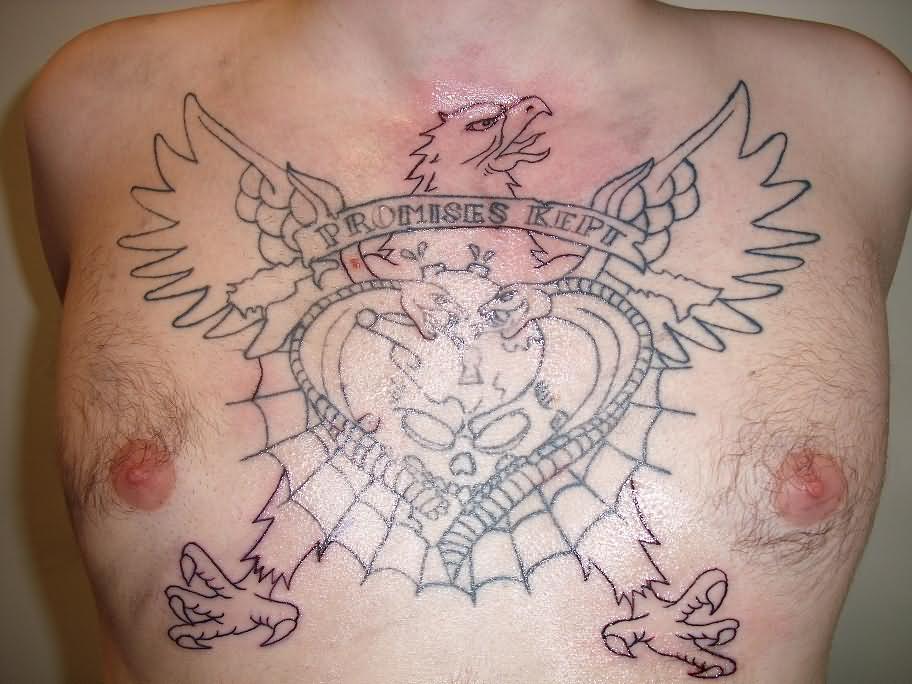 Large tattoo on the back of an eagle attacking a snake. Snakes are very fearful within the animal world. Perhaps the color that has been used is not appropriate.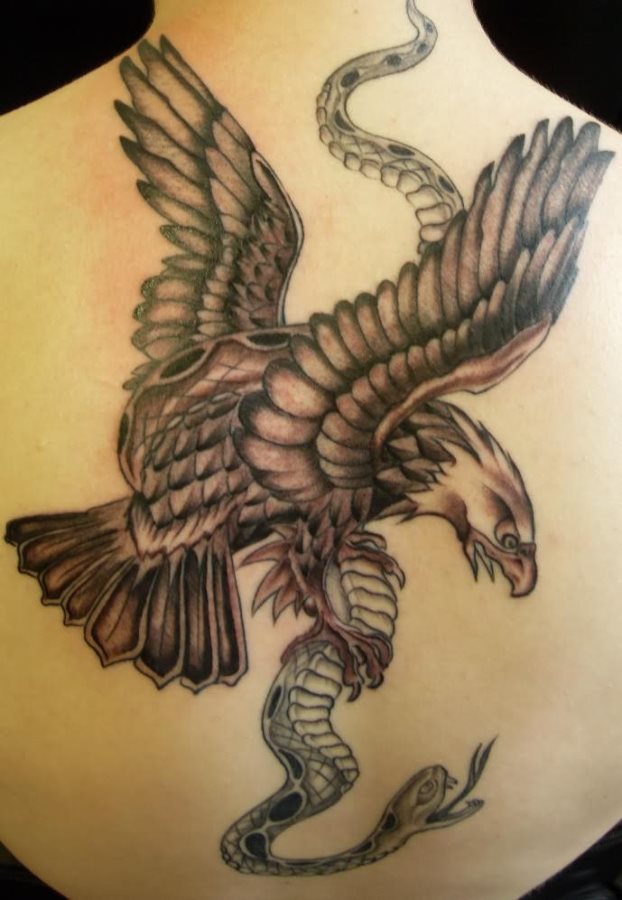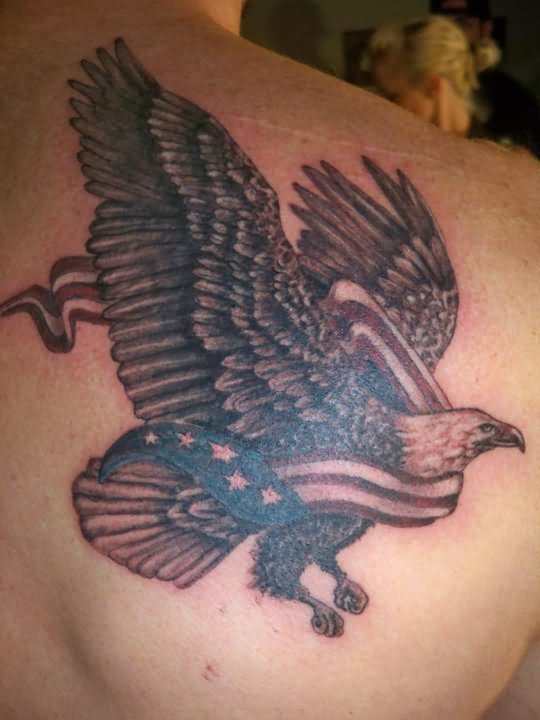 The Egyptian parchment is known as "Papyrus" and here we have an example of a papyrus. Several animals appear that have a lot of relationship with the ancient Egyptian world.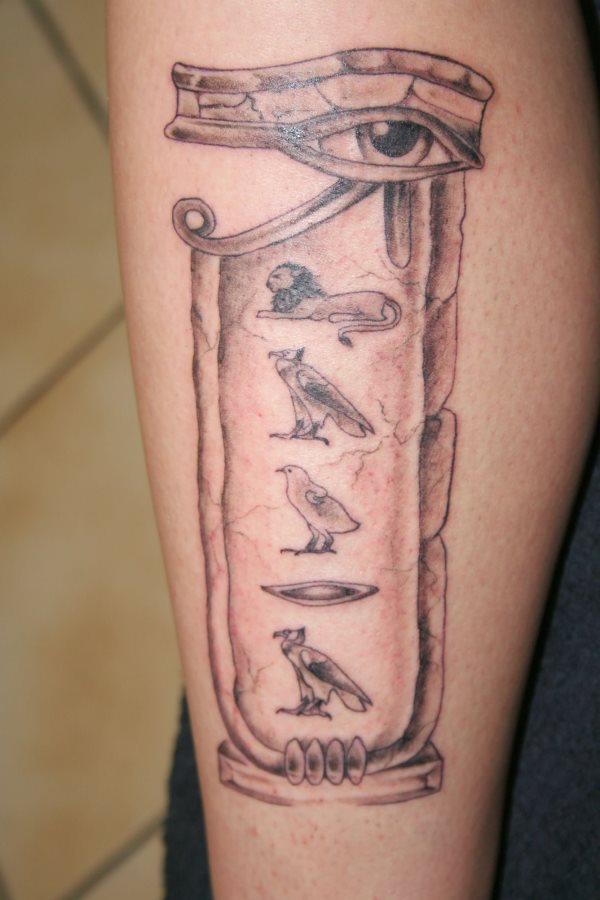 This is not an example of a tattoo. It is just a sketch that is usually done before tattooing the arm so that the tattoo artist sees some example before starting his work.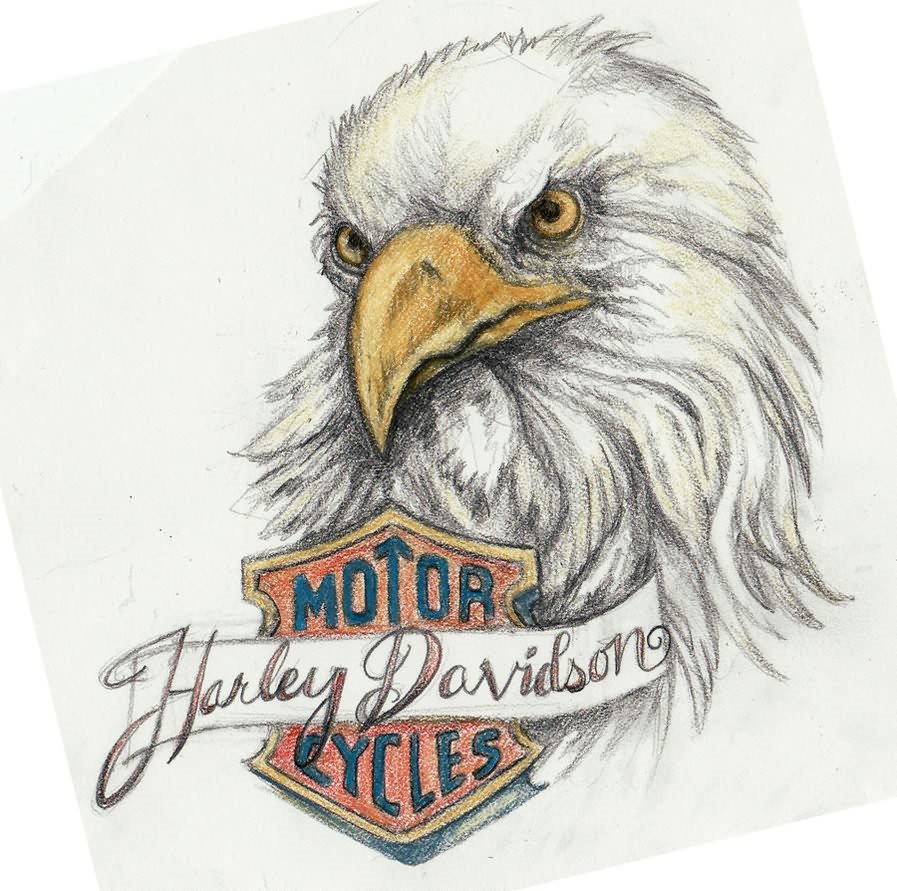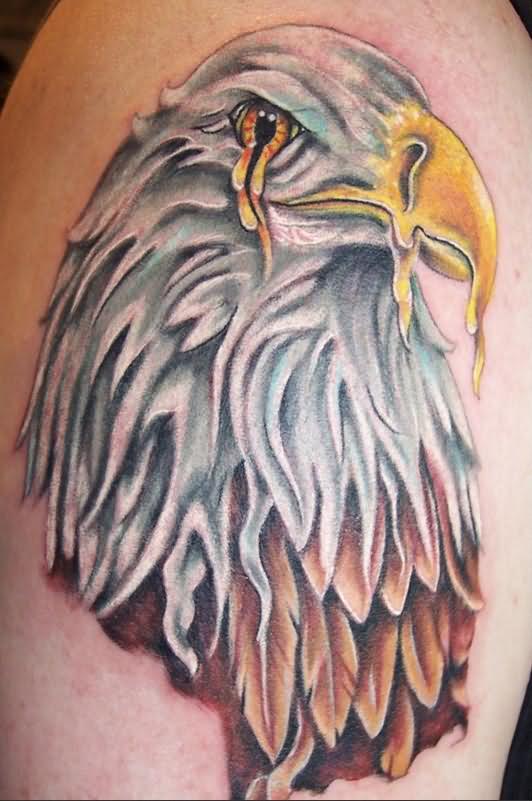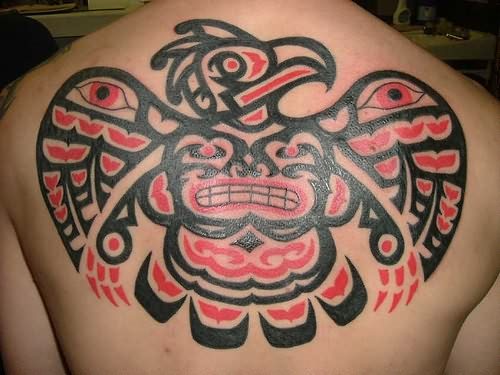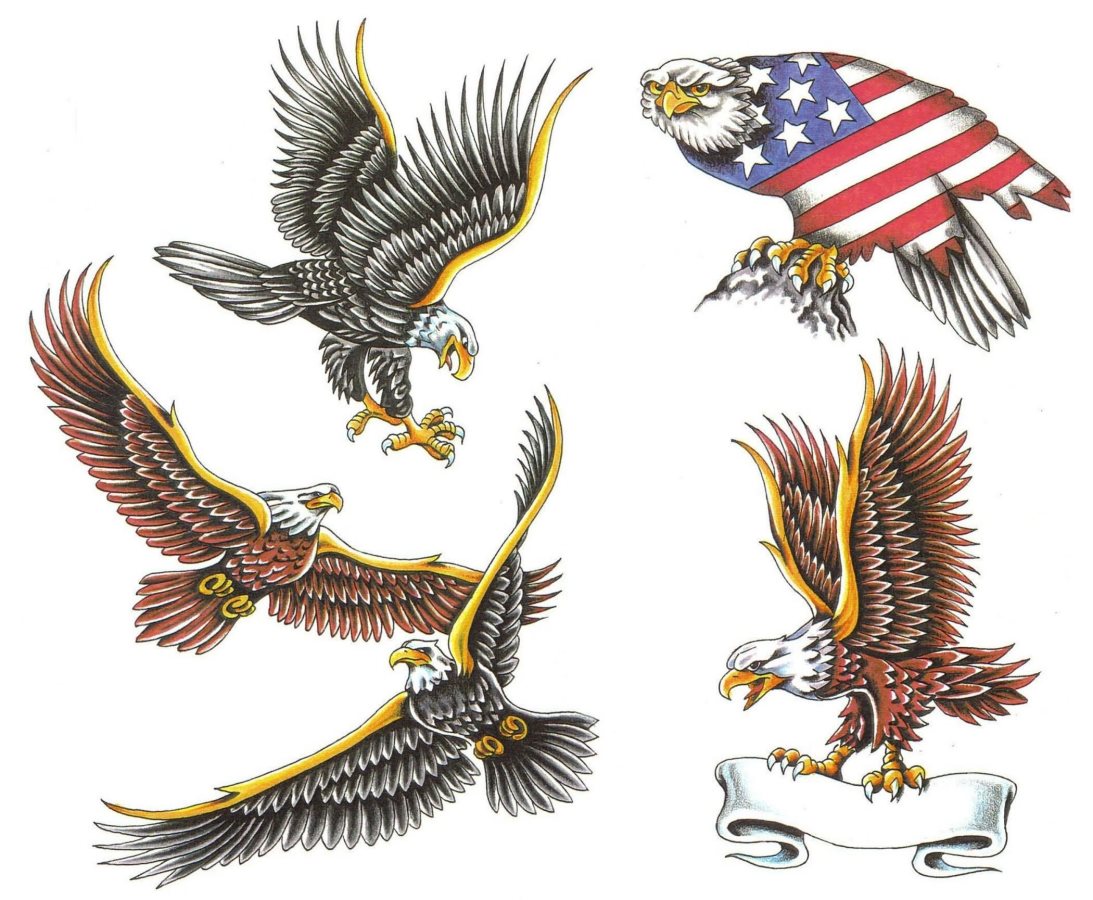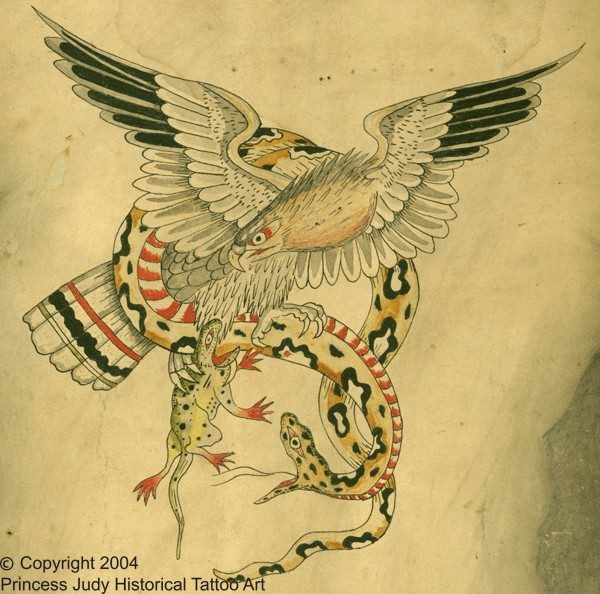 An eagle with open wings, which has a gigantic heart, almost larger than its body and with the words "Family comes first"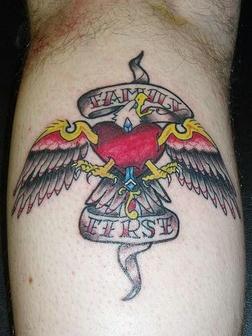 On the back and with its wings spread.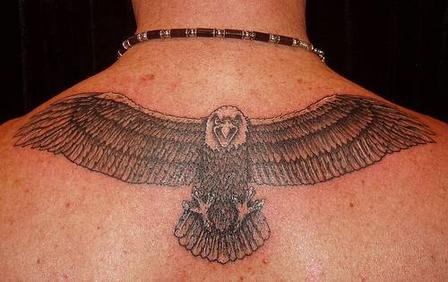 Eagle tattoo with symbol
Original tattoo of an eagle in simple shapes. I am not sure but I think it is the Egyptian eagle that appears even on the shield.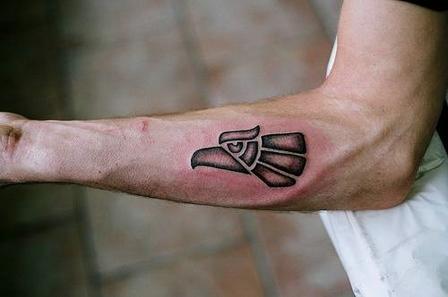 Represented with simple lines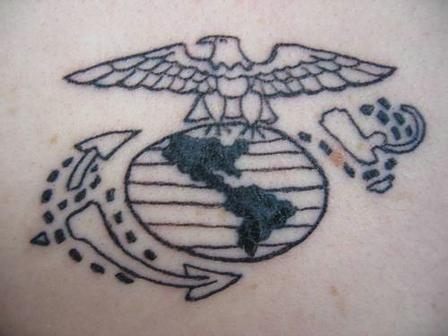 Curious this formed by simple lines.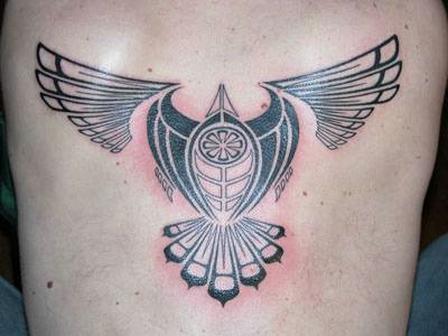 Huge eagle represented by simple Aztec style forms.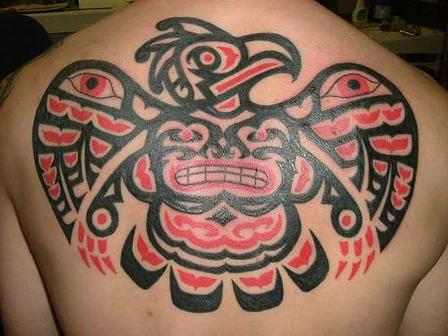 Simple color tattoo of an eagle head with a challenging look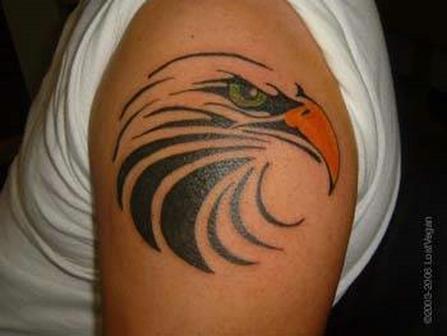 Small and ankle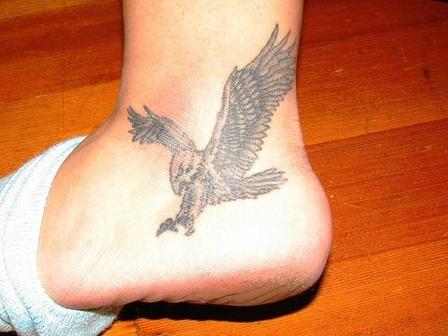 Colored with stars and holding a date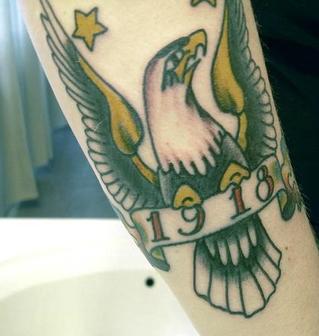 In color and padding a shield.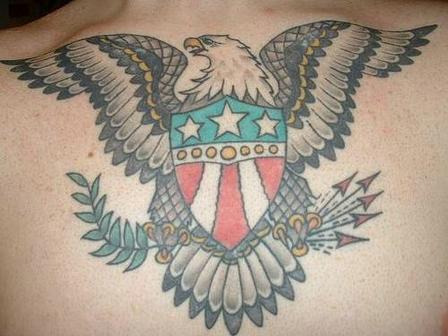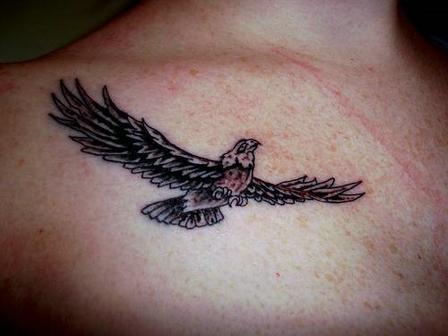 In the chest, full color and surrounded by symbols.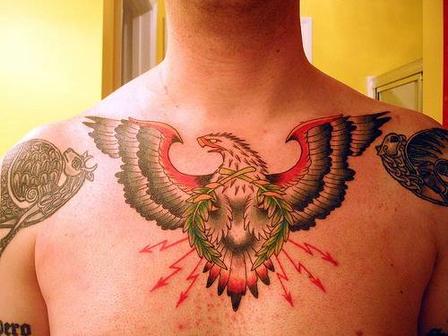 Imposing tattoo on the chest of an eagle with wings spread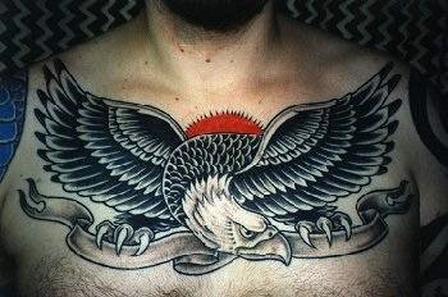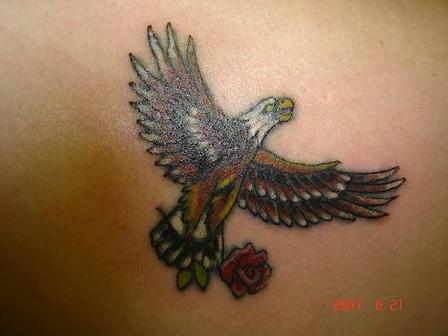 Black and white eagle on man's arm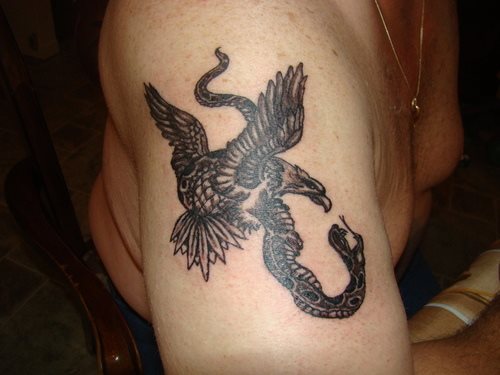 On man's leg or twin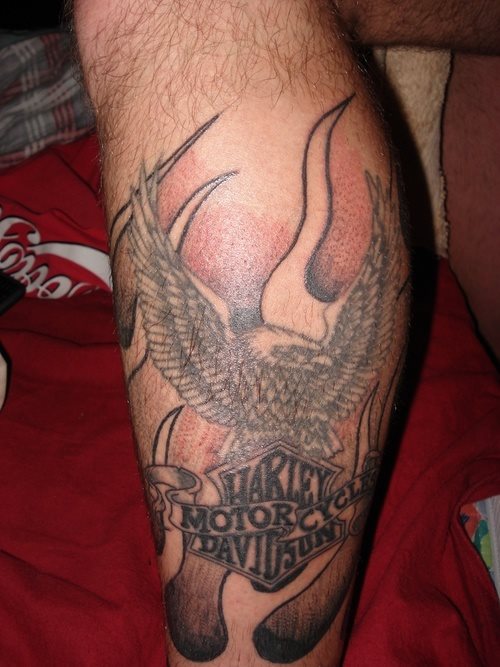 Eagle in the arm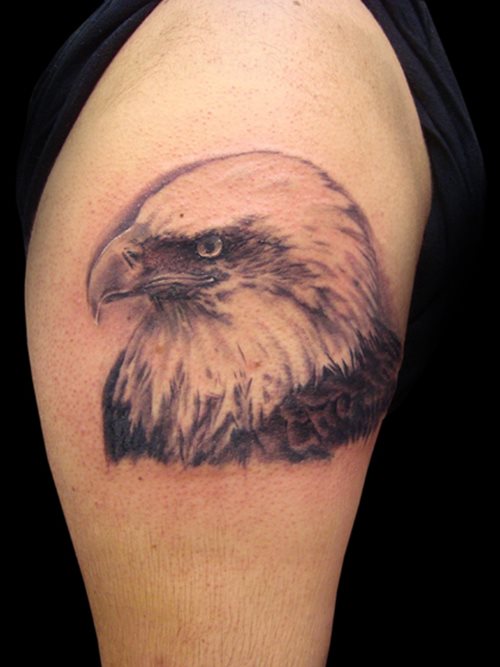 Other in the arm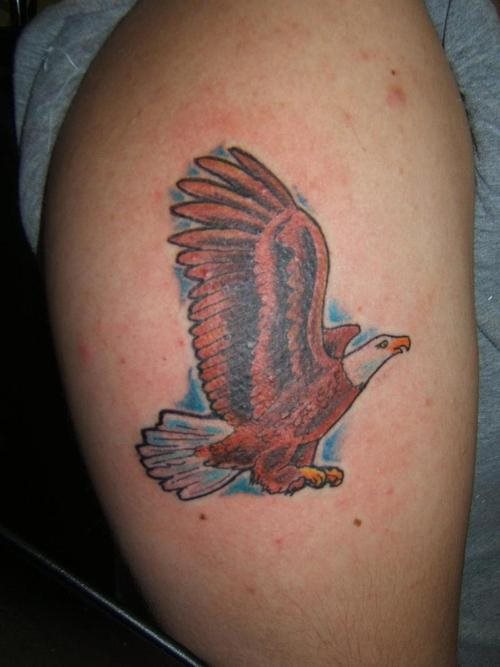 Another with an American flag. Very common since Americans are very patriotic.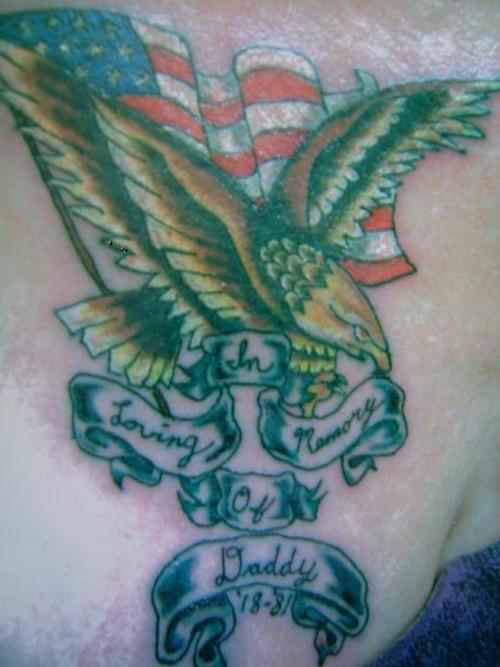 Eagle on the back with the name of a couple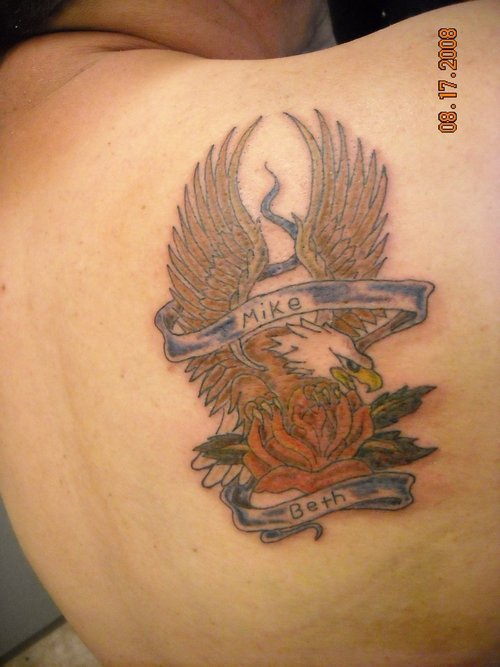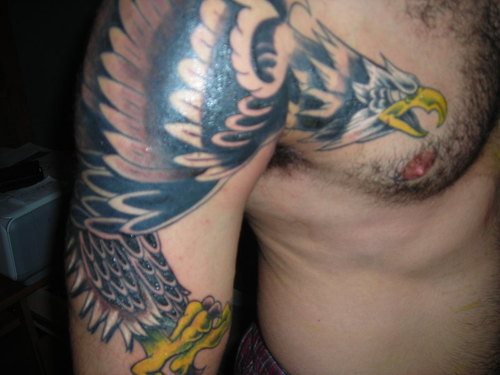 Color front eagle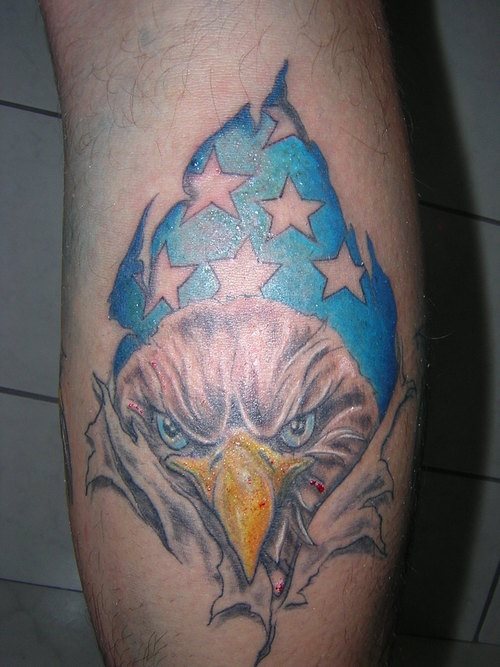 Imperial eagle for men in black and white accompanied by other motifs above and below.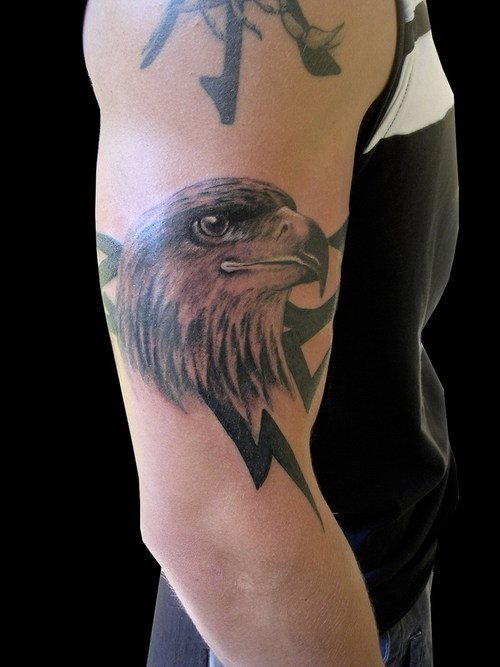 In color and that includes a flag of the United States next to several flowers at the bottom. A mix of designs that we have already seen many times in this article.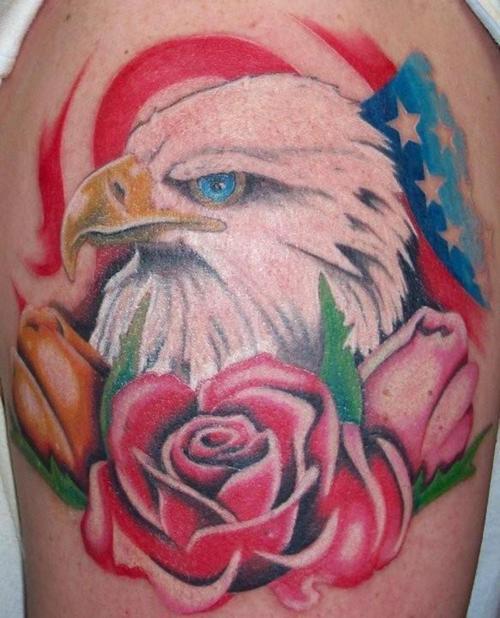 Horrible is the only word we can say about this tattoo. A horrible color without details.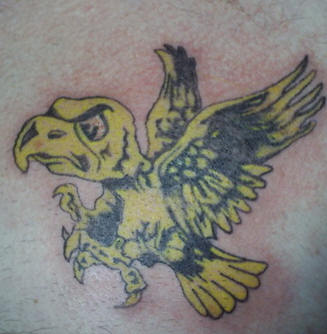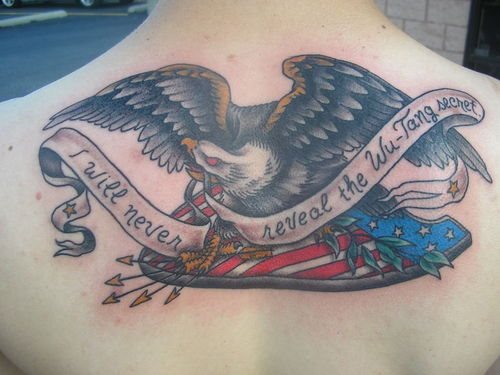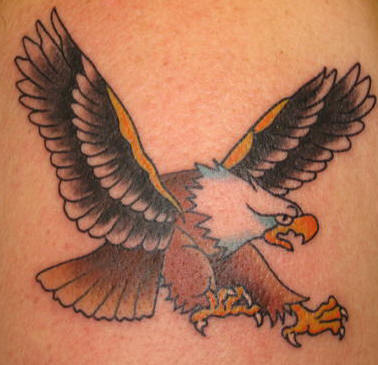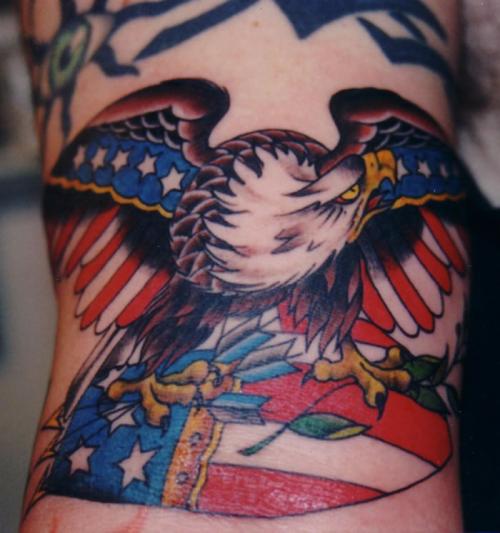 On the shoulder an eagle can also be great.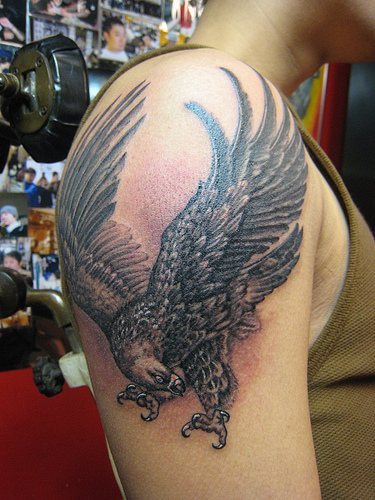 This time in the back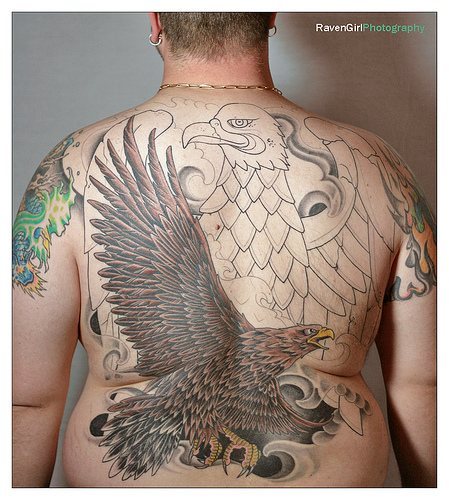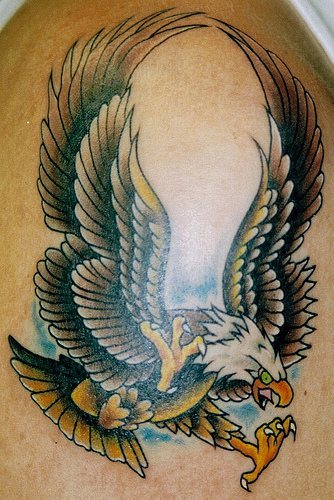 Throughout the chest, shoulder and back of a boy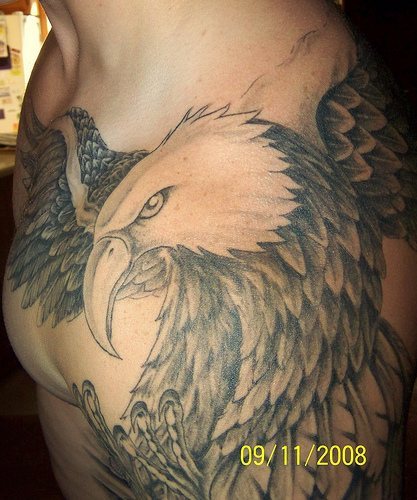 More designs and drawings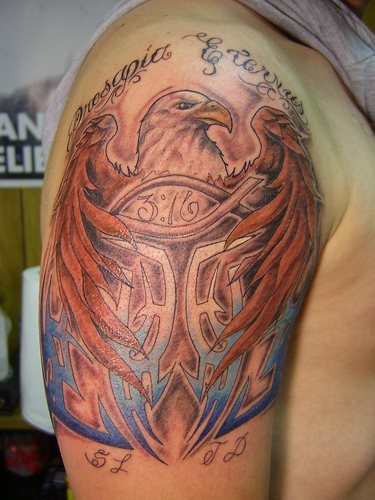 Eagle or bird of prey on the arm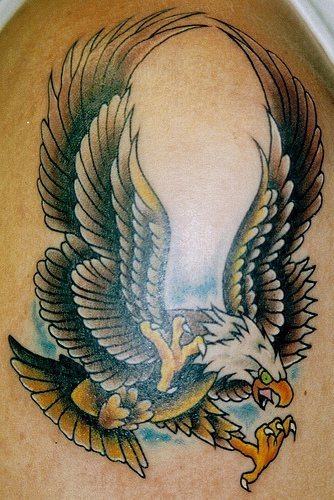 This red design is patriotic. There are many flags or shields that include an eagle because of the meaning of intelligence they have.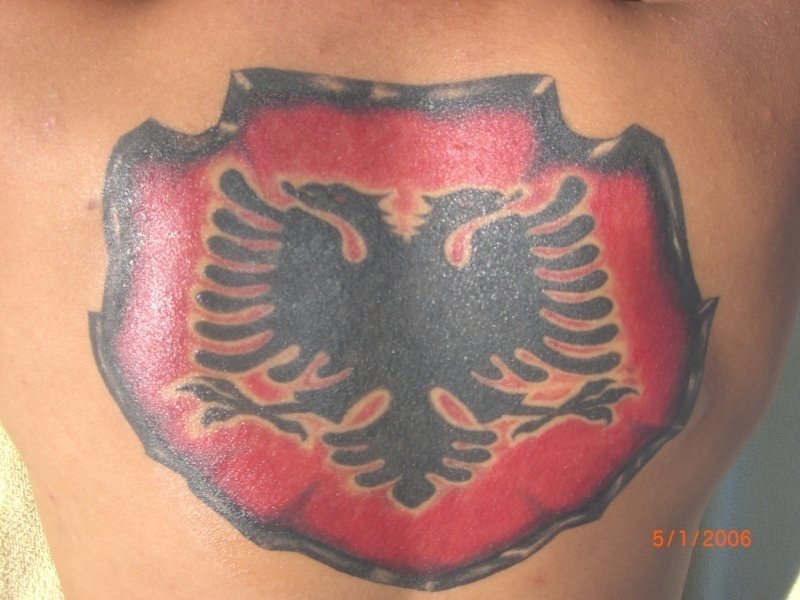 Drawing on the back. The reason is impressive that it belongs to the Old School style. If you like these types of designs, check out the article we have of those tattoos in this blog. Eagle and flowers in the back. Nice design and drawing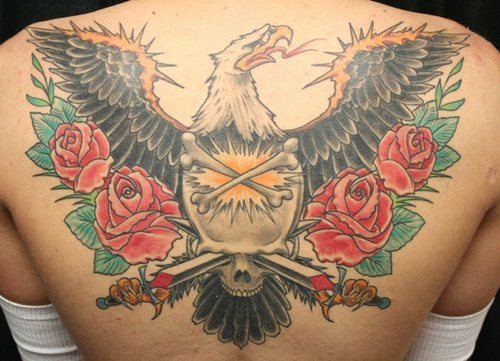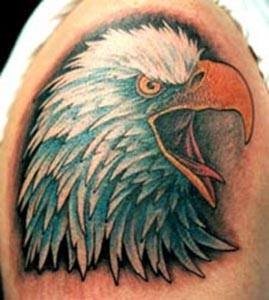 One of these birds with wings so large that it covers part of the back, part of the chest and the entire shoulder and left arm completely.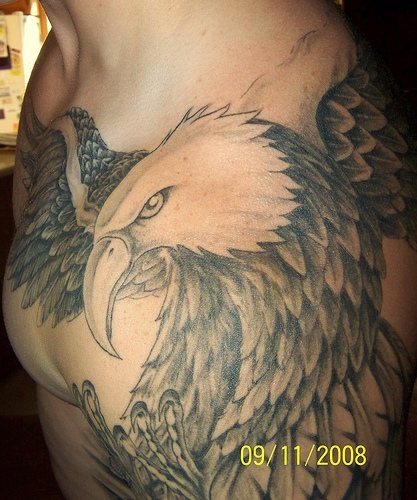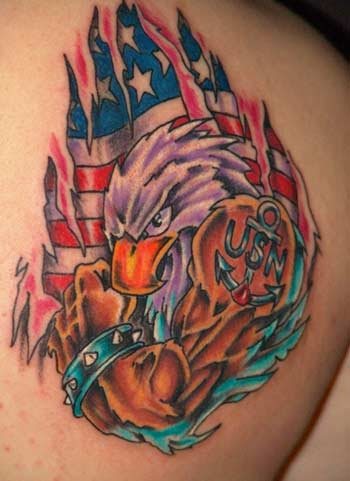 In this last image an Indian appears with feathers on his head and just above his head, we can see the head of an eagle with a large beak.